Grand Auto Theft V is one of the most popular adventure games released by Rockstar Games in 2013. While playing you might be encountered with various errors.
One such error that occurs mostly due to connectivity issues or firewall problems is "Rockstar Game Services Unavailable Right Now. Please return to Grand Theft Auto V and try again later".
So, if you are also interrupted by the Rockstar Game Services are Unavailable error then follow the tested fixes listed in the article and get back to your uninterrupted gaming experience.
To repair corrupted Windows system files, we recommend Advanced System Repair:
This software is your one stop solution to fix Windows errors, protect you from malware, clean junks and optimize your PC for maximum performance in 3 easy steps:
Download Advanaced System Repair rated Excellent on Trustpilot.
Click Install & Scan Now to install & scan issues causing the PC problems.
Next, click on Click Here to Fix All Issues Now to fix, clean, protect and optimize your PC effectively.
Why Does it Say Rockstar Game Services Unavailable?
You might face Rockstar game services unavailable due to a variety of reasons. The complete set of reasons is listed below.
There's a glitch on your PC like cache issues and that needs immediate attention.
The game's modules are stuck somewhere in the error state.
Game servers are down or undergoing any maintenance activities.
The antivirus or firewall protection on your device is preventing the game to be launched and accessed.
The DNS configuration system is corrupt and there are settings misconfiguration on your device.
Installed game files on your device are misconfigured and need to be replaced.
How to Fix Rockstar Game Services Unavailable?
Before following the advanced troubleshooting steps to fix Rockstar Services Unavailable issue, here are a few simple hacks that could help you save time.
Restart your router and check your internet connection.
Re-login to your Rockstar client & check if the issue occurs again.
Solution 1: Restart PC & Game
The first solution to troubleshoot the Rockstar game services unavailable issue is to restart your computer and the game. Follow these instructions to do so.
Go to the Start menu and click on the Windows
Press the Power
Click on the Restart option to restart your device.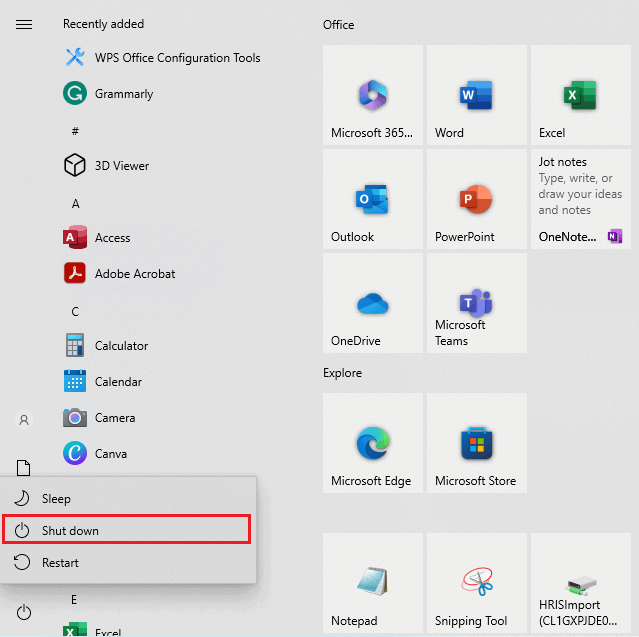 Then, relaunch the game and check if this works.
Solution 2: Check Rockstar Game Server Outrage
If restarting your device did not help you to fix the error, then you have to check if the Rockstar server status is up and running. There are many instances where the servers are down due to maintenance or others and you might face the Rockstar Game Services are Unavailable on PC error.
Make use of the following websites to check if the servers are up and running. If users have reported several issues, all you need to do is to wait until the server-side problem is fixed.
Solution 3: Force Reset GTA modules
You can also try to 'jump-start' the GTA V modules and check if the error gets fixed. These GTA V connectivity modules may be stuck in the error state which may lead to the discussed issue.
This can be fixed by launching the 'change language' executable and modifying your language. This will force the GTA to install and download a fresh copy of the language pack. Therefore, the network modules will establish a new connection with the servers.
On your PC, open your File Explorer and navigate to the following location.

Local Disk C > Program Files > Rockstar games

Open the game folder in which you face the error.
Then, launch the below executable:
Right-click on the executable file and click on Run as administrator.
Modify the language, and save the recent changes.
Exit and relaunch GTA V again. Ensure that the problem is resolved now. If yes, you can change the language back.
Also Read: 6 Tested Fixes For GTA 5 Error 0xc000007b Windows 11 & 10
Solution 4: Disable Antivirus/Firewall Protection Suite
Although antivirus programs are essential for your devices, they may lead to a few bugs in several games. In addition, the antivirus program on your device may block a few programs including your game considering them to be potentially harmful to your device.
You can temporarily turn off your firewall for specific apps on your device or you can disable the protection suite by following the below-mentioned steps.
Hit the Start button and type Control Panel in it.
Then, press the System and Security option.
Next, click on Windows Defender Firewall.
Then, select the Turn Windows Defender Firewall on or off option as shown.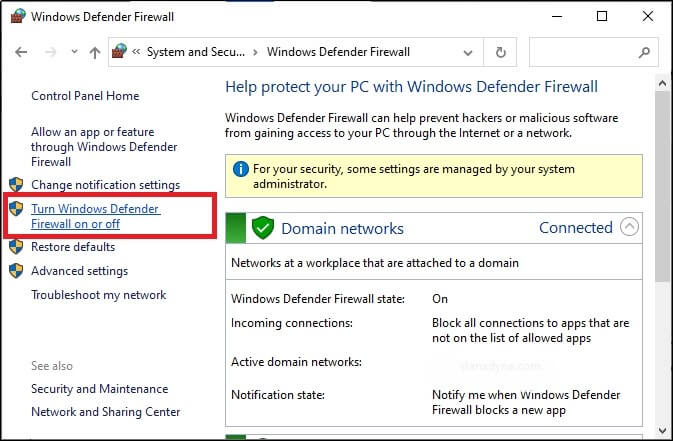 Then, click the boxes Turn off Windows Defender Firewall (not recommended) options under all menus.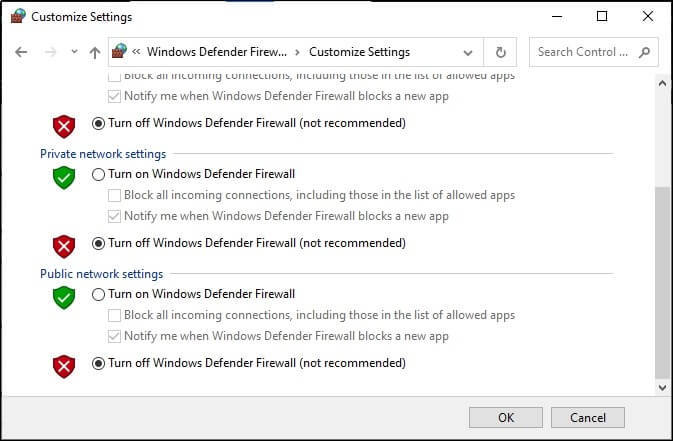 Likewise, you can turn off any third-party antivirus protection program installed on your PC by following these steps: Navigate to the Settings or Options menu of the program and choose any options that show Enable/Disable Protection or Turn On/Off Protection. Once you have found it, confirm the prompt to deactivate the security.
Solution 5: Change DNS Settings
The DNS (Domain Name System) translates the domain names into IP addresses on your device. If any gaming website is blocked by your internet service provider (ISP), switching to a different DNS service can help. This unblocks the IP address by redirecting the ISP to launch the website by another route.
Follow these instructions to change the DNS settings on your device.
Press the Windows + R keys together to go to the Run dialog box.
Then, type ncpa.cpl and click on OK.
Next, right-click on your active network device and press the Properties option from the drop-down list.
In the next screen, choose the Internet Protocol Version 4(TCP/IPv4)
Next, click on the Properties button.
Now, double-click on Internet Protocol Version 4(TCP/IPv4) to open the Properties window.
In the upcoming Properties screen, click on the radio button next to 'Use the following DNS server addresses.'
Now, type the following values in the corresponding fields of the Preferred DNS server and Alternate DNS server.
Finally, click on the box Validate settings upon exit and then click on the OK
Solution 6: Reset Network Configuration (Windows)
The Rockstar game services are unavailable error can be resolved by flushing out the local cache on your device and resetting the network configuration of your Windows PC.
Here are a few instructions to reset your network configuration.
Navigate to the search menu and type CMD then click on Run as administrator to open it with admin rights.
Now, type the below commands one by one in the command window and hit Enter

ipconfig /flushdns

ipconfig /release

ipconfig /renew

netsh winsock reset

netsh int ip reset

Relaunch the game and check if you can access it without any issues.
Solution 7: Re-installing GTA V
If nothing works, you can try reinstalling the game. When you uninstall the conflicting game and install a new fresh copy of the game, all the conflicting settings or corrupt settings will be removed. Make a note you have a super fast internet connection to download the game since it is almost 100+ GB in size.
Press the Windows + I keys simultaneously to launch the Windows Settings.
Now, click on the Apps setting.
Then, search for all Rockstar applications (including the client & GTA V) and click on them.
Next, press the Uninstall and complete the uninstall process one by one.
Then, click on the Windows key and type %appdata% in the search box. Then, click on Open.
Find and right-click on the installed Rockstar app folders and click on the Delete option to delete them.
Next, hit the Windows key and enter %localappdata% in the search box.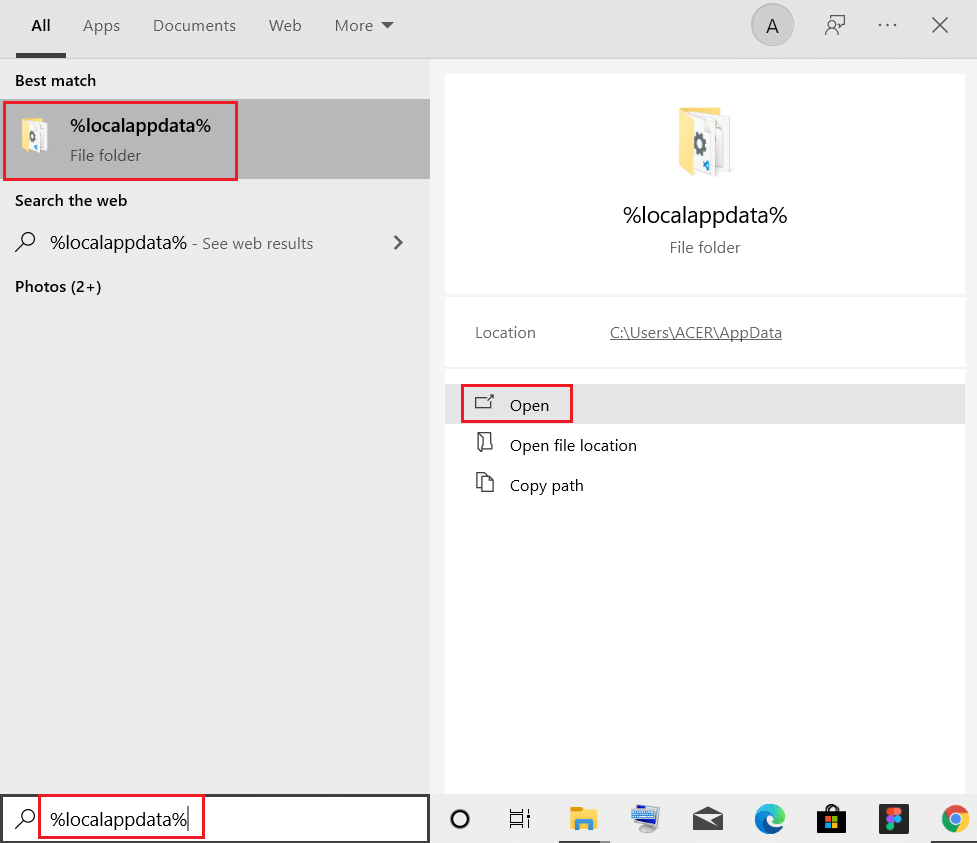 Then, click on the Open option to launch it.
Find the Rockstar app folders and remove them from your PC. Restart your device once done.
Now, log in to Rockstar game services and download the game again.
If you still face a problem with the newly installed game, it's better to contact the Rockstar games support team for technical assistance. You can also uninstall the game using the third-party uninstaller to uninstall it completely without leaving any traces or junk files on the computer.
Best Way to Optimize Your Game Performance on Windows PC
Many players encounter issues like game crashing, lagging, or stuttering when playing the game, then optimize your gaming performance by running Game Booster.
This boosts the game by optimizing the system resources and offers better gameplay. Not only this, but it also fixes common game problems like lagging and low FPS issues.
Final Words
So that is all for solutions to fix Rockstar game services unavailable error.
The solutions mentioned above are easy to follow and one of them should work for you, so make sure to follow them one by one till you find the one that works for you.
Hope one of our solutions managed to fix the problem in your case.
Despite this, feel free to scan your system with the PC Repair Tool, as sometimes, due to the PC related to the problem, the game won't run in a dedicated manner and will show various errors. Therefore, it is suggested to scan your system with this advanced tool and repair corrupted Windows system files, other errors, etc.
If in case you find any doubts or queries related to this particular article, you can get back to us on the Facebook page.
Good Luck..!
Hardeep has always been a Windows lover ever since she got her hands on her first Windows XP PC. She has always been enthusiastic about technological stuff, especially Artificial Intelligence (AI) computing. Before joining PC Error Fix, she worked as a freelancer and worked on numerous technical projects.