The WHEA uncorrectable error is a cryptic blue screen error popup after an unexpected Windows crash. The blue screen error also known as stop code is a result of the unexpected demise of the Windows system.
If you also see the WHEA_UNCORRECTABLE_ERROR with a stop Error Code 0x00000124 on your Windows system, then this article is for you.
Here we have shortlisted the potential solutions that worked for several users to get past the stop code WHEA_UNCORRECTABLE_ERROR and prevent it from occurring in future.
To repair corrupted Windows system files, we recommend Advanced System Repair:
This software is your one stop solution to fix Windows errors, protect you from malware, clean junks and optimize your PC for maximum performance in 3 easy steps:
Download Advanaced System Repair rated Excellent on Trustpilot.
Click Install & Scan Now to install & scan issues causing the PC problems.
Next, click on Click Here to Fix All Issues Now to fix, clean, protect and optimize your PC effectively.
What is Whea Uncorrectable Error?
WHEA_UNCORRECTABLE_ERROR is an unwelcomed BSOD (Blue Screen of Death) that occurs when your Windows system encounters a critical uncoverable hardware error faced by the WHEA (Windows Hardware Error Architecture) and is unable to fix it.
This blue screen error appears with an error message Your PC ran into a problem and needs to restart with the stop error code WHEA_UNCORRECTABLE_ERROR and stop you from accessing your Windows system.
The error message is a result of an unexpected system crash and to prevent further damage system reboots itself. There are several common causes of the error and most of them are directly related to the system hardware.
Damaged or outdated or incorrectly configured System Drivers
Corrupted or damaged Hardware ( like Faulty RAM, corrupted GPU, hard drive, CPU)
Corrupted Windows system files
Overheating and voltages problems (voltage changes & overclocking)
So, these are some of the culprits responsible for this Windows error.  However, you can get the complete idea about WHEA_UNCORRECTABLE_ERROR (Windows stop code 0x0000124) by looking at the error dump files (.DMP). it is found at the C:/Windows/Minidump by default.
To fix the error very first it is suggested to perform a system restore and solve this system hardware issue triggering WHEA Uncorrectable Error on Windows.
Quick Fix – Perform a System Restore
Performing a system restore will restore your computer to a previous state before the WHEA_uncorrectable_error occurred as described in Microsoft Support website. Follow these steps to perform a system restore on your computer.
Go to the search bar, type cmd and open the command prompt window with admin rights.
Then, type the following command and click the Enter
rstrui.exe
Next, click on the Next button in the System Restore window to proceed.
Then, you can choose any of the listed restore points and then, click on Finish.
Once you have restored your system to the previous state, check if the WHEA uncorrectable error is fixed or not. However, if restoring the system to earlier still won't in your case then follow the below listed 5 tested solutions to fix the error.
How to Fix Whea_Uncorrectable_Error?
Before starting with the solutions to fix whea_uncorrectable_error if you are unable to boot your system then you have to boot your system into safe mode.
If you don't know how to boot your system into safe mode, follow the tutorial – How to boot Windows into Safe Mode?
Solution 1 – Verify RAM with the help of Windows Memory Diagnostics
Due to an issue in RAM memory, there are chances that when you try to update your operating system to a newer version whea_uncorrectable_error appears on the screen. Therefore, you need to verify RAM to sort out this issue.
Follow the below-given steps to verify system memory with the help of Windows Memory Diagnostic.
Go to the search box and type Windows Memory Diagnostic When it appears, click on it.
Allow this program to execute, and it will verify your system RAM for any kind of issue by simply following the on-screen instruction.
Solution 2 – Update Drivers
If your system drivers are outdated then they may not perform properly, so here it is suggested to update the system drivers and check if theWHEA_UNCORRECTABLE_Error gets fixed.
Follow the steps to do so:
First of all, press the Windows key
Type Device Manager in the search box
In the device manager window make sure that all the drivers are updated or not. Scroll through the list, and if there are any issues then it will be displayed under the driver's name.
If all the installed drivers are error-free then, update the software of your most recently installed driver.
To update system drivers, right-click on the driver, and choose Update Driver Software.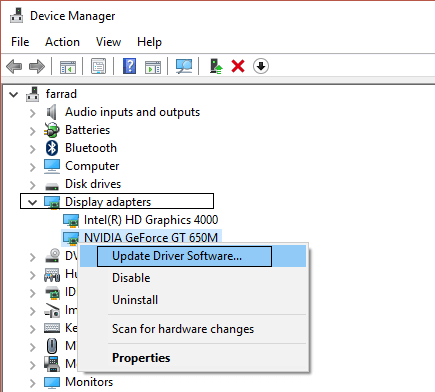 In the next window, click on search for automatically update driver software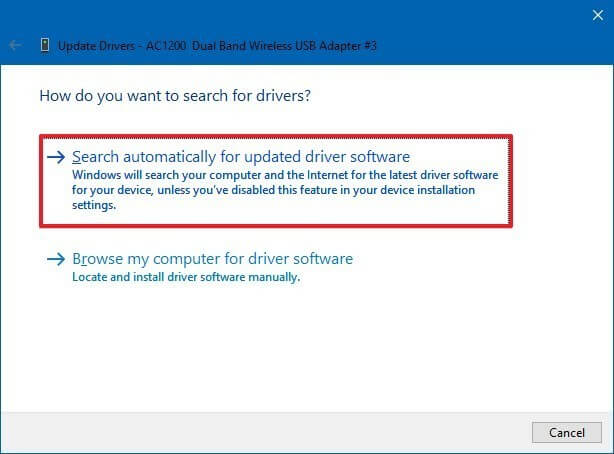 This will begin to search for the current driver version and then you can update it. You can also try Driver Updater to update the outdated driver and solve other driver-related issues without hassle.
Solution 3 – Check the System Hard Disk
If the system hard disk is corrupted it starts conflicting with the system operation and results in showing the BSOD WHEA_UNCORRECTABLE_Error in Windows. To verify for any kind of corruption/ bad sector in your Hard Drive, simply follow the below-given steps.
Note: It only works when your system is in Safe Mode.
Click on the Start menu and type cmd, right-click on it and run as administrator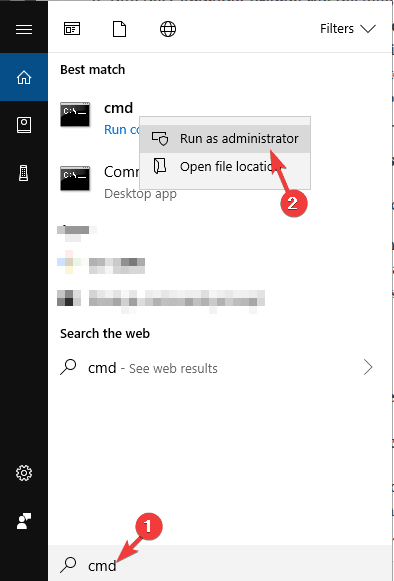 in the command prompt windows, type the following command and hit the enter key
chkdsk 
This inbuilt HDD checker tool of Windows will automatically start scanning the problem with your Hard Drive and will try to repair it if found.
Once, this tool completes the scanning process reboot your PC.
After you execute the check disk command, try to update your operating system and check whether you face the Windows 10 BSOD whea_uncorrectable_error or not.
Solution 4 – Turn off Overclocking in BIOS
Disabling or turning off the overclocking in BIOS can also be helpful in resolving the stop code whea_uncorrectable_error with ease so that you can update your operating system without any trouble.
Follow the below-given steps to turn off the overclocking:
Click on the Start Menu and open the Settings.
Navigate to the Update and Security and click on the Recovery tab
Click on Advanced Startup and go to then Troubleshoot then click on Advanced Options and then UEFI Firmware Settings.
After restarting you will get a BIOS screen automatically. Navigate to the Advanced tab.
Then click on Performance, now you need to keep scrolling until you see Overclocking.
Here, you need to make sure that overclocking is disabled. If it is already disabled then enable it and again disable it.
At last, save changes to BIOS and boot your computer normally.
Once the above steps are completed and you have turned off the overclocking in BIOS, you will no longer encounter the Windows 10 blue screen whea_uncorrectable_error.
Solution 5 – Update Your BIOS/UEFI Settings
Updating the BIOS/UEFI settings improves your system stability and fixes any hardware incompatibility issues contributing to WHEA_UNCORRECTABLE_Error. Before you begin with this update, make sure that you have a reliable power source, since any power interruption during this process might damage the motherboard.
Step 1: Find your BIOS version
Press the Windows + R keys together and type msinfo32.
Next, click on OK.
In the System Information window, make a note of your BIOS Version/Date info on the right screen as you can see below.
Step 2: Proceed to update your BIOS
Now, when you are aware of your BIOS version, try updating the BIOS by choosing the latest version on the internet.
Open a new tab in your browser and navigate to your system or laptop support assistance like https://support.hp.com/
Then, select the Software and Drivers menu.
Choose your system that needs a BIOS update. Click on the device for which you want to update the BIOS.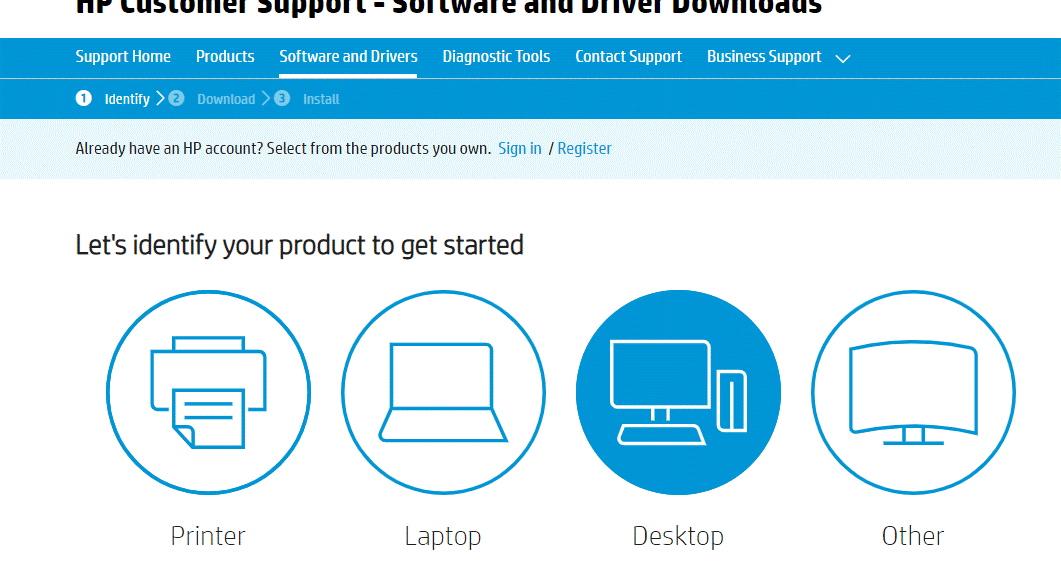 Next, make a note of the serial number of your device (if you are not aware of it, type wmic bios get the serial number in the cmd window and hit Enter)
Then, type the serial number in the required box in your browser screen and press the Submit button.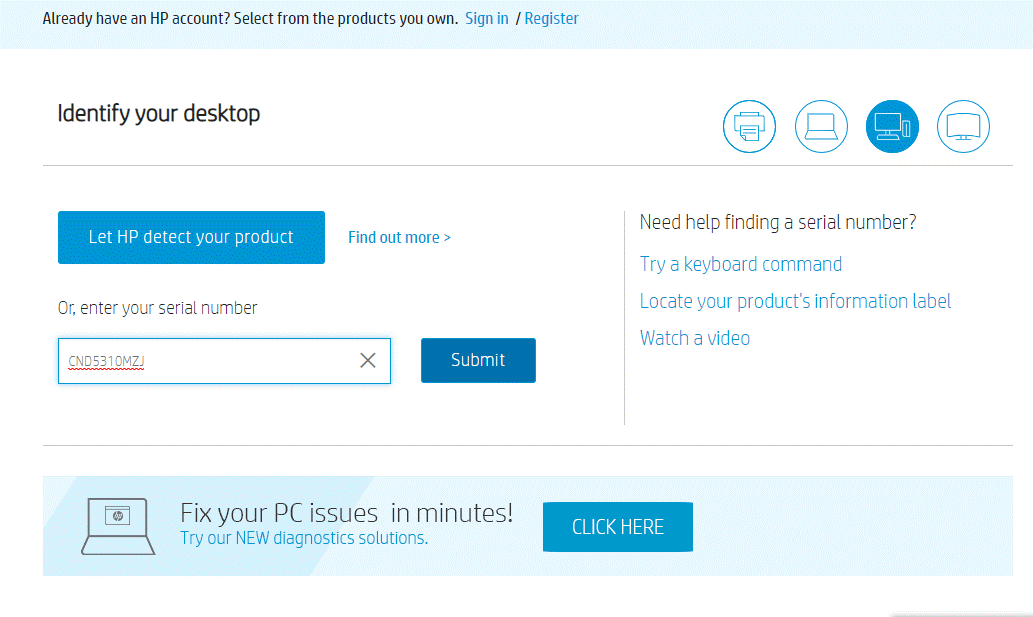 When there is more than one device associated with your same serial number, you must type the Product Number of your device(on the computer's label).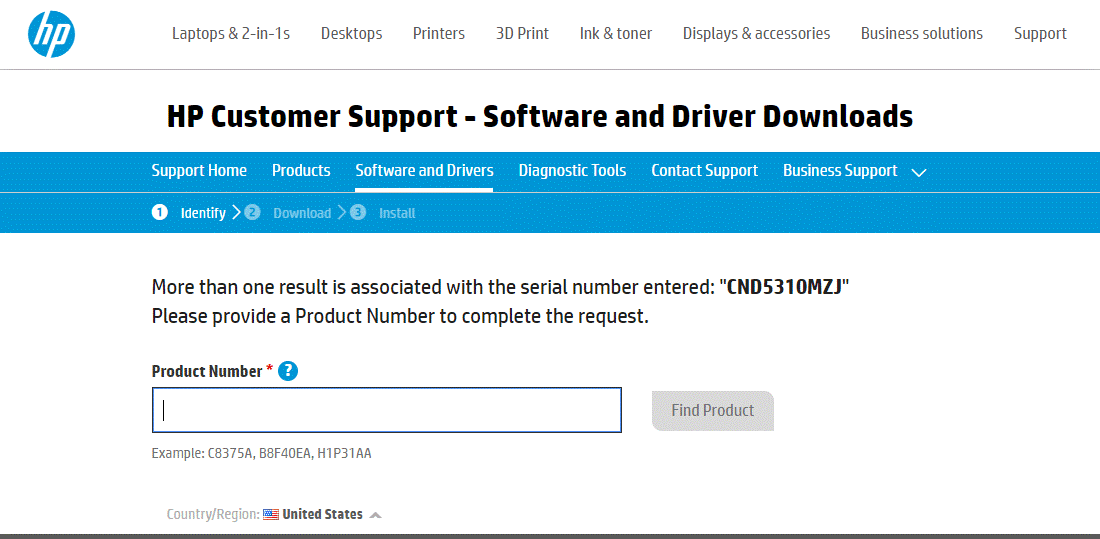 Next, select the Find Product button.
Scroll down the list and click on BIOS.
Now, find the latest version of your BIOS (if available) and click on the Download
Note: If your BIOS is already updated to its latest version, do not download the same version of BIOS again.
Next, save your downloaded file and double-click on it to open it.
Select the Next button to continue.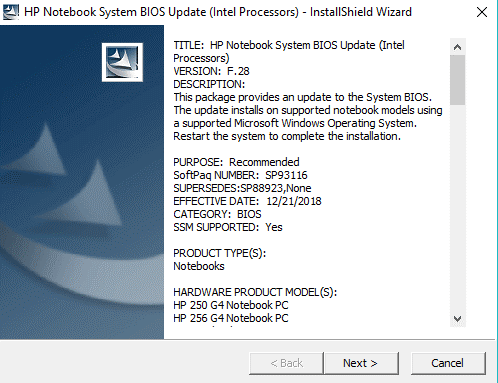 To begin the BIOS update, click on the Next button again.
In the next screen, click on the Update radio button and click on the Next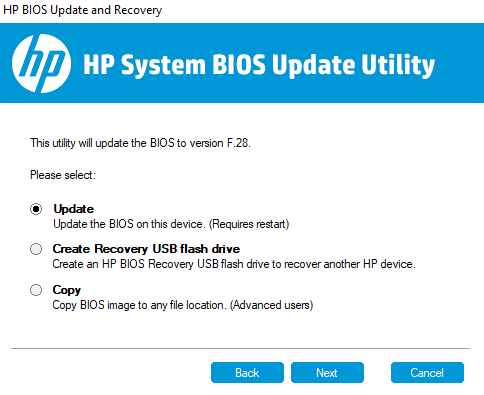 Plug in your PC to AC power or ignore this window (if you have already plugged in) by pressing the Next button.
Then, select the Restart Now button to finish the update.
Wait until the process is complete and once the PC restarts, your BIOS will be up to date.
Best Solution to Fix Whea Uncorrectable Error
If you are still unable to solve the BSOD WHEA_UNCORRECTABLE_Error in the Windows operating system then it is worth running the advanced PC Repair Tool. This is a professionally designed tool that will scan your entire operating system, find out the error, remove it from your PC and make it error-free.
You just have to download this tool and leave the rest of the work to it. Errors like BSOD errors, update errors, DLL errors, registry errors, & others. This tool also repairs damaged or inaccessible system files, prevents viruses, increases the performance of PC, and much more.
Conclusion
That's all about whea uncorrectable error. Here I tried my best to list down the complete potential fixes to solve the error in Windows 11 as well as the earlier Windows OS.
Follow the step-by-step instructions given carefully and solve the error.
I hope that you liked this article and it turns out to be informative in fixing the error as well as solving your other queries. If you have any questions or suggestions left then write to us on our Facebook page.
Good Luck.!
Always up to help others with their PC-related issues, Jack loves to write on subjects such as Windows 10, Xbox, and numerous technical things. In his free time, he loves to play with his dog "Bruno" and hang out with his friends.