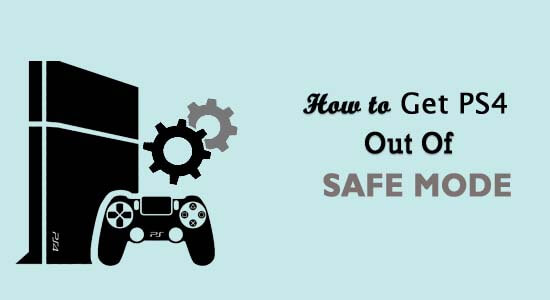 Are you stuck in the PS4 safe mode loop or you don't have any idea on how to get PS4 out of safe mode, then this guide is for you.
Well, the PS4 Safe Mode is helpful in fixing various PS4 problems. But in many cases, the users are found reporting PS4 stuck in safe mode and searching for the ways to fix PS4 Stuck in Safe Mode.
So, here in this article find out the possible ways how to get PS4 out of safe mode, but first, it is important to understand what is PS4 safe mode and why it gets stuck in safe mode.
Let's get started..!
What is PS4 Safe Mode?
PS4 safe mode helps you to start your system by activating some most basic functions. When any problem occurs or the PS4 console won't start then you can troubleshoot the issue through the safe mode.
Using the safe mode option one can easily troubleshoot different problems with their PS4 console.
PS4 Safe Mode menu is included with the following options: change the console's resolution, restore the device to factory settings and rebuild its storage database.
Please Note Safe Mode options cause data loss situations. So always try to maintain proper backup of entire PS4 system data on your USB storage device or external hard drive. Thus, before changing the PS4 out of Safe Mode keep a backup of your complete data.
Why is My PS4 Stuck in Safe Mode?
When you activate the safe mode in PS4, only some basic system processes start functioning. Those processes are very important for its operation.
PS4 Safe Mode Not Working situations arise because of the system's error redundancy. Due to this PS4 is stuck into the "loop" or starts continuously booting in the safe mode.
Unfortunately, if your PS4 console is also in the non-bootable state or can't get back to the normal mode then you need to try certain possible troubleshooting steps to solve the PS4 stuck in safe mode loop problem.
How To Get Out of Safe Mode PS4?
If you are stuck at the PS4 safe mode loop then it's obvious to face difficulty in resume playing. Don't worry as there are some best applicable fixes available to get out of PS4 Safe Mode.
Let's know about each of these fixes in detail…!
Solution 1 – Restart PS4
Restarting the PS4 method helps you to get out of safe mode PS4. So, reboot the PS4 system normally.
From the opened safe mode window you can choose the restart the PS4 option to get out of the safe mode. 
Solution 2 – Change Resolution
Using the change resolution option you can set the PS4 display resolution to its default resolution i.e 480P. It is seen that PS4 safe mode loop also occurs due to the resolution issue.
This option will ultimately help you to resolve PS4 display screen problems such as a blank screen. Chances are also that you will face a problem with setting HDMI connections in between the TV and PS4.
This will generate a mismatched resolution situation, for example, you will choose a 1080P a higher resolution for the 720P TV.
After coming out of the PS4 safe mode you can set the proper resolution from the settings menu.
Solution 3 – Update System Software
If your PS4 undergoes a lost or slow internet connection while updating firmware or it is not updated for a long time. In such a situation, you are required to manually update the software.
By updating your PS4 system software you can easily fix several PS4 bugs and problems.
The PS4 Software update is also compulsory because it's just impossible to proceed with the classic update procedure. But if you are already in a situation where the PS4 database is corrupted and not working then it's impossible to normally update it.
In that case, you need to manually download the PS4 system software from Sony's official website.
After the completion of the download process, connect your USB storage devices such as a hard drive or pen drive. Now transfer the updated file which you just downloaded.
On your USB device create a folder with the name PS4 and inside this make a subfolder named UPGRADE. Now copy the downloaded file into this UPGRADE subfolder.
After that, shift your update file within the formerly existing PS4UPDATE.PUP folder of your PS4 system.
Launch the PS4 console. Now from the safe mode window, you have to choose the Update system software option.
Note: If the update fails to recognize then check whether you have kept the updated file in the right folder within the PS4 system or not.
Solution 4 – Restore Default Settings
Restore Default Settings and drag your PS4 back to the default factory settings.
No need to get worried, this option won't wipe any of your PS4 data because it doesn't make a permanent factory reset.
With this option, settings like time, dates etc are reset. So overall it is a good option to choose to break the PS4 safe mode loop.
Solution 5 – Rebuild Database
Using this option you can make an easy scan on your PS4 drive and then create fresh data of the entire PS4 system content.
It is a very effective method to clean unwanted PS4 data. This will ultimately make the PS4 system performance better and you can easily get out of PS4 safe mode.
After this, you can use this rebuild database option to fix issues like PS4 games freezing or frame rate drops.
Follow the steps to Rebuild the PS4 database:
Start PS4 in safe mode and then connect your PS4 controller to the console via USB cable.
And choose Rebuild Database and wait for the process to complete.
Note: As per the number and type of data items Rebuild Database process may take time to get over. So don't be impatient make sure to turn off your console. You can also see a black screen, this is normal, be sure to wait for the process to finish completely.
And as the process is finished check if the problem is resolved or not.
Solution 6 – Initialize PS4
You need to be careful with this Initialize PS4 method as this will wipe out entire PS4 game data. 
It will remove entire PS4 game data, saved pictures and also the system settings. So it will be better if you keep the proper backup of your PS4 system data on secondary storage devices before approaching this solution.
Initialize PS4 method will wipe out all your PS4 data for easy restoration of PS4 to the original state. But don't worry your currently running software is completely intact. So all in all you can use this method to to get out of the PS4 safe mode loop.
Solution 7 – Initialize PS4 (Reinstall System Software)
This option is quite similar to the Initialize PS4 method. Using this will also remove entire PS4 game data, saved pictures and also the system settings. So it will be better if you keep the proper backup of your PS4 system data on secondary storage devices before approaching this solution.
It will also take your PS4 system to its original state but the only difference is that in this option your PS4 Firmware will also get removed.
Solution 8 – Set HDCP Mode
HDCP is too small for High-bandwidth Digital Content Protection. This mode encrypts the data of the HDMI video stream which comes from the HD video device.
If you are unable to see the 4k images then chances are high that you have connected the PS4 with the 4K TV which doesn't support HDCP 2.2.
To see the pictures you can make use of this option to set the HDCP 1.40.
All such issue arises because the 4k image can only support to display of HDCP 2.2 but this will set the video resolution limit to 1080p.
Solution 9 – Rebuild Corrupted Files
Rebuilding the database is a time-taking process and moreover, it depends on the amount of data you have stored in the PS4 system.
If none of the above methods works then the problem is raised due to the PS4 corrupted data.
So from the safe mode menu, you have to choose the Rebuild corrupted files option. This will make a new database for the PS4 system without damaging any previous data.
You have to wait for a while as rebuilding the PS4 file takes time. After the completion of the process, don't forget to restart your PC. 
Solution 10 – Check the Power Supply & Sources
Keep pressing the power button on your PlayStation until the flashing light turns off.
Try unplugging the power cord of PS4 and then plug it back in. Remove the HDMI cord and whether the connected end with the TV/PS4 is getting a power supply or not.
Solution 11 – Check The Connected Cables
Another method on how to get PS4 out of Safe Mode is by checking all the cable connections.
The problem is taking an exit from the PS4 Safe Mode sometimes also occurs due to improper power supply, damaged USB device, or HDMI cable.
So you need to make a check across all these things to find out the culprit of the PS4 Safe Mode loop.
Apart from this, you can also connect the USB/power/HDMI cables to some other socket or ports.
If any of the cables is appearing broken then immediately replace them.
Recommended Solution to Make Your Windows PC/Laptop Error-Free
If your Windows PC or laptop is showing errors or running slow then feel free to scan your system with the PC Repair Tool.
This is a multifunctional repair tool that fixes Windows errors along with repairing corrupt Windows System files, DLL errors, corrupt registries, keeping your PC safe from file loss, and virus/malware attacks.
It helps to maintain the performance of the computer by optimizing it properly. So, try out this tool and get rid of common Window related errors and issues.
Wrap Up:
It's difficult to find out the exact cause of the PS4 safe mode loop problem.  So, here it is suggested to try all the listed fixes one by one.
Besides that, if the problem persists then visits the official PlayStation support page and ask about your issue.
If your PS4 console is under the warranty period then you will get a free repair or replacement benefit.
Hope the article works for you, but if there is anything that is missed out then feel free to share it with us on our Facebook page.
Good Luck..!
Hardeep has always been a Windows lover ever since she got her hands on her first Windows XP PC. She has always been enthusiastic about technological stuff, especially Artificial Intelligence (AI) computing. Before joining PC Error Fix, she worked as a freelancer and worked on numerous technical projects.