Are you encountering hal.dll error in Windows 10 while trying to boot into the Windows PC/laptop?
And getting the error message:
"The program can't start because HAL.dll is missing from your computer. Try reinstalling the program to fix the problem"
Looking at what went wrong and how to fix Hall.dll error, then Relax you are at the right place.
In this article, you will get complete information like what is hal.dll, what causes hal.dll error and how to fix hal.dll error?
So, what are you waiting for? Let's start to dig the information about hal dll.
What is Hal.dll?
Hal.dll is a file of "Windows Hardware Abstraction Layer" that is used by Windows to perform various tasks/functions on a varying array of hardware.
Hal.dll file is crucial for the smooth booting of Windows and it is frequently the case that a lot of people cannot boot into their computers because this file is either damaged or corrupted.
What Causes Hal.dll Errors?
Hal.dll errors are caused mostly when your computer is unable to access the hal.dll file. This file is kept in c:\Windows\System32 folder and can get infected by viruses, become corrupted or due to registry issues.
There are many reasons that cause hal.dll errors. The main behind is either boot.ini is corrupted or the files are located in the wrong place, the hardware is malfunctioning or Ntoskenl.exe is corrupted or missing.
Some Hal.DLL related Errors:
Here is the list of common errors related to hal.dll that can also appear in your system:
Winnt_root\System32\Hal.dll missing or corrupt: Please re-install a copy of the above file
Windows could not start because the following file is missing or corrupt: Winnt_root\System32\Ntoskrnl.exePlease re-install a copy of the above file
Windows could not start because of a computer disk hardware configuration problem. Could not read from the selected boot disk. Check boot path and disk hardware. Please check the Windows documentation about hardware disk configuration and your hardware reference manuals for additional information
How to Fix Hal.dll Error on Windows 10/8/7?
To remove hal.dll missing error from your display, simply perform the solutions listed below:
Load The Recovery Console
Restore Hal.dll file
Repair Boot.ini
Clear out Registry
Now, follow the solutions step by step.
Solution 1: Load Recovery Console
Recovery console enables Windows users to recover their Windows PC from any issue by using the command-line interface.
To solve hal.dll error you need to load recovery console, follow the steps to do so:
Insert Windows installer disc
Restart your damaged PC
Press Delete / F2 and make sure that Windows is set to boot from the CD
Exit the editor and boot from CD
When the Windows installer starts loading
Press "R" to load the "Recovery Console"
Now, follow the instructions on-screen to login to the black screen
When you successfully loaded the Recovery Console, follow the next solution to get hal.dll file back.
Solution 2: Restore Hal.dll File
Once that you are into the Recovery Console, it is easy to recover the hal.dll file. Perform the following steps to do so:
Type cd system32 to access the system32 folder
Type map to check the CD ROM drive
Type expand d:\i386\hal.dl_ and hit 'Enter' to copy the file to the system32 folder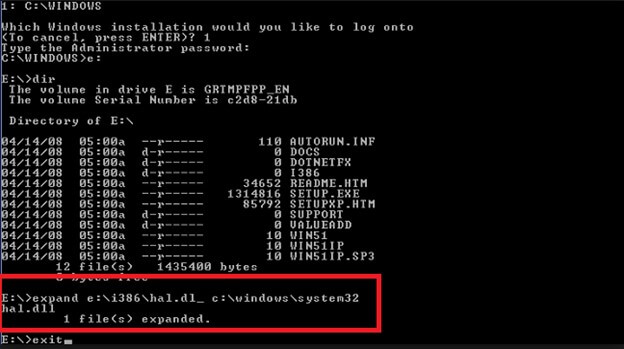 If it is asked to overwrite the file, click on "Yes".
Type Exit to restart
After completing the above steps, a new copy of the hal.dll file will be placed on your PC that will let the system work again.
If the problem still persists after restoring the hal.dll file then there is a possibility that boot.ini is corrupted.
To fix the corruption and solve hal.dll missing Windows 10 error, follow the next solution.
Solution 3: Repair Boot.ini
If you found that hal.dll is not corrupt, then there are chances that the boot.ini file of Windows is triggering the issue.
Follow the steps given below to fix hal.dll missing error:
First Boot your computer into the Recovery Console as mentioned in solution 1
When in the recovery console, type attrib -h -r -s c:\boot.ini and press Enter
If "Parameter is wrong" error appears, ignore it and continue
Type del c:\boot.ini and press Enter
Type "y" for "Add Installation to boot list?"
Type "Windows" for Boot identifier
Type "/fastdetect" for Boot Load Options
Type "fixboot" and press enter
Type "y" and press Enter
Type "Exit" to restart
This will repair the boot options from your computer and solves the hal.dll Windows 10 error.
Solution 4: Clear Out Registry
Even after trying the above solutions, if the error still persists then you need to clear the registry.
Problems in registry can make your computer and due to which hal.dll error appears. Therefore, it is suggested to clean out the registry.
Performing manually to clean out registry can be a bit risky as a single mistake can harm your computer. Try CCleaner to clear the registry without any issue.
Well, there are many other DLL fixes that you can try to fix Hall.dll error in Windows 10/8/7, to know more about the fixes visit this article- How to Fix DLL Errors?
Best and Easy Solution to Fix Hal.DLL Error
Though the above-stated solutions are time taking and tricky but are worth solving the hal.dll error. But if you are a non-technical person and unable to perform the solution then here is an easy solution for you.
Try the DLL Repair Tool. This advance repair tool will scan your computer, detect the issue and solves all errors such as DLL error, registry error, prevent PC issues and others.
It not only solves the issues but also optimizes the performance of OC just like the new one.
Conclusion
So, that's all about hal.dll error Windows 10.
I have tried my best in listing down the solutions to fix hal.dll error and also provided other relevant information regarding hal.dll.
Now, it's your turn to perform the solutions and get rid of hal.dll missing error.
Despite this, if you are having any sort of queries or questions related to this article or this specific error then, write to us in the below comment section.
Always up to help others with their PC-related issues, Jack loves to write on subjects such as Windows 10, Xbox, and numerous technical things. In his free time, he loves to play with his dog "Bruno" and hang out with his friends.