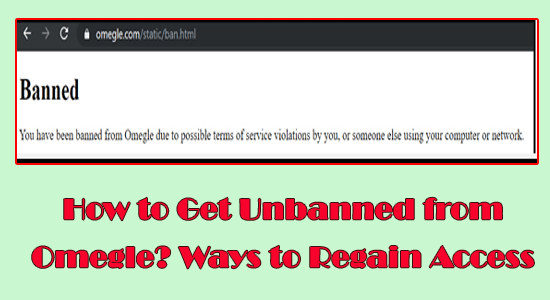 Omegle is one of the best free online chat services where you can approach many new random people or listen to them.
But have you ever experienced that you are blacklisted from Omegle for no reason? Why does Omegle ban users in the first place?
If you are confused about this and want to explore more on how to get Omegle unbanned, you are in the right place.
In this guide, you will explore why am I banned from Omegle and how to get unbanned on Omegle.
Explore the Reasons Why Omegle Ban People.
Omegle deserves its right to ban you from using this app without giving a reason. When you come through Omegle's Terms & Conditions, you can find that it "may terminate, suspend or ban your access to and use of the Services at any time, without notice, for any reason in its sole discretion." The website bans several users to prevent unprotected access, but it can also result in unfair bans.
To understand the reason for the ban, read the below section:
Omegle does not permit inappropriate behaviour such as sexual content, harassment, nudity, etc. If you are engaged in such activities, you will get banned.
Likewise, any violent or threatening behaviour with other users is also strictly banned.
A few illegal activities like drug dealing will also be banned by Omegle.
If Omegle finds that you are spamming with other users in chat, your IP can be scanned and banned.
Omegle also has minimum age requirements for users who are accessing it. If you are under the requirement age limit, Omegle restricts you.
If you are using bots or scripts to automate your actions in Omegle, it is against their rules and you will be banned.
If too many people suddenly drop out of your chat, Omegle's algorithm will flag you as a troll. In contrast, if you drop out suddenly of other chats, you will be banned.
If you have not done anything wrong, if other persons report you on the website for some reason, Omegle bans you. Although this reporting feature helps to protect users from abusive people, inaccurate reports happen.
In this section, you have learned why am I banned from Omegle. Next, you will explore how long will Omegle ban lasts.
How Long Will the Omegle Ban Last?
The duration of the Omegle ban will depend on the reason for your ban and how it is imposed. Several factors like behaviour, racism, and harassment may lead to a temporary ban in Omegle.
Temporary bans may last from a week to a few months. It depends on the severity of the violation and your history on Omegle.
Repeated violations or engaging in harmful or inappropriate conduct can be more severe and lead to a permanent ban. This may ban a user's account from permanently accessing the platform.
How to Get Unbanned from Omegle?
If you are wondering how to get unbanned on Omegle, here are a few simple and effective methods that help you get unbanned from Omegle.
Solution 1: Wait for Your Suspension to End
The first solution to get unbanned from Omegle is to wait until the suspension is over. Once you have received "served your time" your restriction is restored. Then, try logging into your Omegle account and check if you can access it again.
Solution 2: Use a Proxy Service
Proxies are similar to VPN services. Your network traffic will be sent through an intermediary server, making it look like the server's IP address belongs to you. So, if you are banned by Omegle, you can access it.
Follow these instructions to enable the proxy settings on your PC.
Hit the Windows button and type Proxy in the search box.
Then, click on Change proxy settings from the search results.
And, turn on the below available settings:

Automatically detect settings
Use setup script
Use a proxy server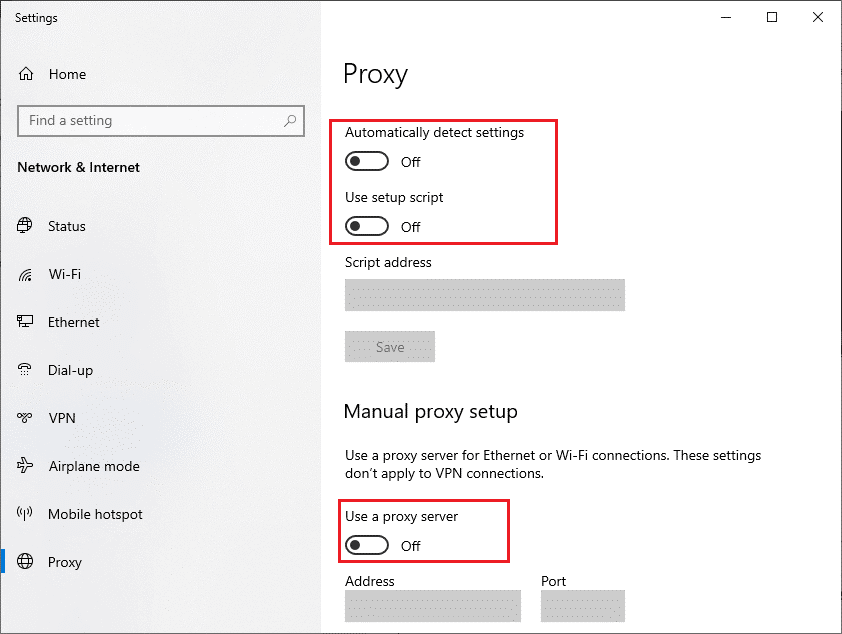 Your system automatically detects the proxy server settings, so you do not need to input any information.
Also Read: 8 Fixes Omegle "Error Connecting To Server. Please Try Again"
Solution 3: Reset Your Modem (To Obtain a New IP) and try a Different Network
Your Internet Service Providers make use of dynamic IP addresses which means every assigned IP automatically refreshes after a particular period. In another way, you can manually refresh your IP by resetting your IP.
Unplug your modem from the socket.
Wait for 20 to 35 minutes till a new IP is assigned to your network.
Plug in your modem again and check if you can access Omegle.
Else, you can also try switching your network to a hotspot network or Wi-Fi. Check if the Omegle access ban is rectified.
Solution 4: Use a Virtual Private Network (VPN)
Using a Virtual Private Network is the most straightforward approach for how to get unbanned on Omegle. VPN encodes your internet address data and transmits them through a remote server until you get a different destination address.
By doing this, your original IP address will remain undetected and Omegle will not recognize who you are. But you have to take note that, not all VPNs are compatible with Omegle. You must always opt for a reliable VPN network like ExpressVPN and launch it on your device.
Hit the Windows key and type VPN settings in the search bar. Then, click Open to launch it.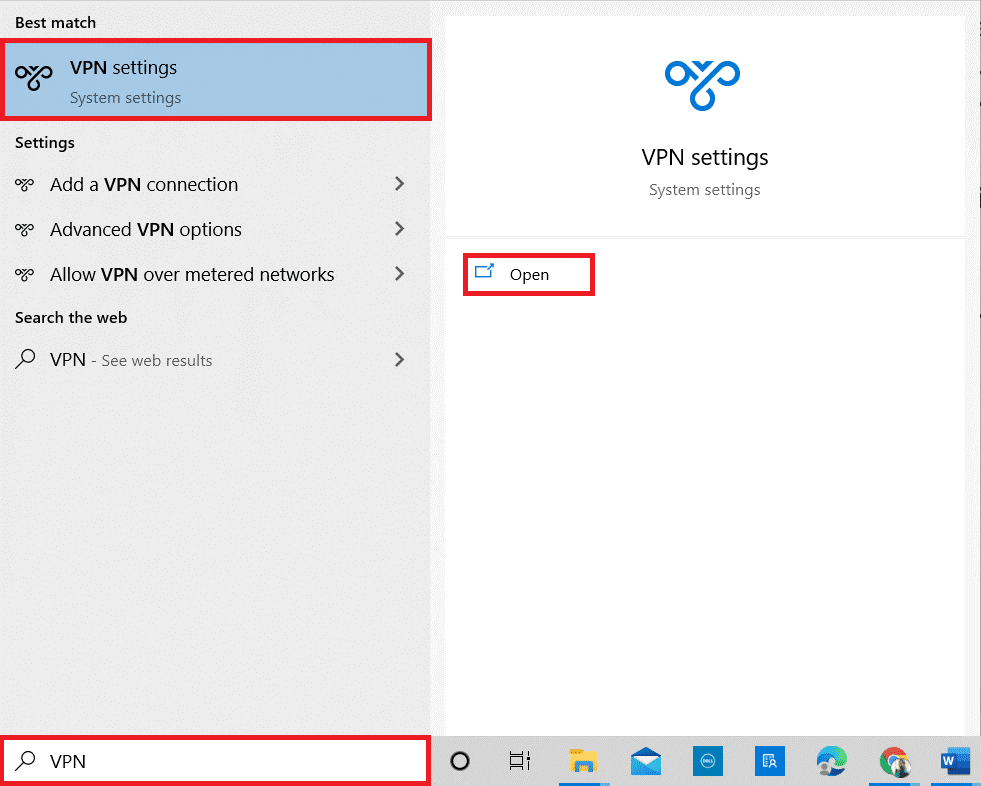 Navigate to the left pane in the Settings window, and click on the VPN
Enable the below-listed VPN options under Advanced Options:

Allow VPN over metered networks
Allow VPN while roaming
Solution 5: Submit a Formal Appeal to Omegle
If all other listed solutions do not help to get Omegle unbanned, then all you have to do is contact Omegle's official support. Write an email to them and the technical support team will reach out to you with a solution.
Although it takes a few days till the support team contacts you, it is worth trying to connect them by following these instructions.
Go to your browser and navigate to the homepage of Omegle. Scroll down the page.
Look for the send feedback button and click on it to send your queries to the Omegle support team.
Add your email address, type your problem, and your IP address.
Next, click on the send button once you complete the process.
Wait until the support team responds to you.
How to Stay Safe on Omegle?
Considering the harmful consequences of the Omegle ban, it is essential for you to take some preventive measures while conversing with strangers on the platform.
Add your interests in Omegle: Omegle usually matches your profile to other persons with similar interests. It takes you to the first step of protecting yourself on Omegle.
Safeguard your personal data: You should avoid adding any personal data such as name, communication address, contact details, or social media profiles. Omegle's algorithms are designed for anonymous conversations so putting your personal information will put you at risk.
Always be cautious while using a webcam: Exposing your visual identity while using Omegle will put you at risk. Omegle takes screenshots of your conversation for security purposes. So you have to stay cautious while using the platform. Also, strangers may use screen recording software to record your identity and misuse them later. A small detail in your background can be used later to narrow down your location.
Instantly report inappropriate behaviour: If someone engages you in offensive or threatening behaviour on Omegle, you would need to report them instantly. You can use the report button in the platform to notify about the violations.
Never click on any links: Hackers make use of suspicious links to spread malware to execute a cyber attack against you. Even if something seems to be a trustworthy source, search for it on the internet before clicking on the external link.
Recommended Solution to Optimize PC Performance
If your Windows 10 PC or laptop is running slow or showing various errors and issues then here it is suggested to scan your system with the PC Repair Tool.
This is a multifunctional tool that just by scanning once detects and fixes various computer errors, removes malware, and hardware failure, prevents file loss, and repairs corrupted system files to speed up Windows PC performances, runtime errors, application errors, and many others.
Conclusion
If you want Omegle unbanned, the first thing you want to do is to check with the internet provider to ensure that such services are permitted on your device.
Yet, you can access Omegle if banned by following the methods discussed in this guide. Always ensure you follow the safety precautions to keep you safe and secure on the platform. Hope one of our solutions managed to fix the problem in your case.
If in case you have any doubts or queries related to this particular article, you can get back to us on the Facebook page.
Good Luck..!
Hardeep has always been a Windows lover ever since she got her hands on her first Windows XP PC. She has always been enthusiastic about technological stuff, especially Artificial Intelligence (AI) computing. Before joining PC Error Fix, she worked as a freelancer and worked on numerous technical projects.