Omegle "Error connecting to server. Please try again" error message appears when Omegle fails to establish a connection with the server as your IP address is blocked or blacklisted.
The most common cause of the error is Omegle is facing technical problems in the server. Furthermore, there are other reasons as well.
This blog is outlined in complete detail why Omegle showing errors while connecting to the server. As well as shortlisted the solutions that worked for several affected users to fix Omegle Error Connecting to Server. Please Try Again, error.
Apart from this, you will also get answers to all the most frequently asked queries related to Omegle.
Rated Excellent on

Trustpilot
Free PC Repair Tool
Repair corrupt or missing system files, prevent virus/malware, file loss or any kind of PC issues.

Download
What is Omegle?
Omegle is a popular website that offers free online chat facilities. It lets you get paired with random strangers without registering. You can communicate with anyone through video or voice chat or by sending text messages.
This service makes the random pairing of users in the "one-on-one" chat sessions. In the spy mode, anyone can chat anonymously by using the names like "You", "Stranger 1" or "Stranger 2" etc.
Thus it's not that hard to guess why Omegle is so alluring.
What Causes Omegle Error Connecting to Server?
Well, there are several factors responsible for this Omegle Error Connecting to Server. Here I have listed down some most common ones so take a look over them:
Your IP address is either suspended or banned by Omegle and that's why you are facing an error in connecting to Server.
Omegle is undergoing some server-side problem for which you can't do anything.
Your system or ISP is blocking the Omegle connection.
A configuration setting is got outdated in your PC or browser.
Another culprit can be the accumulated browsing data on your PC which is either frequently created by the flash plugin or websites.
How Do I Fix Omegle "Error Connecting to Server. Please Try Again"? 
Try the following listed solutions to fix Omegle not working or connecting to server problem.
Fix 1: Verify Omegle's Server Status
As the error message error connecting to server Omegle clearly signifies that there are some issues when establishing a connection with the server.
Therefore, it is suggested to check for the Omegle server status, in this case, you can visit the Omegle official Twitter page to check the server status.
Moreover, you can also check the status by visiting the downdetector website and checking if it is facing downtime or any other issues.
Fix 2: Repair Corrupted System Files 
Omegle fails to connect to server when some corrupt and missing system files are present on your PC. Well to repair corrupt system files or any kind of PC issues you are recommended to use the PC Repair Tool.
This tool scans your whole PC to find out the actual causes of the problem. It will also boost your PC's performance.
Using this advanced tool to easily get rid of Windows errors and issues. This tool can fix BSOD errors, update errors, DLL errors, browser errors, repair registry entries, etc in just a few clicks.
Fix 3: Try Using Omegle On Another Device
First, try to fix Omegle error connecting to server with a simple approach like you can use Omegle on some other Device.
If you are having some other Internet-enabled device then try to run the Omegle site on that device.
It will clear one thing whether you are getting this Omegle connecting to server error because of the device problem or having some other problem.
Fix 4: Flush DNS 
If Omegle is unable to connect with the server due to a network connection problem then you can fix this by applying the set of commands in the command prompt window to flush DNS.
So here are the steps that you need to follow for rebuilding the IP & DNS settings.
Go to the start menu and in the search box type "cmd". Press enter to make a search. After getting the search result choose the first entry i.e command prompt.
Now make right-click on it and then from the context menu choose "Run as administrator"
In the opened command prompt window you have to type the below-given command and don't forget to press enter after every single command.
ipconfig/flushdns
ipconfig/release
ipconfig/release6
ipconfig/renew
After completion of the process, you will receive the message "Operation completed successfully".
Now try to reopen the Omegle on your browser and check whether the "Omegle Error connecting to server" still persists.
Fix 5: Use Reliable VPN To Open Omegle
Many users find reporting about using a VPN for opening the Omegle website or for getting unbanned from Omegle and it actually worked.
There are various VPN services available online like PIA, ExpressVPN, and CyberGhost. But try to use a reliable VPN that is not blocked by Omegle. So just make sure that you will make the right selection of VPN tools to do this task.
Note: Using VPN is quite tricky and also restricted in some countries so it will be better if you consult with your network provider before using the VPN to open Omegle.
Fix 6: Delete Flash Player Cache Data
Deleting up the flash browsing data will resolve the Omegle connection failure error. This task of deletion can be done through your browser and after doing this your problem of Omegle using Flash broadly will easily get resolved.
Close your opened browser windows.
Open your Flash Player control panel.
Now choose the Storage tab and hit the "Delete All…"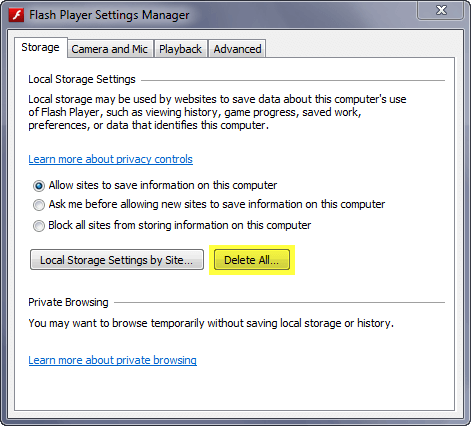 Make confirmation by putting a checkmark across the "Delete All Site Data and Settings"
After that hit the "Delete Data" button.
Next, your flash cache data has been cleared and then you need to restart your browser.
Fix 7: Delete Browser's Cookies
When a certain website fails to load then this issue can be easily resolved by deleting all the browser cookies.
This will also improve your browsing experience and you will be able to visit your Omegle website again.
Google Chrome:
Hit the 3 vertical dots present at the top right corner of the browser.
Now choose "More tools" and then "Clear browsing data"
Here you can select the time range up to which you want to delete the data. So choose it as per your requirement.
You can also choose the type of data you wants to delete. Here you will get the 3 options
Browsing history
Cookies and other site data
Cached images and files
After making a selection of the time period and type of data hit the "clear data"
Mozilla Firefox: 
Open your Mozilla Firefox browser and then tap on the library-like icon present in the upper right corner of the browser's windows.
Search for the history > Clear Recent History
In the opened clear recent history window hit the arrow sign present next to the time range From the opened drop-down menu choose the "everything" option.
Also choose the type of data you wants to delete such as browsing and downloading history, cache, cookies etc.
After completing the selection hit the ok button, to clear browser cookies.
Now restart your browser and again try to open the Omegle website.
Fix 8: Restart Your Modem/Router 
The Omegle error connecting to server message also appears due to a network connectivity issue, a slow internet connection. In this case, make sure your internet connection is working properly and has good speed.
You can restart your modem and router for this unplug your modem or router for a few minutes and then plug it in back.
If you are having the option of dynamic IP then restarting your router can assign you a new IP address. Moreover, it depends on the subscription.
This will take time, so you have to wait until the connection gets re-established; mainly when you are using the double-NAT configuration.
You can also switch to an ethernet connection if using a Wifi to get uninterrupted network access.
FAQ: Learn More About Omegle
1 - Is Omegle Safe?
Yes, Omegle is safe or you can say it is less dangerous than video apps. But still don't share any of your personal detail with anyone until you achieve complete trust.

Always remember one thing that Omegle helps you to connect with random users present all over the world. So it's quite obvious to get adult content, offensive language or hurtful statements.
2 - Which VPN Works On Omegle?
ExpressVPN — This VPN service is quite expensive but it comes with lightning-fast speed and of course no-log policy. It also offers a 30-day money-back guarantee. So you can return it and get your money back if you don't find its service helpful to you.

CyberGhost — It gives a large server network and complete protection over Wi-Fi. But it has a slow desktop interface.

Private Internet Access — This VPN service offers reliable server connections with AES encryption. But the dropdown of this service is its slow customer service response.
3 - Why Does Omegle Ban People?
Well, there can be various reasons behind the Omegle error connecting to server ban. Let's know about each of them:
Omegle Ban People when they violate the policy by racism, sharing nude pictures, or showing abusive behaviour on this platform.
Someone else has reported against you then also you get banned on Omegle.
If you have done nothing wrong but still you are banned then take a look over Omegle's Terms and Privacy Policy.
Suppose if your age is under 13 then you are strictly not allowed to access this website. If your age is under 18 then you need your guardian's permission.
In some countries like Turkey, the UAE, China, Pakistan, Qatar access to the Omegle website is banned. So this can be the reason why you are not able to access it.
4 - How Long Does The Omegle Ban Last?
Omegle bans last for 1 week or 4 months. Moreover, this depends on the ban policy violation committed.
Apart from this the serious offender also gets permanently banned from the Omegle website.
5 - Is It Legal To Use Omegle With A VPN?
Yes, it is legal to access the Omegle site with a VPN. Caution: VPN helps you to keep your identity anonymous online but it won't allow you to do illegal things.
Suppose, if anyone is using VPN to harass someone then it's a crime and the VPN provider will take legal action against that person.
6 - Which Countries Block Omegle?
Countries that block the VoIP services such as WhatsApp, FaceTime and skype will also block access to Omegle.
The reason behind blocking Omegle in many countries is quite simple. As these types of platforms give users to communicate easily with anyone around the world and it's not possible for the government to monitor everything. Thus they have put a banned on its usage in their country.
Following are the places where Omegle has blocked China, UAE, Libya, Jordan, Oman, and Qatar.
7 - How Do You Get Unbanned from Omegle?
There is no option to contact Omegle directly so you can't even request to any of its staff members to unban you.
There is no contact detail, unmonitored chats are not tracked. Whereas the monitored chats are also tracked by any human it is completely machine-based.
Final Thoughts:
If you are a great fan of Omegle then the problem in connecting to the server is quite frustrating and disappointing too.
But after reading this post you all know how to fix Omegle error connecting to server message.
Apart from the listed solution, if you have any better solutions to fix Omegle unable to connect with server error then feel free to share them with us on our Facebook Page.
Good Luck..!
Hardeep has always been a Windows lover ever since she got her hands on her first Windows XP PC. She has always been enthusiastic about technological stuff, especially Artificial Intelligence (AI) computing. Before joining PC Error Fix, she worked as a freelancer and worked on numerous technical projects.