We know how frustrating it is when you try to open a file on your system with an unknown file extension. Fortunately, there are many methods to figure this out and you are at the right place to learn that. In this guide, you will learn how to open unknown file.
You will also find ways to Open Unknown File Extensions in Windows with correct steps that can last forever. We also cover steps for how to open unknown file on Android as well. So, what are you waiting for? Continue exploring!
Explore More About File Extensions
Before you start to learn the methods to open a file with an unknown file extension, just have a look at what a file extension is and how they are important. Usually, file extensions are a crucial combination of file names that is followed by a period. For example: (.PNG or .txt)
File extensions tell us whether the file is an executable one or which program is necessary to launch the file. If you do not have the correct program to launch the file, you may face error messages or even worse.
There are so many ways that help you figure out which program is necessary to launch the file with unknown file extensions.
How to Open Unknown File Extensions?
Well, opening the unknown file extension is quite tricky as you are not aware of the file format or the program linked. However, opening an unknown file is possible you just need to follow the steps given:
Identify the File Extension: First, you need to identify the unknown file extension, by checking the file name after the last dot (like .txt, .png, .pdf). By seeing the extensions, you get a clue of the file type.
Please Note: Sometimes the file extensions are changed intentionally and can be deceptive so be careful.
Utilize the Text Editor: If your file extension shows it is a text-based file then you need to open it with the text editor such as Notepad on Windows OS or TextEdit on MacOS. This may work for you to view the file text content.
Utilize the Universal File Viewer: The universal file viewer is the software program which opens the various file formats such as for compressed files the 7-Zip and for multimedia files the VLC media player. So, if needed install the needed software and try opening the file.
Utilize Online File Identification Tools: There are various tools as well as websites that allow you to recognize the file format as per their content. So, if you are unable to recognize the unknown file then upload it to any of these services and they will do the work for you. They will scan and determine the format and advise the suitable software to open it.
Analyse the File Signature: At the file beginning each file format has its unique file signature or the magic number. You can utilize the file analysis tool or a hex editor to identify the content of the file and its signature. As you have the file signature search on the web for the matching file format and the software for opening it.
Once you identify the file extension locate the software you need for opening the file.
Next, right-click on the file and open the file with the correct app.
Utilize the 3rd party software and convert your file to a different extension (if valid).
These are the basic steps for opening an unknown file below we have listed the steps for opening a file on Windows as well as Android OS. Follow the steps according to your device.
Also Read: Fix File Extension Errors or Problems – [Detailed Guide]
How to Open Unknown File Extensions in Windows?
Follow the below-listed instructions to learn how to open unknown file type online on Windows system.
Go to Windows File Explorer by pressing the Windows + E keys
Then, find the unknown file and double-click on it to open the corresponding program.
If you are getting the "Windows can't open a file" error message, look for other applications to open the file.
If you come to know about the application that can run the unknown file, then check if it has a File> Open main menu option in that application.
But, still, if you do not find the app to run the unknown file, search online for the UNKNOWN viewer or apps to open UNKNOWN file
Install any app from a reliable source and consider using it to implement how to open a file with an unknown file extension on your system.
How to Open Unknown File on Android?
If you are trying to open an unknown file on your Android device, follow these instructions.
Go to your Android apps list and search for My Files or File Manager
Then, search and find the Downloads folder inside the app.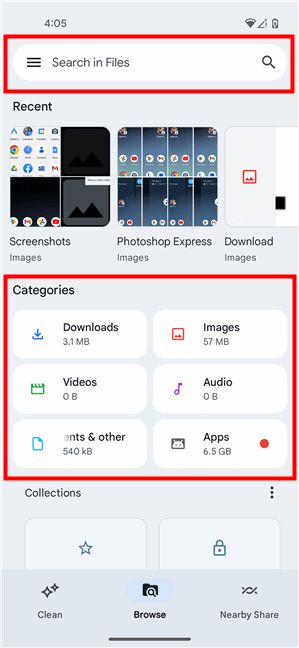 Now, you should see your file with an unknown file extension in it.
Then, try to open the file with the default apps present on your device. If you cannot open them with the current applications, you will receive the following error messages.
"Can't open file"

"No apps can perform this action."

"You don't have any apps that can open this type of file"
Now, you will be redirected to the Play Store or App Store to install the appropriate apps.
Then, you can also try to open your file from websites like filext.com.
Third-Party Tools to Open a File with Unknown Extensions
If you are wondering which online tool to use to launch the file with an unknown file extension, here we give you a list of software. With the right software and tools, you can easily work with any file format without dealing with compatibility issues.
Things to be Aware of When Opening an Unknown File:
While trying to open a file with an unknown file extension you need to be cautious about certain things such as:
Make sure the file you are trying to open is not received from an unknown or untrusted source. The unknown files may come bundled with viruses or malware infections to steal your data.
Assure scanning the file with a powerful antivirus program before opening it.
If the file you are trying to open is corrupted or in an unsupported file format it won't be opened by any software.
Final Words
That's it! In this guide, you have explored the methods on how to open unknown file on your Windows and Android devices.
Although there is no legitimate way to open an unknown file extension without any third-party apps, the methods enlisted in this guide can help you open any file without any hassle.
Despite this, if you have any sort of queries or questions related to this article or this specific Windows process, then write to us on our Facebook page.
Good Luck…!
Hardeep has always been a Windows lover ever since she got her hands on her first Windows XP PC. She has always been enthusiastic about technological stuff, especially Artificial Intelligence (AI) computing. Before joining PC Error Fix, she worked as a freelancer and worked on numerous technical projects.