Are you bumped with error code UI3012 on your Windows computer while trying to run Netflix? Wondering what went wrong or how to fix Netflix error code UI3012?
Then this article is for you, here learn how to fix Netflix error UI3012 easily on your computer.
Netflix is indeed an ultimate source of entertainment and recently this release an app for the Android, iPhone, and Windows 10, to offer the exact same experience of web browsers.
However, many Windows users found reporting various problem while using an app like Netflix keeps freezing or crash randomly or the Netflix video streaming problem on Windows 10.
And today I am here with one more annoying Netflix error UI3012 encountered by the users on the computer, and they get an error message:
Whoops, something went wrong… Unexpected Error.

There was an unexpected error. Try Reloading the page and try again.
Well, this is a bit irritating, but as per some users reloading the page works for them to fix the error.
So, make sure to reload the page but if this won't work for you, then follow the solutions given below to fix error code UI3012 on your computer
But first why it occurs, so that you can fix the error easily.
Why I am getting Netflix Error Code UI3012
Due to the weak network or Wi-Fi signal strength
Browsers extension might interfere
Or due to the ISP restrictions
Well, the problem is commonly due to the network connectivity issue and this prevents the PC/laptop from reaching Netflix service.
Moreover, without wasting time follow the fixes given below.
How do I Fix Netflix Error Code UI3012?
Solution 1: Check your Network Connection
As it is confirmed due to unstable or slow network connection, you are receiving Netflix error UI3012 on your computer.
Verify the below-given points:
If you are using public Wi-Fi network like school, work, hotel or hospital then verify the Netflix is supported or not blocked
Please Note: Many Public networks have the limited bandwidth
But if you are using the cellular network data, then try a different network. Well, the cellular network data often have a slow connection speed than DSL or cable internet.
But if the networking connection is working fine then head to the next solution.
Solution 2: Restart Networking Equipment
If the internet connection is working fine then and it might be the communication glitches between the Netflix server and your device.
So, it is indeed best to restart your system and home network equipment to fix error code UI3012 on your computer.
Follow the steps to do so:
Turn off your PC/laptop and router/modem
Then from the power source,> unplug router/modem > and wait for 30 seconds.
And after that plug in your modem/router to the power source > power it on.
Then wait for the router/modem's light to become stable.
Next power on the system and try running Netflix
Check if this is working fine without any error code UI3012.
Solution 3: Connect your computer directly to your modem
If you are connecting through the wireless router that is connected to the modem but still won't connect after restarting the internet, then try to bypass the router. Doing this will help you recognize what is causing the issue.
Follow the steps to do so:            
First shutdown your computer.
Then plug your system directly into the modem by using an Ethernet cable.
Next, unplug the modem from power for 30 seconds > and plug it back.
Wait till no new indicator lights start flashing on.
And turn on the computer > try Netflix again
I hope this works for you to fix Netflix error UI3012.
Solution 3: Disable the Browser Extensions
As mentioned above your browser extensions might cause interruption and Netflix error code UI3012. So check if you are using any Netflix related extensions like "Force Netflix 1080p" extension.
Then disable it and check if this works for you to solve error UI3012.
Well, you can below check out the instruction for the Firefox browser.
Start Firefox > click on the 3 vertical bars menu
And click on Add-ons > now locate the addon that you think is causing the problem and toggle the and switch to Off position
Moreover, if you face a problem in locating the browser addon, then disable entire addons and enable them one by one to check the one that is causing the problem.
And then try to open Netflix in Firefox and check if the error is fixed or not.
Note: You can disable the add-ons on your respective browsers.
Solution 4: Change Your Network
The ISPs use different protocols and methods for controlling web traffic and protect their uses. But in this process, they block access to important network resources needed by legitimate applications.
In many cases, it limits the streams. So, here it is suggested to change the network.
Try changing your network, but if another network is not available, then switch to your phone's hotspot.
Try running the Netflix and check if it is operating properly.
Solution 5: Reset Your Network
If in case, you have done the modification to the default connection settings such as custom DNS then this can also connectivity issues.
Well if you are using a VPN or Proxy, then it may also create connectivity issues. And this might be the one that is causing Netflix error code UI3012.
So the best option here is to reset your network to the default setting and disable the VPN/proxy this may work for you.
Follow the steps to do so:
First, turn off the VPN/proxy client.
Then press Windows key > type Network Reset. And from the list > click on Network Reset.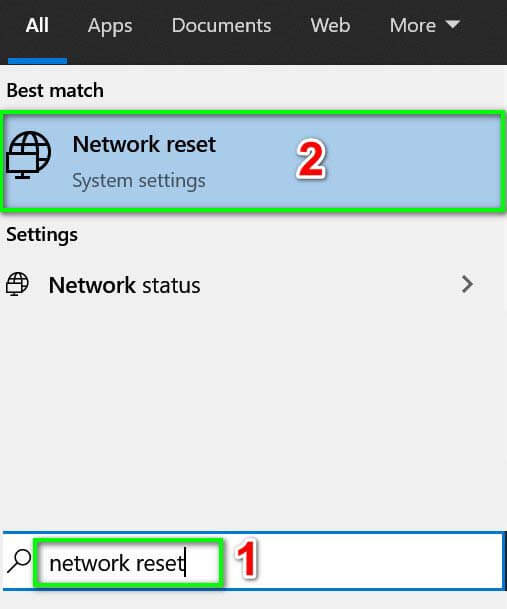 And from the Network Reset window > click on Network Reset. > confirm to reset your network
When the system starts to verify if the Netflix error code UI3012.
Bonus Tip: Improve Your Wi-Fi Signals Strength
As said if you are using weak signals of your Wi-Fi then this can badly affect your device connectivity and may lead Netflix error UI3012.
So below check out some of the important steps to develop the Wi-Fi strength.
Place the Wi-Fi router on 3 – 4 feet height, also assure at least 3-4 feet area around the Wi-Fi router is empty in all directions.
Move the system closer to the Wi-Fi router.
Remove the electrical/ magnetic interference like cordless phones, microwaves, televisions where the Wi-Fi router is located.
FAQ: PEOPLE ALSO ASK:
Recommended Solution – Fix Various Computer Errors/Problems
If you find your Windows PC/laptop is running slow or you are encountering various stubborn computer errors and issues then it is suggested to scan your system with the one and only PC Repair Tool.   
This is an advanced repair tool that just by scanning once detect and fix various Windows problems and stubborn computer errors.
 With this, you can fix various update errors, repair the corrupted Windows system files, DLL errors, registry errors, prevent virus or malware infection, and much more.
This not only fixes errors but also optimizes your Windows PC performance like a new one to optimize the gaming performance.
Conclusion:
It is expected now the Netflix error code UI3012 is fixed after following the solution listed in the article.
The solutions given are easy to follow and worked for many users to fix error UI3012 on their computers.
Make sure to follow the solutions carefully to get rid of the error and start watching Netflix again.
It is estimated the article works for you, so feel free to hit the like button on our social media handles @ Facebook and Twitter.
Good Luck..!
Hardeep has always been a Windows lover ever since she got her hands on her first Windows XP PC. She has always been enthusiastic about technological stuff, especially Artificial Intelligence (AI) computing. Before joining PC Error Fix, she worked as a freelancer and worked on numerous technical projects.