Got interrupted by Hulu error code 2(-998) in between the most interesting part of your favourite movie/series? Ah, so much annoying, Right? Well, don't worry because with this blog you will be easily able to solve this issue in no time.
This error generally presents itself with a short message "Sorry, we encountered an error playing this video. Please try restarting the video or select something else to watch. Error Code: 2(-998)"
Here, in this article, you will not only get to know about the most probable cause responsible for this error but also the effective solutions to fix it.
What Causes Hulu Error Code 2(-998)?
Server Issue- Most of the time it has been found that the user gets this error due to a server outage. So, try to check the Hulu server first when on encountered such an error.
Unstable Internet Connection- If your internet connection is not strong or stable then it might cause this error to appear. So, always make sure you must have a stable and strong internet connection to avoid such errors.
Outdated Hulu App– If you have an outdated version of the Hulu app then you might get faced with such an error. However, in this case, make sure to use the latest version of the Hulu app.
Corrupted or Missing Application files– If the application files got corrupted or missing then it might show you the Hulu Error Code 2. Try fixing the issue by restoring the missing files and repairing the corrupted files by performing an SFC scan.
Cache Data– When the Hulu app got burdened with lots of unnecessary cache data then it might trigger this error to the user. Try clearing the cache data to avoid such a problematic situation.
Expired Subscription– Most of the time, the user faces this error when their subscription got expired. So when faced with such an issue tries to check your subscription status also.
Unnecessary background running tasks– Most of the time, it has been noticed that unnecessary background running tasks may cause this error by overloading your system RAM. So, always make sure to shut off all the unwanted running tasks from the background.
Now, knowing the causes responsible for this error will help you to apply the most effective fix to solve this problem without taking any of your extra time.
How To Fix Hulu Error Code 2(-998)?
The below fixes will work for different operating systems like PC, Android phones as well as any Android TV.
Method 1: Check The Hulu App Server
If your Hulu app stopped in between and hinders playing the content again, then the very first thing to do is to check the app server. If the server is running through downtime or is under maintenance then the only solution is to wait.
Once the server fixes its issues, re-launch the Hulu and check if the issue still persists or not.
Method 2: Check The Internet Connection of Your System
Another major reason for this error is the unstable internet connection on your system. It has been recorded in forums by many users that unstable or slow internet connection also triggers this error to arise.
So if this is the same case with you, then make sure you have a stable or strong internet connection.
Method 3: Check The Hulu App Version
Another reason for the occurrence of this error is the outdated Hulu app version. So, make sure you have the official and updated version of the app to avoid such errors.
If you have the outdated version of this app then try installing the latest version of the app and try launching the app again to fix connection error for Hulu error code 2(-998).
Method 4: Repair or Restore The Corrupted or Missing App Files.
If your Hulu app file got corrupted or missing then you can repair the corrupted file through an SFC scan and restore the missing file from Recycle Bin.
To repair the corrupted app files, simply follow the steps below:
Go to the start search box or Win+R and type cmd to run Command Prompt.
Then on the cmd panel execute System File Checker by typing the sfc/scannow command and hitting Enter.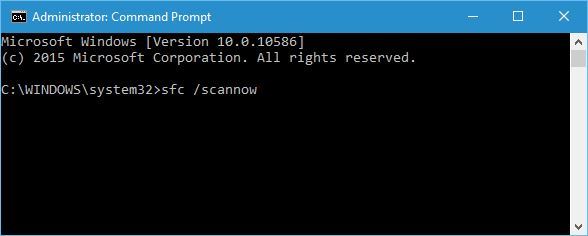 Now, wait for the scan operation to complete.
Note: [Do not perform any other action while the scanning is in process]
Method 5: Clear The Hulu App Cache Data
Sometimes, lots of app cache data also can cause this error. So, try clearing the app cache to fix such an error. To do so, follow the quick steps below:
Go to Settings.
Then select Application Manager
Under that go for Manage Installed Applications and select Hulu
Then finally select both Clear Cache and Clear Data.
Now, your Hulu app is ready to be re-launched.
Method 6: Check Your Hulu App Subscription Status
If your Hulu app subscription got expired then you might get this error by hindering the video from playing any further. So, here it is suggested to check the subscription status in case you are facing such an error.
If your subscription got expired, then try renewing your subscription to fix connection error for Hulu error code 2(-998).
Method 7: Close The Unnecessary Background Running Tasks
If you have lots of unnecessary tasks running in the background while accessing the Hulu app then it might arise this error. So, try to terminate other background tasks by disabling them. As sometimes the background apps might starts conflicting with the Hulu app thereby causing the video to stop in between.
You can simply disable the background tasks by following the simple steps below:
Launch Task Manager by pressing the Ctrl+ Shift+ Esc key.
Now view under the Processes tab, the list of Background running tasks.
Select the tasks you want to terminate from running by clicking the End Task button at the right bottom.
Now as your system is free from all background tasks, re-launch the Hulu app to check if the problem is fixed or not.
Method 8: Try Changing Your Current Browser
If you are using one of these mentioned browsers (Chrome, Firefox, or edge) to log in to your Hulu App then try changing to a different browser. As it has been found in many reported forums that due to any temporary browser bug also this error might be caused.
So, in this case, try updating your current browser first. If updating your current browser doesn't solve your problem, then switch to a different browser to fix this problem.
Method 9: Power-cycle Hulu App
In most instances, power cycling the Hulu app fixes the issue of error code 2(-998) in the Hulu app. To power-cycle your Hulu app just performs the below steps as guided:
Force-stop the app from the task manager.
Disable your network connection.
Plug off your system from the main switch and wait for some time.
After some time restart your system.
Connect your system with a modem or router for an internet connection.
And launch the Hulu app again.
Method 10: Re-install The Hulu App
If your problem still persists after power cycling the Hulu app then you can try reinstalling the app. For this, simply uninstall the app and download the official version and install it and check if the problem still persists or not.
Method 11: Contact With Support Team of Hulu
If none of the above methods solves your issue then the best solution is to reach for the support team of the Hulu app. Make sure to keep your account-related details in hand ready to provide instant information on being verified by the support executive.
Best Recommended Way to Fix Hulu Error Code 2(-998)
If your issue still persists after applying all the above effective solutions then it might be because of your PC's internal issues and errors. Then, here it is suggested to scan your system with the one and only PC Repair Tool.
This is an advanced repair tool that just by scanning once detects and fixes various Windows problems and stubborn computer errors. It not only fixes errors but also optimizes your Windows PC performance like a new one thereby resolving various Windows errors.
With this, you can fix various update errors, repair corrupted Windows system files, DLL errors, registry errors, prevent virus or malware infection, and much more.
Conclusion:
Mostly these errors are temporary and fixed when the Hulu app got updated. If having an updated version of the app doesn't solve your problem then you can go for some above potential solutions to get past the Hulu error code 2(-998).
I, hope the above effective methods resolve your problem thereby letting you watch your favourite series/movie without any further interruptions.
In case of any doubts and queries related to this particular blog, you can comment on Twitter or Facebook.
Always up to help others with their PC-related issues, Jack loves to write on subjects such as Windows 10, Xbox, and numerous technical things. In his free time, he loves to play with his dog "Bruno" and hang out with his friends.