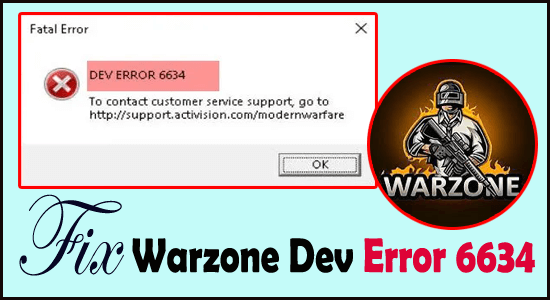 Are you frequently getting the Dev error 6634 meanwhile playing the Warzone game? Due to the occurrence of this error, does your game starts booting all of a sudden? Then in this tutorial learn how to fix Dev error 6634?
Well, the Dev errors are commonly seen in Call of Duty Warzone, in our earlier guide we mentioned how to fix Dev Error 6068 and today we are here with another Warzone Dev error 6634.
It is reported that the error is especially seen on the Windows OS and generally occurs due to several different reasons like game internal glitches, corrupted game files, outdated graphics drivers etc.
So, below find out the solutions that work for you to get past the error and play the Call of Duty Warzone game.
How To Fix Warzone Dev Error 6634?
Trick 1# Check System Requirements To Run Warzone
Following System configuration is required to run the Warzone Dev game without any issue.
Operating System: Windows 10/11 64-bit
DirectX: Version 12
Graphics: NVIDIA GeForce GTX 670 / GeForce GTX 1650 or Radeon HD 7950
Processor: Intel Core i3-4340 or AMD FX-6300
Memory Storage: 175 GB
Ensure that your PC fulfils the above-given requirement to fix 'Dev Error 6634' Call of Duty: Warzone.
Trick 2# Repair The Game Files
It is seen that Warzone Dev error mostly encounters integrity issues with the game files. Instead of reinstalling the complete game, you can perform the scan and repair procedure.
Here are the steps that you need to follow:
Open the Battle.net client.
Go to the left menu and choose Call of Duty: MW. Now hit the Options tab and then from the drop-down choose Scan and Repair option.
Hit the Begin Scan button. Wait until the whole checking process gets over.
After completing this, start your game normally as you do. If the issue still persists then try out the next fixes.
Trick 3# Free Up The VRAM & RAM
The warzone game starts hanging especially if it is kept running for the while. This happens due to memory leaking in some PC, which means the game will start using more RAM or VRAM if it is left running for a longer duration.
To get rid of this problematic situation restart the Warzone game after every match. By doing this, your game memory usage automatically gets reset.
Trick 4# Update The Graphics Driver
Warzone Dev Error 6634 also occurs when there is some issue encountered in the Graphics Driver.
The reason can be the compatibility issue generated due to outdated or broken graphic drivers.
So it is always recommended to keep your graphics driver always updated. A new and updated driver helps a lot in improving the gaming experience. Apart from this, it will also fix compatibility problems as well as the Call of Duty keeps crashing and lagging.
You can update your graphics driver by any of these two methods: manual or automatic.
Manually update Graphics Driver
If you want to manually update the GPU driver then here are the steps that you need to follow.
At first, you need to visit the GPU manufacturer's website
After that start searching for the GPU model you are currently been using.
Note:
Download only the latest driver installer which is well compatible with your system OS. After downloading, you have to open the installer and then follow the on-screen instructions to update this.
Automatically update Graphics
The second easiest way to Update Graphics Driver automatically is by using an expert's recommended Driver Easy tool.
If you are not having that much knowledge to update video drivers manually then by making use of Driver Easy you can overcome this problem.
As driver easy automatically identifies your system and chooses the right driver as per your windows version and graphics card.  After that, it will download and install them correctly.
After updating the graphic card, restart the PC to see the full effect. If the latest GPU driver won't fix COD Warzone Dev error 6634 then you can try the next solution.
Trick 5# Install All Windows Updates
From time to time Microsoft releases Windows updates, which include new security patches and tricks. Drivers, you should also make sure your system is up to date so as to avoid some strange issues.
Here's how you can check for updates manually:
On the keyboard, press Win (the Windows logo key). At the bottom left corner of your PC screen, tap the gear icon, this will open the settings tab.
Scroll down to choose the Update & Security option.
Hit the Windows Update.
Tap "Check for updates" for the option. You need to wait till the process gets over. Now restart your PC.
Ensure you have installed the entire system updates. Repeat the step until you get the message "You're up to date" when you tap the "Check for updates" option.
After installing the Windows updates restart your system and check whether the warzone error has been resolved or not.
Trick 6# Reinstall All The Shaders
Shaders are the program type that is mainly used for rendering different pixels. Some player has reported that by reinstalling shaders the problem of warzone game crashing can easily be fixed.
Here are the steps that you need to follow:
Run the Modern Warfare and then go to the Options.
Switch to the Graphics tab and tap the "Restart Shaders Installation".
Hit the Restart option to proceed further.
You have to wait until the whole process gets over. After that restart the game and then test the gameplay.
Trick 7# Change Your Skins, Loadouts And Operators
Warzone dev error 6634 may also arise due to glitches within the game. Some player also thinks that by changing the Modern Warfare loadouts this error can be easily fixed.
If you are making use of operators or loadouts from Black Ops Cold War, change it to Modern Warfare and then check the outcomes. Remove entire skin, in the meantime, and then check whether the issue has been resolved or not.
Trick 8# Change To Another Account
Sometimes the call of duty Dev error 6634 problems also occur because of certain accounts. If it is possible then run the game using some other account over the same PC
If the issue gets fixed, after changing the account then it's better to compare the difference between your two accounts. But it is not limited to skins, operators, and loadouts.
Best Way to Optimize Your Game Performance on Windows PC
Many players encounter issues like game crashing, lagging, or stuttering when playing the game then optimize your gaming performance by running Game Booster.
This boosts the game by optimizing the system resources and offers better gameplay. Not only this, but it also fixes common game problems like lagging and low FPS issues.
Wrap Up:
Hopefully, I have provided you all with an ample amount of information on how to fix Warzone Dev Error 6634.
Follow the given solution one by one and run the Warzone game with ease.
Besides this, if your PC is showing errors, issues, or running slow then it's my recommendation to scan your PC with the PC Repair Tool. This multifunctional tool scan your complete PC, detects the problem, and fixes various PC issues.
Feel free to share your thoughts regarding this post on our Facebook and Twitter pages.
Don't forget to hit the like and share the article.
Good Luck..!
Always up to help others with their PC-related issues, Jack loves to write on subjects such as Windows 10, Xbox, and numerous technical things. In his free time, he loves to play with his dog "Bruno" and hang out with his friends.