Are you receiving Urlmon.dll missing or not found error messages on your Windows 10 PC or laptop? If your answer is YES then you are at the right place.
Urlmon.dll error is a common error faced by Windows 10 users, well this can be fixed by re-registering Urlmon.dll files or repairing the corrupted Windows system files.
However, there are other solutions as well, keep reading the article to find out the best possible solutions to fix Urlmon.dll not found or missing error.
What is Urlmon.dll?
Urlmon.dll file is an important Microsoft file utilized by Windows operating system for loading the "Object Linking and Embedding" library on the PC.
Well, the "Object Linking and Embedding" library usually contains a set of settings and files which are utilized by different programs running on the system for performing functions such as hyperlinking, printing and other functions.
But sometimes while installing the new program the DLL file gets corrupted and gets deleted and due to this you are unable to run the particular program and start getting Urlmon.dll not found and missing error.
And as a result, you are unable to open certain applications or games that use the urlmon DLL files.
However, luckily some fixes work for you to fix Urlmon.dll missing or not found an error.
Also, this appears to the user system in several different ways. Here check out some of the common urlmon.dll errors.
Why I am Getting Urlmon.dll Error Message?
Urlmon.dll error message can appear when this dll file gets inaccessible or the operating system is unable to fetch the urlmon DLL file.
Sometimes, urlmon.dll errors could point towards a registry corruption, computer virus or malware issue or even a hardware failure.
Well, it doesn't matter what causes the urlmon.dll missing or not found error, just follow the below-given fixes to resolve urlmon.dll error in Windows. 
Some urlmon.dll Related Error Messages:
"Urlmon.dll Not Found"
"This application failed to start because urlmon.dll was not found. Re-installing the application may fix this problem."
"Cannot find [PATH]\urlmon.dll"
The ordinal 459 could not be located in the dynamic link library urlmon.dll
"The file urlmon.dll is missing."
"Cannot start [APPLICATION]. A required component is missing: urlmon.dll. Please install [APPLICATION] again."
How Do I Fix Urlmon.dll Error on Windows 10?
Please Note: If you can't boot your system then boot Windows in Safe Mode and try the below-given fixes:
#1: Re-register Urlmon.dll
Very first it is suggested to re-register the Urlmon.dll file as installing the latest files might cause corruption or deleted the file.
Follow the steps to do so:
Right-click on the Start button > click on Command Prompt and run it as admin.
Now on the Command Prompt window > type regsvr32 urlmon.dll > hit Enter
And as the command is finished > restart your PC.
Now check if the Urlmon.dll missing error is resolved or not.
#2: Scan for Virus/Malware Infection
If your PC is infected with a virus or malware infection then scans your system with a good antivirus infection.
Make sure to download the trusted third party antivirus program and scan your system completely to remove all malware or virus infections from your PC/laptop.
You can also scan your system with the SpyHunter, this is an advanced program that protects your system from online threats and malware infection.
#3: Reinstall the Related Apps/Programs
If you are getting an urlmon.dll error while using a particular program, it is best to uninstall the specific program or app and reinstall it.
To uninstall the programs follow the steps given:
First, click on Start > Control Panel 
Then in the open Window click Uninstall a program under Programs
And as the list appears > navigate to the particular program that is causing the problem
Right-click on it and click Uninstall
Wait for the uninstallation program to complete and restart your device
And this is it, the program is uninstalled from your computer.
Sometimes manually uninstalling the program won't remove it completely some of its junk files or registry entries are left behind. And when you install the program next time it starts causing problems
So, it is suggested to go for the third-party uninstaller as remove the program completely from your system.
Now after removing the particular program completely, reinstall the fresh copy of the program on your Windows system.
#4: Update your Windows 10 system
Check if the latest Windows 10 update is available then install it this help you to replace or update the DLL files on your PC.
Follow the steps to do so:   
Press Windows + I key to open the Settings app and click Updates & Security option.
Next click on the Windows Update option > click on Check for Updates button.
And wait for Windows 10 to check for the updates available and install them on your system.
#5: Update the System Driver
Outdated system drivers can also generate urlmon.dll errors. So check the system drivers are updated or not.
Also if you're receiving a "urlmon.dll is missing" error message when you try to play a 3D video game then it is suggested to update the video card drivers also.
You can search for the latest driver update from the manufacturer website or the Microsoft official website and search for the latest driver update.
You can also update the driver automatically with Driver Easy. This scan and update the drivers automatically by scanning once and updating the entire system drivers and video card drivers easily.
#6: Repair Corrupted Windows Files
Sometimes due to the corrupted Windows system files, you can also encounter urlmon.dll error. And to repair corrupted system files run the inbuilt System File Checker command.
Follow the steps to do so: 
Very first press Windows Key + X > choose Command Prompt (Admin).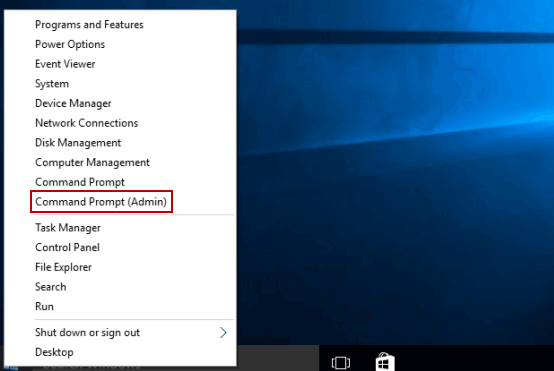 Now in the command prompt enter the below-given command and hit Enter.
Wait for the scanning process to finish (approx. 15 min.)
And restart your computer, check if the error urlmon.dll  is fixed or not. Moreover, feel free to read our guide to follow more manual solutions to fix DLL Errors.
It is estimated now the urlmon.dll is fixed but if not then it is best to scan your system with the automatic DLL Repair Tool.
Best & Easy Solution to Fix Urlmon.dll Missing Error
If after following the manual solutions you are still encountering the urlmon.dll error then you fix it easily by running the PC Repair Tool. This is an advanced repair tool that just by scanning once fix corrupt or missing DLL files in just a few clicks.
This is also capable to fix various computer problems and other errors such as BSOD error, EXE error, repair corrupted Windows system files, registry entries, prevent file loss and much more
It fixes errors and keeps the PC safe from random crashes, other system errors, and optimizes the Windows PC performance.
Conclusion:
Well, I had done my job, now it's your turn to fix urlmon.dll is missing or not found an error on Windows 10/8 & 7 system.
Follow the solutions given one by one but if the manual solutions won't work for you then feel free to run the automatic repair utility and fix the urlmon.dll error easily.
Hope the article works for you.
Good Luck…!
Hardeep has always been a Windows lover ever since she got her hands on her first Windows XP PC. She has always been enthusiastic about technological stuff, especially Artificial Intelligence (AI) computing. Before joining PC Error Fix, she worked as a freelancer and worked on numerous technical projects.