Windows Hello is a new feature of Windows 10 that allows users to sign-in into their Windows 10 PC/laptop. It comes with a biometric security option through which users can log in to their system without the need for a password.
It is the most secure way to sign in to your Windows 10 device, app or service. Windows Hello supports facial recognition, fingerprints and works by scanning the iris. It supports Infrared Technology that allows the facial recognition feature to work.
If you also want to enjoy this new feature of Windows 10 and activate Windows hello on their PC then here are the steps that will guide you to do so.
In this blog, you will get to know how to activate or use Windows Hello in Windows 10 to sign in.
How to Activate Windows Hello in Windows 10?
Below are the steps that will activate Windows hello in Windows 10. Perform the steps one after the other and get a new way to sign-in to your Windows 10 with security.
Note: Biometric login requires a camera or fingerprint reader.
First you have to open the Settings app, press Win+I to open it. Navigate to the 'Accounts' section
Choose Sign-in options.
Scroll down to see the Windows Hello option. Under this section you can sign in to Windows 10, apps and services with the help of your Fingerprint or Face.
Click on the desired option, and follow the Get started wizard to complete the other formalities.
To set up a Fingerprint click on the "Add a fingerprint, Add another fingerprint" or Remove one. After it press your thumb to your fingerprint scanner to register it.
To Setup your 'Face as a password'. Use your camera and allow it to capture the 3D view of your face
Note: It is recommended that your system has a Windows Hello compatible camera and a fingerprint scanner. Make sure that it also meets the other Windows Hello requirements.
After completion, click on the Improve recognition tab to perform more captures. You can also Setup whether it must auto-unlock as soon as your face becomes visible and if turning your head is required.
Now, whenever the machine is locked then you should see a small eye icon and text alongside it.
After the completion of the entire procedure, now whenever you need to sign in you will see a message Making sure it's you screen no matter whether its Windows 10, apps or services.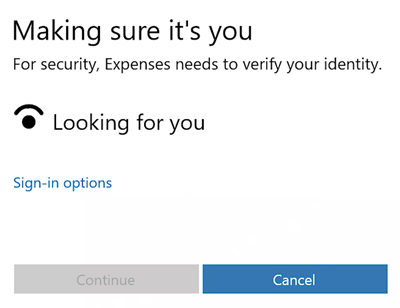 After verification you will see a message "Yup, it's you". now click on the Continue to move forward.
This will activate or setup the Windows hello in Windows 10.
People Also Ask
Recommended Solution- Fix Various PC issue & Errors
In Windows PC there are several stubborn errors and issues that appear on the Windows system that are unable to solve with the manual solutions therefore, it is suggested to scan your system with the PC Repair Tool.
This is a highly advanced tool designed by professionals that will scan your PC, detects all the errors in your system and solves them automatically without any hassle.
Errors like BSOD, registry, update, DLL, application, game & others. It repairs corrupt or inaccessible system files, prevents PC issues, virus infections and much more.
Just download this tool and make your PC error-free by improving its performance like a new one.
Conclusion
Windows Hello the new secure sign-in feature is really amazing, you can follow the steps mentioned in this article to activate Windows hello in Windows 10.
Apart from this if you face any Windows PC issues or errors then scan your PC with the above-recommended solutions and make your Windows secure from errors.
I hope this article helped you in solving your queries. If you have anything that you wanna share then write to us on our FB page.
Always up to help others with their PC-related issues, Jack loves to write on subjects such as Windows 10, Xbox, and numerous technical things. In his free time, he loves to play with his dog "Bruno" and hang out with his friends.