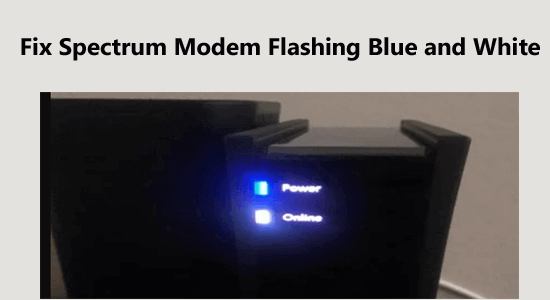 If your Spectrum modem is flashing blue and white, you're likely experiencing a connection issue.
This is a common problem that can be caused by a few factors like a power outage issue, problems in cables, the coax cable being faulty, the coax plug being damaged, local network outage, cable disconnection and a lot more.
Fortunately, there are some proven solutions that can help you fix your modem. Follow this guide to get rid of this spectrum modem flashing issue.
To repair corrupted Windows system files, we recommend Advanced System Repair tool:
This software is your one stop solution to fix Windows errors, protect you from malware, clean junks and optimize your PC for maximum performance in 3 easy steps:
Download Advanced System Repair tool rated Excellent on Trustpilot.
Click Install & Scan Now to install & scan issues causing the PC problems.
Next, click on Click Here to Fix All Issues Now to fix, clean, protect and optimize your PC effectively.
What Do the Lights on a Spectrum Modem Mean?
The spectrum modem is flashing blue and white, which is simply an indication that your modem is attempting to connect to the internet. However, if the lights continue to flash, it could be an indication of a more serious issue. The below list indicates the lights and their behaviours.
Solid Blue 'Power' Light– The modem is plugged in and on and it is working fine.
Blinking Blue and White 'Online' Light– Modem is establishing an online connection. The blue light is an indication that the modem is sending data, while the white light is an indication that it is receiving data. This usually occurs when the modem is set up and ready to connect to the internet.
Solid Blue 'Online' Light – The modem is successfully connected and getting a signal from the network. Plus, this also indicates that it is operating on the best connection state of DOC SIS 3.1 Bonded State.
Solid White 'Online' Light – The modem is successfully connected and getting a signal from the network. Yet, it indicates that it is operating on a DOC SIS 3.0 Bonded State that is relatively slower than DOC SIS 3.1.
Solid Red Light– Modem cannot operate normally or there is a critical issue.
Flashing Red light– This indicates that there is a connectivity issue with the router.
No Light– Network connection is not established or unavailable.
By identifying suitable flashing patterns, you can determine the suitable troubleshooting methods to fix the issue.
How to Fix Spectrum Modem Flashing Blue and White?
Make sure that the modem is correctly connected to the internet, also the modem is powered on, and that all the cables are connected correctly.
Also, check your internet connection is working properly.  And start to follow the fixes given
Solution 1: Power Cycle the Spectrum Modem
The power cycle process helps reset the modem's connection to the internet, which fixes the issue. Power cycling the modem can also help clear out any active internet connections that may be causing the problem. By resetting the connection, you can help ensure that the modem is able to establish a new connection quickly and efficiently.
Here is how to power cycle the Spectrum modem.
Disconnect the modem from the power outlet and leave it for 60 seconds.
Now, plug it back into the power outlet, and now the Power light must turn solid blue
If you have removed the coax cable from the modem or coax plug, make sure you connect it back safely. Else, you have to ensure the connection is correctly established in the modem and in the coax plug.
Now, the Online light must blink blue and white indicating that it is trying to connect to a network.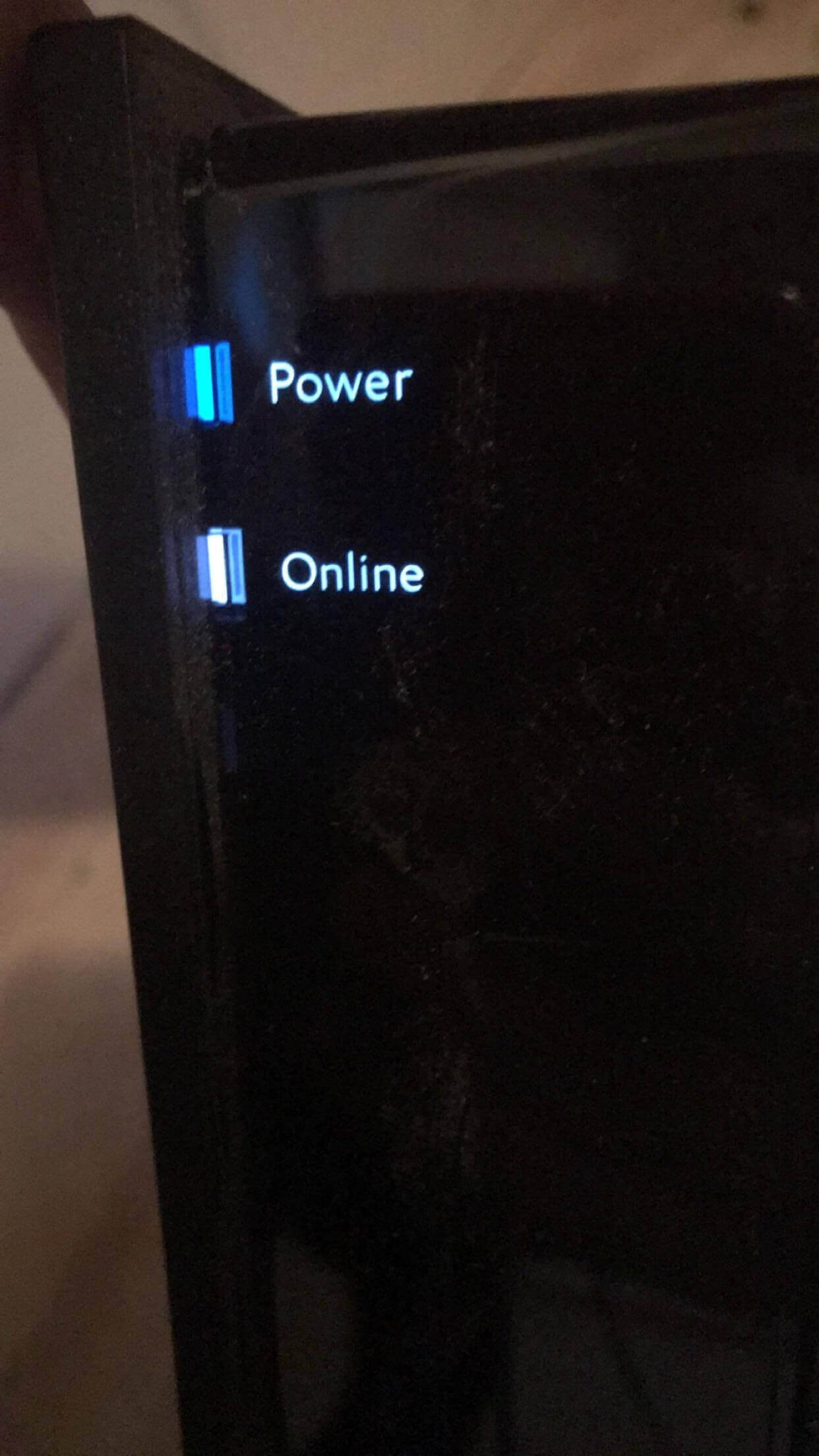 Wait for 2- 5 minutes until the blinking Online light is turned into solid blue (which means the modem is getting a signal). If this does not happen in your case, wait for 20 minutes.
Still, if this doesn't work, you can start following other potential solutions.
Solution 2: Check Your Cables & Replace Damaged Ones
Any device that connects to the internet, including your Spectrum modem, needs a reliable connection for it to work properly. If any of these cables are damaged or not connected properly, it can cause issues with your internet service, including the modem flashing blue and white.
Note: In order to check your cables and replace any damaged ones, you should start by unplugging all of the cables from your modem and inspecting them for any signs of damage.
In some cases, the issue may be due to a damaged cable. This could be a split, frayed, or otherwise damaged cable that needs to be replaced. In addition, make sure that each cable is securely connected to the correct port.
If the cables are in good condition, then it's possible that they're not connected properly. This could be due to a loose connection, a faulty port, or a faulty cable.
In any of these cases, it's important to inspect and replace the affected cables in order to fix the issue.
Solution 3: Check the Coax Plug
Checking the coax plug is important as a faulty connection can cause a wide range of problems. Without a good connection, your modem will not be able to communicate with the network or receive data, resulting in poor connection speeds and other issues. Additionally, a faulty coax connection can also lead to a decrease in your modem's lifespan as it will be exposed to more wear and tear.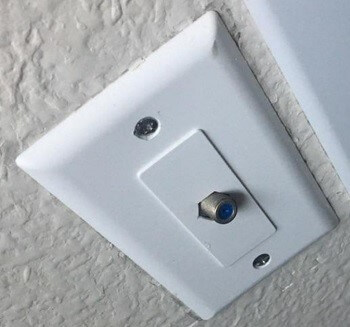 All you need to do is to unscrew the coax plug, inspect it for any signs of damage, and then tighten it back up. This should be enough to fix the problem and get your modem back up and running.
If this does not work, then you may need to try other methods as discussed in this guide.
Also Read: 8 Fixes "VirtWiFi Has No Internet Access" Windows 11
Solution 4: Check the Connection Status of the Modem & Restart it
By checking the connection status of the modem, you can make sure that the connection between your modem and the internet is established. This can help you pinpoint Why is my Spectrum modem blinking white and blue error and fix it.
Here is how to check the connection status of your modem via the My Spectrum app.
Open your My Spectrum app and sign in with your credentials. You can also sign in online.
Now, go to the Your Services tab and switch to the Internet sub-tab.
Then, you can see your Spectrum modem along with its status. It should be any one of these statuses: Connected, Unavailable, or Connection Issue.
When you see the Connection Issue status, click on Troubleshoot next to your Spectrum modem list.
Now, click on Restart Equipment next to your device. Again, click on Restart Equipment.
Now, your device will be restarted and this fixes the connection issue.
Solution 5: Check For Local Outages & Downtime
Checking for local outages is necessary to accurately diagnose the problem and fix it
First, you should check Downdetector for any reported outages in your area. This is useful if you're experiencing intermittent problems with your Spectrum Modem.
If you see a high number of reports for your area, it could indicate a local outage (it can be caused by a variety of different things, from lightning strikes to power outages to equipment failures) that is causing your modem to flash blue and white.
Once you've established that there is an outage in your area, contact your local Spectrum provider to get more information. They will be able to give you an estimate of when the outage will be fixed and provide you with any other information you may need.
Solution 6: Check for Modem Overloading
Modem overloading occurs when the modem is receiving too much data or is being overloaded with too many requests. When this happens, the modem can become overwhelmed and start to malfunction. This can lead to the modem flashing blue and white and may cause slow internet speeds or even a complete loss of service.
Checking for modem overloading is an important step in diagnosing and fixing the issue. It can be done by checking the modem's activity log or by running a connection speed test.
Solution 7: Check for Modem Heating
There are several factors that can cause a modem to overheat, such as inadequate ventilation, too much dust and debris in the modem, or even prolonged use. All of these factors can lead to a modem overheating and causing the flashing blue and white light.
To check if your modem is overheating, you should first make sure that it has adequate ventilation. If it's in an enclosed space, such as a cabinet, then it's important to ensure that there's enough airflow to keep it cool.
Additionally, you should check for any dust or debris that may be blocking the airflow and causing the modem to overheat. If there is any dust or debris, then you should clean the modem and ensure that there's adequate ventilation
Additionally, if you're using multiple devices connected to the modem, then it's important to reduce the number of devices you're using at any given time to help reduce the load on the modem.
Solution 8: Use Another Coaxial Outlet
Using another coaxial outlet is necessary to fix the Spectrum modem flashing issue because it helps to ensure that your modem is receiving the strongest signal possible. A weak signal can cause your modem to malfunction and display blue and white flashing lights.
In addition to using a different coaxial outlet, you should also make sure that the coaxial cable connecting your modem to the wall is securely connected. Loose cables can also cause your modem to malfunction, resulting in flashing blue and white lights.
Solution 9: Check for Firmware Update
Updating your modem firmware is essential for ensuring that your modem is running smoothly and efficiently. It can help reduce errors, improve performance, and enhance security. Additionally, it is important for ensuring compatibility with the latest versions of IP and for troubleshooting any problems that you may be experiencing.
Follow these steps to update your Spectrum modem firmware.
Before you begin, note down the Model number and SSID ( usually starts with NetGear###) found at the back of your modem.
Now, connect the router directly to your PC or laptop by using an Ethernet cable. Wait until the router is reinitialized.
Navigate to your modem's manufacturer's site and if there are any updates available. For example, if your modem is NetGear make, you have to visit the NetGear download centre to find out the latest version.
Note: Avoid downloading the updates from third-party websites since they may contain malware, viruses, or other threats that harm your PC.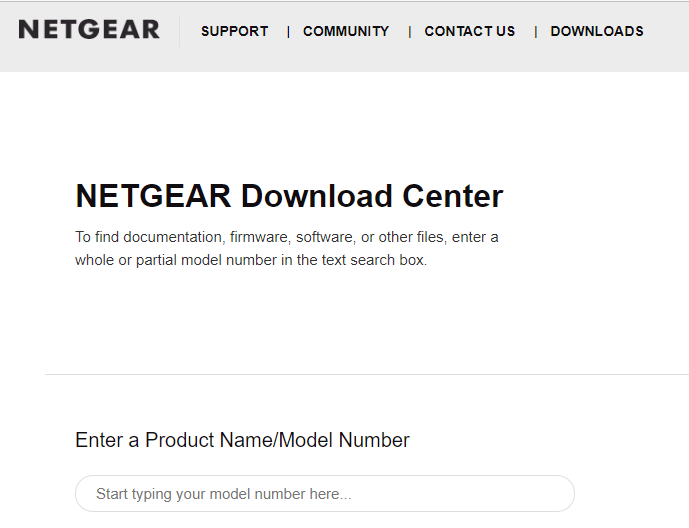 Once you have downloaded the most recent version of the modem, you have to log in to the router's admin configuration panel. To do this, type 192.168.1.1 or routerlogin.net on the address bar of your browser.
Log in with your credentials (enter the correct username and password).
Now, switch to the ADVANCED tab (depending on your modem model, it might be Settings), and now, click on Administration.
Then, choose the Firmware Update option from the left pane (it might be Router Update on some devices).
Now, click on the Browse option (can also be Choose File on some devices) and now, you have to select the downloaded file.
Note: Usually, the downloaded file may have .img or .chk extensions.
Finally, choose the Upload option and wait until the Firmware update is successful and your modem is restarted. Do not surf the internet or restart your modem when the update is in process.
Once the firmware is updated, check if the flashing issue is vanished now.
Solution 10: Reset the Cable Box
The cable box is what provides your modem with the necessary signals to access the internet, so a malfunctioning cable box can cause serious problems for your modem connection. Resetting the cable box can help resolve the issue, as it can reset the modem's connection to the cable box.
The first thing you should do when resetting the cable box is to unplug the power cord from the back of the modem.
Once the power is disconnected, wait for a few minutes before plugging it back in. This will allow the modem to reset and regain its connection to the cable box.
Once the modem is powered back up, you should also check the cables connecting the modem to the cable box. Make sure all of the connections are secure and check for any damaged or frayed cables.
Solution 11: Contact Technical Support
If none of the above-given solutions works for you then connecting with a technical support representative can help you identify the issue, provide the necessary steps for a repair, prevent further damage, and provide valuable advice on how to properly use and maintain your modem
You can chat with the technical support agents or call to their official support line: (833) 267-6094 to seek professional support on this issue.

Recommended Solution- Fix Various PC Issues & Errors
If your Windows PC/laptop system is running slow or showing various issues and errors, then scan your system with the PC Repair Tool. This is a powerful repair tool that, just by scanning once, detects and fixes various Windows issues and errors.
The tool fixes common PC errors like system file corruption and protects from file loss, malware, hardware failure, BSOD error, and more.
Well, this not only fixes errors but also enhances Windows PC performance.
Final Words
Fixing a Spectrum modem that's flashing blue and white doesn't have to be a difficult task. With the right information, guidance, and a bit of patience, you can get your modem back online in no time
Follow the fixes given one by one and solve the problem completely.
We would love to help you with more queries and suggestions regarding this article. Feel free to reach us via the Facebook page.
Also, don't forget to follow us on our social media handles to get more exciting guides and helpful tips to keep your computer safe from errors and issues.
Good Luck..!
Hardeep has always been a Windows lover ever since she got her hands on her first Windows XP PC. She has always been enthusiastic about technological stuff, especially Artificial Intelligence (AI) computing. Before joining PC Error Fix, she worked as a freelancer and worked on numerous technical projects.