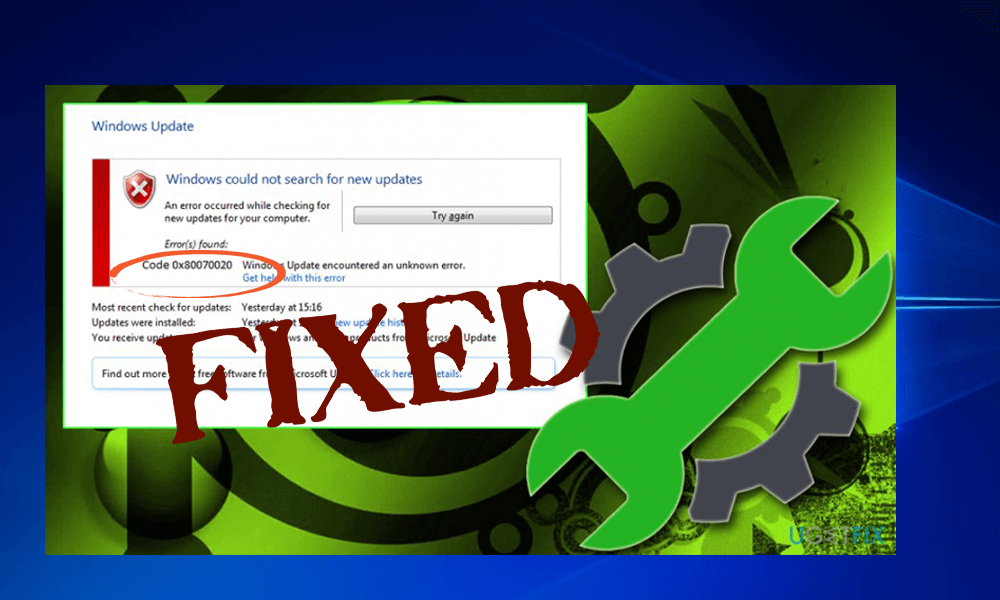 Windows 10 comes with lots of advanced features, and in order to make this operating system more perfect, Microsoft's engineers day to day launches various updates for Windows 10.
But sometimes while updating Windows 10 with the new updates it shows an error message:
Windows failed to install the following update with error 0x80070020 OR

installation failure: Windows failed to install the following update with error 0x80070020
This Error code 0x80070020 is very irritating as it prevents Windows 10 users from installing the latest version of the Windows Update. Many users are found reporting this update error in the forum thread to solve this  0x80070020 error.
If you are among those users who are encountering error code 0x80070020 then you need not worry as you can easily fix this error with the help of below-given fixes, one by one and 0x80070020 Windows Update error will be solved immediately.
What Causes Error Code 0x80070020?
An active antivirus program or another security program can prevent the installation of updates.
The system is infected with computer virus/malware infection.
Insufficient System memory.
Bad sectors on the hard disk.
Pending updates. 
How Do I Fix  Error Code 0x80070020 in
Windows 10
Fix 1: Disable or Turn off Active Antivirus Program
Sometimes installed third-party antivirus programs may interrupt the downloading of Windows update. It happens when the Operating System is not fully compatible with the installed antivirus or any other system security program. This confliction issue can affect the various Windows features, including the Windows Update process.
So, it is recommended to start the updating process after disabling the antivirus program. After installing and downloading Windows 10 update you can again enable the antivirus program.
Fix 2. Try after Restarting BITS service
Open Run Dialogue box by pressing Windows key + R
Type services.msc, press enter key.
A window will appear, find the Background Intelligent Transfer Service and right-click it.
Choose Properties and open General
Find Startup Type and choose
If the Background Intelligent Transfer Service (BITS) process is not in running mode then right-click it and choose
At last, save the changes and close the Services window.
Fix 3: Run WUReset script
You need to create a script known as called WUReset, this script will help you to deal with update error in Windows 10.
Open Notepad and Paste the below-given text into Notepad:
@ECHO OFF
echo Simple Script to Reset / Clear Windows Update
echo.
PAUSE
echo.
attrib -h -r -s %windir%\system32\catroot2
attrib -h -r -s %windir%\system32\catroot2\*.*
net stop wuauserv
net stop CryptSvc
net stop BITS
ren %windir%\system32\catroot2 catroot2.old
ren %windir%\SoftwareDistribution sold.old
ren "%ALLUSERSPROFILE%\application data\Microsoft\Network\downloader" downloader.old
net Start BITS
net start CryptSvc
net start wuauserv
echo.
echo Task completed successfully…
echo.
PAUSE
After it saves the file as "WUReset.bat"
Now you need to run the script, simply right click on it and select Run as Administrator
Fix 4: Run SFC/Scannow
SFC or SYSTEM FILE CHECKER is one of the useful inbuilt tools embedded in any Windows system. This might help you to deal with the windows update issue or error. This tool is able to scan your PC or laptop for any type of error and corrupted features and tries to fix them effectively. It is recommended to run it once,
Open the command prompt with administrator privilege.
Open Start Menu and right-click on Command Prompt -> Select Run as administrator.
After opening the command line, type sfc/scannow
This command will take a few minutes to scan your PC.
Once the execution gets completed, close the command prompt
Now, restart your computer and check windows update 0x80070020 is resolved or not.
Fix 5: Run an inbuilt Windows Update Troubleshooter
To use Windows update troubleshooter first you need to download this tool from the official Microsoft website. Download from here: Windows Update Troubleshooter.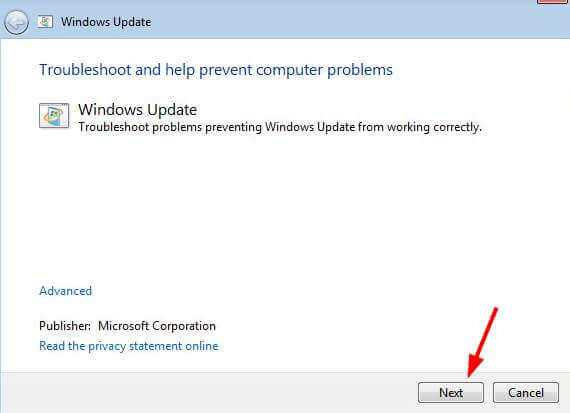 After downloading run this tool.
Simply go with the on-screen instructions.
If any errors are found by this tool then it will be fixed automatically.
Fix 6: Run CHKDSK
You should also run CHKDSK utility, this will help you to repair bad sectors which can cause error 0x80070020 and many other Windows errors.
Open Start Menu and right-click on Command Prompt -> Select Run as administrator.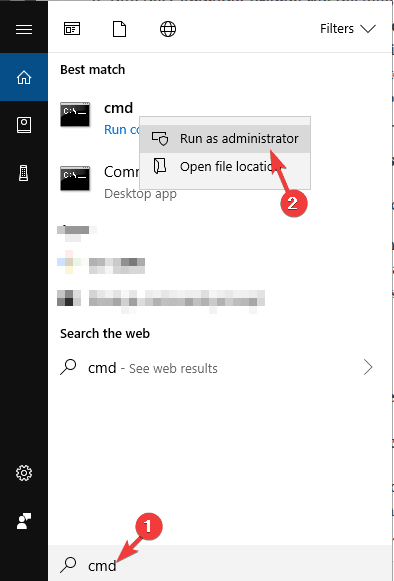 Click on the "Yes" to open up.
Now, type "chkdsk" and "C", which is the system drive.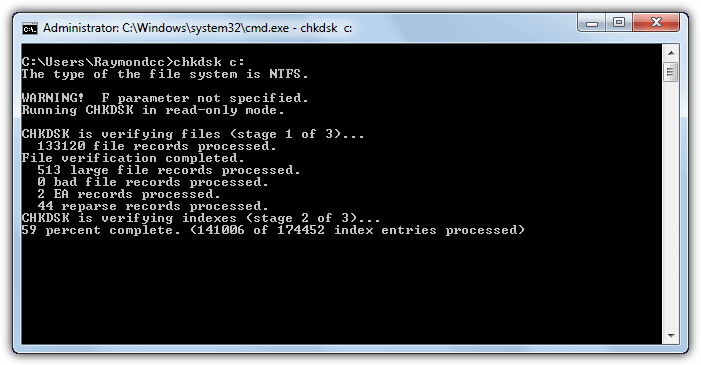 Note: It is recommended to leave a single space between "chkdsk" and the drive letter.
Hit ENTER to run this command.
Now restart your system and update your Windows 10 system.
Fix 7: Make Sure that your System is Virus and Error-free
Sometimes, due to unwanted virus or malware infection, you might face the Windows update error 0x80070020. Users are unable to download any Microsoft update due to this 0x80070020 error.
So, to prevent this type of error code 0x80070020, it is recommended that you always try to use a genuine and good antivirus for your system. With the help of antivirus, you can run a full scan to your computer or laptop.
Performing a complete system scan will help you to delete all the error codes and malware viruses. Thus, it will also help you to fix the error 0x80070020.
Best & Easy Solution to Fix Error Code 0x80070020
Though the manual methods are time taking and risky, if you are unable to fix Windows update error 0x80070020 by performing the above-stated solutions then you can try running the PC Repair Tool.
This is one of the best tools that will fix all Windows errors such as DLL error, BSOD, Registry, application error, or update error. It will automatically scan, detect, and fix the issue.
This tool will not only fix update errors but also improves the performances of your PC/Laptop.
Conclusion
All the above-specified solutions mentioned in this article will help you to solve the error code 0x80070020 error. I have tried my level best to provide you with the best solution to fix Windows update error 0x80070020 with effective ways suitable to you.
I hope you liked this article and it helped you in fixing Windows 10 Update Error 0x80070020.
If you have any suggestions or questions regarding this article then feel free to share with us.
Always up to help others with their PC-related issues, Jack loves to write on subjects such as Windows 10, Xbox, and numerous technical things. In his free time, he loves to play with his dog "Bruno" and hang out with his friends.