iTunes Error 7 (Windows Error 127) is surprisingly a common error. Windows error 127 is also known as iTunes error 7.
The error generally occurs when certain entries in the system registry get removed or corrupted while installing iTunes and your system starts showing iTunes was not installed correctly error 7 on Windows.
Luckily there are fixes that work for you to solve the error, here in this article, we have mentioned the potential solutions to solve iTunes Error 7 (Windows Error 127). 
To repair corrupted Windows system files, we recommend Advanced System Repair:
This software is your one stop solution to fix Windows errors, protect you from malware, clean junks and optimize your PC for maximum performance in 3 easy steps:
Download Advanaced System Repair rated Excellent on Trustpilot.
Click Install & Scan Now to install & scan issues causing the PC problems.
Next, click on Click Here to Fix All Issues Now to fix, clean, protect and optimize your PC effectively.
What Causes iTunes Error 7 (Windows Error 127)?
There are many different reasons responsible for the error we have a look at some of the common ones.
Improper installation or uninstallation process of any app/software may generate an invalid or corrupt registry error and cause the error.
Installation of damaged iTunes software
Corrupted or damaged Windows system files or files linked to the iTunes
If the Apple Application Support is corrupted or damaged it won't allow the iTunes to function properly.
It might be possible that some DLL files related to Apple Application Support are damaged, in this case, it won't allow iTunes to run on the Windows system.
Some Common Errors Related to iTunes Error 7:
While installing iTunes or updating iTunes to its latest version you might have seen the below error messages:
"iTunes was not installed correctly error 7"
"Entry Not Found" by "iTunes Error 7 (Windows Error 127)"
"iTunes was not installed correctly, Please reinstall iTunes. Error 7 (Windows Error 127)"
"Service 'Apple Mobile Device Service' (Apple Mobile Device Service) failed to start. Verify that you have sufficient privileges to start system services."
So, these are some of the common errors related to error 7 installing iTunes. Now follow the below-given fixes related to the error.
How to Fix iTunes
Er
ror
7 (Windows Error 127)?
To solve iTunes was not installed correctly error 7, follow the below-given solutions one by one.
Solution 1: Repair Apple Application Support on PC
There is a possibility that the Apple application support application for iTunes gets corrupted and this is what causing the error. So, repairing the application may work for you to solve iTunes error 7.
Follow the steps to do so:
First, you have to reboot your Windows PC
Then in the search box type Control Panel and hit Enter
Go to the Control Panel and search for "Apple Application Support"
Choose "Repair" and allow the procedure to complete.
After it, again try to run iTunes. If the error gets fixed then OK, otherwise go to the further solutions given below:
Solution 2: Update Microsoft NET Framework
An outdated Microsoft NET Framework may trigger the iTunes error 7 error message, so in this solution, we will try to update the Microsoft NET Framework.
Go to this Microsoft link and find the updated version of the framework.
Then, download and install the updated version of the Microsoft NET Framework on your system.
Install the downloaded file and then reboot your PC.
Check that your system gets fixed or not.
Solution 3: Uninstall  & Reinstall iTunes
As above said, the improper installation of iTunes may generate error 7. Follow the below-given steps to reinstall iTunes and get rid of this issue.
Press Windows + R key and type appwiz.cpl and click OK
Go to the Add/Remove Programs option. Here, you have to select and remove the entire Apple relate software one by one. Then reboot your computer.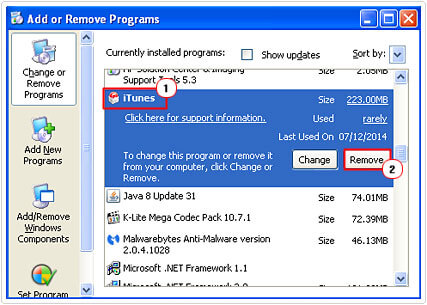 After uninstalling all the software from the control panel, Go to the My Computer > C: Drive > Programs. From this folder, you have to find and delete the below-given files carefully.
C:\Program Files\Bonjour
C:\Program Files\Common Files\Apple
C:\Program Files\iTunes
C:\Program Files\iPod
C:\Program Files\QuickTime
C:\Windows\System32\QuickTime
C:\Windows\System32\QuickTimeVR
At last, reboot your computer and then reinstall iTunes again to get rid of this issue.
Best & Easy Solution to Fix Windows PC Errors
If none of the above-given solutions works for you, then it is worth scanning your system with the PC Repair Tool. This is an advanced repair utility that, just by scanning once, detects and fixes various computer-related issues and errors.
This tool not only fixes PC-related errors such as registry error, BSOD error, update error, game error, and more but also improve the performance of your PC for its smooth run.
Conclusion
That's all..!
Here I have listed the working fixes to fix iTunes error 7 Windows error 127.  It is expected that after following the above-given solutions the iTunes error is resolved.
I hope you liked this article and it helped you in solving Windows error 127 easily.
But if there is anything that I missed out, then feel free to share it with us on our Facebook page. Also, don't forget to follow us on our social media handles to get more exciting guides and helpful tips to keep your computer safe from errors and issues.
Good Luck..!
Always up to help others with their PC-related issues, Jack loves to write on subjects such as Windows 10, Xbox, and numerous technical things. In his free time, he loves to play with his dog "Bruno" and hang out with his friends.