Seeing the MSVCR120.dll missing error while opening certain programs and games on Windows 10/8/7 or the latest Windows 11 system? And wondering how do I fix Msvcp120.dll error, then this article is for you.
In this article check out the complete information about the MSVCR120.dll error and how to fix MSCVR120.dll missing file error?
Rated Excellent on

Trustpilot
Free DLL Repair Tool
Fix Msvcp120.dll error by repairing corrupted or missing system files, & install the latest DLL file by replacing the damaged/corrupted DLL file.

Download
MSVCP120.dll is necessary for many modern programs and games to run as it is one of the dynamic link libraries from Microsoft Visual C++ 2013.
But many users reported they are seeing the error message "the code execution cannot proceed because msvcp120.dll was not found" in their Windows operating system.
Problem: MSVCP120.dll missing error is normally caused by the misconfigured system files or the registry corruption. Well, this error is very irritating as it causes Windows freezing, slow PC performance, system crashes, lock-ups and more.
The msvcp120.dll error message also shows up in many other forms. Here check out some of the common ones.
Some Common Msvcp120.dll Missing Error Are:
"Msvcp120.dll Not Found"
"Msvcp120.dll Missing"
"This application has failed to start because Msvcp120.dll was not found. Re-installing the application may not fix this problem."
"Msvcp120.dll is missing from your computer. Try reinstalling the program to fix this problem."
What Causes Error Msvcp120.dll Missing?
Msvcp120.dll Missing error usually occurs when the old programs are not uninstalled completely and the new programs are installed over the old ones.
Despite this, the registry pile-ups, malicious software such as viruses, spyware, and malware may also corrupt the dll file and causes Msvcp120.dll error.
So follow the below-mentioned solutions to fix msvcp120.dll error.
How do I Fix Msvcp120.dll Missing Error?
Well, there are many solutions that you need to follow one by one to fix the msvcp120.dll missing error in Windows.
Fix 1: Installation from the Hard Drive

Go to folder C:\programs Files (X86)\origin_Games\Die Sims4\_Installer\vc\vc2013\redist
Double click on vcredist _X86.exe to install.
Fix 2:  Download the Dll File to your computer

Please Note: Make sure to download the msvcp120.dll file from the Microsoft official website, download the file from a third party website are harmful and causes many damages. 
1: Download Msvcp120.dll file on your PC.
2: Copy the file to the install directory of the program which is showing a DLL error.
3: You have to move the DLL file to the system directory if it does not work.
In Windows NT/2000 – C: \WINNT\System32

Windows 95/98/Me – C: \windows\System

Windows XP/Vista, Window 7/8/10 – C:\Windows\System32
4: If you are using a 64-bit version of Windows then the system directory in C:\windows\SysWow64\
5: Reboot your computer.
Hope this works for you to fix msvcp120.dll missing error
Fix 3: Re-Installing Application

Re-install the application that shows msvcp120.dll. error message.
For example: If you are trying to run a video editor but instead of opening this software showing a Msvcp120.dll error message then you need to re-install the video editor.
So, you need to uninstall and again install the fresh copy of the faulty app or software. This will fix msvcp120.dll missing with less effort.
Follow the steps to uninstall any program:
Press Windows + R
Type appwiz.cpl and hit enter
Right-click on the program shows this error and click on Uninstall
Follow the instructions that popup and to confirm the deletion
Well manually uninstalling the app or program can leave some of its traces or registry entries that might cause issues when you download the file next time.
So, it is best to go for the third-party uninstaller and uninstall any program completely.
Fix 4: Update the Faulty App
You should also check whether the application is updated to the latest version or not.
If you are using an outdated version of the app then immediately install the latest version of the application or software. this will help you to get rid of any incompatibility issues.
And also fix msvcp120.dll missing error in Windows 10.
Fix 5: Update Windows System
Make sure that your PC/Laptop is packed with all required or available system updates. If not then download and install the available update, as the outdated system can generate incompatibility issues.
Follow the steps to update Windows OS:
Right-click on the Start icon and then click on the Settings option.
Then click on the Windows update option available on the left side.
Now click on the Check for updates option and let Windows check and download if any update is available.
Next, reboot your PC and check if the issue is resolved or not.
Fix 6: Update the System Driver
If you are running an outdated system driver then it can conflict with the application and start causing various issues and errors. So, Update all the outdated system drivers, if your system contains any outdated system driver then fix it immediately.
In order to update the device drivers visit the official Microsoft website or manufacturer website and check for the latest updates.
Here follow the steps to do so:
Press Windows + R key to the open Run box and here type devmgmt.msc and click OK
Now in Device Manager, click on the Display adapters option and then click on your dedicated graphics card name.
Click on the Driver tab and click on the Update driver option.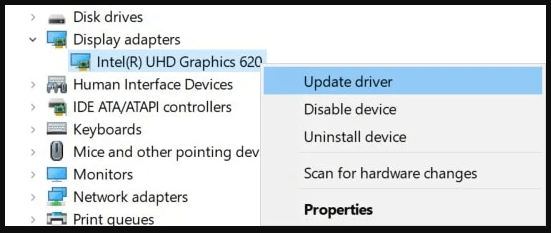 Then click on Search for the update the drivers automatically.
And wait for the drivers to get updated. Many times Windows won't find the updated drivers and is unable to install them.  So, in this case, it is suggested to do this task easily using Driver Easy. Manual updating can be a little tricky but using an automatic driver updater is very easy.
Fix 7: Reinstall Visual C++ Redistribution
Try Reinstalling Visual C++ Redistribution in your system to resolve msvcp120.dll was not found an error on your PC/Laptop. This file is required by many users during their work. So, you need to install it from the Microsoft website. Follow the steps to install:
Remember that few applications require an old version of Redistribution to work. To fix the problem just reinstall an earlier version. After doing this the error will be solved.
Fix 8: Try to Perform a Clean Installation
It is recommended if none of the above-given solutions works for you then here it is suggested to perform a clean installation of your Windows 10 operating system.
You can follow the steps in this article – How to do a clean installation of  Windows 10.
It is estimated that the msvcp120.dll missing error is fixed after performing the given methods, but if the error is not gone and you need more fixes to solve it then read the article- How to Fix DLL Errors
Bext & Easy Solution to Fix MSVCP120.dll Missing Error
If you are unable to follow the above mentioned solutions to fix msvcp120.dll missing error or still getting the DLL error then you can run DLL Repair Tool. This is one of the best tools that detect and fix errors automatically.
This Tool not only fixes DLL errors but also all kinds of PC related errors such as registry corruption, damaged files, application error, computer issue, and many more without the need of doing anything manually.
Therefore, download and install the DLL Repair tool to make your computer error-free and also improve its performance.
Conclusion
I hope you liked this article and it helped you in fixing msvcp120.dll was not found an error.
Make sure to follow the above mentioned solutions carefully to avoid further issues. And resolve msvcp120.dll missing error in Windows 10/8/7. 
Also, we love to hear from our readers, do let us know which option has helped you to resolve the missing msvcp120.dll error, by commenting on our Facebook page.
Good Luck..!
Always up to help others with their PC-related issues, Jack loves to write on subjects such as Windows 10, Xbox, and numerous technical things. In his free time, he loves to play with his dog "Bruno" and hang out with his friends.