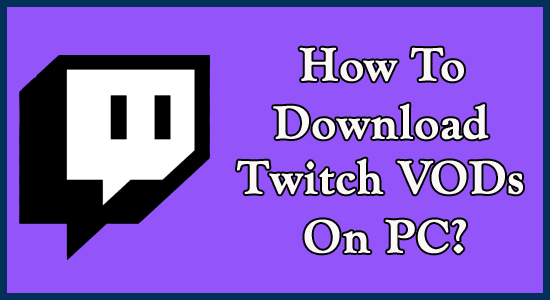 Want to download Twitch streamer's VODs? Then here in this article, I'll show you how to  Download Twitch VODs easily.
Live streams have one inevitable downside – viewers can miss the live streams after they finished. Fortunately, a great feature from Twitch's VODs (Video on Demand) comes here. Twitch is the most popular live streaming platform for games worldwide; here, you can view live game streaming of your favorite star or previous VODs. Even after you've missed your favorite live stream, you can watch the broadcast via VODs.
However, these videos are not permanent; VODs get deleted automatically after a limited period. Lots of users or even you might be wondering how to save a video from Twitch.
This can be done quickly; in this article, you will learn how to download twitch VODs on your PC/laptop. Also, learn how to download someone else's twitch VODs and other helpful information related to the topic.
So, read till the end…
What Does VOD Mean On Twitch?
VODs are also known as Video on Demand. And in the Twitch VOD option, you can have pre-streamed recordings of the content. Fans can watch on-demand videos of their favorite broadcasting network if they can't watch the live broadcast on time. These VODs are the best fan engagement tool.
You can get these VODs under the Videos tab of any Twitch channel. Watch the entire broadcast and messages in real-time.
Best Ways To Download Twitch Vods:
#. How To Download Your Own Twitch VODs:
Order to save your own twitch stream to your computer is a pretty straightforward process. without any outside help, you can go directly to the official website and download Twitch Stream. But make sure your VODs are archived automatically. To do so, follow the given instructions:
Now, click the arrow icon, which you will get on the top corner of your screen.
Now, you have to click on the Settings option from the menu.
After that, click the option Channel and Videos.
Now, select the Channel Setting option.
Then you have to click on the checkbox beside to Automatically archive my broadcasts option.
After completing the process, all your Video streams will save on your Twitch profile. To download the Twitch VODs from your Profile, follow the below-given instruction:
To download videos from Twitch Profile:
Open your Twitch website and log in to your registered account.
Now, click on your profile name, and a dropdown menu will appear.
Choose Video Producer, which is represented by a mini chart.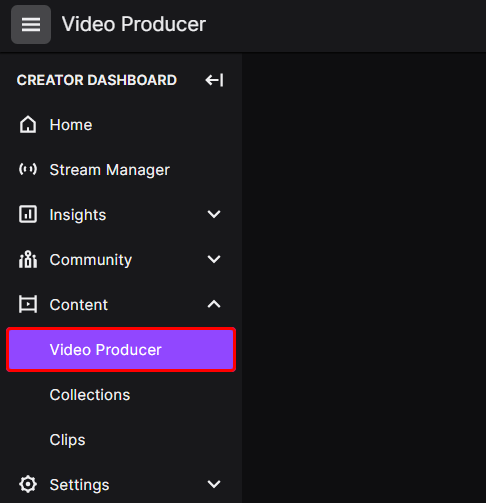 After that, select All Videos.
Then go to Past Broadcast; Twitch will list down all the past streams
Select the videos that you want to download.
Under the VOD, select the Download button.
To start downloading VODs from twitch, you need to set a location on your computer where they will be saved.
#. How To Save Twitch VODs On A Chromebook:
You can download twitch VODs on google's Chromebook also; here is the instruction below:
1.   First, Open Google Chrome and go to the  Twitch website.
2.   If you are already logged in, click on the username on the right top corner of the screen.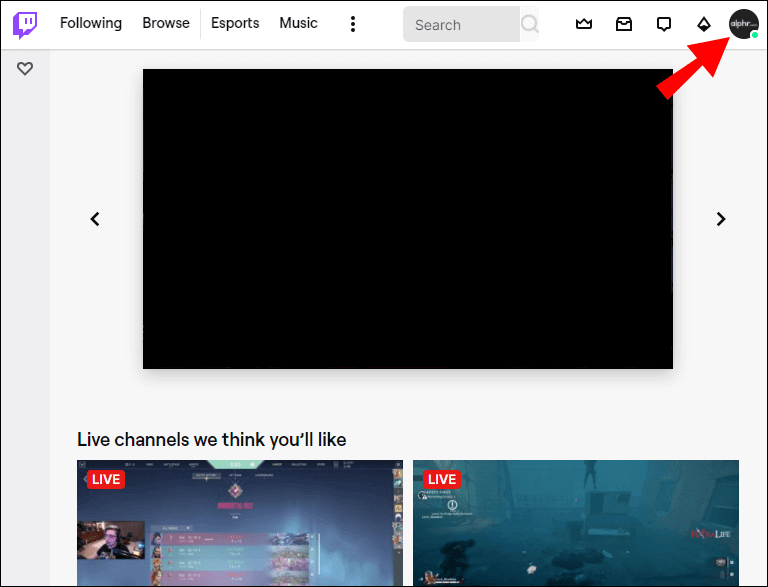 3.   Now click on the Video Producer option.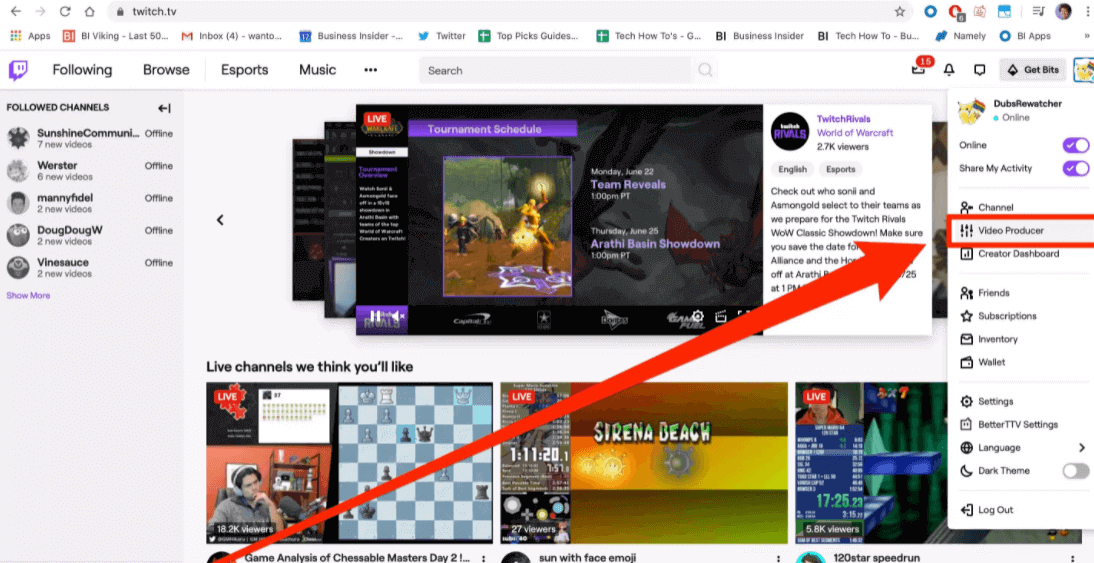 4.   Select Past Broadcast.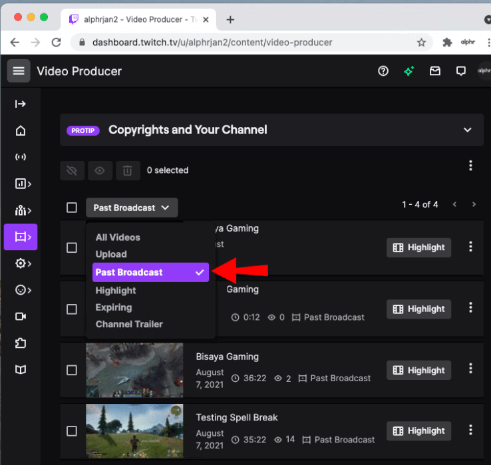 5.   Locate the VOD that you want to Download on your Chromebook.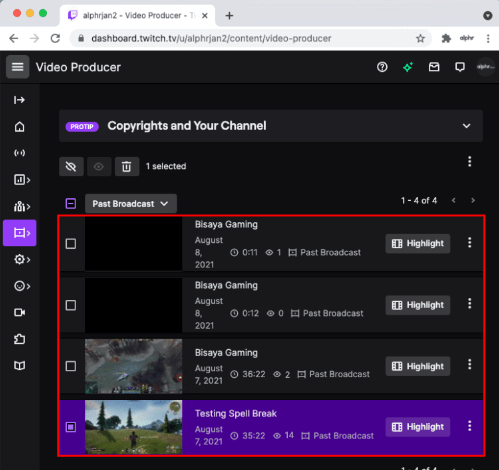 6. You have to click on the three dots beside the VOD.
7.   Then click on the Download option to save twitch clips.
#. How To Download Someone Else's Twitch VOD:
You cannot download someone else's twitch VOD directly from the Twitch official website. Luckily, there are third-party apps called Twitch Leecher, allowing you to download twitch voids as a viewer.
Twitch Leecher is well-designed free, secure software and has a good reputation as the preferred video-on-demand download solution. This software launches its new update every month to look at the fundamental changes made to the Twitch platform.
If you want to download VODs from Twitch Leecher, Then follow the below-given instructions:
First, Download the Twitch Leecher application from its official GitHub website.
Now, Install Twitch Leecher by clicking the executable file. To install follow the installation wizard's instructions.
Now, open the Twitch Leecher.
Then click on the Search button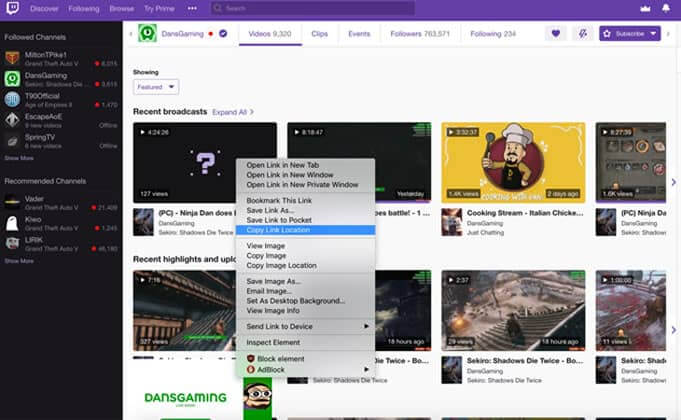 Now, click on the URLs tab; after that, you have to copy and paste the URL of the VOD you want to download.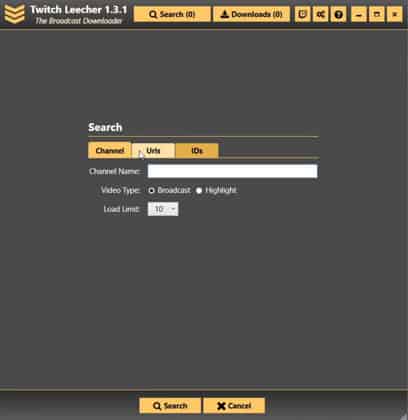 Right-click on the video and then select the Copy Link Address from the dropdown menu.
Open the Twitch Leecher software, and click the Search button.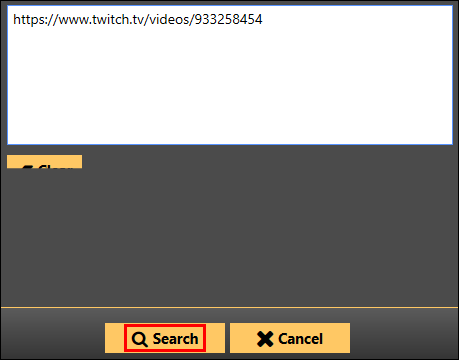 Now, you have to go to the URL and paste it.
Now, you have to click the Search button.
Then, click the Download button to download the videos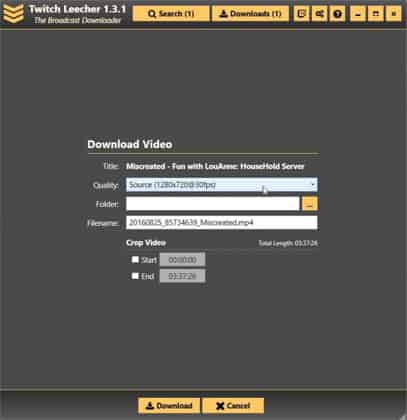 The software gives video quality options to select the quality of the videos. Along with that, you can specify the download location on the PC. And you can change the name of the file and start/endpoints.
 After doing that, click on the below-given Download button.
Now, Twitch Leecher will download the VOD on your PC, and you can enjoy someone else's Twitch VODs on your PC without any problems.
Can I Save Twitch VODs?
Yes, you can save a Twitch video quickly, but please note that after a certain period of time, VODs can be deleted automatically. However, this also depends on what kind of Twitch account you are using.
If you use a Twitch account regularly, you can download past streams for two weeks.
If you are a prime user like Twitch Partners, you can keep your VODs for 60 days on the Twitch website.
Twitch affiliates can also keep their VODs on the Twitch website for 60 days as Prime users.
Now, without wasting time, let's discuss how to save videos on twitch and download VOD from there.
Uses of Twitch VoDs
FAQ (Frequently Asked Questions)
How do I manage my Twitch VODs?
You can manage your VODs from the Video Producer menu. You can see all the first viewed videos, uploads, past broadcasts, and highlights. For more information, click on the three-dot beside the VOD to open settings. Under the settings, click on Edit to change the category, title, description, permissions, and so on. If you click on Add to option, you can add the VOD to the rerun queue and collection. You can view the Downloads, Watch, Export, Highlight and Delete options. With the help of the export option, you can share VODs directly to your YouTube account.
Can I download someone else's VODs directly from Twitch?
Twitch does not allow to download someone else's twitch vods especially if you are thinking of editing videos, uploading VODs to other platforms, or monetizing them. However, you can use above mention tricks to download Twitch VODs.
How to Download Twitch VODs Faster?
The best and easy way to download Twitch VODs is to open your Twitch account from the Twitch website. If your internet connection is stable and you have space on your PC. Then you can Download Twitch VODs Faster.
Conclusion:
So, this is all about how to download Twitch Vods on PC. Now, you can download both VOD videos and clips easily.
I hope the information provided is helpful for you. Not only can you save your own Twitch streamer's VODs, but you can also easily save your favorite Star broadcast VODs or someone else's twitch VODs.
I guess the article managed to solve all your queries; if you liked this post, share it with your friends.
If you know any other practical solutions to save a twitch stream to your computer? Feel free to share your thoughts by heading directly to our Facebook page.
Always up to help others with their PC-related issues, Jack loves to write on subjects such as Windows 10, Xbox, and numerous technical things. In his free time, he loves to play with his dog "Bruno" and hang out with his friends.