Windows 10 update errors is a common term for those users who owe Windows 10 operating system. There are huge numbers of features that make Windows 10 more likable among the technical people. But as we know every praised thing also has flaws in it and so does Windows 10 OS.
Whenever users are trying to update their Windows 10 it shows different types of update errors when trying to download any available update.
Due to Windows update error, a computer start freezing while the user tries to install the updates or computer gets hanged during the updating process.
There are lots of causes that can generate Windows 10 update errors due to which users are unable to check for any available updates or fail to download/install them, or sometimes, it cannot be executed at all.
If you are also one of the Windows 10 users who cannot install the latest update because of the update errors then this article is for you.
Here you will not only get the fixes to solve the Windows update errors but also get to know the reason behind their occurrence, some update error codes, and others.
So, what are you waiting for? Let's get started…
What Causes Windows 10 Update Errors?
There are numerous unexpected errors that appear on Windows during the update process and interrupt the entire process.
Have a look at the causes and see what stops your update process:
Firewall malfunctioning
Damaged or corrupt system files
Improper proxy settings
Damaged Windows Registry database
Outdated Windows OS
Weak Internet connection
Improper system shutdown
Virus infection
Bad DNS settings
PC cannot access the WSUS Server
Now, that you know the reason behind the Windows update error, check out the list of common update errors in Windows 10 and see which one you encounter.
Some Of The Common Windows 10 Update Errors
Below is the list of common Windows 10 update errors that will make it easy for you to identify which update error you are encountering and then you can go ahead with the solutions to fix them.
Though there are more Windows update errors that can appear on your system, no matter whatever the error code occurs during the updates you can solve them with the solutions mentioned given in this article.
How Do I Fix A Windows 10 Update Error?
In order to get rid of update errors in Windows 10, you must perform the solutions stated below. See which of the solution helped you in overcoming the Windows update error and allows you to complete the update installation process without any further errors or issue.
Solution 1 – Run the built-in Windows Update Troubleshoot
There is an in-built feature in Windows 10 called Troubleshoot that helps in fixing various Windows issues and errors. You can run this troubleshooter to get rid of Windows 10 update error.
Follow the steps to do so:
Press the Windows key
Go to settings
Select update & security section
Choose Troubleshoot
Click on Windows update> run the troubleshooter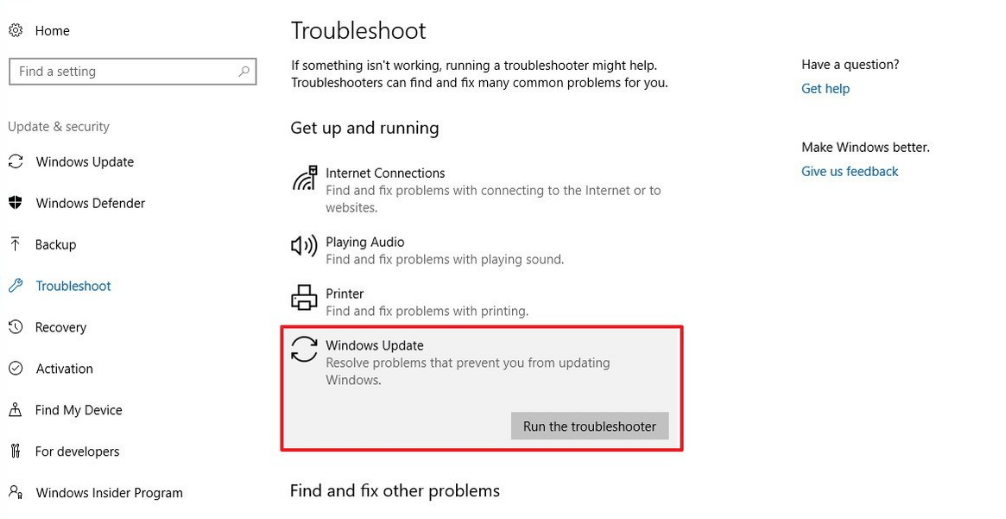 Now, wait for the troubleshooter to go over your Windows system and detect what causes the update error and fix it.
After the troubleshooting process is completed, restart your system and try to update Windows 10 and see if any error appears or not.
Solution 2 – Change the DNS Server
Sometimes the Internet Service Provider might be the reason behind Update error Windows 10. In such a case, the DNS server is incompatible with the Microsoft update servers and won't allow the connection between the Microsoft server and PC.
Therefore, to fix this issue you need to change the DNS address manually and then continue the Windows update process.
Here are the steps to do so:
Click on Windows icon
Type control panel and hit the enter key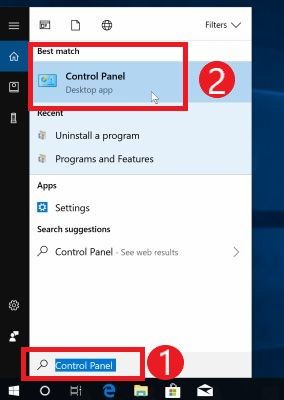 Select Network and Internet
Choose the Network and Sharing Center

Click on Change adapter settings
Right-click on the connection then click on Properties.
Now, select the Internet Protocol Version 4(TCP/IPv4)
Go to Properties
Choose the option – Use the below-given DNS server addresses
Enter the new DNS server, you can also go with the below-given option
Preferred DNS server: 8.8.8.8

Alternate DNS server: 8.8.4.4
After the above steps are performed, try to install the updates in Windows and check if any error appears during the update process or not.
Solution 3 – Delete files in Software Distribution
First of all, you have to stop the Windows Update Service and Background Intelligent Transfer Service to solve the Windows 10 update error.
To do this, open the command prompt with admin privilege.
Type "win+x" and select the command prompt (admin).
After it, run the below-given commands one by one.
net stop wuauserv

net stop bits
These commands will turn off the Windows Update Service and Background Intelligent Transfer Service.
Next, delete the files in C:\Windows\SoftwareDistribution.
Navigate to the 'C:\Windows\SoftwareDistribution'
Press CTRL + A to select all of the files and press Delete
If you are unable to delete all the files from the folder then reboot your PC, and try again.
After erasing the entire file from the folder, restart your PC.
Now, you have to turn on the Windows Update services by executing the below-given commands using the command prompt (admin):
net start wuauserv

net start bits
At last, after executing the above-stated commands, try to update your Windows PC or Laptop without any errors.
Solution 4 – Fix Windows Update Using Batch File
This is another solution that will surely help you to fix the update error Windows 10. Try to fix Windows update error using a batch file. To do this, follow the below-given steps:
Open Notepad and paste the below-given text in it.
@ECHO OFF

echo This script is intended to stop Windows Update being COMPLETELY and UTTERLY rubbish

echo.

PAUSE

echo.

attrib -h -r -s %windir%\system32\catroot2

attrib -h -r -s %windir%\system32\catroot2\*.*

net stop wuauserv

net stop CryptSvc

net stop BITS

ren %windir%\system32\catroot2 catroot2.old

ren %windir%\SoftwareDistribution sold.old

ren "%ALLUSERSPROFILE%\application data\Microsoft\Network\downloader" downloader.old

net Start BITS

net start CryptSvc

net start wuauserv

echo.

echo Windows Update should now work properly. Thanks Microsoft.

echo.

PAUSE
After it, save this text file as Fix.bat and save it to the desktop.
Now, you have to run this batch file.
Right-click on Fix.bat file and choose Run as Administrator.
At last, reboot your PC and run Windows Update again.
Solution 5 – Disable the Windows Firewall
Many a time the Windows Firewall clash with the latest update and ma the download & install unable by displaying the update error message.
So, it is advised to turn off the firewall settings to fix the Windows update errors. Follow the steps given below to do so:
Press the Windows key
Type control panel and hit the enter key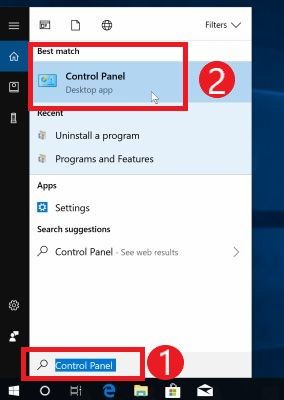 Select system and security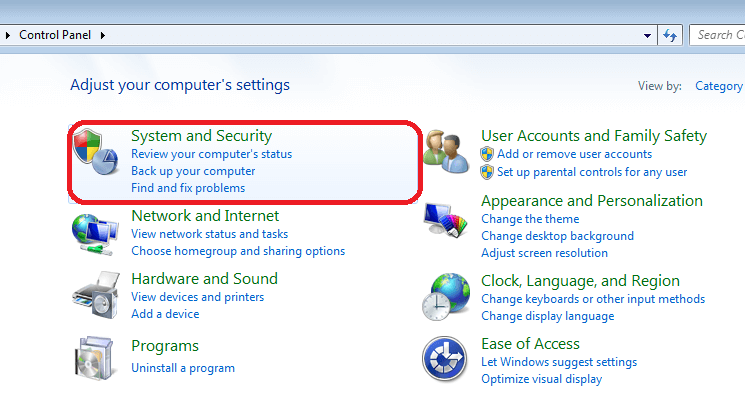 Click on Windows Firewall
Choose the Turn windows firewall on/off option on the left side of the panel
Select the Turn off windows firewall in both private and public network options.
After turning off the firewall option, update your system and see if any Windows update error appears or not.
Solution 6 – Run System File Checker
Damaged or corrupted system files can also be the reason behind Windows 10 update errors. To resolve this issue you need to repair the system file, for that run an SFC scan to repairs the files.
Below are the steps to run an SFC scan:
Click on Windows icon
Type cmd, right-click on the result and select run as administrator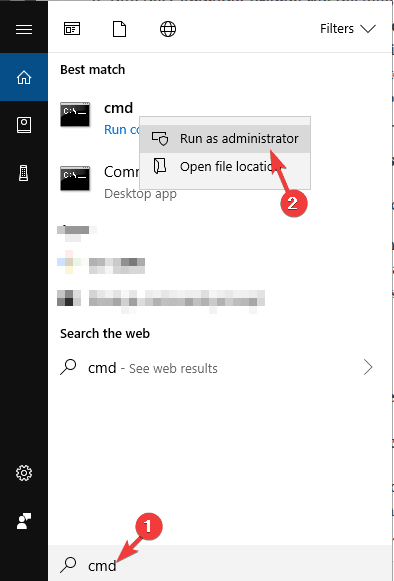 In the command prompt window, type the below command and hit the enter key
sfc/scannow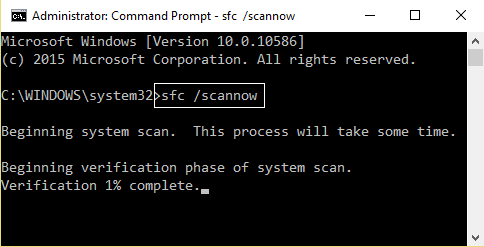 Wait for a couple of minutes for the scanning process to get completed and then restart your PC
Now, try to install the Windows update and see if you are able to do so without encountering any errors.
Solution 7 – Pause And Resume the Updates
Sometimes you can face issues while updating your Windows 10, so it is advised to pause and then resume the updates which will help you in fixing the Windows 10 update errors.
Here are the steps to pause and resume the updates:
Press Windows logo
Go to settings
Select Update & Security
Click on Windows update> pause updates for 7 days
If you want to resume the updates before 7 days then click on Windows update> Resume updates
Doing this you can simply avoid update errors in Windows 10 and your Windows PC will run smoothly.
Solution 8 – Create Media Creation Tool
If the above-stated solutions did not work out in solving Windows 10 update errors then simply perform a clean installation with the help of a media creation tool.
Follow the steps to create a media creation tool to fix the error:
First of all, download the Media Creation Tool
Get an 8GB USB drive
Insert the USB drive in your OS and run the media creation tool
Select Create installation media (DVD, USB flash drive, or ISO file) for another PC and click Next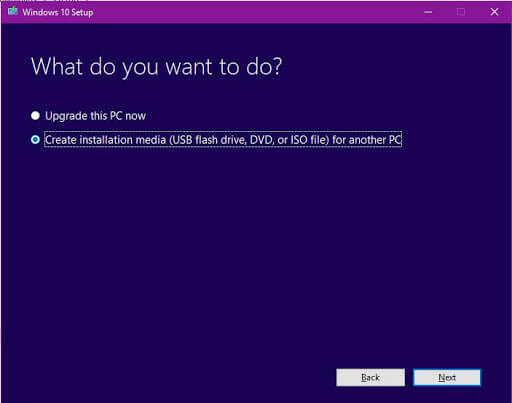 Click on Use the recommended options for this PC and click on Next
Select USB flash drive option and then click on Next button
Now, select a USB flash drive and click Next
Click On Finish
You can also choose Upgrade this PC now under what to do want to do, this will simply upgrade your Windows PC without displaying any errors.
Best Way to Fix Windows 10 Update Errors
Well, there are several ways through which you can solve the update error in Windows 10. But if you are not a technical person and find the manual solutions difficult in performing then here is the easy way for you.
Try the PC Repair Tool. This is one of the best and easy ways to fix any Windows error and is very easy to use by any individual. You just need to download this tool and the rest of the work will be done hassle-free.
It will scan your entire operating system, detects the errors, and solves them automatically. Not only the update error but this tool also fixes other errors such as DLL, BSOD, registry, game, increases PC performance, and much more.
Conclusion
Alright, I have stated the effective solutions that will guide you in resolving the update error from Windows 10 so that you can install the latest update and use your system error-free.
Though there are various Windows 10 update errors, some of the fixes are similar for all that solves the error easily. You can go through the list of errors and see if you encounter any errors stated in it.
Apart from this, if you still are unable to get rid of the update error then simply go with the best solution provided above or check out the update error category and clear your Windows from error.
If you have any questions or queries left then you can ask by writing to us on our Facebook page.
Hardeep has always been a Windows lover ever since she got her hands on her first Windows XP PC. She has always been enthusiastic about technological stuff, especially Artificial Intelligence (AI) computing. Before joining PC Error Fix, she worked as a freelancer and worked on numerous technical projects.