Using Windows 8 OS is such a great experience but some time user face problem when they connect their USB device into their Windows 8 system. User may get a USB Device Not Recognized pop up message after connecting a USB device into the Windows 8.
This error may happen when conflict occurs between other USB devices that users might have connected with the PC. If you are also among those users who are facing the USB not connected in your Windows, you might be searching the solution to solve this issue.
In this article you will get the solution how to fix usb not recognized issue in Windows. Perform the manuals one by one and connect your USB device without ant problem.
How Do I Fix USB Device Not Recognized?
To fix such type of issue, you should try to remove the other connected USB devices first and after removing all restart the system and then reconnects the removed USB devices to the computer.
Solution 1: Update USB Drivers
First you have to Log on to Windows 8 computer using your administrator account.
Connect your PC with the internet or verify that internet is connected well.
Go to the desktop window.
On the desktop screen, float the cursor to the bottom right corner of the window.
Many icons will be displayed, click on Settings and go to the Control Panel.
On the Control panel click on Hardware and Sound. Click on Device Manager present in the Devices and Printers category from the right pane.
Now expand the Universal Serial Bus controller's category and right-click the USB controller that requires to update.
From the context menu click on Update Driver Software to update the driver of the selected USB controller.
Click on Search automatically for updated driver software to enable the Windows 8 to search for the updated driver from the Internet.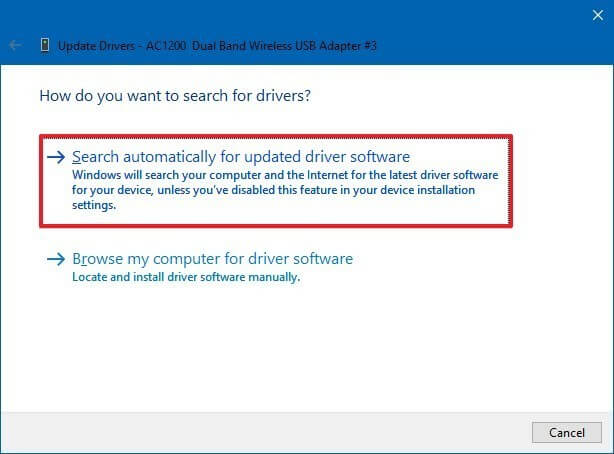 Now wait till all the selected driver gets updated through the Internet and after it simply click Close.
Close the Device Manager window after the completion of process.
Solution 2: Scan for the Hardware Changes
If the update solution does not help you in fixing the issue, then you can scan the USB for hardware changes from the Device Manager.
You need to right-click on the problematic driver and click on "Scan for hardware changes" option instead of going for updates.
If the wizard finds something, then follow the troubleshooting steps and you might find a solution to fix USB not connected issue.
Solution 3: Try to Uninstall & Re-install the Driver
The above given solution is able to fix the such type of issue but sometime this error continually occurs, it happens due to old or outdated USB drivers. There are all types of USBs are available in Windows 8 driver database.
But it is possible that there might be some ports which is not detected by the operating system. To fix this situation it is suggested to uninstall and then re-install the driver.
Solution 4: Reset your BIOS
In Computer, you can either reset BIOS or clear the CMOS switch or you can remove the battery from motherboard. But the case is different in Laptops, to reset the BIOS you need to remove the power cable to begin the process.
Now, that all the power sources are removed, press power button for 3 to 5 seconds. Keep doing this for few times and it will automatically reset motherboard, so that when you will start your PC/Laptop it will test the USB controller and it will get connected.
Check your PC/Laptop Health
Once you update the USB driver on your Windows 8 system, USB related problems must be fixed but if you still face the same problem then you can try running the PC Repair Tool.
This repairing tool will check your PC and solve all sort of PC/Windows related issues and errors such as DLL error, BSOD error, update error, game error and others.
It also repairs damaged and corrupted system files and improves the performances of your PC just like it is new.
Conclusion
Well, that's all. I have tried my best to list down the solutions that will solve your usb device not recognized windows 8. Perform the solutions one by one carefully and connect your USB in your PC/Laptop.
Hope you liked this article and it turn out to be helpful for you in solving your USB device not recognized issue.
Despite this if you are having any queries or suggestions then you can feel free to share it with us in the below comment section.
Always up to help others with their PC-related issues, Jack loves to write on subjects such as Windows 10, Xbox, and numerous technical things. In his free time, he loves to play with his dog "Bruno" and hang out with his friends.