If you are encountering ntoskrnl.exe high CPU usage Windows 10 then you must be searching for solutions to fix this problem.
This error appears due to viruses, 100% disk usage, hardware or software issues, outdated drivers, etc.
My PC sometimes get lag spikes because of ntoskrnl.exe is causing much of my CPU.

It sometimes spikes to about 20-90 % and it happens randomly. Not just playing games, but also when doing nothing in Windows.

I have tried to format my pc and update my drivers, but nothing seems to work.

Posted by Microsoft
Ntoskrnl.exe stands for Windows NT operating system kernel executable. It provides executive and kernel layer of Microsoft Windows NT kernel space.
This ntoskrnl is responsible for several services in systems like process & memory management, hardware abstraction, and others.
Go through this article where you will come across solutions that will guide you to solve the ntoskrnl.exe high memory usage Windows 10 with ease.
How to Fix Ntoskrnl.exe High CPU Usage?
In order to fix the ntoskrnl.exe high CPU usage Windows 10, follow the solutions listed down one after the other and check whether your memory usage problem got resolved or not. Let's get started.
Solution 1- Disable Superfetch Service
Disabling the superfetch service will help you to fix the ntoskrnl.exe high memory usage. So, follow the steps and disable it:
Press Windows key
Type services and hit the enter key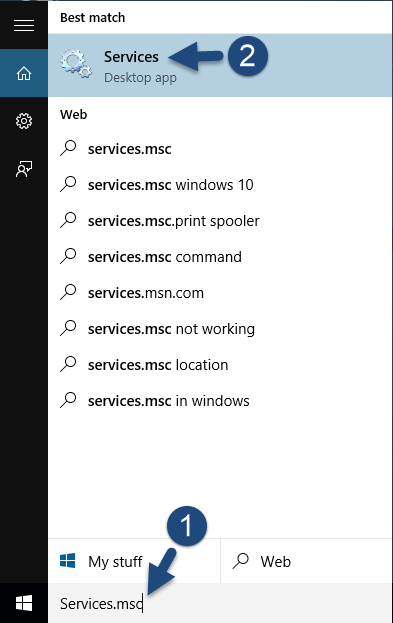 In the service window, a list of all the services will appear
Search for Superfetch service, double click on it and open the properties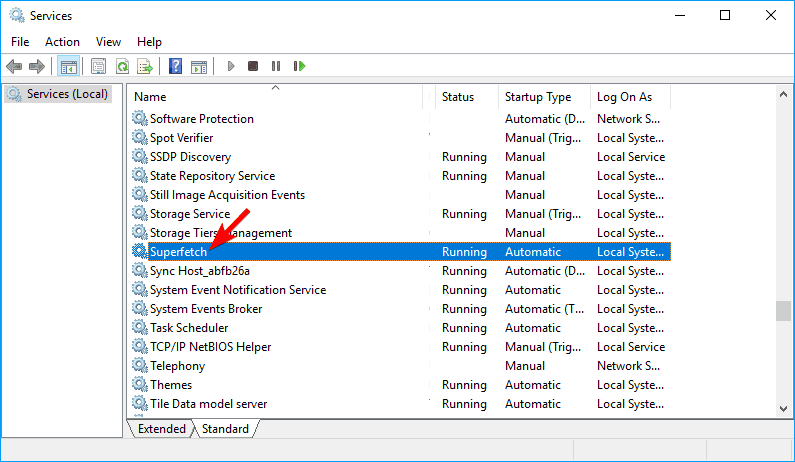 In the properties window, select the startup and set it to disable
Click on stop button (to make the service stop)
To save the changes, click on the Apply button and then OK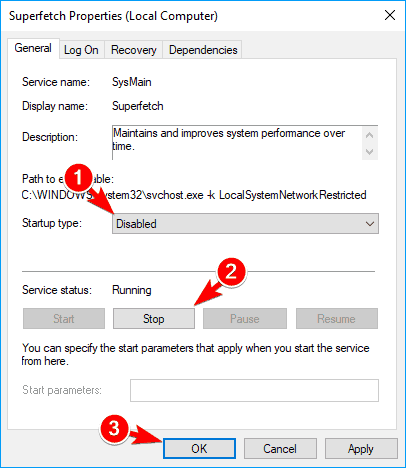 After the above steps are performed, superfetch service is disabled and your ntoskrnl.exe system high CPU usage Windows 10 problem is fixed.
You can also disable a few more services in case disabling superfetch won't work. Services like Windows search, Remote Desktop Services UserMode Port Redirector, TCP/IP NetBIOS Helper, Offline Files services, and Remote Desktop Services.
Disabling the above services can also help you get rid of the high CPU usage issue.
Solution 2- Update Drivers
Ntoskrnl.exe high CPU can also cause due to corrupted or outdated drivers. Therefore, it is suggested to update your drivers to fix the memory usage in Windows 10.
There are two options to update the drivers either you can go manually by opening the device manager and searching which driver is outdated and then search for its update and download it.
Or you can go with the easy and quick way. Try Driver Easy, this tool will update the drivers itself and also fix other driver-related issues automatically without any hassle.
Solution 3- Create a Registry File and Execute it
Creating a registry file and executing it can be helpful in fixing the ntoskrnl.exe high CPU usage Windows 10 and further you can make changes in it easily.
Follow the steps given below to create a registry file:
Open the Notepad
Now paste the below-given lines in it one after each:
Windows Registry Editor Version 5.00

[HKEY_LOCAL_MACHINESYSTEMControlSet001ServicesTimeBroker]

"Start"=dword:00000003

[HKEY_LOCAL_MACHINESYSTEMControlSet001ServicesSysMain]

"DisplayName"="Superfetch"

"Start"=dword:00000003
Click on the File and select Save as.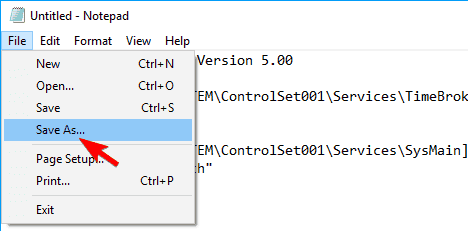 Set the Save as type to All Files.
Now, name the file as a script.reg, select a location and click on the Save button

Go to script.reg file where it is saved and double click on it to run
Click YES in the warning message and continue
Once the file is executed, the registry will get modified automatically. You can check now whether the ntoskrnl.exe high CPU and disk usage issue got solved or not.
Solution 4- Uninstall the Apps
Uninstalling apps/programs doesn't mean that you will remove all the programs from your PC. Uninstall those apps or programs that are of no use and just consuming the space on your computer.
Uninstalling the apps not only free up the disk space but also solves the ntoskrnl.exe high memory usage Windows 10 problem.
You can manually uninstall the apps by going to settings>apps. Select the apps that no longer required, click on it, and hit the uninstall button.
Or you can go with the easy way. Try Revo Uninstaller, this will is simple to use and will uninstall the apps easily. Also, it will remove the leftover files of the deleted programs.
Solution 5- Stop the BlueStacks Services
Bluestacks is an android emulator which can lead to ntoskrnl.exe system high CPU usage. Therefore, to fix this issue you need to create a bat file to stop the Bluestacks services.
Below are the steps given to do so:
Open the Notepad
Paste the following lines given below:
"C:Program Files (x86)BlueStacksHD-Quit.exe"

net stop BstHdUpdaterSvc

net stop BstHdLogRotatorSvc

net stop BstHdAndroidSvc
Click on the File and select Save as.
Set the Save as to All Files.
Name the file as script.bat and save it in the desired location

Now, go to the script.bat file location and run it
Once the file is executed the Bluestacks services will stop and the high memory usage issue will be solved.
Solution 6- Uninstall the Updates
Installing the updates every now and then also consumes a lot of memory that can lead to ntoskrnl.exe high CPU usage Windows 10. So, uninstall the previous updates and then check if the usage got decreased or not.
Follow the steps to uninstall the updates:
Press the Windows key
Go to settings
Select the Update & Security section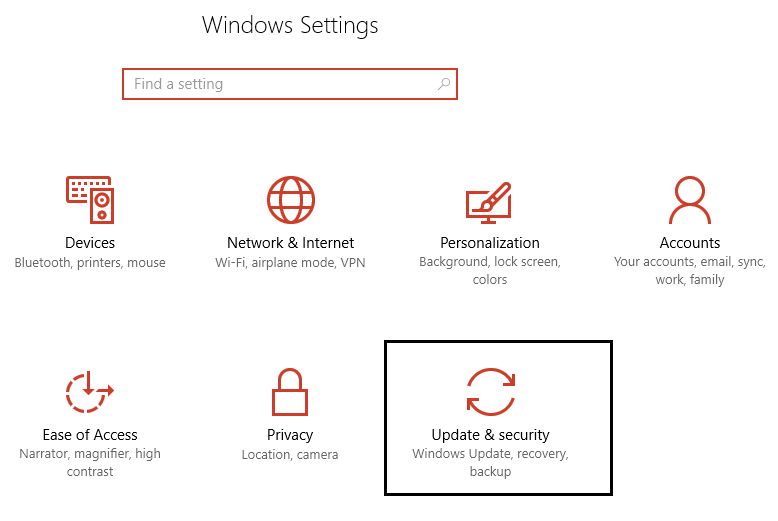 Click on Windows update> view Update history
A list of all updates will appear, click on uninstall updates
Choose the update that you want to uninstall and remove it.
Restart your system and see if the high CPU usage Windows 10 problem is fixed.
There are few updates due to which this ntoskrnl.exe issue can arise and sometimes Windows 10 gets updated automatically so, pause the updates for 7 days and update your Windows accordingly.
Solution 7- Disable the Hardware Acceleration in Chrome
Disabling the hardware acceleration in chrome can also be a workable solution to fix the ntoskrnl.exe high memory usage Windows 10.
Follow the steps to do so:
Open the Chrome browser
Click on Menu icon and select Settings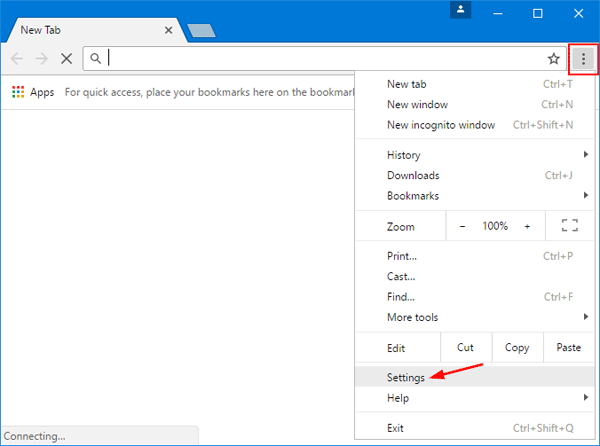 In the Settings tab, click on the Advanced option

Click on system and Turn off the toggle key of Use hardware acceleration when available
After you have disabled the hardware acceleration in chrome, restart the chrome. The high CPU usage problem must have got resolved now.
If you face Google chrome high CPU usage and need more solutions then you can go with this link. In case you don't use chrome then disable it in other browsers that you use.
Solution 8- Run the DISM Command
DISM (Deployment Image Servicing and Management) is a command that is used to prepare the Windows Preinstallation environment and to repair the corrupt system files.
You can also run this command to see if it helps in fixing the ntoskrnl.exe high memory usage Windows 10. Follow the steps execute this command:
Click on Windows icon
Type cmd, right-click on it and select run as administrator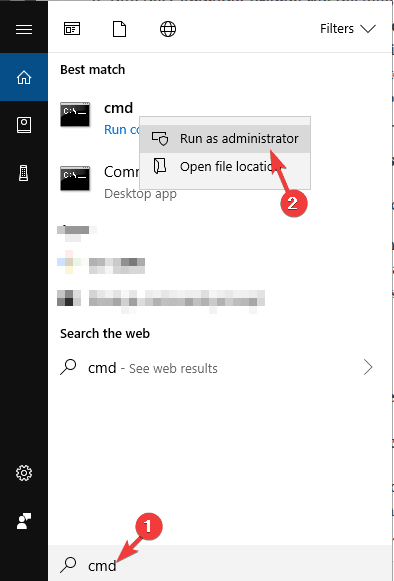 In the command prompt window, type the below commands and hit enter one after the other:
DISM /Online /Cleanup-Image /CheckHealth

DISM /Online /Cleanup-Image /ScanHealth

DISM /Online /Cleanup-Image /RestoreHealth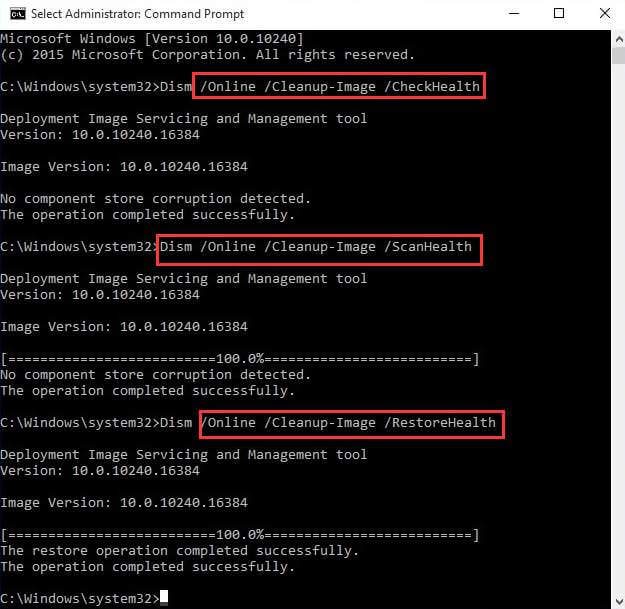 Wait for the command to get executed and then restart your PC. Check whether the issue got resolved or not.
Recommended Solution- Fix Various PC Issues and Errors
Windows PC is full of errors & issues and manually solving them can be quite risky if you are not a technical person. So, try the PC Repair Tool.
This tool is highly advanced in solving stubborn Windows PC issues with ease. Errors like update, application, DLL, registry, browser, BSOD, game & many others are solved automatically.
Damaged, corrupted system files are also easily repaired with the help of this tool. It optimizes the performance of the PC and makes it work just like a new one.
Conclusion
Ntoskrnl.exe high CPU usage Windows 10 issue can be solved with the above-listed solutions. Perform them one after the other and see one suit on resolving the problem.
After the high memory usage problem is fixed, scan your PC with the recommended solution and make it error-free.
It is expected that you liked this article and it turns out to be helpful in solving the PC issue.
Besides this, if you have any questions or queries left then you can write to us on our Facebook page.
Hardeep has always been a Windows lover ever since she got her hands on her first Windows XP PC. She has always been enthusiastic about technological stuff, especially Artificial Intelligence (AI) computing. Before joining PC Error Fix, she worked as a freelancer and worked on numerous technical projects.