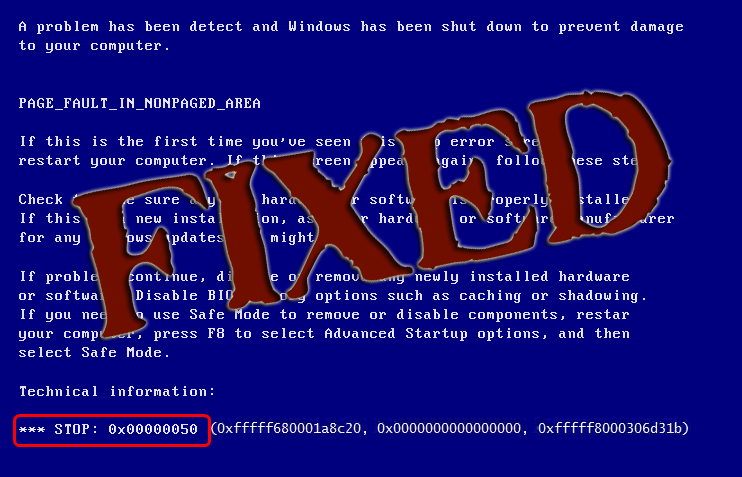 What happen again got an error? Don't worry PC Error is there to solve all your errors and issues. Recently it is found in forum sites that many Windows 8 users are encountering 0x050 error or PAGE_FAULT_IN_NONPAGED_AREA Error
If you are also facing this error then don't worry. Today in this article we are going to discuss error code 0x00000050.
0x00000050 error is a stop code error, it displays a blue screen error hence also called as Blue screen error. Whenever you restart your computer after Windows service pack installation this error appears.
Unlike other PC errors, this blue screen 0x00000050 also appears without any warning. It displays the Error message:
Stop 0X00000050 (parameter1, 0, parameter3, parameter4)
PAGE_FAULT_IN_NONPAGED_AREA"
There are various reasons why stop code 0x00000050 is displayed.
Want to know how to fix this error then you have to go through this article to overcome this error and use your PC again without any error. But before that know the cause of this error.
Reasons Behind Blue Screen 0x00000050
Stop code 0x00000050 pop up on Windows computer screen because of multiple causes. Some of the common causes of this error is mentioned below, have a look at them:
Improper PC maintenance
Registry issues such as invalid entries, poor registry keys, damaged and corrupt registry
DLL files Incompatibility
System files corruption in Srvnet.sys file
Malware and viruses
Overheating of computer components
Outdated drivers
It is suggested to fix error code 0x00000050 on your system right away. Blue screen errors are mortal errors that can cause serious damage to your computer. If they are not fixed on time it can result in loss of valuable data and system failure.
How to Fix Stop Code 0x00000050?
Now that you know the reason behind the blue screen 0x00000050, let solve this error and make your PC as it was before. Apply the manuals methods step by step carefully.
1: Use Windows Memory Diagnostic Tool
To troubleshoot stop code 0x00000050 run the Windows Memory Diagnostic Tool to check the RAM memory for errors. This Utility tool will check if RAM is causing any issue or not.
Follow the steps to run the Windows Memory Diagnostic Tool:
Press Windows + R key
Type mdsched.exe and click OK
Windows Memory Diagnostic will open with two options:
Restart now and check for problems

Check for problems that next time I start my computer
Click on the first option and wait for Windows Memory Diagnostic to fetch problem
If it displays that you RAM is having a problem then restart your computer and try reinserting the RAM stick
This might help you to solve Windows 8 blue screen 0x00000050.
2: Run chkdsk Command
Try running the chksdk command to fix the 0x050 error that may have caused due to corrupted NTFS. Steps to run the command are given below:
Press Windows icon
Type Cmd, right-click on it and select Run as admin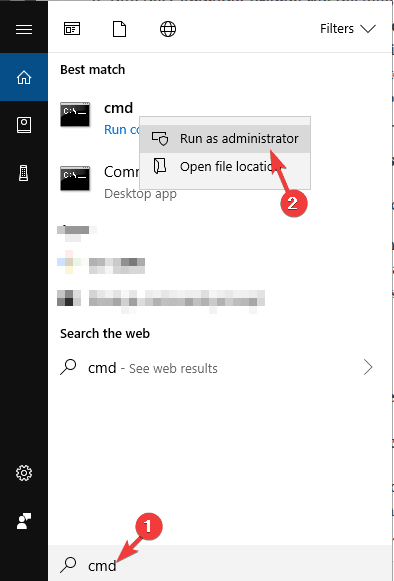 Type the command and hit enter
chkdsk c: /F /R
Press Y for the next time you restart your system to be checked.
Restart your system
Now that you have run chkdsk in your system it will fix the blue screen 0x00000050 error.
3: Run sfc/Scan
The error 0x050 can also occur due to damaged system file integrity. Fix the file integrity with sfc/scan and also the error.
Follow the steps to do so:
Press Windows + R key
Type cmd and click OK
Type sfc/scannow and hit enter
Now, wait till the scanning is completed and repaired system file as well as the error code 0x00000050
Restart your PC and see if the error has vanished or not.
4: Disable the Automatically Manage Paging File Size
Another solution to fix the stop code 0x00000050 by disabling page file size. Follow the steps to do so:
Right-click on This PC and select properties
Select System protection, click on Advanced tab
Select setting under the performance
Click on Advanced tab under performance option
Click on the change button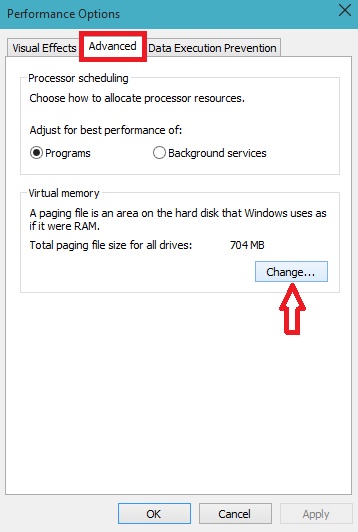 A Windows appear as virtual Memory, uncheck the Automatically manage paging file size for all drives option
Click on the Custom size and file the page size and click OK
This will allocate the space page size for each drive. After disabling the paging size and increasing it, you will now won't see the blue screen 0x00000050.
5: Update Device Driver
There are chances that the installed drivers on your PC may not be compatible with your Windows and causing stop code 0x00000050. You can fix this by updating your driver which is very easy. Follow the steps to do so:
Click on start menu and type device driver
Select settings and click on Update device driver option
Right-click on the device that needs to be updated and select the Update driver software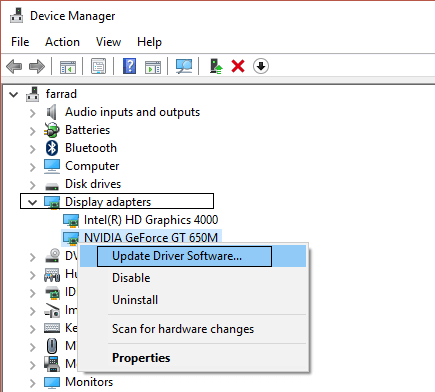 Now, click on Search automatically for updated driver software option
This will update the device driver and vanishes the Windows 8 blue screen 0x00000050. You can also ake use of Driver Easy to update the outdated drivers automatically.
Automatic Solution to Fix Stop Code 0x00000050
Though the manual solutions are time taking and tricky it still worth trying to fix the error. If you are not having the advance knowledge of computer and find difficulty to perform the solutions then try running the PC Repair Tool.
This repairing tool will help you to fix all PC related errors such as DLL error, BSOD error, registry error, game error, and others. It not only fixes errors but also repairs damaged, inaccessible and corrupt files.
Fix the stop code 0x00000050 Windows 8 and improve the performance of your PC making it work as before.
Conclusion
That's all for this Windows 8 blue screen 0x00000050. I have listed the solutions that will work for you in solving the blue screen error.
Perform the manuals one by one carefully.
It is expected that after applying the above-stated solutions the error code 0x00000050 will definitely get solved.
Hope this article turns out to be useful to use. Apart from this if you have any questions or queries related to this article then drop it on the below comment section.
Always up to help others with their PC-related issues, Jack loves to write on subjects such as Windows 10, Xbox, and numerous technical things. In his free time, he loves to play with his dog "Bruno" and hang out with his friends.