The Elden Ring Network status check failed error appears when the Elden Ring game servers are down or overloaded. The error message and
This is a result of multiple issues that hinders the progress of the game by conflicting with the game servers.  In most cases, the error gets resolved with time when the server issue is fixed and it starts working again.
But if in your case the server is working properly but still seeing the Network status check failed error on Elden Ring then the problem might be from your side.
So, try the fixes mentioned in the article and fix the error in your case. But before starting with the solutions here have a look at some of the common ones.
To repair corrupted Windows system files, we recommend Advanced System Repair tool:
This software is your one stop solution to fix Windows errors, protect you from malware, clean junks and optimize your PC for maximum performance in 3 easy steps:
Download Advanced System Repair tool rated Excellent on Trustpilot.
Click Install & Scan Now to install & scan issues causing the PC problems.
Next, click on Click Here to Fix All Issues Now to fix, clean, protect and optimize your PC effectively.
Why is My Network Status Failing on Elden Ring?
Servers Down: Any downtime in the server would generally show up with such errors in the frontline. These errors halt any progress for a while and all you can do is hope and wait.
Conflicting with Downloads: Having old downloaded files in your System can also form a conflict with the game server. Since loads of packet and data transfer occurs, it is possible to see such errors in hindsight.
Slow Internet Connection: Another possible reason responsible for the error is the slow internet connection.
Corrupted Game File: The corrupted or missing game files may also sometime trouble in launching the game and showing errors.
How to Fix "Elden Ring Network Status Check Failed" Error?
Fix 1: Check the Game Server
When you receive "Elden Ring Network Status check failed", the first thing you need to do is check the server status. As the error message clearly signifies that the problem is something with the server.
So, start by visiting the official Twitter handle of the game developer. The developer updates fan via Social media at all those instances, whenever there is a major breakdown in servers, or while updating them overall.
With the community members reporting to the issue fastest in usual cases, the developers would check and resolve things from their end with immediate effect.
Fix 2: Use Wired Connection
At times, while facing the network status check failed Error, we recommend using a wired internet connection. Since wired connections encounter far lesser loss of internet packets, this increases stability overall. If you have already had a wired Ethernet connection installed already, then use a Wi-Fi connection and see your luck.
Fix 3: Stop any Background Downloads and Uploads
You need to stop any sort of background downloads and uploads that can hamper the game connection with the server. With the probability of conflicting with the bandwidth of existing downloads or uploads, we recommend stopping any such actions while running Elden Ring.
Fix 4: Look out for Updates
If you are still seeing the error, then make sure to check out for a possible game update available. More because outdated files can stop any programs and show out network-related issues more often.
There is it suggested to visit Elden Ring's official website and check out every new updates that are available for usage. Also, there might be a chance of the developer coming up with a new fix patch, which would make sure to eliminate the problem from the scratch.
Fix 5: Check your DNS Addresses
Much like game servers, DNS addresses can also see issues in operation. Many players use default DNS addresses as given by their ISPs. By changing the default DNS address, one can resolve the issue with ease. We recommend using Google DNS, and this barely goes down in comparison to the ISP ones.
Fix 6: Verify the Integrity of the Game Files
In many cases, the corrupted or missing game files start causing trouble which results in showing the Elden Ring network status check failed error, so in this case, you can repair the game files by verifying the integrity of the game files.
Follow the steps given to do so
On your Windows system launch, the Steam client and here click on the library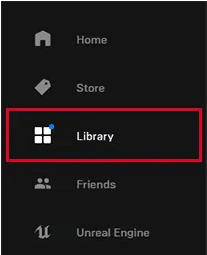 Now look for Elden Ring and right-click on it then choose Properties
Then click on the Local Files tab and choose the option Verify integrity of game files
Wait for the process to complete.
Now steam will replace the missing or corrupted game files with the latest ones.
So, these are the fixes that work for you to solve the Elden Ring network status check failed error.
Frequently Asked Questions
1. How to check Elden Ring server status?
The easiest way to check Elden Ring server status is by visiting the Twitter Account of the game and checking for any updates. Alternatively, the Reddit community is also a relevant sphere to check any Elden Ring Network status check that failed to fix issues.
2. Is Elden Ring Multiplayer working?
Yes it is working perfectly. Sometimes, with server maintenance taking a couple of hours, this might increase.
3. Can you play Elden Ring during Server Maintenance?
No, you cannot play Elden Ring when the server is maintained. This would stop and show errors such as the Elden ring network status check failed and much more.
4. How do I play Elden Ring offline?
To play the game offline,
Head to the pause menu and visit the System options
Visit Network
Look out for Launch Settings
Change the menu to play from Online to Offline and this would lead to a single-player experience
Best Way to Optimize Your Game Performance on Windows PC
Many players encounter issues like game crashing, lagging, or stuttering when playing the game then optimize your gaming performance by running Game Booster.
This boosts the game by optimizing the system resources and offers better gameplay. Not only this, but it also fixes common game problems like lagging and low FPS issues.
Conclusion
So, these are some of the potential solutions that work for you to fix Elden Ring Network Status Check Failed Error.
Here, I tried my best to list down the potential solutions to solve the network status check failed error, try the solutions given carefully.
Despite this, here it is suggested to scan your system with the PC Repair Tool, as many times the game error appears due to the PC internal issues and errors, so scan your system completely to fix various Windows PC-related issues and errors.
Now you can also connect with our experts on our Facebook page, we will get back to you as soon as possible.
Good Luck..!
Hardeep has always been a Windows lover ever since she got her hands on her first Windows XP PC. She has always been enthusiastic about technological stuff, especially Artificial Intelligence (AI) computing. Before joining PC Error Fix, she worked as a freelancer and worked on numerous technical projects.