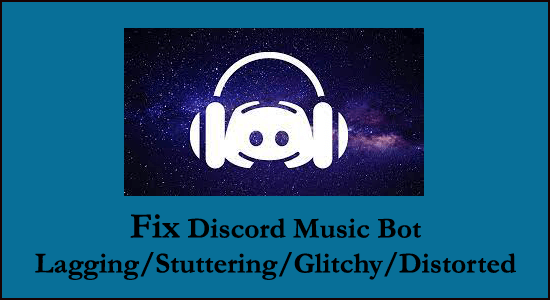 Wondering why the Discord music bot lagging/glitchy/distorted, then rest assured as you are not alone. Many Discord users reported Groovy's audio to disappear for a few seconds or lag.
Well, as per the bot developers, the issue is mainly related to the Discord voice server region, and the best trick to fix discord music bot lagging issue is to switch your voice server region to different and again switch it back.
And this will simply assign you to a new server in that region. However, if this trick won't work for you then luckily there are other fixes as well.
Today in this article I will share the best possible solutions to fix Discord music bot lagging/stutter/distorted issue.
But first, have a look at some of the common reasons responsible for the issue.
Why is My Discord Music Bot Lagging?
Well, the issue is most likely caused due to Discord's voice servers, apart from that there are other reasons as well. Below have a look at some of them:
Due to the poor internet connection – The music bots stream at bitrate and this is different from your voice channel. So, if you are using a weak internet connection, then you may face latency is while streaming audio.
Packet Loss – When the live data or the audio is transferred over the internet, there is a possibility that the stuff goes wrong and result in packet loss. The data is transferred in small chunks and is called Packets, and if any of this won't arrive properly this got lost and therefore is named Packet Loss.
So, these are the reasons why the Discord bot lags when playing music, now follow the workaround to troubleshoot this irritating problem.
How Do I Fix Discord Music Bot Lagging?
Solution 1 – Change the Voice Server Region
As said above the quick trick to fix Discord music bot lagging is to change the Discord voice servers. Also, it is found that the closer the physical server location is, the lower the latency issue occurs.
So, here follow the steps to do so:
But before heading towards the steps make sure you must be a server owner or have a role with the enabled Manager Server permissions.
If you are having these permissions then move ahead to follow the steps:
After having the permission to login to the Discord server.
Then next to your server's name > click the down arrow icon.
Now from the menu choose Server Settings
And in the Overview tab > find the Server Region
Under Server Region,> click the Change
Choose a server that is close to your region.
Lastly, click Save Change.
Now as the changes are saved, verify the music bot in the chat or stream, to check if the lagging issue is resolved.
Well, in many cases changing the server region works for then to fix music bot lagging/glitchy/distorted issue.
Moreover, you can change the voice server region from inside your direct message and call section also.
Follow the steps given to do so:
Go to your current region at the top right corner > click the down arrow icon next to the name of your region
And choose the preferred voice server region.
Now, Discord will automatically apply the particular server as the preferred voice server region.
It is estimated changing the voice server to a closer physical location works for you. But just having a good ping is not enough, your friends and other members should also need great ping to avoid lagging or glitch issues.
So, in this case, it is best to locate a middle-ground between you, and your friends, rather than from two different or multiple regions.
Many users also reported they encountered a Discord lagging issue on Windows 10, if you are also experiencing this problem then read our useful guide to solve the problem.
Solution 2 – Check Hosting Service
If you are hosting the Discord music bot yourself, then verify whether it is putting stress on your server. While trying to upload a number of things at once, the resources assigned to the music bot might take the stress.
And this is what might be causing lagging or stuttering issues. Moreover, if the problem still occurs, then you can try another Discord music bot like Groovy, Octave, Hydra, Chip, etc. and this may work for you to get rid of the lagging bot problem caused due to bot limitations.
Well, for the self-hosted music bots, check the hosting resources and upgrade to prevent any sort of stress or hit on the server.
Recommended Solution to Fix Various PC Problems
If your Windows 10 PC or laptop is running slow or showing various errors and issues then here it is suggested to scan your system with the PC Repair Tool.
This is a multifunctional tool that just by scanning once detect and fix various computers errors, and repair the corrupted system files.
Not only this, but you can also fix other PC fatal errors like BSOD errors, DLL errors, repair registry entries, runtime errors, application errors, and many others.
Conclusion:
Discord is undoubtedly a useful messaging and digital distribution platform and becomes highly popular for live streaming games.
This also allows users to play songs, videos to your chat and other members. But recently many users reported the Discord music bot is lagging when playing music or during the chat.
So, here I shared the best possible solutions to fix Discord music bot lagging/stuttering, bad audio issues.
It is estimated you managed to fix the problem by following any of our issues. Hope the article works for you.
Moreover, if you are having any issues, comments or suggestions then feel free to share with us on our Facebook page.
Also, follow us to keep reading more interesting articles.
Good Luck..!
Hardeep has always been a Windows lover ever since she got her hands on her first Windows XP PC. She has always been enthusiastic about technological stuff, especially Artificial Intelligence (AI) computing. Before joining PC Error Fix, she worked as a freelancer and worked on numerous technical projects.