After waiting quite a while, Batman Arkham Knight is available for PC users. Though getting both negative and positive reviews is another part of it. "Mixed" reviews can turn this game into the best-selling game of this month.
Various users in different forums have complaints about various issues with the game like Batman Arkham Knight crashing, not launching, fatal errors and many others on their PC.
If you are the one unable to play the game then here in this guide follow the fixes to resolve Batman: Arkham Knight errors.
But before moving towards the fixes, check the minimum system requirements, if your system is not having the minimum system requirements then you may face crashing, freezing, flickering and others.
To repair corrupted Windows system files & optimize PC performance, we recommend Advanced System Repair:
This software is your one stop solution to fix Windows errors, protect you from malware, clean junks and optimize your PC for maximum performance in 3 easy steps:
Download Advanaced System Repair rated Excellent on Trustpilot.
Click Install & Scan Now to install & scan issues causing the PC problems.
Next, click on Click Here to Fix All Issues Now to fix, clean, protect and optimize your PC effectively.
Batman Arkham Knight System Requirements:
MINIMUM:
OS: Win 7 SP1, Win 8.1 (64-bit OS Required)
Processor: Intel Core i5-750, 2.67 GHz | AMD Phenom II X4 965, 3.4 GHz
Memory: 6 GB RAM
Graphics: Graphics: NVIDIA GeForce GTX 660 (2 GB Memory Minimum) | AMD Radeon HD 7950 (3 GB Memory Minimum)
DirectX: Version 11
Network: Broadband Internet connection
Hard Drive: 45 GB available space
RECOMMENDED:
OS: Win 7 SP1, Win 8.1 (64-bit Operating System Required)
Processor: Intel Core i7-3770, 3.4 GHz | AMD FX-8350, 4.0 GHz
Memory: 8 GB RAM
Graphics: NVIDIA GE-Force GTX 760 – 3 GB Memory Recommended
DirectX: Version 11
Network: Broadband Internet connection
Hard Drive: 55 GB available space
How to Fix Batman Arkham Knight PC Errors?
#1: Batman Arkham Knight Crashing Issues
Game crashing while playing is a common problem encountered by gamers and Batman Arkham Knight is not free from crashing problems. Various users reported game crashing issues in different cases.
The game crashes back to the desktop on startup.
Game crashes during the gameplay.
The game crashes with a black screen.
Game crashes after changing the settings.
Facing these errors might be due to problems with your GPU drivers. Primarily ensure that your GPU is capable of running the Batman Arkham Knight game.
Updating the GPU drivers will help you to fix Batman Arkham Knight crashing issue in Windows. To update the GPU drivers visit the manufacturer's website or the Microsoft official website and search for the updated driver carefully.
Moreover, you can also update the driver via the device manager here follow the steps to do so:
Press the Windows + X and open Device Manager and click OK
Now double-click on the Display Adapter to expand.
And look for the outdated driver and right-click on it.
Then click on the Update driver option from the menu.
Next, click on Search automatically for the updated driver software.
Wait for the process to finish.
Restart your PC, once the process is finished.
Despite this, you can also update the drivers easily by running the Driver Updater tool. Just install it and this will automatically update the drivers and fix related issues.
If updating the driver won't work for you then here it is suggested to verify the game's files' integrity and repair the corrupted or missing game files causing the Batman Arkham Knight crashing issue.
Launch Steam on your PC and click on Library.
Look for the Batman Arkham Knight game and right click on it and choose Properties
Now click on the Local Files option
And choose Verify integrity of game files option.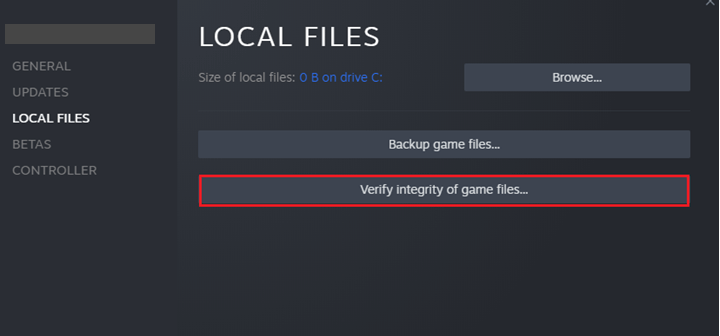 Wait for the scanning process to finish and relaunch the game. Now check if the crash issue is resolved.
#2: Batman Arkham Knight Not Launching
This is another common problem reported by gamers. For many gamers, Batman Arkham Knight won't launch or stuck on the loading screen on their Windows system.
There are a number of reasons why the game won't launch or get stuck while running like the system won't meet the game requirement, running the game without admin rights, antivirus confliction, etc.
So, first, check the minimum game requirement and make sure your PC meets these requirements. Despite this, if you are not running the game with admin rights then launch the game as an administrator to access the advanced features and settings of the game.
Follow the steps to run the game as admin:
Right-click on the Batman Arkham Knight shortcut file on the desktop and choose Run as administrator.
After launching the game with administrative rights check if you are able to launch the game or not.
But if still the game is stuck on the loading screen then disable the Windows defender firewall & third-party antivirus as the security program conflicts with the game files and block them from launching.
Launch Control Panel and click on the system and security.
Now click on the Windows Defender Firewall.
And hit the Turn Windows Firewall on or off option.
Then under both private and public network settings, choose the Turn off Windows Firewall (not recommended) option.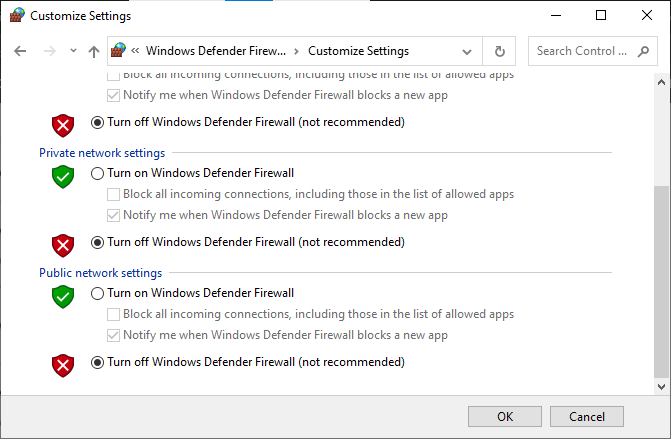 Now click on the OK button.
It is estimated now the Batman Arkham Knight game not launching problem is fixed.
#3: Broken SLI Issues
You can get rid of this issue by updating the drivers. Game-ready drivers for Batman Arkham Knight have already been released by Nvidia.
#4: Batman Arkham Knight Flickering Issues
While running the Batman Arkham Knight game in windowed mode, flickering issues are quite common. Also if you have outdated DirectX, then update the directX from the Microsoft official website.
Now check if the flickering issue is resolved but if not then try the other solution like disabling V-sync and seeing whether there's any improvement in the performance or not.
#5: Batman Arkham Knight Stuttering Issue
If you are using an Nvidia driver, you can solve the stuttering issues by setting "PhysX" option to "GPU" from Nvidia Control Panel> Manage 3D settings.
At the time of game installation, DLL errors are always noticed to have been most consistent and prominent. These errors generally occur in deleting any software that has the necessary DLL file to run the game.
To fix the DLL error, the best and easy solution is to use the professionally recommended DLL Repair Tool, after scanning. detect and fix the DLL errors automatically
And check if the stuttering issue in Batman Arkham Knight is resolved.
#6: Fix Low FPS and Lag Issues
Low FPS or lagging problem is encountered by many gamers in between the gameplay. As per the gamers, the game gets stuck in the gameplay and starts lagging unexpectedly.
To fix the problem increasing the performance of Batman: Arkham Knight helps you to fix the problem. You can get it below.
Find the configuration file in the game root directory. You can find it at \steamapps\common\Batman Arkham Knight\BM Game\Config. (BmSystemsettings.ini)
Change bAllowD3D9MSAA=False to bAllowD3D9MSAA=True (This allows you to use MSAA with D3D9)
Change AllowD3D10=False to AllowD3D10=True (This allows you to enable D3D10 for better performance)
Vary Texture Resolution=1 to Texture Resolution=2. This may change back to 1 after some time still you can try doing it.
Decrease shadows to low or normal. No need to put it high, just in case to get more frames (shadows aren't something to actually care about)
No solution yet for motion blur.
Turn off Bloom: Bloom=False
Turn off Reflections: Reflections=False
Change Allow Open GL=False to Allow Open GL=True (This allows you to use OpenGL for better performance)
I hope this fixes the Batman Arkham Knight lagging or Low FPS issue. However, if you are still facing the issue or unable to follow the above given manual solutions then use the Game Booster, to enhance the low FPS and improve your gaming experience.
It boosts the game and you can play the smooth and faster game
Optimizes your PC for smoother and more responsive gameplay
Get the better FPS rate
So, this is all about how to fix Batman Arkham Knight errors in Windows PC/laptop. Now check out the bonus tips and play the game easily.
#Tip 1: How to Remove FPS lock in Batman Arkham Knight:
By editing the configuration file you can make changes to the FPS lock. You need to find the "UserSystemSettings.ini file" in the game root directory. Then open the file with Notepad and search for the "MAXFPS" line. From there, you can change the FPS value as per your desire.
#Tip 2: How to Skip Intro Videos in Batman Arkham Knight:
If it's the first time you may love watching intro videos but watching it over and over when you fail to complete a mission, or for any other reason turns out to be irritating. In order to skip those annoying videos follow the steps below;
First of all, go to C:\Program Files (x86)\Steam\steamapps\common\Batman Arkham Knight\BMGame\Movies (*You may need to enable Filename Extensions in the view tab to see the .swf*)
Rename StartupMovie.swf + StartupMovieNV.swf to StartupMovie.bak
Go to Notepad > File > Save As…
Set "Save as Type" to All Files, browse to C:\Program Files (x86)\Steam\steamapps\common\Batman Arkham Knight\BMGame\Movies and save two files…one named StartupMovie.swf and another named StartupMovieNV.swf.
Conclusion:
So, these are some of the common errors encountered by Batman Arkham knight gamers.
I tried my best to list down the entire errors in the Batman Arkham Knight game encountered by the users with complete solutions.
Despite this, if after following the manual solutions you are still facing issues and unable to play the game, then it is suggested to run the PC Repair Tool. As many times due to PC/Laptop issues, users start facing errors while playing the game. So, scan your system with this automatic utility and start playing the game without any errors.
For any queries or suggestions, feel free to reach us anytime on our Facebook Page. Also, don't forget to follow us on our social media handles to get more exciting guides and helpful tips to keep your computer safe from errors and issues.
Good Luck..!
Hardeep has always been a Windows lover ever since she got her hands on her first Windows XP PC. She has always been enthusiastic about technological stuff, especially Artificial Intelligence (AI) computing. Before joining PC Error Fix, she worked as a freelancer and worked on numerous technical projects.