Wondering what this Steamworks Common Redistributables is and why it is in the Steam library then this article is for you.
Today in this guide we will share the complete information about the Steamworks Common Redistributables and what does it do?
Also, learn how to hide and use it, so keep reading the article.
To repair corrupted Windows system files, we recommend Advanced System Repair:
This software is your one stop solution to fix Windows errors, protect you from malware, clean junks and optimize your PC for maximum performance in 3 easy steps:
Download Advanaced System Repair rated Excellent on Trustpilot.
Click Install & Scan Now to install & scan issues causing the PC problems.
Next, click on Click Here to Fix All Issues Now to fix, clean, protect and optimize your PC effectively.
What is Steamworks Common Redistributables?
Steamworks is an open-source development suite with all the necessary files and tools to develop and run games on Steam. With this, you can easily optimize the games and their settings on several Windows systems. It is available on 32-bit and 64-bit computers and contains the following programs.
DirectX 9
Microsoft Visual C++ (2010, 2013, 2015)
.NET Framework
XNA
OpenAL
PhysX
When you install a Steam game for the first time, the Steamworks Common Redistributables will be installed automatically on your PC for the specific tool or file. The games that are downloaded after that, will not require any file installations next time. They will make use of the previously installed file version on your computer.
This helps you to save CPU/disk space, internet data and especially time. Whenever there is a patch update for the scripts or the file, they will be downloaded automatically by Steam.
Overall, to simplify the answer, Steamworks Common Redistributables are the file/tool suite that has all the necessary components of games and apps. With this suite, you do not need to download the component again and again.
How to Hide Steamworks Common Redistributables?
If you want to avoid a few circumstances of deleting the Steamworks Common Redistributables accidentally, you can hide them. Follow these instructions to hide the common Redistributables files on your PC.
Launch the Steam app on your PC and move to the Steam Library tab,
Search and find the Steamworks Common Redistributables. Right-click on it and press the  Manage option.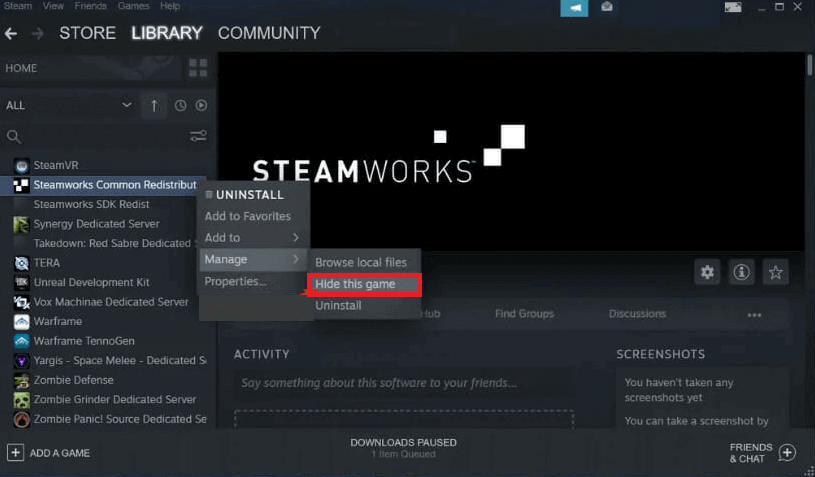 In the upcoming screen, click on Hide this game Doing this will hide the folder from the library.
If you change your mind to unhide it, click the Hidden
How to Use Steamworks Common Redistributables?
If you want to check the downloaded redistributable file before your use it, this section will help you. The steps to use the Steamworks Common Redistributables download is very simple. Follow as instructed below.
Navigate to the Steamworks and then click on the App Admin
Then, switch to the Installation tab.
Click on all the checkboxes for the redistributable needed by the games and apps.
After making the necessary changes, publish it.
If you wish to check/test the selected common redistributable file, the easiest way to do that is to make use of a clean OS image on a Virtual machine or a system.
In any case, if you want to reinstall common redistributables in Steam, you can delete the following registry keys.
32-bit Windows: HKEY_LOCAL_MACHINE\SOFTWARE\Valve\Steam\Apps\CommonRedist
64-bit Windows: HKEY_LOCAL_MACHINE\SOFTWARE\Wow6432Node\Valve\Steam\Apps\CommonRedist
Please note, you would need to delete the separate subkeys created for each common redistributable in this process. This is because, every time you install a common redistributable file, a subkey will be created within the key.
Best Way to Optimize Your Game Performance on Windows PC
Many players encounter issues like game crashing, lagging, or stuttering when playing the game, then optimize your gaming performance by running Game Booster.
This boosts the game by optimizing the system resources and offers better gameplay. Not only this, but it also fixes common game problems like lagging and low FPS issues.
Final Words
That's it! So, that is how you use and hide the Steamworks Common Redistributables in library. If you want more information about these common redistributable files, you can reach out to us anytime.
If you have any queries regarding this guide, feel free to drop them on the Facebook page. We will give our utmost efforts to resolve them instantly.
Good Luck..!
Hardeep has always been a Windows lover ever since she got her hands on her first Windows XP PC. She has always been enthusiastic about technological stuff, especially Artificial Intelligence (AI) computing. Before joining PC Error Fix, she worked as a freelancer and worked on numerous technical projects.