Grand Theft Auto or GTA games have lots of fans worldwide, there are many fans of all ages that play Grand Theft Auto and its DLCs such as Episodes from Liberty City on a regular basis.
But Windows 10 users are facing several problems with Grand Theft Auto: Episodes from Liberty City. According to users while playing this game, suddenly it gets stop responding due to some unknown reason. In this article, you will get the perfect solution to fix errors in the GTA theft auto game.
But before going towards the solutions first you need to check the system requirements of the game, whether your system is compatible with this game or not.
System requirement for playing GTA: Episodes from Liberty City
Minimum
CPU: Intel Core 2 Duo 1.8 GHz, AMD Athlon X2 64 2.4 GHz
CPU SPEED:8 GHz
RAM: 1 GB for Windows XP / 1.5 GB for Windows Vista)
OS: Windows Vista – Service Pack 1 / XP – Service Pack 3 / Windows 7
VIDEO CARD: 256MB NVIDIA 7900+ / 256MB ATI X1900+
PIXEL: 3.0
VERTEX: 3.0
SOUND CARD: Yes
DISK SPACE: 16 GB
VIDEO RAM: 256 MB
Recommended
CPU: Intel Core 2 Quad 2.4 GHz, AMD Phenom X3 2.1 GHz
CPU SPEED:4 GHz
RAM: 2 GB (Windows XP) 2.5 GB (Windows Vista)
OS: Windows Vista – Service Pack 1 / XP – Service Pack 3 / Windows 7
VIDEO CARD: 512MB NVIDIA 8600+ / 512MB ATI 3870+
PIXEL:0
VERTEX:0
SOUND CARD: Yes
DISK SPACE: 18 GB
VIDEO RAM: 512 MB
How to Fix  GTA: Episodes from Liberty City Game Error?
We know that GTA Episodes from Liberty City is a quite old game (releasing date: 2008). So it is common to have some problem while running it on GTA Episodes from Liberty City Windows 10.
First check that game is updated or not, if not then update Grand Theft Auto. It is also necessary to verify that Windows 10 is packed with the latest updates or not, download all the available updates on your Windows 10 PC/laptop and install it.
Updating both game and Windows 10 operating system will fix all types of potential incongruity issues if available. It is also suggested that the update system's graphics card drivers like Nvidia or AMU with the latest version.
To update Drivers you can try Driver Easy, it will automatically update the outdated drivers and fix issues related to it.
After updating the game, Windows and display drivers apply if you are still unable to repair GTA: Episodes from Liberty City problems in Windows 10 then apply the below-given solutions.
#1 – Run GTA in windowed mode
If you are unable to play GTA: Episodes from Liberty City in Windows 10 PC or laptop then try to run it in windowed mode. This solution is not permanent, but sometime this will work.
Steps to run Grand Theft Auto: Episodes from Liberty City in windowed mode:
Run the game-> go to Video Options and set it to run in windowed mode.
If you can't even run a game without crashing then apply below-given step:
Navigate to the game directory (by default: C:\Steam\steamapps\common\grand theft auto iv episodes from liberty city\EFLC), but there is a chance that it may be different on your computer.
After it, you have to create a new text file called commandline.txt inside the directory.
After it, open the commandline.txt and type -windowed.
Save the text file and exit commandline.txt and try to run the game.
That's it, executing the game in windowed mode will definitely help gta eflc windows 10 fix with ease.
#2 – Go with the Windows' Program Compatibility Troubleshooter
Go to the search option and search for the run programs, from the search result you have to select "Run programs made for previous versions of Windows."
Then, click on the Next and you will see that the troubleshooter will try to find out the possible issues present on your apps.
Choose the GTA in the next window and then click on the Next.
You have to select a troubleshooting option: You can choose either the recommended compatibility setting or go with the compatibility settings.
Then you have to click on the Test the program button and then click on the Next.
After it, you can either select to save the settings for the specific app or go with the different settings, or you can also report the problem to Microsoft.
#3 – Run the Game in Compatibility Mode
With the help of compatibility mode, you can run this game in an earlier version of Windows. To do this follow the below-given steps:
First, you have to, right-click on the GTA: Episodes from Liberty City icon and go to its Properties. Or you can also do this from the app's shortcut or by going to the File Browser to the EXE file.
Click on the Compatibility tab, and then tick-mark the box present along the "Run this program in compatibility mode for" option
Choose the previous version of the Windows system using the app's settings in the drop-down box.
At last, click on the Apply, then try to run your app.
You will see that your issue is fixed.
#4 – Boot your System
Sometimes it happens that slow working Windows 10 might give you this issue so to solve it try to boot your system. Follow the steps to perform boot:
Press Windows icon
Type msconfig and click Ok
Go to System Configuration >  Services tab >
Check on the 'Hide all Microsoft services' option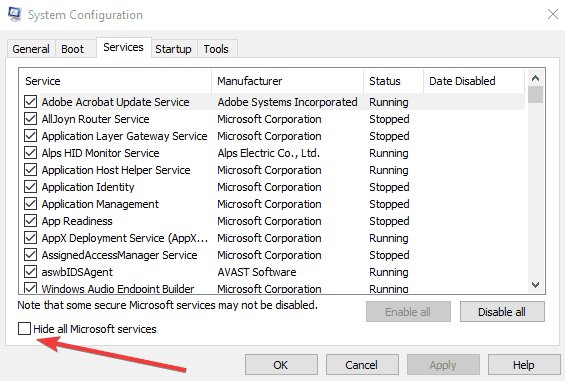 Click Disable all.
Go to the Startup tab >  Task Manager.
Select each startup item > click Disable >
Restart your system and check whether the game runs properly or not.
I hope the above-mentioned fixes helped you in resolving your GTA Episode from Liberty City Windows 10 issues. If you are unable to perform the fixes then you can try running Game Booster.
Boost: Boost the Game.
Save Game Manager: Never lose a save game again.
Game Launcher: Experience enhanced PC Gaming.
Screen capture gallery: Immortalize your best gaming moments
FPS: Get Better FPS Rate.
Conclusion
That's all about the GTA: Episodes from Liberty City game issues, it is hoped that now you are enjoying this game without any error or issues.
In order to enjoy PC games flawlessly, it is recommended to make sure that your system is updated with all its drivers.
If you are unable to enjoy any PC games due to the slow system performance then don't worry as you can fix this issue with ease. Try running the PC Repair Tool. This tool will help you through which you can easily get rid of all the types of system issues and help the OS to perform better.
I hope this article helped you in GTA eflc windows 10 fix and making your gaming enjoyable.
Always up to help others with their PC-related issues, Jack loves to write on subjects such as Windows 10, Xbox, and numerous technical things. In his free time, he loves to play with his dog "Bruno" and hang out with his friends.