"This operation has been cancelled due to restrictions in effect on this computer" is a specific error message shown when something or someone gets blocked from running specific applications from running on a Windows system.
And as a result, it halts your attempts to open particular software or a function. There are different reasons why you see the error therefore in this tutorial we have shortlisted the potential solutions to fix the error when opening printers, drives, Outlook, and Office.
To repair corrupted Windows system files, we recommend Advanced System Repair tool:
This software is your one stop solution to fix Windows errors, protect you from malware, clean junks and optimize your PC for maximum performance in 3 easy steps:
Download Advanced System Repair tool rated Excellent on Trustpilot.
Click Install & Scan Now to install & scan issues causing the PC problems.
Next, click on Click Here to Fix All Issues Now to fix, clean, protect and optimize your PC effectively.
What Causes the "This Operation has been cancelled due to Restrictions" Error?
Application Blocking: When a certain application has a conflicting issue with a program, this includes certain policies exercised on a Corporate Network
Malware Attack: Malware and Viruses play a part in stopping a specific program from running and in turn, showcasing the error message.
How to Fix "This Operation has been Cancelled due to Restrictions in Effect on this Computer"?
Fix 1 – Use Group Policy Editor
The initial step to correct "this operation has been cancelled due to restriction Windows 11" is by modifying some crucial settings in the Group Policy. Here is how you do it,
Press the Win+R key to open the Run dialogue box
Type gpedit.msc and hit Enter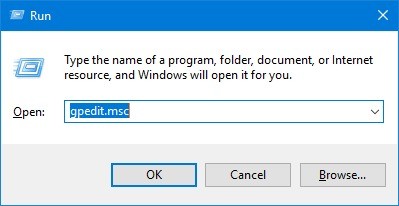 Out from the window, visit the following path and navigate using the left bar

User Configuration> Administrative Templates> Windows Components> File Explorer
On the File Explorer segment, scroll down on the right sidebar and find a parameter that reads "Prevent access to drives from My Computer"
Double click on it and change it to Not Configured
Click on Apply and press on Ok to save the changes
Move to the User Configuration> Administrative Templates> System Path
With the System key opted, double on the Don't run specified Windows Applications parameter out from the right panel while opting Not Configured here as well
Try accessing your drive once again and see if the effects are working or not.
Fix 2 – Use Registry Editor
Specific programs stop working after adding a registry key known as DisallowRun. Thus, this leads to showing the message of the operation has been cancelled due to restrictions in effect as a result. The problem can be resolved by deleting DisallowRun from the registry editor. Here is how you do it,
Press Windows + R key and in the Run box, type Regedit and hit Enter
Go to the following path,

HKEY_CURRENT_USER\Software \Microsoft\ Windows\ CurrentVersion\Policies\ Explorer

On the Explorer folder chosen, right-click the DisallowRun key and choose the Delete option.
If you find a DWORD value, make sure to delete it as well
Restart the System and check if the issue is gone or not
Fix 3 – Reset the Browser Settings
With some people finding success by simply resetting the Internet Explorer settings, here is how you do it,
Press the Win+R key to open the Run dialogue box
Type inetcpl.cpl and hit Enter to move to the next page
On the Advanced tab of the Internet Properties page, tap on the Reset option
Make sure to opt for Delete personal settings and then click on the Reset option
Once again, follow the first and second steps to go to the Internet Properties page
Click on the Programs tab and choose Set Programs
Choose on Set your default programs and choose Microsoft Outlook or other applications which highlight the error
Choose Set this program as default
Once done, check if the problem is resolved or not
Also Read: Operation Did Not Complete Successfully Because the File Contains a Virus [FIXED]
FREQUENTLY  ASKED QUESTIONS
1: How do I change Windows Restrictions?
Here is how you change the restrictions,
Tap on Start and type Control Panel and hit Enter
Choose System and Security
Visit Action Center
Choose Change User Account Control Settings out from the left pane
Enter the Admin password if requested and tap on Enter key.
Move the slider to Never Notify
Choose Ok and restart to disable the User Account Control on the System
2: How do I turn off time restrictions in Windows 11?
Follow these steps to turn off time restrictions in Windows 11,
Tap on Start and choose Settings
Choose System on the settings sidebar
Choose Power and Battery
Expand the Screen and Sleep option and change the screen timeout settings
Make sure to turn the option Never On and exit the window to see the changes in effect
3: How do I remove Admin restrictions in Windows 10?
Here is how you remove Admin restrictions in Windows 10 as follows,
Press Windows+X
Choose the Computer Management option
Open Local Users and Groups
Choose Users option
Opt for the Administrator option and right-click to check the Properties option
Deselect the Account in disable the option to turn it on or check it to disable the same
Click on Apply and choose Ok to finish
Recommended Solution to Fix Windows 10/11 Errors
To fix various Windows PC problems like freezing, crashing or hanging and other common errors it is suggested to scan your system with the PC Repair Tool. 
This is an advanced, multifunctional tool that detects and fixes DLL-related errors just by scanning. It is a highly advanced and trusted tool, that repairs corrupted Windows system files, prevents your PC from file loss, removes virus or malware infection and much more.
So feel free to run this automatic utility and make your Windows PC error-free.
Conclusion
This is all about This operation has been cancelled due to restrictions in effect on this computer error on Windows 11 &10.
Try the solutions listed one by one to resolve the error and access the application without any restrictions.
Moreover, if your system is infected with viruses or malware then scanning your system with SpyHunter is recommended. This is an advanced tool that deeply scans your system and removes malicious threats, viruses and malware completely.
It is estimated the article works for you, but if there is anything that I missed out on or if you have any queries or suggestions then you can write to us on our Facebook Page. Also, don't forget to shoot the like button.
Good Luck..!
Hardeep has always been a Windows lover ever since she got her hands on her first Windows XP PC. She has always been enthusiastic about technological stuff, especially Artificial Intelligence (AI) computing. Before joining PC Error Fix, she worked as a freelancer and worked on numerous technical projects.