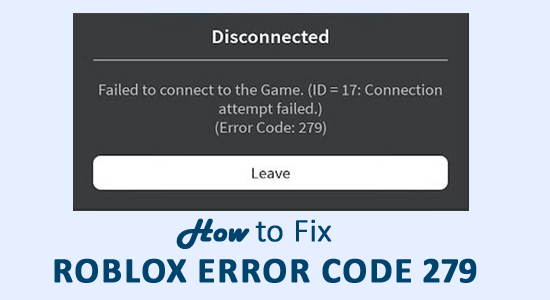 Summary: Roblox error code 279 is a connection problem and disabling the Windows Firewall and third-party antivirus may work for you.  Read the article to follow the detailed fixes.
Roblox is a very popular online game creation platform but despite its popularity, from time to time gamers also reported various errors like Roblox error code 267.
And today in this article I am here with a recent random connection error – error code 279. This Roblox error prevents the users from connecting to a server and as a result, there are unable to play the game.
Many gamers managed to fix Roblox error code 279 by solving their slow internet connection problem as this is basically a connection error and occurs due to poor internet connection. Moreover, there are other fixes as well like disabling the Windows firewall and third-party antivirus program (as discussed here).
So, here in this article find out the information as well as the tested solutions to fix the error.
What Does Error Code 279 Mean in Roblox?
Roblox error code 279 is a connection failed error, and appears when the users try to connect to the game server and as a result, Roblox fails to load games and show the error message:
Failed to connect to the Game, ID = 17: Connection attempt failed, Error Code 279.
What Causes Roblox Error Code 279?
The error 279 generally appears due to connection issues as something in your PC is blocking or interfering with Roblox. Here check out some of the factors that may cause the error:
Possibly due to poor internet connection, as the game objects take longer to connect than usual and may start showing the error.
The Windows firewall or the antivirus program installed on your system might be blocking the game.
The bad game or restricted to few servers only, as your game server is facing some glitches, script errors or too many items to handles
Due to the unsupported browser or the third party browsers addons
So, these are some of the culprits that cause the error code 279 in Roblox, now follow the fixes given to get past the error.
How Do I Fix Roblox Error Code 279?
Fix 1 – Disable Windows Firewall
Here it is suggested to temporarily disable the Windows Firewall, and try to connect to the game again. And if this works for you then the issue may occur due to limitations executed by Windows Firewall.
So, in his case try to manually allow Roblox in the Windows Firewall by following the steps given:
Click on the Start Menu and in the search box type Windows Defender Firewall.
Then click on Turn Windows Defender Firewall on or off.
See under both the Public and Private sections > Turn Windows Defender Firewall on or off is checked
And click OK.
Now see if the issue is fixed.
Fix 2 – Solve Slow Internet Connection
Check if your internet connection is not working properly, then this can also cause the Roblox error code 279.
Or try to connect to a different internet connection and check if the error code 279 still appears. You can also connect with your Internet Service Provider and confirm your issue.
Fix 3 – Check Your Browser
If you are using the Roblox on the browsers then be sure you are using it on the supported browser. Some browsers won't support Roblox and therefore you won't be able to run the game.
Also, check the browser is updated. Alternatively, you can also switch to different browsers, Google Chrome, Firefox, Internet Explorer and Opera are the best browsers that work with Roblox.
Fix 4 – Turn off 3rd Party Browser Addons
It is confirmed that your browsers extensions or addons can also cause problems when running Roblox and show error code 279.
Check if you have installed any Adblocker add-ons on your web browser, then this can cause the game not load problem. Therefore, disable the 3rd party add-ons or extensions before starting the Roblox and check if the issue is resolved.
Fix 5 – Reset Default Browser Options
Try performing a simple reset of the internet options as this worked for many users to solve the error.
Here follow the steps to do so for Chrome
Open Chrome and this should be your Default browser.
Then click the Geared icon > open Internet options
Now click on Advanced options > click the Reset Button.
After that close the chrome browser
Now try to open the game and check Roblox error code 279 is fixed or not.
Fix 6 – Try Port Forwarding
It is found that the essential range of ports for the Roblox is not open on the network, and then doing the port forwarding may fix the issue and allow Roblox to connect easily.
Here follow the steps to do so:
Open your router control panel > and log in as an administrator
And go to the port forwarding category
Enter your system IP address > enter 49152–65535 port range > choose UDP as protocol
And as the process is done > restart the router.
Hope now the issue is resolved.
Fix 7 – Disable 3rd Party Antivirus
The 3rd party antivirus program installed on your system can also interrupt the Roblox from connecting and as a result, you can't connect.
Try to disable the antivirus program temporarily and after that reconnect to Roblox. And if this works for you then add the Roblox game to the exception list and try running both antivirus and play Roblox.
Hope the solutions given works for you but if not then try reinstalling Roblox. First, uninstall the game and reinstall the updated version.
Optimize Your Gaming Performance on Windows 10 PC
If your game is lagging or stuttering then optimize your gaming performance by running Game Booster.
This boosts the game by optimizing the system resources and offers better gameplay. Not only this, it also fixes common game problems like lagging and low FPS issues.
Conclusion:
So, this is all about the Roblox error 279, here it is tried to list the best possible solutions that worked for many gamers.
It is estimated that one of our solutions given managed to solve the error. Make sure to follow the fixes given carefully.
If there is anything that I missed out on or you are having any other trick then feel free to share with us on our Facebook page.
Good Luck..!
Hardeep has always been a Windows lover ever since she got her hands on her first Windows XP PC. She has always been enthusiastic about technological stuff, especially Artificial Intelligence (AI) computing. Before joining PC Error Fix, she worked as a freelancer and worked on numerous technical projects.