Are you encountering NTLDR is missing an error in your Windows screen?
If YES, then you are at the right place, in this article you get the complete information regarding NTLDR is missing error and how to fix it.
The ntldr is missing is a common error that many Windows 10 users are found reporting and searching for workarounds.
Go through this article to get the complete fixes to solve ntldr is missing error.

What is NTLDR
NTLDR is an abbreviation of NT loader that works as a boot loader for all the Windows operating systems.
It usually runs on the primary hard disk but can also run in a removable device such as USB flash drive, floppy disk or CD-ROM.  It can also load a non-NT OS with an appropriate boot sector file.
NTLDR includes three files that are ntldr, NTDETECT.COM and boot.ini.
What Causes NTLDR Missing Error?
There are several possible reasons that are responsible for NTLDR errors. The most common reason behind this error message is when your computer is trying to boot from a hard drive or flash drive that is not correctly configured to be booted from.
This is also applicable to media on a floppy drive or optical drive that you trying to boot from.
Other reasons include corrupt system files, damaged or misconfigured files, operating system upgrade issues, corrupt hard drive, available of bad sector, outdated BIOS and damaged IDE cables.
Some NTLDR Related Error Messages:
Here are some of the related error messages that are shown on the computer screen when ntldr is missing.
"NTLDR is missing Press any key to restart"
"NTLDR is missing Press Ctrl Alt Del to restart"
"Boot: Couldn't find NTLDR Please insert another disk"
How to Fix NTLDR is Missing Windows 10?
There are various solutions that can help to solve the ntldr missing error message form your computer. Have a look at the solutions mentioned below:
Solution 1: Replace NTDETECT.COM and NTLDR Files
In order to solve the ntldr missing error, you need to use the installation CD/DVD of Windows XP, or Windows newer version.
Follow the below-given steps to fix this issue:
First, insert the Windows installation CD/DVD into the broken computer CD/DVD drive.
NOTE: Make sure that your computer boots from CD/DVD drive by using a boot menu or by resetting the computer BIOS setting.
Reboot the computer from Windows installation CD/DVD.
Press "R" to load WindowsRecovery Console, this will allow Windows to find the installation on the hard disk automatically.
Select the Windows installation that needs repair.
On the Recovery Console, copy 'ntldr' and 'com' files to the Windows installation drive.
Suppose, your Windows installation drive is "C:\" and CD/DVD drive letter is "D:\", use both the following commands given below and press enter after each command:
"COPY D:\i386\ntldr C:\"

"COPY D:\i386\ntdetect.com C:\"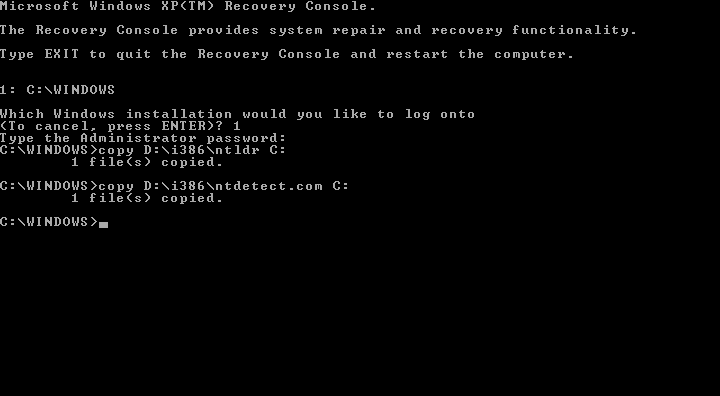 Press EXIT and close Recovery Console
Now, remove the Windows installation CD/DVD from your computer
Restart your computer and check whether the ntldr is missing Windows XP,7 or Windows 10 error is solved or not.
Solution 2: Try Changing BIOS Boot Order
Another solution that will help you to fix the ntldr is missing Windows 10 error. Try changing the BIOS boot order to make sure that PC first load stuff from the internal drive.
Follow the steps to do so:
Restart your computer
Press the key to open the BIOS menu
The keys depend on the computer model and computer manufacturer
If the screen displays various keys, then find the key to open the BIOS menu, BIOS or Setup carefully
After you found the key to open the BIOS, select Boot tab using the arrow
Now, move the hard drive and keep it on the top of the list
When you try to find the BIOS key be very carefully, do not press any wrong key.
After that, you have to change the BIOS Boot order, see whether the ntldr missing error is solved or not.
Solution 3: Rebuild the boot.ini File
If the ntldr missing error is occurring due to boot.ini file which is not configured properly for installation then, you can rebuild the boot.ini file to fix this error.
Follow the steps to do so:
Insert the Windows install CD in your computer
Restart your computer and boot it from the CD
Press any key to boot it from the CD
Press R key when Windows Options is loaded to access the Repair Console
Now, log into Windows using Administrator password and pressing 1
Type the below-given command in the Command Prompt:
bootcfg /rebuild
When systems prompt about adding the identified Windows installation to the boot list, answer Yes
Enter the "Windows XP or the Windows version in which you are encountering this error" as the Load Identifier and "/fastdetect" as the OS Load Options.
Remove the installation CD
Restart computer
After rebuilding the boot.ini files, you will no longer notice the ntldr is missing error in Windows.
Solution 4: Try Changing the Boot Sector Code
The error ntldr is missing Windows 7, Windows 8, 8.1 or Windows 10 can be solved by writing the correct BOOTMGR that is related to the boot sector code.
Follow the steps to write the correct boot sector code:
Insert the Windows (any version) install CD
Restart your PC and boot from CD
To boot from CD, press any key
Select proper language, time, keyboard input
Click on Repair your computer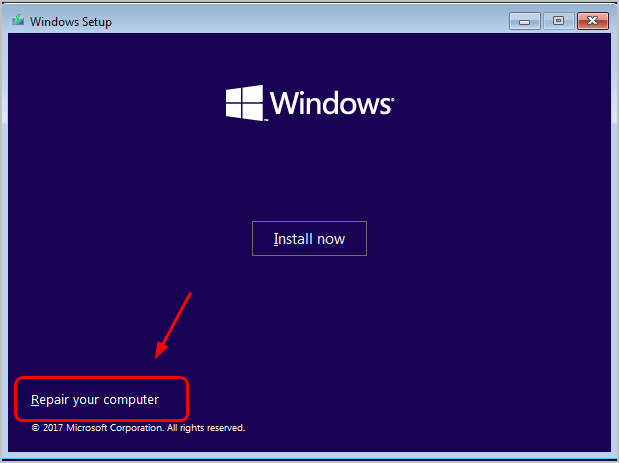 Select Windows installation drive and click on Next
Select command prompt when the system recovery option appears
Type bootcfg/rebuild and press enter
Press Y when Windows installation asks whether to add it to the boot list
Now, remove the CD and restart your PC
After restarting your computer, check if the ntldr missing error message disappears from the screen or not.
Solution 5: Unplug Removable Drive
Sometimes, you encounter the "NTLDR is Missing" error if your computer is trying to boot from a non-bootable CD/DVD/BD, floppy or external hard drive or flash drive.
Check your optical (CD/DVD/BD) and floppy drives for media and remove all the connected external drives.
After unplugging the removable drive from the computer, press Ctrl + Alt + Del keys to restart your PC.
Now, you will see a normal Windows screen without the ntldr is missing Windows 10 error.
Solution 6: Check SATA Cable
If none of the above solutions worked for you in solving the ntldr is missing error then, it is suggested to check your computer SATA cable.
Open the computer case and check whether the SATA cable is connected properly or not.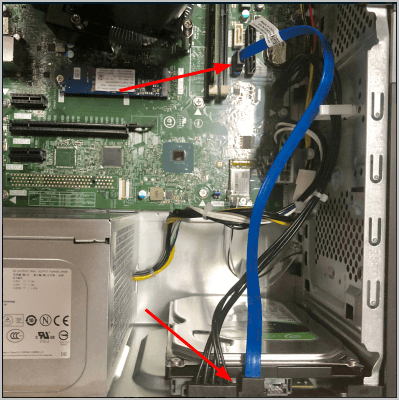 If it is connected then the issue might be in something else. You can take the help of a professional or technician to solve the issue.
Make Your Windows PC or Laptop Error-Free
Even after performing the above solutions you are unable to solve the ntldr is missing error then it might be an internal Windows PC/Laptop issue.
It is suggested to scan your PC/Laptop with the PC Repair Tool. This is an advanced repair tool that will scan your system, detect the issue and solves all the errors such as DLL error, registry error, prevents file loss, virus infection and many others.
This tool not only fix errors but also repairs Windows system files and optimizes the performance of the PC.
Conclusion
It is expected that the above-stated solutions helped you in fixing the ntldr is missing error.
Make sure to follow the solutions carefully to make it work in solving the ntldr missing error. If nothing works then you can try the recommended tool.
I hope you liked this article and it turns out to be useful for you in solving your problem.
Always up to help others with their PC-related issues, Jack loves to write on subjects such as Windows 10, Xbox, and numerous technical things. In his free time, he loves to play with his dog "Bruno" and hang out with his friends.