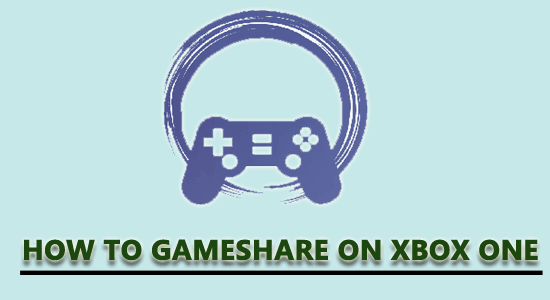 Wondering how to gameshare on Xbox One? Then in this guide you will get the complete information related gameshare and know how to share the game library with your family or friends via Gameshare.
So, keep reading the article and learn how to gameshare on Xbox One, we have dug up all the details.
But first, learn more about gamesharing.
What is Gamesharing?
Gamesharing is the process of giving friends or family members unlimited access to your Xbox digital games. This is surprisingly one of the most amazing secrets of consoles.
With this, you can both game share with one other and play entire titles available in your digital game libraries.
And to gameshare, all you need is:
An Xbox One console
A trusted friend or the Family member because the person sharing the games need to share his Xbox Live Password or they could input it themselves on the target Xbox One.
And an Xbox Live Account.
Despite the fact, after the release of Xbox One generation, Microsoft handles lots of criticism. But gamesharing is a thing that saves your money and allows you to play many games.
Well, if you are having a friend or a family person with whom you share your entire game library and allow both of them to play each and every game simultaneously.
So, in this guide learn how to gameshare Xbox One games with your partner or use friend's Xbox One games.
Please Note: You can share Xbox Live Gold Account games via gamesharing as well as the email related to your Xbox accounts and matching passwords.
Now learn how to share your Xbox 360 and Xbox One video games with friends and family via the Gameshare
How to Gameshare on Xbox One?
Well, the process is simple so follow the steps given to share your Xbox One games library with a friend or a family member:
First in your controller hit the Xbox button to open the guide.
Now scroll left to the 'Sign In' tab > and choose the 'Add new' option
Here either you share your Microsoft account email address or phone number and the password used to sign in or get your friend's details.
Next review the privacy statement summary > choose 'Next'.
And set your preferences.
Then on the controller,> hit the Xbox button to open the guide, > choose 'Home' to return to the Home screen.
From Home scroll left,> locate and choose your friend's Gamertag, > choose 'Sign in'
Now your friend's Xbox profile is on your Xbox One, but now you need to follow one more step before getting their games completely.
When signed in with the friend's Xbox account
On the controller,> hit the Xbox button > to open the Guide
And choose System > Settings > Personalization, > next select My home Xbox (you can find the settings in Apps).
Lastly, choose to Make this my home Xbox to authorize the console as your home Xbox.
As this was done by any of you, the other person needs to do the same for another account.  And lastly, Xbox One would be set with your family member or friend's account.
Now use your Xbox One as home Xbox, and the account would be utilizing your partner's Xbox One as its home Xbox.
You can now login with your account and also have access to your partner's games as well.
How to Share Xbox Live Gold Membership With Your Friend?
As said above you can share the Xbox Live Gold membership also with your friends or any other person. And the above-given steps will allow you to share a single Xbox Live Gold Membership.
But it is of no use as when you share one person's Xbox Live Gold membership, an Xbox One games obtained through Games with Gold would no longer payable if the account which obtained them is no longer Gold level.
So, if looking to share then make sure our partner is also having the Xbox Live Gold membership otherwise it worth nothing.
Well, this is all about how to gameshare on Xbox One.
Some Vital Points You Need To Know Before Gamesharing
Undoubtedly gamesharing is surprisingly amazing but also has some restrictions and risks as well. So before opting for gamesharing, here have a look at some downsides and potential risks:
How does gameshare work on Xbox One: First, you and your friend, family member (vice versa), both need Xbox One system and your accounts with games you like to access you can also share your entire digital game library. And as you have those, you are ready to share games across entire Microsoft's Xbox One consoles.
Share with the one you trust: Well this is obvious, but still we recommend you set up gamesharing with trusted friends or family members. The person with whom you are sharing can purchase through your account on Xbox Store, so be alert about the information you save on the account.
Gamesharing supports digital-only – if you like buying physical copies of games, then this is not going to work with gamesharing. The physical games that come on the disc will work only on the console where the disc is inserted.
Restricted to Two People – Microsoft allows changing the home Xbox five times each year, from the first time you switch it. And there is limited to two-person you and your friend and you can't share the account with more than one person.
Game sharing might get blocked by Microsoft – Although Microsoft has allowed game sharing for a long time, and it might happen it could get blocked in the future. Therefore consistently try splitting the game purchasing so if in case of access is ever blocked both the parties will have an equal share of the game in their profile
Might face issues in accessing your games – If in case your internet connection stops working and your current Xbox One is not registered as Home Xbox, then you won't be able to access your game library. And the other users on your console also won't have access to your digital games or even the Xbox Live Gold subscription, if it is not your home Xbox.
So, these are some limitations and downside of the game sharing on Xbox One consoles.
PEOPLE ALSO ASK:
1 - Does Game Sharing on Xbox One Work With all Games?
The answer is NO while gamesharing on Xbox One, there aren't many games. When you gameshare with any family member or friend you have the right to use their entire games, and also titles from subscription services, but you don't have access to the trials, the part of EA Access. The games integrated into the EA Access Vault, as a part of Game Pass and Games with Gold were all playable through gamesharing.
2 - How does Gameshare Work on Xbox One?
The process is very simple, just put gamesharing let you access a friend's Xbox One game library on your system. And anyone signed into Xbox One can have access to the entire library of digital games on that console. But, other accounts on the game system could not play those games.
3 - How many times Can I GameShare on Xbox?
Five times each year! You can gameshare or change which console is your home Xbox five times per year.
4 - Is gamesharing on Xbox safe?
Yes, it is completely safe! But you need to make sure the person with whom you are gamesharing is trusted, as this gives complete access to others in your account. And the person can purchase through your account in Xbox Store.
5 - What happens if I stop gamesharing?
Ultimately the other person will not be able to access your Xbox account and as a result, that person will not be able to play any of your digital library games. But you can access that person's games until he/she changes the home console password.
6 - How do I Stop Gamesharing on Xbox One?
To completely stop gamesharing you need to set your local console as your home console. And your console will now transmit this change across Xbox Live and remove any other console. Now nobody can access or play the games you own.
7 - Why is Game Share not working Xbox One?
Well there are plenty of reasons behind the gameshare not working on Xbox One such as:
Your Xbox Console is disconnected from the power outlet.
Not having the proper internet connections.
You have exceeded the number of switches you can use per year.
If you haven't assigned a home console then this can also cause gameshare errors on Xbox One.
Wrapping Things Up:
Well, that's all about how to gameshare on Xbox One and the related information you need to learn about game sharing on Xbox One, Xbox One S and Xbox One X.
The gamesharing might seem like a con but it is safe and possible to share your Xbox One digital game library with anyone you want.
And as a result, that person can sue your games on their Xbox One and you can play the game the person is playing.
Undoubtedly the game sharing on Xbox One is a great feature to get across plenty of the games, titles you want to play but is beyond your pay grades.
So, here I tried my best to list down the entire information that you need to know regarding the gamesharing feature and as well as how does Gameshare works on Xbox One.
Just read the article with apt attention and follow the steps share games on Xbox One, Xbox One S and Xbox One X with your friends, family vice versa.
I hope the article works for you and now you can easily use the gameshare feature on Xbox. Moreover, if facing any Xbox related issues or errors then read feel free to check our gaming hub.
If there is anything that I missed out or having any queries or suggestion then feel free to write to us and also don't forget to give a big thumbs up on Facebook and Twitter 
Good Luck..!
Hardeep has always been a Windows lover ever since she got her hands on her first Windows XP PC. She has always been enthusiastic about technological stuff, especially Artificial Intelligence (AI) computing. Before joining PC Error Fix, she worked as a freelancer and worked on numerous technical projects.