Summary: Is your Xbox One freezes during gameplay or keeps crashing. Or Xbox one freezing on dashboard and you are receiving error message the games do not work properly in Xbox One. Wondering how to resolve Xbox One keeps freezing problem than in this article you will get the best solutions to fix Xbox one keeps crashing and freezing issue.
Xbox one allows you to install all sorts of games and apps but unluckily some sort of errors and issues occurs while starting or running those apps and games in Xbox One.
Many users reported they are encountering Xbox one freezes during gameplay or Xbox One crashes after 5 to 10 seconds of playing a game and since they are unable to start or plays the games.
Let describe it best with the user personal experience:
Hi, My Xbox dashboard will occasionally (probably 5-6 times a day) freeze. When I close the menus and open them back on it remains on what I was on when it froze. For example if I had just clicked on my party and can see everyone in it, the dashboard freezes, I click the main Xbox button on the controller to close the menu, I open the menu again it's still frozen on the party. It stays frozen for 20-30 seconds. After it is done being frozen it will remove me from any party I am in and continue as if it never happened.

                                        Originally Posted in Microsoft Community
Well, this is very irritating so today in this article learn how to fix Xbox One crashing/ freezing problem. But first, learn why your Xbox one keeps crashing or freezing?
Why is my Xbox One Freezes during Gameplay?
Well, there is no exact reason responsible for the Xbox One crash to the dashboard during gameplay or keeps freezing. So here check out some of the possible ones.
The Xbox One gets bogged down with processes when running for a long time
If a certain game is crashing then it might happen the game is not installed properly.
Due to game data stored on the hard drive
Xbox One is overheating
Maybe the Wi-Fi is not working properly
A bad update or corrupted files can also cause crashing and freezing issues in Xbox.
So these are some of the possible reasons for the Xbox One keeps crashing or freezing. Now follow the below-given fixes accordingly and start playing the games on Xbox One.
What to do if My Xbox One Freezes during Gameplay?
Solution 1: Restart your Console
Xbox one stored all types of temporary files in cache and these files help you to start apps faster. But sometimes these files in your cache may get corrupted and cause crashing or freezing issues in Xbox.
And to fix this, you need to simply restart your consoles.
Follow the steps to do so
Open guide by scrolling left on the Home screen.
Then choose Settings > now select Restart console
And select Yes to confirm.
Well, you can also restart your console by holding the power button for 10 seconds till your console turns off. And when the console is turned off, you can press the power button to turn it on.
Check if the Xbox one freezes during gameplay or crashing issue is resolved but if not then you need to power cycle the system. This worked for many users to solve the game crashing and freezing issue.
Follow the steps to do so:
Turn of the console as said above
And as the console was turned off > unplug the power cord > wait 2 minutes.
Now plug console back in and press the Xbox button to turn it on.
The power cycling will reset the network and also clear the cache. Check if the Xbox one freezes during gameplay or keeps crashing issue is resolved or not.
Solution 2: Reinstall the Problematic Game and Xbox Account
Sometimes due to incomplete installation or the installation may get corrupted can causes the Xbox One game freezes during the gameplay or games crash to the dashboard during gameplay.
So simply remove the problematic game from your system and after that reinstall it.
Please Note: Uninstalling or removing the game along with its files can be and downloaded again along with the saved games. Ultimately you will not lose any progress.
But if you don't know how to back up saved games files then read the article Easy Ways to Back Up Save Game Files in Windows 10
Steps to uninstall a game:
Assure there is no disc in the disc tray
Then on the Main screen > go to My Games & Apps.
Now choose the problematic game, > press Menu button > select Manage game from the menu.
Next, select the game again > press Menu button > choose Uninstall.
Also if you are having Saved or reserved data for this game then make sure to remove it also.
Now after uninstalling the game and its data remove the Xbox profile. As sometimes due to corrupted Xbox profile you may get the Xbox One keeps freezing or crashing issue
Follow the steps to remove Xbox Profile:
First, scroll left on Home screen > choose Settings > All Settings.
Now choose Remove accounts.
And choose the problematic account > select Remove. (In some cases you need to remove problematic account a few times before it is completely removed from the system, so make sure to do so.)
Repeat the steps till the problematic account is removed from your console.
Now you need to restart your console (follow the steps in Solution1) and after restarting the console try to re-download your Xbox profile.
Follow the steps to do so:
First on the Home screen scroll left.
Then on the Sign-in tab > the list of all available users appears. Scroll down > select Add & manage.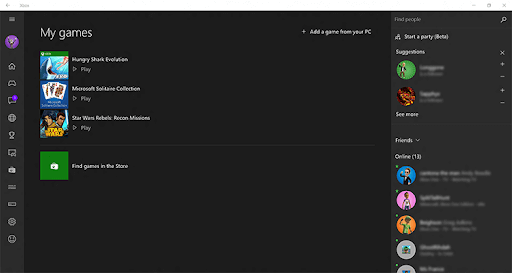 Now choose to Add new option > and enter your Microsoft account login information.
And as your profile is downloaded, sign in to it.
And after sign in to the account reinstall the uninstalled game.
Follow the steps to reinstall the problematic game:
Now scroll to the right > you'll see Ready to Install section.
Here in the Ready to Install section you can see the game you uninstalled > choose the game and wait till it is downloaded again
And try to start the game
Check if after reinstalling the game and Xbox profiles work for you to fix Xbox One crashing or freezing issue.
Solution 3: Delete the Local Save of the Game
There is a possibility the local save of the game gets corrupted and therefore here you need to delete the local save and re-sync it with the cloud.
Follow the steps to delete the local save of the game:
Press the Xbox button > to open guide > choose My games & apps > See all > Games.
Now highlight the game title > press the Menu button on your controller.
And choose Manage game & add-ons > Saved data.
Next, choose to Delete all to remove the local save of this game.
And to confirm > choose to Delete all again.
After the deleting the local save > restart Xbox One console:
Press the Xbox button in the center of Xbox One controller > to open Power Center.
And select Restart console > select Restart.
And as you restart your Xbox One console > re-sync the saved games to the cloud. Now your saved games are automatically stored in the cloud as you connect to Xbox Live.
Start playing the game again to check if Xbox one freezing on the dashboard problem is resolved or not.
Solution 4: Check your Network Connection
Sometimes due to network connection issue, gamers start facing the problem like crashing and freezing during the gameplay and also affect the gameplay.
So check your Xbox Live Connection:
Open the Guide by pressing the Xbox
Now choose System> Settings > General > Network settings.
Please Note: Under the Current Network Status you can see any outages
Then on the Network settings screen > choose Test network connection. (And if connection test is successful Xbox console will connect to Xbox Live)
Also if you are prompted to update your console software > choose Yes.
Also sometimes the Wi-Fi disconnects or starts causing the issue so here it is suggested to connect to the network through a wired connection.
Solution 5: Fix the Overheating Issue
It might happen due to the dust and dirt issue within the console the Xbox One gets and start causing issues like Xbox one freezing on the dashboard, games do not work properly, games crash to the dashboard during gameplay or will not load up.
So try to blow out the dust with a can of compressed air to remove the dust as this may be clogging the ventilation area and causing Xbox One crashing and freezing issues.
Recommended Solution – Fix Various Computer Errors/Problems
If you find your Windows PC/laptop is running slow or you are encountering various stubborn computer errors and issues then it is suggested to scan your system with the one and only PC Repair Tool.   
This is an advanced repair tool that just by scanning once detect and fix various Windows problems and stubborn computer errors.
 With this, you can fix various update errors, repair the corrupted Windows system files, DLL errors, registry errors, prevent virus or malware infection and much more.
This not only fixes errors but also optimizes your Windows PC performance like a new one to optimize the gaming performance.
Now It's Your Turn
Well now my job is done and it's your turn to follow the fixes given accordingly to fix Xbox One keeps freezing and crashing problem.
Make sure to follow the solutions carefully and resolve Xbox one freezes during gameplay problem.
I hope the article works for you and you can now play the Xbox One games with ease.
If there is anything that I missed out or have any suggestion then feel free to write to us and also don't forget to give a big thumbs up on Facebook and Twitter 
Good Luck..!
Hardeep has always been a Windows lover ever since she got her hands on her first Windows XP PC. She has always been enthusiastic about technological stuff, especially Artificial Intelligence (AI) computing. Before joining PC Error Fix, she worked as a freelancer and worked on numerous technical projects.