Is your Windows 10 system getting stuck on "Getting Windows ready don't turn off your computer" every time you restart your system?  
Then read the article to find out the best possible solutions to fix PC stuck on getting Windows ready after restart prompt or turning off or installing Windows operating system.
As per the users, the Windows PC or laptop gets stuck on the screen, and after waiting for a long time still, nothing changes.
Well, this is a very irritating problem and occurs while trying to turn on, turn off, or restarting the Windows 10 computer.
To fix various Windows errors, we recommend Advanced System Repair:
This software is your one stop solution to fix Windows errors, protect you from malware, clean junks and optimize your PC for maximum performance in 3 easy steps:
Download Advanaced System Repair rated Excellent on Trustpilot.
Click Install & Scan Now to install & scan issues causing the PC problems.
Next, click on Click Here to Fix All Issues Now to fix, clean, protect and optimize your PC effectively.
What Does the Error Means Getting Windows Ready Don't Turn Off your Computer?
Getting Windows-ready stuck error means Something went wrong with your system, and therefore it cannot perform certain actions and gets stuck on the loading screen. It appears your PC might be processing tasks in the background, like starting the Windows update process, downloading and installing files, changing application and modules settings, and much more. And depending on the number of programs installed on the PC, the system may take some time to complete the tasks.
Many users encountered the error in their Surface Pro 4 system and showed the error message Getting Windows ready. Don't turn off your computer.
The error appears in many different cases.
Getting Windows 10 ready restarting loop/infinite loop/update loop/boot loop
Windows 10 system install stuck at getting ready
Getting Windows ready after every restart
Windows 10 update stuck on getting things ready
These are some of the common variations of Getting Windows Ready stuck error. If your Windows 10 is taking forever and stuck in the getting ready loop, follow the solutions below.
So without wasting time lets head to the solutions..!
How to Fix Getting Windows Ready Don't turn Off Your Screen Error?
Many times a simple restart is sufficient to fix Windows 10 "getting Windows ready stuck" loop, so it is worth restarting your PC/laptop and checking if this works for you.
But if not, then try the below-given fixes accordingly.
Solution 1: Wait for Some Time at least 2-3 hours
Yes, this is what Microsoft's support technicians advise.  So, it would be best if you were patient, actually, when the computer displays "Getting Windows ready. Don't turn off your computer".
The system might be downloading and installing files or dealing with some background tasks. The computer sometimes might take a while for your system to finish these jobs.
So, to let your computer boot normally, the very first thing you need to do is wait. At least wait 2-3 hours, and if it is not yet fixed, then follow the next solutions.
Solution 2: Shut down Your PC and Power Reset Your PC
Well, this is a working solution and worked for many users to fix "Getting Windows ready, don't turn off your computer".
So here it is advised to power reset your computer; doing this will clear entire information in the computer memory without any damage to the data. Despite this, it also works to get out of the loop to fix Getting Windows Ready Stuck loop.
Follow the steps to do so:
First, turn off the computer, even if you are stuck on getting ready screen
Next, unplug entire peripheral devices (like external hard drive, USB flash drive, headphones, etc.) from your system.
Now on your computer, press and hold the power button for 30 seconds.
And unplug the power cable from your PC. But if a laptop and the laptop battery is removable, then unplug the battery.
Next, plug the power cable back into the computer and reinsert the laptop battery
Lastly, turn on your computer and laptop
It is expected now "getting Windows ready stuck" problem is resolved, or else head to the next solution.
Solution 3: Run System File Checker
If the above solutions fail to fix getting Windows ready stuck or the Windows 10 takes forever to start, then try running the System File Checker tool.
It might happen you are getting the error due to the corrupted Windows system files, and due to this, Windows is stuck on getting ready for an update or installation after a restart.
So, follow the steps to run an SFC scan:
First, insert an installation disc or the USB drive into your Windows 10 PC and restart your system from the drive.
After that, head to Repair, your computer > get in Choose an option screen > select Troubleshoot.
Now on the Advanced options page > click Command Prompt
And as the cmd window opens,> type the sfc /scannow> hit Enter 
Next, wait for the scanning process to finish.
And as the scanning process is finished > restart your computer.  Check if this works for you to fix getting Windows ready Windows 10 loop error.
Solution 4: Uninstall Recently Installed apps and Delete the Problematic Files
Check if you have installed any recent software, then this might be what caused the "Getting Windows ready, don't turn off your computer" stuck problem.
It might happen that the software installed is not compatible with your Windows 10 OS and, as a result, start causing the problem.
Well, to uninstall the recently installed apps, try running the third-party uninstaller as this remove the software completely without leaving any registry entries or the junk files.
Also, check if some of the problematic files are causing the issues, then try deleting the files by following the steps given below:
First, restart the computer > you can see the Windows Boot Options page.
Then in Windows Boot Options menu > select Troubleshoot > Advanced Options > Command Prompt.
Then in the command prompt > type the command C: cd Windows\System32\LogFiles\Srt. SrtTrail.txt > hit Enter
Check if you see something like Boot critical file c:\windows\system32\drivers\vsock.sys is corrupt, > then using the Command Prompt move to the specified location use and type delete command for deleting the problematic file.
Solution 5: Uninstall the Recently Installed Update in Safe Mode
Microsoft randomly releases various updates to improve Windows 10 performance and make it more secure. But it might happen the incorrect Windows update confuses the Windows 10 to get stuck in the update loop.
And if you are facing the Getting Windows ready don't turn off your computer error after installing or while installing the update, then it is advised to uninstall the update in safe mode.
Follow the steps given:
Hold the Shift key and restart the PC or laptop. And open the Start Menu > click on the Power button to open Power options
Now press and hold the shift key and click Windows will automatically start in Advanced boot options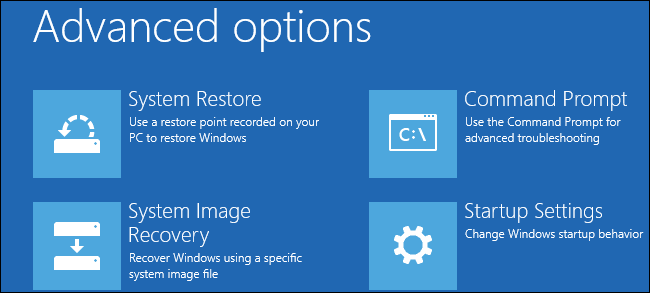 Click Startup Settings > press the F4 key to start the system in Safe Mode.
Now in Windows 10 Safe Mode > right­-click Start > go to Control Panel > go to Programs and Features.
Next in the left panel click View installed update. And choose the recently installed updates and uninstall them one by one.
Lastly, restart your Windows 10 computer.
And check if getting Windows ready stuck is resolved or not, or move to the next solution.
Solution 6: Perform a Startup Repair
Performing the Windows startup repair may work for you to fix your computer stuck in getting Windows ready every reboot.
Here you need to enter the Windows Recovery Environment (WinRE) with the Windows installation disc.
Then in WinRE > go to the Advanced options > select Startup Repair: Fix problems that keep Windows from loading.
Now wait for the repair process to finish
And check if the Windows 10 stuck on getting Windows ready problem is fixed. If not, you may encounter the error "startup repair couldn't repair your PC" or "automatic repair couldn't repair your PC" error message.
So, in this case, it is best to perform a system restore.
Solution 7: Perform a System Restore
If none of the above-given solutions works for you, then the only option left is to perform a System Restore in Windows 10.
Follow the steps to do so:
First, boot in Safe Mode.
Press Windows + R keys then in the Run box > type rstrui.exe  > hit Enter
Then choose to roll back to the earlier time when your computer functions well > click Next
And wait for the process to finish
It is estimated now the Getting Windows ready. Don't turn off your computer problem is resolved and you start using Windows 10 system with ease.
Solution 8: Perform a Clean Installation
It is estimated the above-listed solutions may work for you but if not, then the only option left to fix getting windows ready stuck error is to perform a clean Windows installation.
Before starting with the clean reinstallation steps, it is recommended to back up the important data from the system partition and keep your license key ready.
Now for performing the Windows 10 clean installation, make sure to create a Windows 10 installation media with the Media Creation tool.
And as you are unable to access your system therefore you need to create an installation media on a different PC/laptop. After doing so, follow the steps given below:
Connect Windows 10 installation media to your system > and restart it. Make sure to hit the suitable key or change the boot priority in BIOS to boot from Windows 10 installation media.
Now select the preferred language > click Next.
Then click on Install Now> follow the onscreen instructions. Please note that performing a clean install will delete entire files from the drive, so make sure to back up all the sensitive data first.
Additionally, make sure to choose the correct drive for performing a clean install. And as the setup process is finished, the problem of getting windows ready stuck is resolved.
Well, for many users performing Windows 10 also reset works. And resetting Windows 10 is an easy process than a clean install.
Follow the steps to reset Windows 10:
Follow the above step 1 and 2.
Then click on Repair your computer.
Now choose to Troubleshoot > Reset this PC > Remove everything.
Then choose your Windows installation > select Only the drive where Windows is installed > remove my files.
Next click on the Reset button to start the Windows 10 resetting installation.
Please Note: Both the resetting and clean install will delete entire files from the system drive and reinstall Windows.
You can use any of the above-given steps.
FAQ: Learn More About Getting Windows Ready Stuck
1 - Why is my computer stuck on getting Windows Ready?
Commonly it happens due to the slow or poor internet connections, your OS is refreshed and requires the update to download and install, the old and slow computer and sometimes due to the corrupted Windows system files.
2 - How do I stop getting Windows ready don't turn off my computer Win 10 problem?
Well, there are a number of troubleshooting steps that you need to try when you get stuck on getting Windows ready problem on Windows 10. Follow the below-given solutions:
Wait for at least 2-3 hours
Shutdown and power reset your PC
Uninstall recently installed software
Uninstall recently installed Windows 10 updates
Perform a startup repair
Perform a system restore.
3 - What happens if I turn off my computer when it says getting Windows ready?
If you restart or shutdown the PC forcible then the task performing in the background will stop, and the system will be restored to the last state the PC was in before. In simple words, restarting or shutting down the PC during the download or installation process will cause downloading the package again.
Best & Easy Solution To Fix "Getting Windows Ready Stuck" Error
If after following the above-given solutions you are still struggling with the PC stuck on getting Windows ready, Don't turn off your computer screen, then it is worth giving a try to the PC Repair Tool. 
This is an advanced and multifunctional tool that, just by scanning once, detects and fixes internal corruption and easily repairs the corrupted Windows system files.
Despite this, it also fixes other Windows PC errors like BSOD errors, registry errors, application errors, DLL errors & others. It not only fixes errors but also optimizes the Windows PC performance like a new one.
Conclusion:
So, this is all about the "Getting Windows ready, don't turn off your computer" problem on Windows 10. I tried my best to list down the complete possible workarounds to fix PC stuck on getting Windows ready stuck.
I hope, one of the solutions given managed to fix Getting Windows ready stuck error on Windows 10. Make sure to follow the fixes given carefully.
If there is anything that I missed out, or you have any suggestions or queries then feel free to share with us on our social media handles – Facebook and Twitter page.
Good Luck..!
Hardeep has always been a Windows lover ever since she got her hands on her first Windows XP PC. She has always been enthusiastic about technological stuff, especially Artificial Intelligence (AI) computing. Before joining PC Error Fix, she worked as a freelancer and worked on numerous technical projects.