If you love playing football games, then you must be aware of FIFA 21. Players were waiting for this game to launch for so long and finally, in October 2020 it got launched.
Initially, the game seems to be flawless and error-free, but very soon users found this game too has flaws and is not an exception. So, long story short FIFA 21 also has several performance issues just like any other game.
Many players have reported FIFA 21 crashing, freezing, black screen, stuttering, and lagging issues on PC, Xbox, and Playstation.
So, if you are also one of those unlucky users who are experiencing FIFA 21 keeps crashing on loading screen issue, then you must read out this article. Here, you will get to know about the reasons why your FIFA 21 is crashing and how can you deal with these unpleasant issues.
What Causes FIFA 21 Keeps Crashing and Black Screen on Startup?
Incompatible Hardware: To run any game properly you have fulfilled the hardware requirement for that particular game. So, if your FIFA 21 is crashing and giving a black screen, then your system might have failed to fulfill its minimum hardware requirements.
Outdated Game: Using the outdated game leads users to several issues and crashing freezing is one such problem. So, see if you are running the outdated game. If is it so, then this is causing the FIFA 21 issues.
Corrupted Games Files: Game files are crucial for running the game without any interruption and error. Hence, if your game files are missing or damaged, then you are likely to encounter the FIFA 21 crashes on launch issue.
Random Bugs: Sometimes, FIFA 21 black screen and keeps crashing issues appear due to the bugs in the game. In this case, you must wait for the support team to release a new patch to fix the random game bugs.
Outdated Graphics Driver: Games performance somewhere depends on your GPU too. So, if your graphics driver is outdated or has any issue, then also you will run into such problems.
Interference of 3rd Party Application: Do you have any 3rd party application installed on your PC? If yes, then it might be interfering with your game and causing the crashing/freezing issues.
FIFA 21 System Requirements
Before trying any solution, first, make sure your device fulfills the system requirements for playing FIFA 21 smoothly. Take a look at below mentioned FIFA 21 system requirements:
Minimum System Requirements:
CPU: Athlon X4 880K / Core i3-6100 or better
RAM: 8 GB
OS: Windows 7/8.1/10 64-Bit
VIDEO CARD: Radeon HD 7850 or better/GeForce GTX 660 or better
PIXEL SHADER: 5.0
VERTEX SHADER: 5.0
FREE DISK SPACE: 50 GB
DEDICATED VIDEO RAM: 1024 MB
Recommended System Requirements:
CPU: AMD FX 8150 / Core i5-3550 or better
RAM: 8 GB
OS: Windows 10 64-Bit
VIDEO CARD: Radeon R9 270x or better/GeForce GTX 670 or better
PIXEL SHADER: 5.0
VERTEX SHADER: 5.0
FREE DISK SPACE: 50 GB
DEDICATED VIDEO RAM: 2048 MB
How to Fix FIFA 21 Crashing on Startup, Black Screen, Stuttering, Freezing, Lagging Issues on PC/Xbox/PS4?
Solution 1: Roll Back Your Graphics Driver
If the previous version of your graphics driver was more stable and you were not having FIFA 21 issues back then, it would be better to roll back the graphics card driver to the previous version.
To give it a try, follow these steps:
Go to the Windows Search box and type Device Manager.
Click on the Device Manager.
In the new window, click on the Display adapters to expand the section.
Right-click on your graphics driver and select Properties.
Go to the Driver tab > click on the 

Roll Back Driver

 button.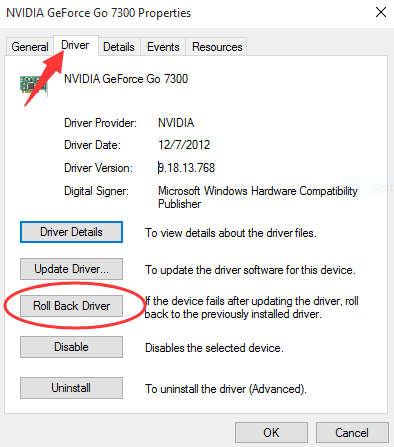 On the next window, select the reason for rolling back the driver.

Click on the Yes button.
Once the process completes, restart the computer and check if the FIFA 21 crashing, freezing, stuttering, lagging issues have been resolved or not.
Solution 2: Update Device Driver
If rolling back the device driver didn't resolve the FIFA 21 crashing on startup issue, then your device driver might need an update.
As games stuttering, freezing, and crashing issues happens due to the issue with the graphics driver, hence here update your graphics card driver to get rid of the mentioned issues.
There are three ways to perform the device driver update. Let's take a look at all the methods one by one.
Update graphics driver via Device Manager:
Press Windows + X keys to open the Quick Link menu.
Select Device Manager from the menu.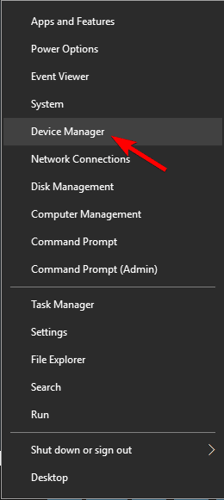 On the Device Manager window, go to the Display adapters.
Right-click on the device driver and select the Update driver option.
Select the Search automatically for updated device software.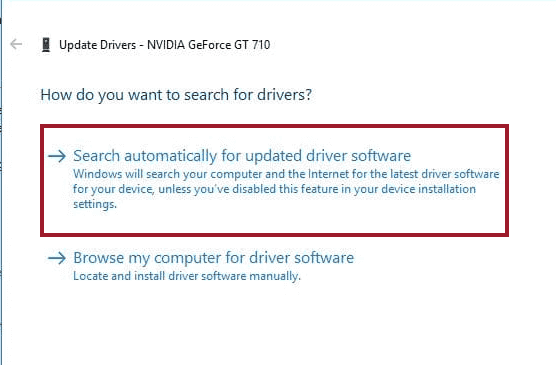 Wait for Windows to update the device driver.

Restart your computer.
Update Device Driver via manufacturer's website:
In this method, you need to go to the manufacturer's website of your website. On the website, search for your device driver and download the latest version. After this, install the driver. Now, you are ready to go.
Updating Device Driver using a Tool:
It is the most convenient method of update device drivers on the computer. As it's quite impossible to always keeps eye on outdated drivers and their issues.
So, it is better to rely on an advanced device updater tool, Driver Updater. It will keep your device drivers update and will also resolve driver issues automatically.
Solution 3: Change DirectX Settings
If you're getting the FIFA keeps crashing on startup, freezing, or lagging issues with a DirectX error, then the only solution to this problem is to modify the DirectX settings.
Go to your game's folder via navigating through this path: 
C:\Users\<username>\Documents\FIFA 21
Next, right-click on the 

fifasetup.ini

 file.

Click on the 

Open with

, then 

Notepad

. 

Press the Ctrl + F keys > enter 

DIRECTX_SELECT 

on the Find box > click on the Find Next button.

After locating this text, set the following values:
If the DIRECTX_SELECT = 1, then change the value to 0.
Or, if the DIRECTX_SELECT = 0, then set the value as 1.
Now, press the Ctrl + S keys to save the file and the changes you have made.
After doing this, if the FIFA 21 is still unplayable, then keep reading to find out other fixes.
Solution 4: Verify Integrity of Game Files
Another most known reason for FIFA 21 crashing, freezing, and black screen issues are corrupted or missing game files. So, if FIFA 21 is stuck at loading screen or crashing on startup, then validate your game files. Here is how can you do this:
Launch Steam on PC.
Go to Library.
Right-click on FIFA 21 and select Properties.
Go to the Local Files tab.

Click on the 

Verify Integrity of Game Files

.
Wait for the process to be completed.
Solution 5: Disable Overlay
Some users reported that disabling the overlay feature lets them play FIFA 21 without any interruption. So, you should also try to disable overlay. For this, you need to do the follwoing:
On Steam:
Launch Steam.
Go to the Library tab.
Right-click on FIFA 21 and select Properties.

Uncheck the 

Enable the Steam Overlay while in-game 

checkbox.
On Origin:
Open Origin > choose 

My Game Library

.

Next, open FIFA 21 > click on Settings.

Uncheck the 

Enable Origin in Game for EA SPORTS FIFA 21 Ultimate Edition

 > click on 

Save

.
Solution 6: Modify In-Game Settings
Everyone loves to enjoy high visual effects along with smooth gameplay and in order to achieve this, players set in-game settings to high. But do you know that high in-game settings often lead to game crashing/freezing issues?
So, if you have done the same with your game settings and your system doesn't capable to cope up with these high settings, then you will end up with the FIFA 21 crashes on loading screen issues. 
In this case, you have to make a few changes to lower the game settings. If you don't know how to do this, then follow these steps:
Open FIFA 21 > click on the Game Settings button.
Set the following Settings:

MSAAOptions

: Off

Rendering Quality

: Low

Resolution

: Windowed Borderless

Now, check if modifying in-game settings helped you to fix FIFA 21 keeps crashing issue or not.
Solution 7: Play Game in Offline Mode
If none of the solutions resolved the issue, then the issue must reside on the game's end. Hence, in this case, if you still want to play the game, then you can play FIFA 21 in offline mode and wait until the new game patch doesn't fix these issues.
If you are still encountering the game stuttering issue while playing then here it is suggested to run the Game Booster. This works to improve system performance to run the game smoothly.
It boosts the game by optimizing the system resources
Offer better and smooth gameplay
Gets better FPS rate
Make the game smooth for responsive play
Also fix low FPS, lagging issues.
Best & Easy Way to Make Your PC Error Free
If you are struggling with PC errors/issues and looking for an advanced solution, then try the PC Repair Tool. This tool is popular for its ability to fix PC errors and issues in just a few clicks.
Now, you don't need to waste your time and energy after manual solutions. Simply, scan your PC with this tool and left the rest work on it. It will detect and fix the errors and issues within a few seconds.
This tool is highly recommended by professionals as it fixes a wide range of Windows PC errors, such as DLL, BSOD, registry, game errors, and also keeps your PC protected from viruses/malware.
It doesn't only fixes errors but also enhances the performance. This tool optimizes the PC to provide the maximum performance to the users.
Conclusion
FIFA 21 has become very popular among users and so its performance issues. But not a problem anymore!!
Whenever you run into the FIFA 21 crashing, black screen, freezing, stuttering, lagging issues on PC, Xbox, PS4, simply go through this article and apply the given solutions.
These solutions are tried and tested by other users and it worked for them. So, give it a shot and you would be able to play your game without any interruption anymore.
I hope this article helped you in resolving your FIFA 21 problems. If so, then share this article and give us a like on Facebook and Twitter.
Hardeep has always been a Windows lover ever since she got her hands on her first Windows XP PC. She has always been enthusiastic about technological stuff, especially Artificial Intelligence (AI) computing. Before joining PC Error Fix, she worked as a freelancer and worked on numerous technical projects.