Dark Arisen is a vast open-world Action, Adventure, and RPG computer game. This game is very popular among gamers but after the release of this game, lots of users start complaining about the PC issues and error such as dragon's dogma crash to desktop, Black Screen, Low FPS, etc.
If you are among those gamers who are facing such errors then in this blog all the issues and errors are described with their solution, so apply them carefully and make your Game Session Error Free.
But before that also look at the system requirement of the game to get an idea of whether your system is compatible with the game or not.
Dragon's Dogma System Requirements 
Minimum
OS: Windows Vista or newer (32 or 64 bit)
Memory: 4 GB RAM
Processor: Intel Core i5 660 CPU or equivalent
DirectX: Version 9.0c
Graphics: Radeon HD 5870 or equivalent
Storage: 20 GB available space
Network: Broadband Internet connection
Sound Card: DirectX-compatible
Recommended
OS: Windows 7/8/10
Memory: 8 GB RAM
Processor: Intel Core i7-4770K or equivalent
DirectX: Version 9.0c
Graphics: NVIDIA GeForce GTX 760 or equivalent
Storage: 20 GB available space
Network: Broadband Internet connection
Sound Card: DirectX-compatible
How to Fix Dragon Dogma: Dark Arisen Errors?
Below mentioned are some Errors along with their solutions that will help you to fix various Dragon Dogma: Dark Arisen game errors. Go through them carefully step by step.
#1: Device Error
If you are unable to start this game, then you must have to make some config modifications.
Open up the File Explorer
And paste/type %appdata% at the address bar present at the top, the Roaming folder will open
Get one step behind in DRAGONS DOGMA DARK ARISEN Folder
Remove the 'config.ini' file
Try to run the game, you will see that Issues has been solved.
If there is any issue still present in the Window mode for lower resolution then press alt+enter and then play full screen.
#2: Get rid of Crash to Desktop
Dragon's dogma crash on startup issue may appear because of outdated system drivers and Video Card Driver. So it is strongly suggested that Update system driver and Video card Driver in the manner run any game without crashing.
You can update your drivers from the manufacturer's website or from the Official website of Microsoft. If you want an easier way to update your drivers then try Driver Updater. This will update all your outdated drivers automatically.
#3: Widescreen Issue
Monitor with 21:9 displays doesn't support this game. So, the solution to dragon's dogma widescreen fix issue is still not available. It is recommended to wait for an official patch from Capcom.
#4: Black Screen at Startup 'D3DERR_DEVICELOST : getDevice0 – >Reset(&d3dppm)' Issue
Open the Nvidia Control Panel and Inspector Settings
Add the Game's executable (.exe) in Nvidia control panel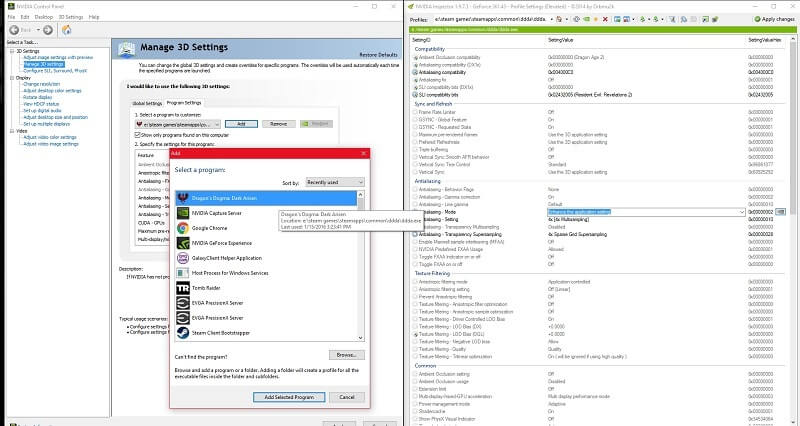 Search for the entry on the basis of drive letter in Inspector Settings
After doing modification refresh it.
Again try to start the Game
After applying the steps mentioned above your Dragon's dogma Black Screen Windows 10 issue will be solved.
#5: Fix Low sound
Go to the Game Folder present at the (C:\Users\YOU\AppData\Local\CAPCOM\DRAGONS DOGMA DARK ARISEN)
Open the config.ini
Make this Modification- 'set Stereo = ON'
After doing all the modification save and Start the Game.
#6: Fix Black Bars Issue
Again open the Game Folder present at the (C:\Users\YOU\AppData\Local\CAPCOM\DRAGONS DOGMA DARK ARISEN)
Open the config.ini
Make these modifications – 'set MainX=0 and MainY=0
Save and Start the Game again.
#7: Fix Controller Issue
This game is supported by all the controller, but still, if you are suffering from this issue then try installing/updating the drivers of your controller and replug it.
#8: Fix Dragon's Dogma Error 09
Uninstall all Nvidia
Now, reinstall Nvidia (do not update Nvidia)
Go to the game optimize in GeForce experience Window
Go to the game on page
Click on details of the game
Then click on the spanner custom settings
Change it to windowed mode
If this works and the error 09 disappear then update Nvidia and start your game again.
#9: Low FPS Issue
Follow the steps to given below fix the Low FPS issue
Open Nvidia's Control Panel
Navigate to "Manage 3D settings"
Click on "Power management mode" and set it to "Prefer maximum performance"
Now the in-game FPS is fixed. Enjoy
Even after applying the above-given steps you are unable to fix Dragon Dogma: Dark Arisen Low FPS issue then try Game Booster. This will improve the FPS rate and performance of the game.
It boosts the game
Gives a smooth and responsive gameplay
Gets better FPS rate
Conclusion
Well, I have tried my best in providing you with the errors of Dragon Dogma: Dark Arisen along with their solutions. Now, it's your turn to apply the solutions and get rid of errors.
Even after performing the fixes you are not able to solve the errors then it is strongly suggested to scan your system with PC Repair Tool before installing this game.
With the help of this tool, you can fix all the internal error present inside your computer and improves the performances of your system and play the game without any hassle.
If you have any questions related to this article then feel free to ask in the below-mentioned comment section.
Always up to help others with their PC-related issues, Jack loves to write on subjects such as Windows 10, Xbox, and numerous technical things. In his free time, he loves to play with his dog "Bruno" and hang out with his friends.