Is your Windows 10 system taking a long time to start? And you have no idea what is the reason behind it?
Well, Windows takes up time to load only when there are too many startup apps/programs running in the background.
To speed up your Windows PC/Laptop you can simply disable startup programs on Windows 10, this will lessen the loading time.
Though there are many startup programs and you cannot disable all of them to fasten the loading time otherwise it may harm your computer.
So, here in this article, learn how to disable the startup programs that are safe to disable. Go through this article and get to know which startup programs are safe to disable and how to disable them easily in Windows 10?
Which Startup Programs are Safe to Disable?
Here is the list of startup programs that are safe to disable on your Windows 10 system. Have a look at them and see whether these programs are running while loading the system or not.
1: Google Chrome
Google Chrome always remain updated even when you don't need it. If you disable Google Chrome from startup it will continue to stay updated without causing any issue.
2: Evernote Clipper
Though Evernote clipper is a simple extension and saves the information, when it gets added to startup it puzzled the user. So, it is better to disable it and is safe for your Windows system.
3: Microsoft Office
Disabling Microsoft Office won't harm any of your files, you can still open them and can launch other Microsoft programs manually.
4: CyberLink YouCam
If you are having a webcam them you must have a Cyberlink youcam for the software. It automatically gets started up when the system starts and burden the computer.
Disabling it is safe as it has nothing important related to Windows 10.
5: Skype
Skype is not needed during startup; you can anytime log in whenever you need to. So, it is safe to disable Skype from startup programs.
6: QuickTime
QuickTime is required to open web content or media files. But it is not needed every time when Windows starts, it is just a burden on the system. Disabling it will lessen the loading time.
7: Spotify Web Player
Spotify program is related to music and if you have installed it, you will find it in the startup which is not required.
It just adds a burden to boot-up time. These startup programs are safe to disable.
8: Adobe Reader
Adobe Reader is a great PDF reader but it is not needed to be on the startup programs. Disabling it from the startup program is safe and won't affect the system.
There are many more programs that are unnecessary taking boot up time but those apps are a bit difficult to identify.
Above mentioned programs can be easily identified but how to identify other startup programs that are safe to disable.
Continue reading the article and you will be able to identify the startup programs that are safe to disable.
How to Identify What Startup Programs Are Safe to Disable?
Whenever you look at the Task Manager, msconfig, Registry or at any other locations then it became difficult for the programs whether they need to load or they don't need to.
Here are some tips to identify the startup programs that let you determine whether you can load the program or not.
In order to determine which startup program, you require you to search them according to your file name and search the filename. If you know the filename then on the startup program search them.
If you are not able to identify the filename then follow the below-mentioned steps in order to determine the filename which makes use of Task Manager, msconfig, Registry in Windows 10.
Windows Registry
Windows Task Manager
msconfig- System Configuration
1: System Configuration – msconfig
Note: The startup program has moved to Task Manager from System Configuration.
To open System Configuration you can type msconfig in the run box.
When the System Configuration window appears > click on the Startup tab.
Now, find the file name given below:
C:\Program Files\Realtek\Audio\HDA\RAVCpl64.exe -s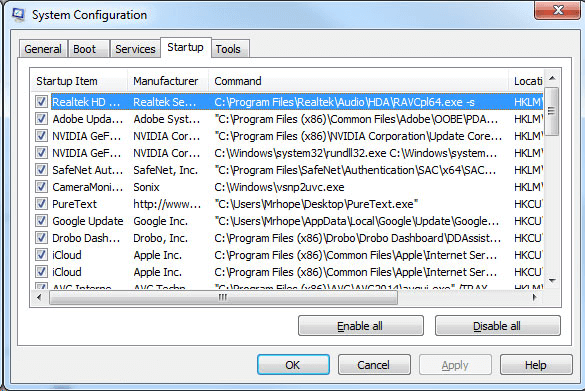 Here is the example of the "exe" file name and when you see the search and identify the purpose of the program which is on the computer.
Tips: Almost all the startup program is the executable files which mean they have a .exe file extension.
There are many startup programs in the system configuration that contain the command switches such as "-s" or "/c", these switches also need to be included in the search.
Bu doing these steps you will come to know what is the purpose of that program on your computer and whether it is safe to disable it or not.
2: Windows Registry
Note: Making improper changes in the Registry can cause many registry problems on the system. So, be careful while performing these steps.
To open Registry press the Windows + R key
Type Regedit and click on OK
This will open the registry. Now, you need to browse to the path that is shown below.
HKEY_LOCAL_MACHINE\SOFTWARE\Microsoft\Windows\CurrentVersion\Run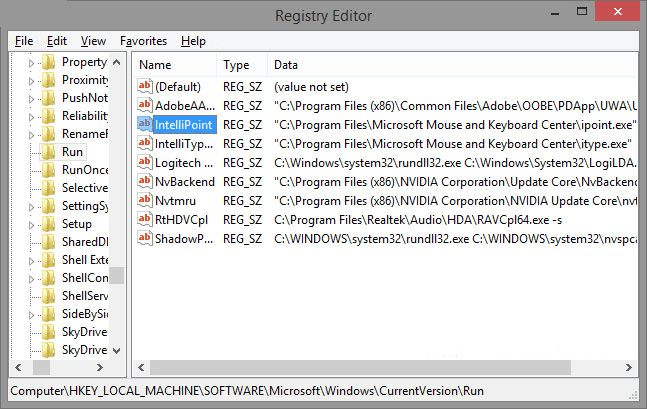 You will see one or more programs when you run the folder every time when Windows starts up.
After expanding the Data column, you will get the full file path value for the IntelliPoint.
C:\Program Files\Microsoft Mouse and Keyboard Center\ipoint.exe
This is an example of "ipoint.exe" which is a file name that you make use in searching and identifying what is the purpose of the program in a computer.
After identifying the purpose of the program, you can see if it is safe to disable it or not.
3: Windows Task Manager
In Windows 10 users it is simple to identify the purpose of the programs in Windows task manager as there are many tabs such as Processes, Performance, App History, Startup, Users, Details, Services.
For Windows 8 users it is possible that you can view the startup programs which start at the boot time of the computers as well as you can even enable and disable the startup programs, you just need to click on the name and click on the properties.
You will need to right-click on the WhatPulse and then need to select its properties from the file name "whatpulse.exe".
Then you need to search the file name and then identify what are the purposes of that program on the system. And select to disable it or not.
Now, that you got to know how to Identify what startup programs are safe to disable, you can know simply disable them by following the below-given steps.
How to Disable Startup Programs in Windows 10?
To disable startup programs Windows 10, the steps are very easy. Follow them one by one and decrease the loading time of your Windows.
To disable programs, open the task manager
Press Ctrl + Shift + Esc key or you can right-click on the taskbar in the bottom corner and select task manager
Select the startup tab in the task manager Window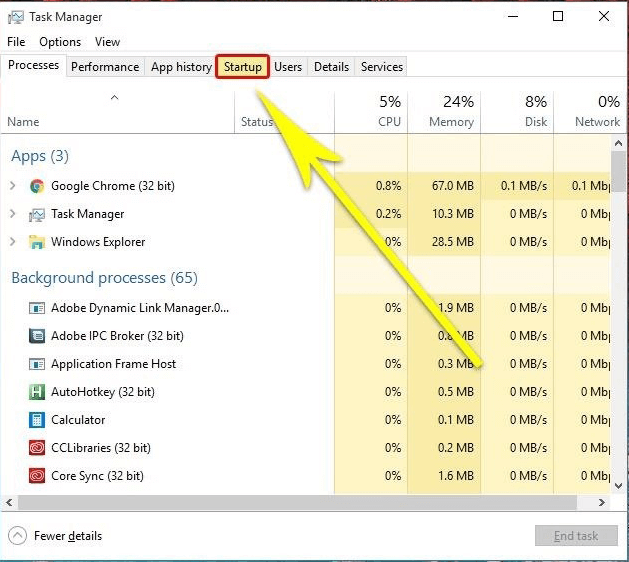 A list of programs will appear on the screen
Choose the programs that are no longer in use and the ones that are having a high startup impact
Select those programs and click on disable
The selected programs are disabled, you can restart your computer and see whether the loading time decreases or not.
Check Your Windows PC/Laptop Health
There are many reasons due to which your Windows PC/laptop gets sick. Either due to some errors that appear or the system files get corrupted.
To check the health of your Windows, try to scan it with the PC Repair Tool. This tool will scan your system once, detect the errors such as DLL, registry, BSOD, game, update, many more and fix them automatically.
It will also speed up your Windows making it just like a new one.
Wrapping Up
All right…That was all about startup programs that are safe to disable.
Here I have stated the list of startup programs, how to identify the startup programs that are safe and how to disable startup programs in Windows 10.
Go through them and disable all the unnecessary startup programs that are taking the boot-up time and slowing your computer.
I hope you liked this article and it turns out to be informative for you as well as help you in solving your queries.
If there is anything that I missed out then feel free to share it with us on our Facebook Page.
Good Luck..!
Hardeep has always been a Windows lover ever since she got her hands on her first Windows XP PC. She has always been enthusiastic about technological stuff, especially Artificial Intelligence (AI) computing. Before joining PC Error Fix, she worked as a freelancer and worked on numerous technical projects.