Detroit: Become Human is a popular adventure video game released by Sony Interactive Entertainment in 2018 for Microsoft Windows and PlayStation 4. Sometimes, however, many players report that Detroit Become Human crashes on Windows 10/11.
According to a survey, the problem is often related to high system requirements. With at least 55 GB of free space, Detroit's Become Human PC is challenging for many players. Here are the minimum system requirements of this game:
To repair corrupted Windows system files, we recommend Advanced System Repair tool:
This software is your one stop solution to fix Windows errors, protect you from malware, clean junks and optimize your PC for maximum performance in 3 easy steps:
Download Advanced System Repair tool rated Excellent on Trustpilot.
Click Install & Scan Now to install & scan issues causing the PC problems.
Next, click on Click Here to Fix All Issues Now to fix, clean, protect and optimize your PC effectively.
Minimum System Requirements of Detroit Become Human PC:
OS: Windows 10 64-bit
Processor: Intel Core i5-2300 @ 2.8 GHz or AMD Ryzen 3 1200 @ 3.1GHz or AMD FX-8350 @ 4.2GHz
RAM: 8 GB
Hard disk: at least 55 GB available space
Graphics card: NVIDIA GeForce GTX 780 or AMD HD 7950 with 3GB VRAM minimum (Support of Vulkan 1.1 required)
In addition, the Detroit Become Human crashing can be caused by other factors like outdated/incompatible graphics card drivers, conflicting software, improper game settings, and missing/corrupted game files.
Fix 1. Make Sure Enough Disk Space for the Game
Like many other video games, Detroit Become Human requires your PC to have enough disk space. It requires at least 50 GB of available space to install on Windows 10/11 or more while playing the game. So, it's important to ensure enough space for the game.
How to create enough disk space for the game? Most of us usually have 2 main options: the first is to free up disk space, and the other is to upgrade to a larger HDD/SSD. You can free up disk space by deleting unnecessary files, uninstalling programs, running disk cleanup, etc.
However, if your PC has a small size of hard drive installed, upgrading to a larger HDD/SSD should be a better choice. How to upgrade a hard drive without reinstalling OS? MiniTool Partition Wizard is such a tool that can migrate OS and even copy the whole system disk without reinstalling OS.
Let's see how to migrate OS to a larger HDD/SSD with this powerful partition manager software:
Step 1. Launch the MiniTool software to enter its main interface and select Migrate OS to SSD/HD Wizard from the left pane.
Step 2. Select Option B to copy the system-required partitions only, and click on Next. You can select Option A if you want to copy all partitions on the system disk to the new hard drive.
Step 3. Select the target disk you want to migrate OS to and click Next. Then click on Yes to confirm this operation.
Step 4. Select a copy option based on your needs and click on Next to continue.
Step 5. Read the information and click the Finish button in the next window. Finally, click on Apply to execute the pending operations.
Fix 2. Check Your Graphics Card Driver
Some users from the Steam community reported that the Detroit Become Human PC crashes after updating their NVIDIA graphics driver to v451.48. In this case, the Detroit Become Human PC crashing could be caused by incompatible graphics drivers. Here you can follow the guide below to check your graphics card driver.
Step 1. Press the Win + R keys to open the Run dialog box, type devmgmt.msc in the box, and press Enter.
Step 2. Expand the Display adapters categories in the pop-up window, right-click the graphics card driver, and select Properties.
Step 3. Go to the Driver tab and click on Update Driver.
Step 4. Then you can update the driver automatically or manually based on your preference. After that, restart the game and check if Detroit: Become Human PC stuttering persists. If it is, locate the Graphics Properties window again, click on Roll Back Driver or Uninstall Device and follow the on-screen instructions to complete the process.
Fix 3. Update Your Windows to the Latest Build
Some users from the Steam community reported that the Detroit Become Human PC crashing can be resolved after installing the latest Windows updates. To do this work, you can right-click the Start menu and select Settings, and Update & Security. Then click on Check for updates to scan for the latest updates. If any Windows updates are available, you can install them.
Fix 4. End All Third-Party Progresses
Sometimes, Detroit Become Human crashes on the tPC if many CPU/GPU/RAM resources are occupied by other programs and apps. In this case, the most effective solution is to close them in Task Manager.
Step 1. Press Ctrl + Shift + Esc keys to open the Task Manager window.
Step 2. Right-click the third-party process and select End task. Then end all other third-party software with the same step.
Fix 5. Verify the Integrity of Game Files
If some important files of the game installation get corrupted or missing, you may encounter Detroit Become Human stuttering. So, it's necessary to verify the integrity of the game files. Here's how:
Step 1. Launch the Steam client and navigate to the Library tab.
Step 2. Right-click Detroit: Become Human from the left pane and select Properties.
Step 3. Move to the Local Files section and click on Verify Integrity of Game Files. Once done, restart your PC and check if the Detroit Become Human crashing gets fixed.
Fix 6. Disable the In-Game Overlay
Sometimes the In-game Overlay feature is also responsible for Detroit: Become Human PC stuttering. If you are also using this feature on Steam, you can follow the steps below to disable it and see if the problem disappears.
Step 1. Launch your Steam client, click on Steam from the upper left corner, and select Settings.
Step 2. Select In-Game from the left panel, uncheck the Enable the Steam Overlay while an in-game option, and click on OK.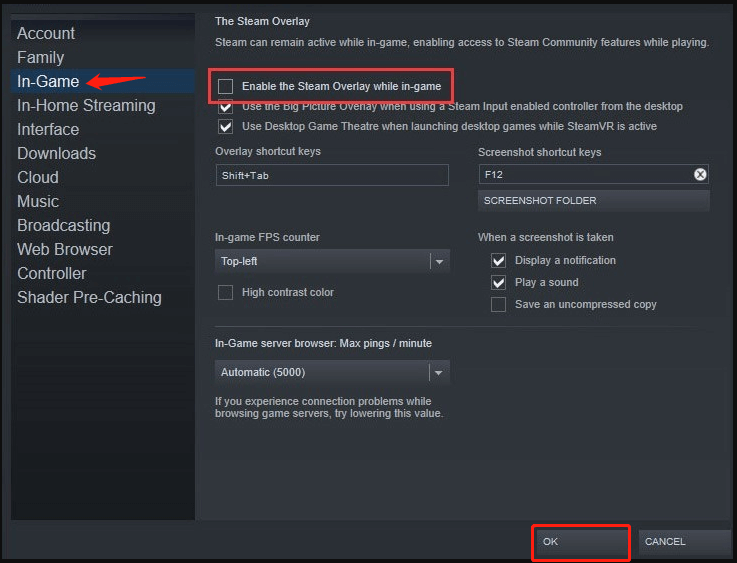 Hardeep has always been a Windows lover ever since she got her hands on her first Windows XP PC. She has always been enthusiastic about technological stuff, especially Artificial Intelligence (AI) computing. Before joining PC Error Fix, she worked as a freelancer and worked on numerous technical projects.