UEFI (EFI) or Unified Extensible Firmware Interface is an updated version of BIOS. These days, all the famous PC brands are designed with UEFI/EFI instead of BIOS.
This change brings several improvements to the system like advanced security measures, faster boot times, support for disks larger than 2.2 TB, and many more.
But, once UEFI gets damaged or corrupted then it affects the bootloader and makes them broken. Because of the corrupted UEFI or broken bootloader Windows system gets unable to reboot normally.
If you are also experiencing the UEFI bootable issue or failed to boot your Windows 10 computer, then don't worry as you are not the only one. There are a number of Windows 10 users who are going through the same issue.
Thankfully, there are some solutions that will help you to fix these UEFI boot issues on your computer. If you are one of these users, then this article is for you.
In this article you will be provided with the fixes that will help you to fix UEFI boot in Windows 10 computer with ease. So, go through the fixes one by one to get rid of this issue.
How Can You Fix UEFI Boot Errors in Windows 10?
Fix 1: Use Diskpart to Fix Windows 10 UEFI Boot Error
The most common solution which you should try to fix UEFI Boot in Windows 10 is using diskpart. Diskpart is a command-line disk partitioning utility.
Therefore, if you are having UEFI boot issues on Windows 10, then you can take advantage of DiskPart utility. If you don't know how to use diskpart, then follow the quick guide given below:
Firstly, insert the Windows 10 installation disk or installation USB into your PC /Laptop and boot from the disk or USB.
You will see an Install now screen, here click on the Repair your computer or press F8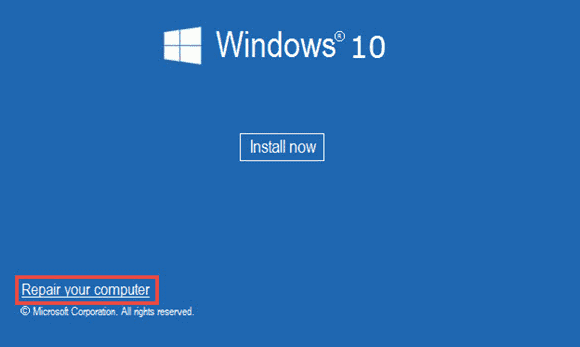 Click Troubleshoot > Advanced options > Command Prompt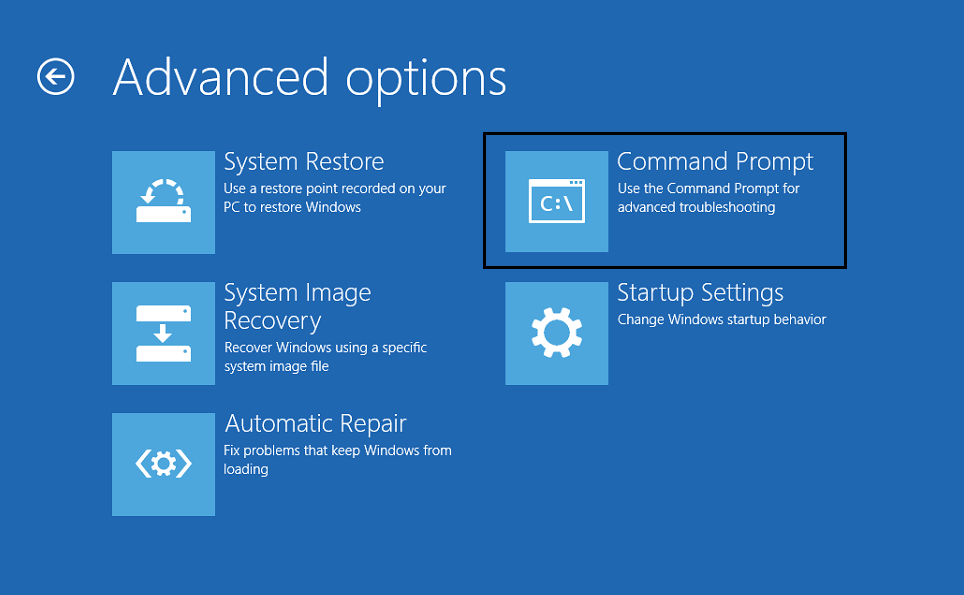 After it, type the below command in the Command Prompt and press the Enter key after each command:
diskpart

list disk

sel disk 0
If you see the message "Disk 0 is now the selected disk" then type the given command and hit the Enter key:
list vol
After it, diskpart will display the complete list of volumes on your computer. Here, you need to search for the UEFI volume from the list. Go to the list: UEFI partition will be on Volume 2.
Enter the below-given command and press Enter key after every command:
sel vol 2

set id=ebd0a0a2-b9e5-4433-87c0-68b6b72699c7
Now, type the given command to assign a letter to your drive and make sure the letter which you are going to assign is unique and not in use by other drives:
ssign letter=G
After assigning a drive letter, you will see the message "DiskPart successfully assigned the drive letter or mount point"
Now type exit and press Enter
Open Command Prompt again and type the below command and press Enter key after each command:
cd /d G:\EFI\Microsoft\Boot\

cd /d G:\Boot\ or cd /d G:\ESD\Windows\EFI\Microsoft\Boot\

Note: Now, in the previous steps you assigned 'G' as the drive letter to UEFI partition. So remember to replace G with your UEFI's partition letter.
bootrec /fixboot
ren BCD BCD.bak
bcdboot C:\Windows /l en-us /s x: /f ALL
Note: Here, c:\ is the system drive where the Windows OS is installed on.
After it, you need to run the below-given command:
bootrec /rebuildbcd 
Hit Enter to run
Lastly, close the Command Prompt and reboot PC.
After, applying all the above-discussed steps carefully you will see that UEFI boot is fixed and Windows 10 can run normally again.
Fix 2: Use Automatic Repair to Resolve UEFI Boot Issues on Windows 10
If using diskpart didn't get your work done and you are still incapable to boot your Windows 10 computer, then try the Automatic Repair. Automatic Repair is a Windows 10 inbuilt utility that users apply to fix normal Windows errors.
This might help you to fix the UEFI boot issue on the Windows 10 computer and is also a less complex way to deal with this issue.
To apply this solution, follow these steps:
At first, insert the Windows 10 installation disk or USB on your PC/laptop.
Reboot your computer or laptop and boot from the disk or USB;
On the Install now screen, click on the Repair your computer
Select Troubleshoot at Choose an option screen
Click on the Automatic Repair
Select an account from the list
Lastly, wait until the repair process gets finished.
Fix 3: Add the Disk Driver
If you have replaced the RAID with another machine or replaced the original IDE disk or SATA with new NVMe SSD, then this might be the reason for the UEFI bootloader issue on your Windows 10 computer.
Hence, to fix this UEFI boot issue, you can follow the given Windows command line:
Firstly, open Command Prompt as administrator. For this, follow these steps:

Type cmd in Windows Search box
Right-click on the Command Prompt and select Run as administrator
In the Command Prompt, type the given command and press Enter key:
Dism /Image:H: /Add-Driver /Driver:"y:\z.inf"
Please Note: In this command X shows the disk character of restored Windows boot partition, whereas the command under the double quotes shows the location of driver and INF file.
After executing the command, type exit and press the Enter key to close the Command Prompt.
Fix  4: Change the BIOS Settings
UEFI bootloader issue may also occur when you are not choosing the appropriate boot mode. You are supposed to choose the boot mode according to the disk type on your computer.
If you are trying to start the MBR system disk, then you need to select the Legacy support rather than the UEFI in the boot mode. Similarly, to start the GPT system disk, choose the UEFI boot mode.
Easy Solution to Boost Your PC's Performance
Is your Windows computer is running slow or not responding well? Well, this could be because of some PC's internal issues. Whatever the case, the easiest way to resolve these issues is to use a professional tool.
That's why I strongly recommend you to use the PC Repair Tool, as this tool optimizes your PC to enhance its performance and make it work like a new one.
This tool is also capable to fix various PC related issues and also keeps PC safe from viruses and malware. Furthermore, it also fixes DLL, BSOD, game errors, registry issues, repairs damaged or corrupted system files, and more.
Hence, give a try to this tool if you are facing any of such PC related issues as it is easy to use and consumes less time than dealing issues manually.
Conclusion
That's all!! Here you have the best working solutions to fix the UEFI boot in Windows 10 computer.
As these solutions are already tested by the affected users, hence it might help in your case too.
I hope that Windows 10 UEFI boot error is resolved on your system and your Windows 10 computer became normal after applying the above-given fixes.
However, if you still have any queries or suggestions, then you can share it with us on our social media handles – Facebook or Twitter.
Hardeep has always been a Windows lover ever since she got her hands on her first Windows XP PC. She has always been enthusiastic about technological stuff, especially Artificial Intelligence (AI) computing. Before joining PC Error Fix, she worked as a freelancer and worked on numerous technical projects.