Looking for the best web browser for Roku TV? Or do you also have queries like does the Roku have a web browser or how to install a web browser on Roku?
In that case, I have good news for you. As today in this article, I am going to discuss all the important aspects related to the web browser for Roku TV.
So, read the article thoroughly and explore the best internet browsers for Roku to enhance your browsing experience.
Does Roku Have A Web Browser?
Though, Roku is the best digital platform that allows you to stream media content from several online platforms. But for browsing, Roku offers very limited functions and it doesn't have any in-built web browser.
Maybe it sounds like a hitch to you but still, Roku doesn't let you down in entertaining you?
Mainly there are two web browsers channels included in Roku: Reddit Browser and Media Browser. Both are incompletely featured web browsers.
The Media Browser lets you play music, movies, TV. It's an internet video browser. Whereas on the other hand using the Reddit browser you can see posts on Reddit. This browser is not free.
So, to surf the internet you need to download the web-browsers. Here check the top 7 web browsers for Roku to enhance your experience and browsers the web easily.
What Are the Best Web Browsers For Roku TV?
1 – Web Browser X
Web Browser X has easy-to-use and a very basic interface. It is the highly preferred web browser by several Roku users because of its remote navigation feature.
It works well in browsing but meanwhile rendering high-quality content gets very slow. For easy webpage navigation simply uses the up-down and left-right buttons present on the Roku remote.
Pros
Gives completely rendered pages along with the clickable links. 
You can save the homepage and do effortless web surfing. 
In some countries, you can use the Roku browser free of cost.
It's a completely free web browser and you can get it officially from the Roku channel store.
Cons
Even though the formatting is off but pages are rendered quite well.
Outdated User Interface.
The most disliked part of this browser is that you can't play videos neither you can fill the user-id, password, and web forms fields.
To download click on the link next to you – Download Web Browser X
2 – Media Browser For Roku
Media the browser has complete support for Roku devices. So you can make easy surfing without any hassle even when the website is full of heavy content.
So to use this browser for Roku TV, you need to install Media Browser Server and run it on the local network.
It will upgrade your web browser with small updates like Photo Slideshows, Remote Control, Live TV, Media Browser Apps, etc.
Its simple interface has some set of valuable features like a media browser. So you don't need to face any lagging issues. In this browser, you will get amazing browsing and viewing experiences of content in different pixel sizes.
Pros
The best option for browsing, TV, local movies and music play.
UI and easy-to-navigate buttons.
Bring out the apps suite to stream media from your PC to Roku-connected TV.
Cons
It's an internet video browser.
Though the browser makes promises to cover up the most important aspects of the web browser. But it fails to give you the video playing features.
Looking to get this browser on your Roku device then click the link – Download Media Browser
3 – POPRISM Web Browser
Another web browser for Roku TV is Poprism. This browser delivers all text-based content. It doesn't support JavaScript, graphics, CSS, GUI, of any website.
In terms of the interface, POPRISM offers a standard and plain view. It displays the text in an unformatted manner.
Pros
This browser enables remote navigation.
If you do light internet surfing then it's a good option for you.
It's a Text-based web browser. 
You can easily achieve the basic Google research readable on the POPRISM.
Cons
No support for GUIs/ images/JavaScript/ CSS.
Get this web browser on your Roku device direct by clicking on the link given – Download POPRISM Web Browser
4 – Opera
Opera gives a hassle-free experience of navigation over the internet on Roku devices.
Like any other web browser, for using opera all you need is to attach a streaming device with your Windows PC. Apart from this, you can use any general keyboard for searches.
Opera browser comes under the list of best browsers for Roku TV because of its lightweight and faster engine which replies to users as quickly as possible.
The Opera browser has excellent integration with the VPN service. This ultimately helps you in unlocking the unlimited entertainment content by keeping your digital identity completely intact.
Pros
Straightforward User Interface.
Secure and completely safe VPN for anonymity.
Feature of video pop-out mainly for the YouTube.
Faster web browsing capability
Cons
The setup process needs effort and time.
Easily get Opera on Roku – Download Opera
5 – The Roku Channel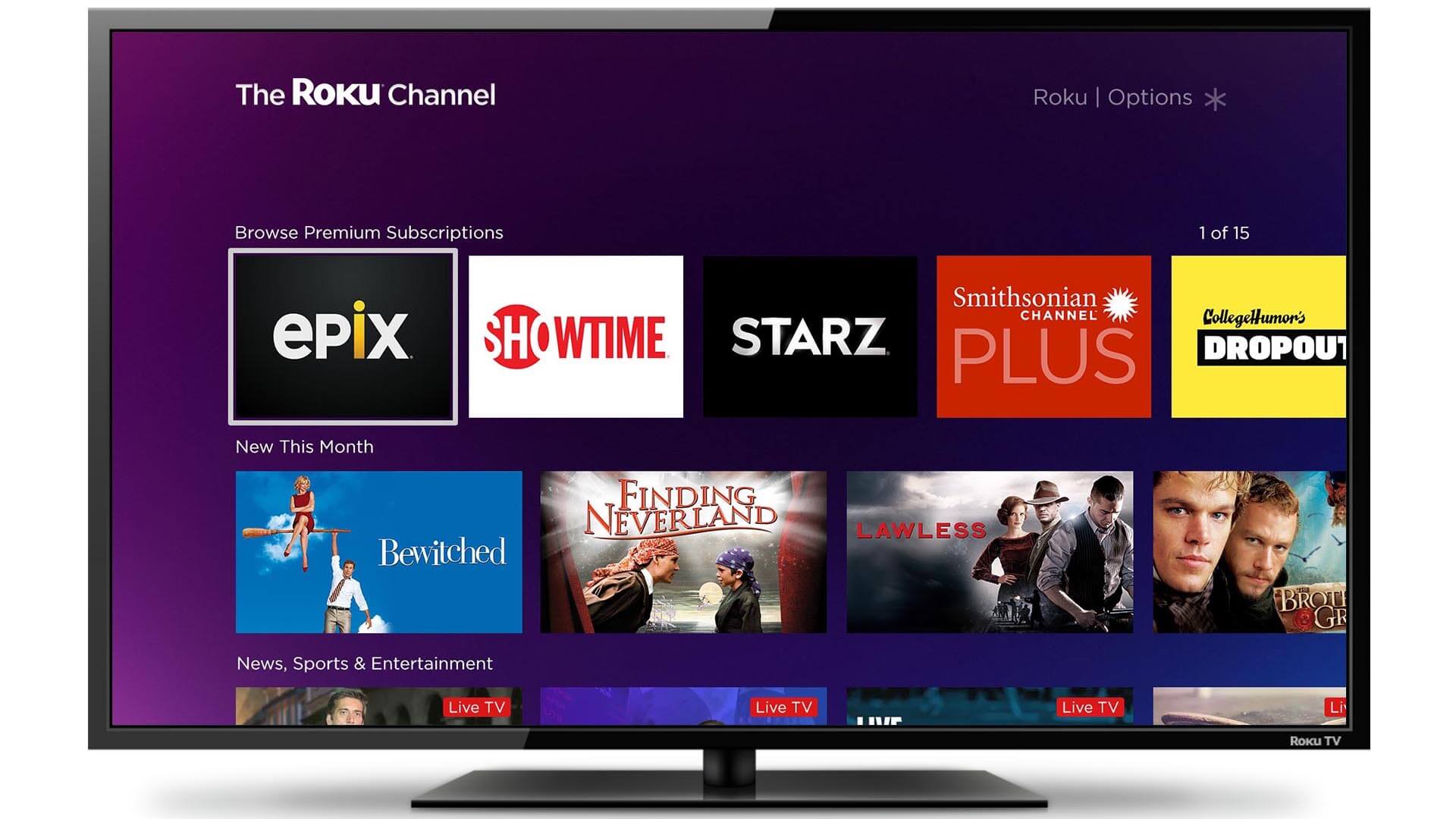 Roku Channel is also a great choice among the best web browser for Roku TV.
This browser facilitates you with the benefits of streaming various ranges of content on its platform. Besides the task of browsing, you have the option to check out the latest news, stream your favourite content and play music.
One thing that makes this browser outstanding is that it uploads so much content from yahoo to keep users always entertained with the latest updates.
Pros
Stream countless content varieties over the platform.
Keeps entertained by regular updating of content.
It's a perfect combination of Internet streaming and surfing.
Cons
Need to make payment to get the maximum benefit of the available service.
Wondering how to download Roku Channel, then click the link next to you – Download Roku Channel
6 – Web Video Caster
It is one of the most easily available browsers in the market today.
With the help of this browser, you can easily make browsing, watch TV shows, join live streams, etc. It's a paid service which costs around 4.99$ per month subscription.
But one thing which makes it outstanding is the seamless connection with the Roku TV in case of free service also.
Pros
Apart from Roku devices, this browser has full support for Amazon Fire TV, DLNA receivers, Chromecast, etc.
Its paid version gives you full support for Video History, Home screen shortcuts, Bookmarks, and most give you an ads-free experience etc. 
Also allows you to cast local videos on the phone.
Cons
Doesn't allows tab casting, such as Chromecast extension.
To download this easily available web browser on Roku device click – Get Web Video Coster
7 – Xfinity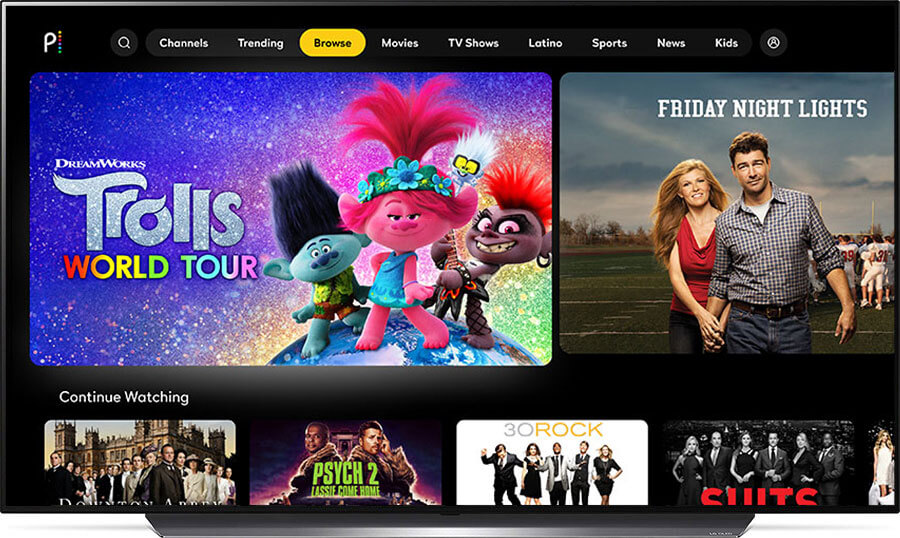 To fulfil all streaming purposes Xfinity is the best option to go with. Well, this is not a browser, but a good option you can go for streaming.
Using this streaming app you can conveniently watch the local news stations and stream live sports.
To get the maximum benefit of this browser you need to buy its paid plan of $55 each year. It has the customized plans also so you can alter them anytime as per your need.
Pros
You will get a wide variety of options for streaming videos, movies, and songs from various categories.
To add various types of channels to your collection you can purchase its paid plan.
Cons
You will find many features for the media streaming service which diverts it from the browsing niche.
Simply get this on Roku – Download  Xfinity
So, these are the best web browsers for Roku device you can use. Now, to surf the web browsers on your Roku device, try Screen Mirroring. Well, there are many screen mirroring software available on the web.
Below check out one of the best screen mirroring apps available for both Android devices and Windows PC
1 – Miracast
Miracast is one of the easiest options to use instead of the Roku web browser. This is possible by casting a web browser through Windows 10 PC on the Roku TV. It's the clearest web browser that has the least resolution distortion.
Besides this, you can easily project your monitor over any device which has full support for this technology.
Miracast is a wireless mirroring protocol. Nowadays in Windows 10 PC, this Miracast screen projection technology comes integrated by default.
It is available for various devices like Android phones, Windows PC.
How To Cast Web browser On The Roku Device?
Method 1# Cast Web Browser To Roku From Windows
To use Miracast screen projection technology, it's compulsory to use the Windows 10 latest version. So check this out whether you are using the latest version or not.
After this, choose the small notification icon which is present at the lower right corner on the taskbar of your Windows 10 PC.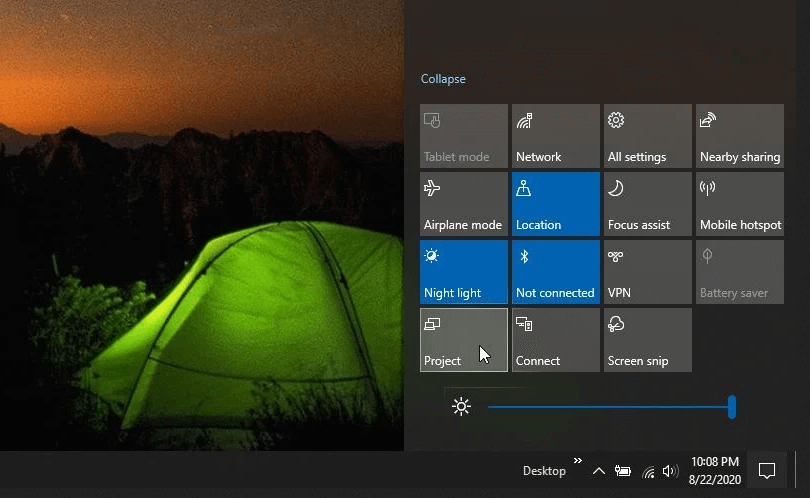 Now in the opened feature list, you will see the project icon, so choose that. This will open the project feature of Windows 10. By using which you can project your screen over any wireless display present over the network.
Now you need to make a selection for the option that how you want to show your screen.
Here are the options included:
PC screen only: 
This option will only show all your data only on the PC and not over some other screen.
Duplicate:
Using this option, you can duplicate your main PC screen same on your Roku device
Extend:
With this option, you can use a Roku device just like an additional monitor.
Second screen only: 
This option will Project all your data only on your Roku device and not on your PC screen.
After selecting any of the above-listed options. Now choose the option Connect to a wireless display which is present at the bottom.
You will see a list of all the devices present on the network which you can project.
All the listed devices here are typical devices that support casting using Microsoft's Miracast technology.
If any Bluetooth device is paired then it will also appear listed here. Well, you won't be able to cast the Windows 10 screen on any Bluetooth devices.
Now from this list select your Roku device.
Within few seconds, you will see that your TV's screen will start showing the background image of the Windows 10 PC.
Method 2# Screen Cast via Android
This option is best for direct casting of your Android phone screen on Roku TV.
Following are the advantages of Screen Cast via Android
You can easily use any browser like Chrome, Firefox, or Edge on your Roku device.
Offers hassle-free installation process.
Pairing is very easy in this. You just need to follow these steps on your Android device.
Go to the Settings first and then tap to the Connected Devices option.
Now hit the Pair New Device option.
Wait until the Android device fetches your Roku set-top box or streaming stick.
Make a tap over the Roku device name and then wait till the connection is established.
On your Roku TV open the web browser which you want to use.
In this way, you can easily use a web browser on Roku via the Android phone.
Note: You can only cast your Android device and not the iPhone. The reason is that Roku makes use of the Miracast which is supported by Google's OS.
Drawbacks Of Screen Mirroring:
Well, screen mirroring is an option you can go for if you don't want to install web browsers on your Roku TV or device.
But this is also having some disadvantages, as the Roku completely relies on screen mirroring apps like Miracast.
And the Miracast is only available for Windows PC and Android devices, so if you are using iOS and Mac OS then you need to install another third-party app for screen mirroring.
Miracast is not that reliable app because it's quite common to encounter issues like connection dropouts, lagging, failed pairings etc.
In the screen mirroring you have to leave your screen on over the casting device that will quickly discharge your device battery.
Other than that, you need to use some casting device for easy controlling of your web browser.
Using a casting device for browser controlling undoubtedly works smoothly in the case of watching videos. But in the case of active browsing, you need to look into the screen of the device to check out what you are doing.
Despite these drawbacks, I still say that if you need a web browser on the Roku device then use it.
People Also Ask:
1 - Is There A Free Web Browser For Roku TV?
Yes, there is some free web browser for Roku TV available. Above in this post, I have listed down the entire best internet browser for Roku TV. Out of which Web Browser X is absolutely free of cost. So you can use it without giving any additional subscription fee.
2 - Can You Browse The Internet On Roku?
Roku gives you a wide range of entertaining media content such as live sports events, TV shows, movies, etc. however meanwhile browsing the internet, Roku doesn't have any in-built browser facility.
So to make surfing, you have to install some third-party web browser on Roku TV and cast it through your android, Windows OS or other devices.
3 - How Do I Cast My Browser To Roku?
Roku doesn't have any native browser, so you need to install third-party web browsers. After that only you can cast the browser to Roku.
4 - Can I Get Google Chrome On My Roku?
Roku devices won't support Google Chrome web browser. So to get a Google chrome browsing experience on Roku, you have the option to make use of screen mirroring apps.

Only you have to install the Google Chrome mobile app on your phone. After that, launch your mobile device over your Roku TV in order to do Internet browsing over the big screen.
Conclusion:
Now that you know what are the best web browsers for Roku TV available. So choose any of them and enjoy internet surfing on Roku TV.
Do share your personal experiences regarding the fastest web browser for Roku TV from the above-given list, simply by heading to our Facebook page.
Hardeep has always been a Windows lover ever since she got her hands on her first Windows XP PC. She has always been enthusiastic about technological stuff, especially Artificial Intelligence (AI) computing. Before joining PC Error Fix, she worked as a freelancer and worked on numerous technical projects.