If you are the one, who not prefer having more than one partition on your hard drives or other storage devices than sorry you are under the risk of permanent data loss. Having more than one disk partition is really a lifesaver as this reduces the risk of losing your personal files if in case the computer crash.
To partition a hard drive in Windows, many users prefer using the standalone inbuilt Disk Partition Utility. But this won't help you to resize or combine them without some extra help (third party software)
Well, most of the safe and easy to use partition utility are not always available, and when you find anything worth it, it was expensive. Most of such tools are the premium software but here I am sharing with a free disk partition software along with advanced features the AOMEI Partition Assistant 8.4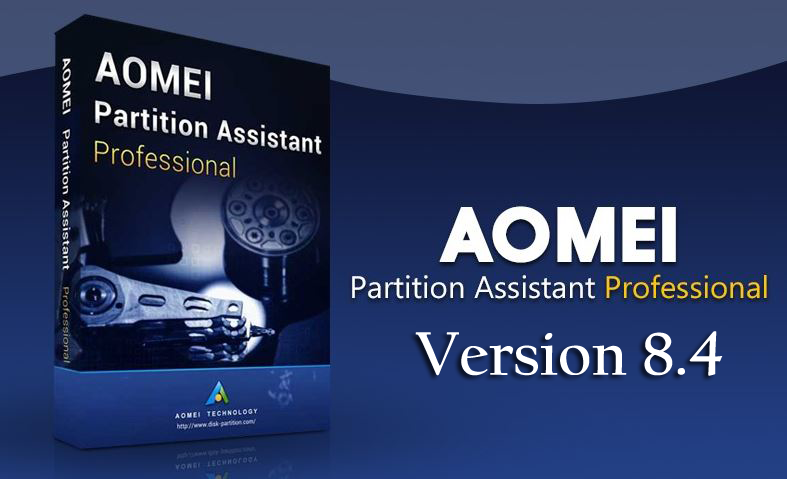 The AOMEI Partition Assistant 8.4 is a highly powerful and proficient disk partition tool recommended for both the home & professional users.
This is a trusted and secure tool that guaranteed offers complete features to create, delete, resize, merge and split partitions and much more. Despite this, during transferring the content to another hard drive, it is able to create a sector-by-sector copy. The AOMEI Partition Assistant version 8.4 contains numerous wizards that allow you to migrate the OS to a solid-state drive or shrink the present partitions for extending the other drive that requires more space.
Not only this, if you require configuring more than one computer than this application is able to create a bootable disk that can be used on numerous systems without installing the AOMEI Partition Assistant software on each system.
And when you need to make any modification to the disk configuration, you can easily do it by specifying the needed operations and apply changes. But the program shows a list of actions and time estimation before performing them.
Well, recently the "SSD Secure Erase Wizard" function is offered by the AOMEI Partition Assistant version 8.4 for the users.
AOMEI Partition Assistant 8.4 is the first to develop the Secure Erase SSD wizard, which securely wipe SSD to restore factory settings.
This latest function helps you to remove the entire internal stored data, easily carry out complex operations such as copy partition, cloning complete hard disk, balance the SSD, reduce the bad hard drive sectors, CG recovery and also recover the overall performance of the Solid State drives. 
However, this latest developed function of this Free Partition Manager currently only supports the Windows 7 operating system. The other Windows version are not compatible with the latest SSD Secure Erase Wizard. So, in this case, you can remove the SSD from the original system and connect it to Windows 7 OS computer to erase.
Well, undoubtedly the AOMEI Partition Assistant version 8.4 is one of the most powerful and freeware disk partition utility. It also comes in two versions the Freeware and the Premium (Pro).
The freeware version has everything that an average user needs like partition, copying, splitting, creation, deletion, resizing, property changing (active to inactive), formatting and also secure wiping. Not only this, but there are also another useful wizard available to copy, resize, convert from NTFS to FAT32 and so on. You can also migrate to a new hard drive or SSD with the freeware version of AOMEI Partition Assistant version 8.4. It also creates bootable Windows Pre-install Environment discs.
And the Pro version of the application offers the ability to convert Windows dynamic disks to basic disks, modify partitions from logical to primary, alter partition IDs and serial numbers, convert disks from MBR to GPT and again. You can also assign free space from one partition to another.
Well, if all the pro version feature sounds cryptic, you won't require the premium version. All these features are useful for IT professionals who require obtaining and maintaining the drives and partition on a daily basis.
Key Features of AOMEI Partition Assistant Version 8.4:
Compatible with Windows Vista, XP, Windows 7, Windows 8 & 10
Allow you to extend the system partition without restart the computer.
Entire drive partitions on the drive can quickly remove with one click.
The latest partitions can have any of the following file system set up: NTFS, FAT/FAT32, exFAT, EXT2/EXT3, or left unformatted
Supports both altering the drive letter and the volume label.
Hard drives and partitions are wiped completely to delete entire data
You can run Chkdsk on any partition to fix errors.
Pros
Easy to use and user-friendly interface
Runs well even before Windows starts.
Supports each and every partition tasks
Complete the task quickly with the step-by-step wizards
You can queue plenty of changes and apply them once.
Comprises various valuable drive tools.
Cons
The latest SSD Secure Erase Wizard feature only supports Windows 7
The Pro version is quite expensive.
Hardeep has always been a Windows lover ever since she got her hands on her first Windows XP PC. She has always been enthusiastic about technological stuff, especially Artificial Intelligence (AI) computing. Before joining PC Error Fix, she worked as a freelancer and worked on numerous technical projects.