When you get unable to syncing OneDrive where all of your important files are stored then this situation can make you mad. Microsoft OneDrive is one of the best cloud storage experience in Windows 10 to store and sync users personal documents and settings across your devices but sometimes the desktop client sync app won't work and you get unable to run sync process properly.
If you are suffering from this issue then don't need to worry as after applying below given solution you can easily fix sync issue in Windows 10.
Before Applying Any Fix For This Problem Make Sure:
Windows 10 and OneDrive run the latest update. Try to check this by following this: Do to Settings > Update & security > Windows Update.
Is Your PC Running Slow & Needs Optimization?
Don't Miss The BEST TOOL To FIX PC Errors & Issues
The file that has to be synced is always less than or equal to 10GB and it is the current limited size for the service.
Trick #1: Restart The OneDrive Sync Client App On The PC
Suppose if OneDrive is not syncing any folder or file, then the first thing you have to do is to reset the desktop sync client app.
Step #1: Right click on the notification area at "OneDrive" icon. However, if you do not see the OneDrive icon then click the "Show Hidden Icons" up arrow button on the notification's far-left side.
Step #2: Now click the option "EXIT".
Step #3: After this, you have to click the Close OneDrive button on the dialog box you get.
Step #4: Now simply open the Start menu and then do a research for OneDrive and open the desktop app. Doing so will open the OneDrive folder that indicates that the app is still running.
Trick #2: Make Sure That Your Onedrive Account Is Connected To Windows 10
If you find that OneDrive is not syncing then it is obvious that you make sure that the account is connected to Windows 10. Also, it is important to make sure that you are using the best and the right Microsoft Account.
Step #1: Open the settings app by pressing Windows key + I.
Step #2: Choose Settings > Accounts > Your email and accounts
Step #3: Click on the Sign in with a Microsoft account instead option (if an account is not connected).
Step #4: Simply go behind the on-screen instructions to switch to your Microsoft Account.
Trick #3: Make Sure You Select Onedrive Folders To Sync
OneDrive has recently gone through several changes and the placeholders are gone and so it has automatic syncing option. However, Microsoft has moved to selective sync in Windows 10. It means that there is a great need to select manually the folders and files you wish to sync before you can upload or download anything.
However, if you have recently upgraded to Windows 10 from the Windows 8.1 then you can simply select the files and folders that are required to be synced using the below-mentioned steps:
Step #1: First of all, right-click the "OneDrive" icon you find in the notification area. However, if you do not see this icon then just click the "Show Hidden Icons" on the notification area's far-left side.
NOTE: Do not forget that if you don't choose to sync the complete OneDrive folders while a new file or folder is being shared by someone else then a new content will not sync with the PC until a selection is made manually to do so.
Step #2: Choose the Settings option.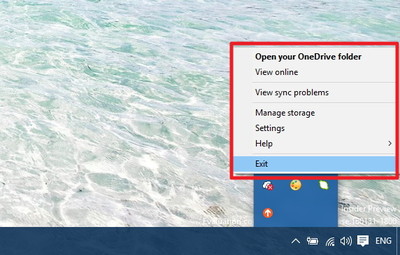 Step #3: Click on the Account tab -> Click on the Choose folders button.
Step #4: Choose either the Sync all files and folders in my OneDrive or the files and folders you want to sync to your computer.
Step 5: Click OK to save the changes.
Trick #4: Complete The OneDrive Setup Process
If you are using a brand new computer/laptop, then you have to complete the onedrive configuration first in order to syncing your files.
Step #1: Open the Explorer by pressing Windows key + E .
Step #2: Click the OneDrive (blue) folder present on the left pane to open the wizard.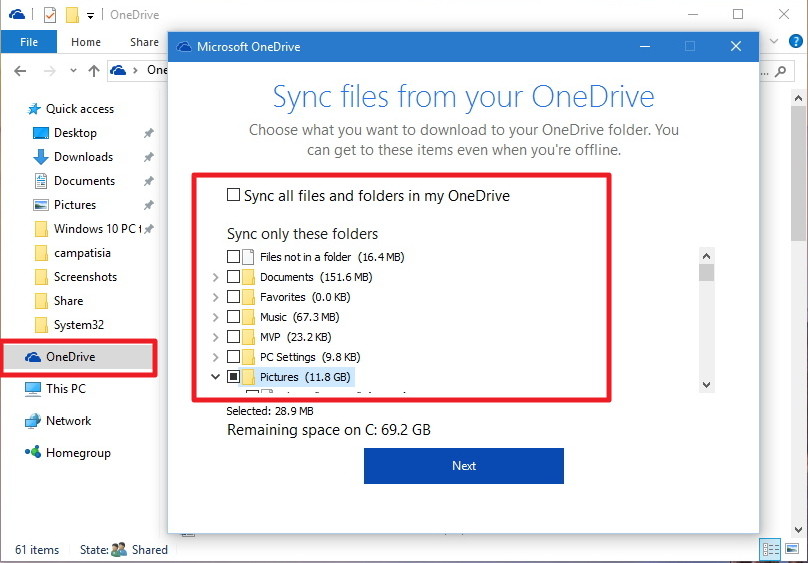 Step #3: Choose the folders and files that you want to sync to complete the setup.
Trick #5: Keep File Path Short In OneDrive
Sometime the length of the path may also affect the sync process. Microsoft allows the path, including the filename, should not exceed 255 characters.
Long file path
Example: C:\Users\You_User_Name\completePictures\EveryYear\2015-2016\
January\vacation\holulus\Homeofmysister\this_one_is_the_best_of_my.jpg
So it is recommended to make the file name shorter and avoid having too many subfolders, inside of subfolders, by carrying folders closer to the root directory.
Bonus Tricks:  Check Your PC's Available Storage Space
OneDrive does not offer placeholders in order to indicate the content that is just available with internet connection. It means that the computer must have the exact and the same amount of space available as the storage you are using in OneDrive. Or, if you don't have enough local storage the OneDrive will not sync the files.
However, to make more room on the hard drive of the computer, then delete or move some of the files on the system.
Step #1: First of all, check the storage's amount you are currently using on OneDrive and then compare it to the hard drive's available space in the system. After this, you can move or delete the files as necessary.
Step #2: Next, you have to click on Start and search for OneDrive just to open the client sync app in the desktop.
Step #3: Now follow the steps or you can say instruction to make selection of files that you wish to sync to the system and then choose the location to sync the personal files.
Use the troubleshooter
You can also use a OneDrive troubleshooter app provided by Microsoft. Download this app and troubleshoot OnDrive app without the need of any professional knowledge. This tool is able to fix many types of issues within a single click. So, try this official tool of Microsoft once.
Final Verdict
I hope after going through this complete blog, you must have noticed that the solutions mentioned here to fix OnceDrive sync issues are so easy to apply. You can try all these fixes one after another and can see the results. So, if you are using Windows 10 and get this OneDrive Sync issue then just try these fixes and get your problem solved in a minute. However, if all these fixes do not work then try to download and install PC Repair Tool to c. So, all the very best to you.
Follow 3 Simple Steps to Repair PC Instantly!
Step 1 – Download & Install PC Repair Tool.
Step 2 – Click "Scan" button to diagnose the PC.
Step 3 – Click "Fix Errors" to the fix the issues and you are done.
(Note: This powerful tool can increase your performance by 97%)
Summary
Article Name
Top 5 Easy To Apply Tricks To Fix OneDrive Sync Issues On Windows 10
Description
If you are using Windows 10 and facing OneDrive Sync issues then do not worry, just try all these five fixes one after another to get your problem solved.
Author
Publisher Name
Publisher Logo