Wmiprvse.exe is a program that consumes the CPU memory around 30% and so that it directly affects the speed of your computer. It generally happens with the Windows 8 or 8.1 system users, when user run any application then the system gets slow automatically.
You can verify this problem by opening the task manager, open task manager and click on the "process" tab. Here you will see that (WMI Provider Host) wmiprvse.exe CPU usage is high and is more than 30%.
You can try to reboot the WMI service in the manner to solve this issue, but this is not an effective way to solve this issue. If you really want to fix this problem then you have to apply the below-given steps carefully. By applying the following steps you can easily fix wmiprvse.exe high CPU usage.
Is Your PC Running Slow & Needs Optimization?
Don't Miss The BEST TOOL To FIX PC Errors & Issues
Solution 1: Reboot Windows Management Instrumentation Service
Step 1: Open the run box by pressing Windows Key + R, in the run box you need to type services.msc and press the Enter key.
Step 2: Here, from the list, you need to search for the Windows Management Instrumentation Service, after finding this right-click on it and choose Restart.
This step will reboot all the service related to WMI services and it is hoped that High CPU Usage by WmiPrvSE.exe gets fixed.
Solution 2: Reboot all the Other Services related with the WMI
Step 1: First you have to open the command prompt with admin privilege, to do this, you have to press the Windows Key + X then choose Command Prompt (Admin).
Step 2: Now, run the below given commands one by one, to do this you have to press the Enter key after each of them:
net stop iphlpsvc
net stop wscsvc
net stop Winmgmt
net start Winmgmt
net start wscsvc
net start iphlpsvc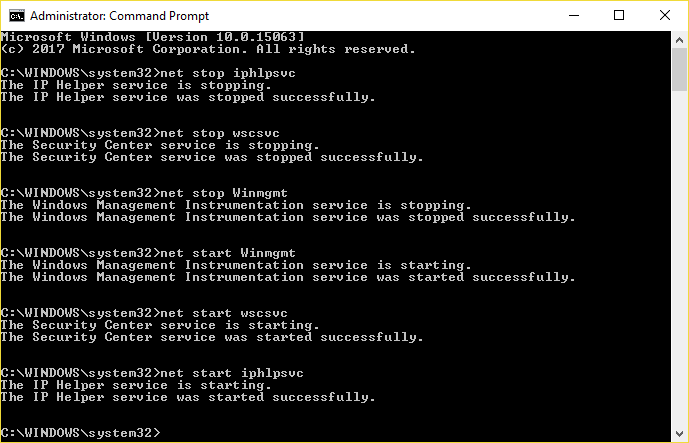 Step 3: At last, you have to reboot your PC to save all modifications.
Solution 3: Scan and Repair Corrupted System Files
Step 1: Press the Windows + X, and then select Command Prompt (admin). If any UAC appears, then click on the YES.
Step 2: Run the below-given command:
sfc /scannow
Step 3: After the completion of SFC command, now run the second command given below:
DISM /Online /Cleanup-Image /RestoreHealth
Solution 4: Run System Maintenance Troubleshooter
Step 1: First you have to open the control panel, to do this, press the Windows Key + X and click on the Control Panel.
Step 2: Now, you have to search for the Troubleshoot and then click on the Troubleshooting.
Step 3: Again, click on the view present in the left pane.
Step 4: Run the Troubleshooter for System Maintenance.
Step 5: This will get rid of CPU Usage by WmiPrvSE.exe.
Solution 5: Locate the process manually using Event Viewer
Step 1: Open the run dialogue box (Press Windows Key + R), in this run box type eventvwr.msc and press the Enter key to open the Event Viewer.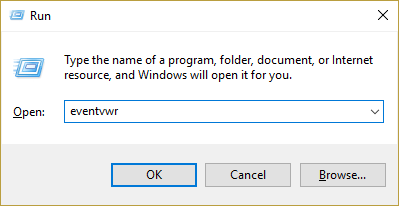 Step 2: Now, you have to click on the View and then choose Show Analytic and Debug Logs option.
Step 3: From the left pane navigate through Applications and Services Logs > Microsoft > Windows > WMI-Activity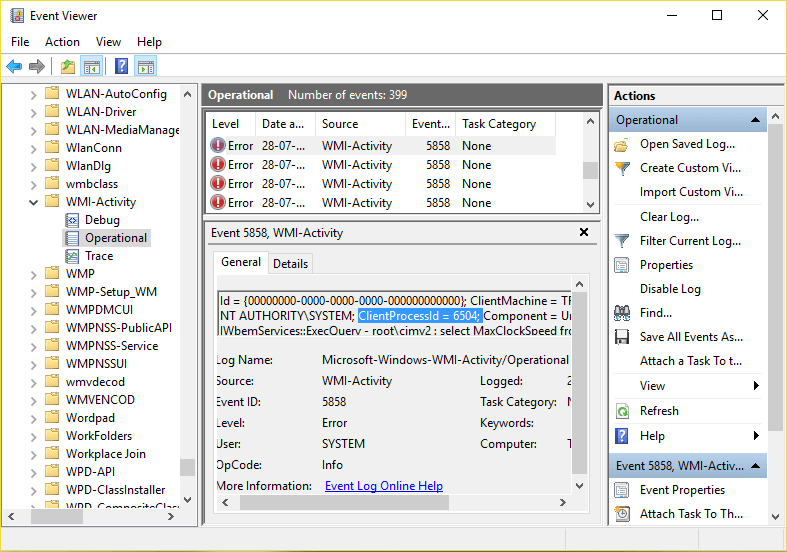 Step 4: After opening the WMI-Activity folder (double click on it to expend it) and then select Operational.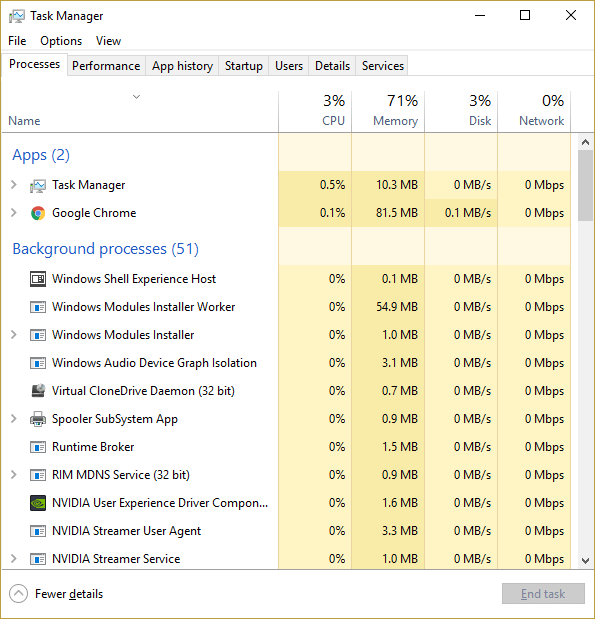 Step 5: At the right window pane choose Error under Operational and in General tab search for the ClientProcessId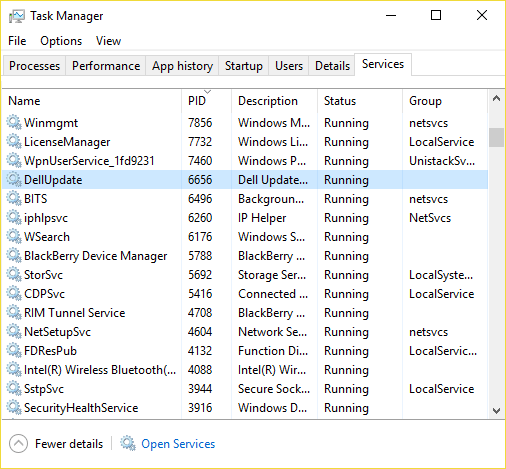 Step 6: After getting the Process Id of the particular service that triggering High CPU usage, now we simply have to disable this particular service in order to fix this issue.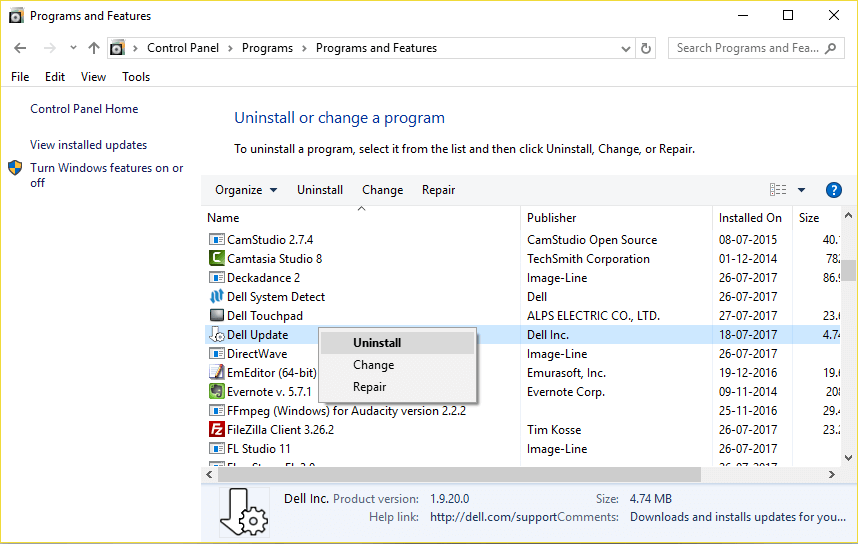 Step 7: Press the Ctrl + Shift + Esc simultaneously to open the Task Manager.
Step 8: Tab on the Service tab and search for the Process Id which you have noted in the earlier step.
Step 9: After finding this go to the Control Panel > Uninstall a Program.
Restart your PC.
Conclusion
We know that when CPU memory is consumed by all the process then your system performance gets slow. CPU memory is responsible to run all the activity excited on the computer so that it is necessary to remove all the unwanted process from the computer. This will enhance your Window computer.
If you are suffering from the slow computer performance then you can also apply a professional Windows Speed Enhancer, this tool is specially designed to deal with all types of Windows error and other factors that affect the PC performance.
There are lots of things that can decrease the performance of your new computer/laptop such as infected registry database, damaged dll files, corrupt system files, application issues and more.
All of these issues cannot be solved by manually so that it is recommended to use this professional application and fix all these issues without the need of any professional skills. This tool is very easy to use because of its user interface, so one can easily fix their PC and enhance performance.
Follow 3 Simple Steps to Repair PC Instantly!
Step 1 – Download & Install PC Repair Tool.
Step 2 – Click "Scan" button to diagnose the PC.
Step 3 – Click "Fix Errors" to the fix the issues and you are done.
(Note: This powerful tool can increase your performance by 97%)
Summary
Article Name
Top 5 Solutions to Fix wmiprvse.exe High CPU Usage in Windows System
Description
Are you suffering from low pc performance, go to control panel and check what process are in running condition. Apply the given solution and make your PC faster.
Author
Publisher Name
Publisher Logo