In Windows 10 sometimes an error occur in Remote Desktop Connection and because of this error RDC fails to work. Remote Desktop Connection or RDC is similar to the other features of Windows OS, it also depends upon its root services for execution If any of the root services gets unable to run then RDC will display an error message and gets unable to run again and again.
You may also like: How to clear remote desktop connections history
If you are suffering from this issue then you should apply below-given tricks to solve this issue for yourself:
Methods to Fix Remote Desktop Connection Has Stopped Working in Windows 10
Method 1 – Allow Remote Desktop via Windows Firewall
Sometime RDC gets unable to work appropriately when Windows Firewall block it. To make sure that this service is blocked by firewall or not you should check and allow it via Firewall by applying below given steps:
Is Your PC Running Slow & Needs Optimization?
Don't Miss The BEST TOOL To FIX PC Errors & Issues
Step 1: Go to the Control Panel and click Windows Firewall.
Step 2: After it click on the Allow an app or feature through Windows Firewall link present in the left pane.
Step 3: Navigate to the Allowed apps screen, click Change settings and then scroll down, check Remote Desktop entry in this list. Make sure that you've allowed this app for Public. Click OK.
After the completion of above-given steps reboot your machine and it is hoped that the issue must be fixed after that.
Method 2 – Check Dependency Services
Step 1: Open the run dialogue box by pressing Windows + R and type services.msc in the Run dialog box, press Enter key to open Services snap-in.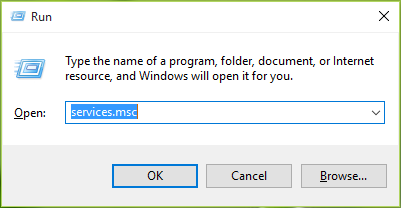 Step 2: In Services window, scroll down and check the status of all the service that contains "remote" term in their name. It is recommended that all of these services must be set either to Manual or Automatic plus none of them should have Disabled status. After the completion of this RDC will start working as expected.
Professional Recommendation
To fix different errors such as Windows Installer Errors, Windows Startup Errors, Active X Control problems, Active X Errors, Registry Errors and many others exe errors, you should try an automatic method to get rid of all these errors. Automatic method is suggested because there are various errors that are not fixed with any manual resolution, a professional PC Error Scanner will allow you to deal with all types of issues related to Windows system without doing anything manually. This application is packed with very easy to understand user interface especially for the normal user or those users that don't have any technical skills. Download and install this application and the rest task will be executed automatically by this. This scans your PC and fixes all the bugs or errors present inside your computer/laptop. You can also fix any types of system driver issues with the help of this software; it provides the facility to debug driver related problems. Now you don't need to suffer from your sluggish system because its advance technology can turn an old system into a brand new computer. Try it once and improve the performance of your old computer.
Scan your PC and fix any Errors
Follow 3 Simple Steps to Repair PC Instantly!
Step 1

– Download & Install

PC Repair Tool

.

Step 2

– Click "Scan" button to diagnose the PC.

Step 3

– Click "Fix Errors" to the fix the issues and you are done.
(Note: This powerful tool can increase your performance by 97%)
Powerful Features of PC Repair Tool
Back-up Registry – You can take backup of your system registry, it allows user to create registry backup so you can use it in any system crises.
Built in scheduler – It comes with a built in scheduler that scan your PC automatically after a fix time of interval.
Deletes empty registry Keys – Through this tool you can make your registry database error free, it can removes all the unwanted registry keys from Windows.
Checks invalid Class Keys – It can also check invalid class keys from windows system and help to run smoother. It also checks Shell Extension, invalid Help Files, Invalid Shared known DLL's, invalid Paths and more.
Manage/Cleanup Startup Programs – It also manage cleanup and startup applications of Windows system that help computer to boot without any delay.
Scans for Invalid Program shortcuts – This tool also fix all types of invalid application shortcuts.