Office 2016 is released by Microsoft and just after releasing lots of people start using it. But this latest Office version comes with some issues, there are lots of users were complaining about a variety of issues upon the release of this. But some of the issues can be easily fixed with the help of below given solutions.
One of the most frustrating errors of Microsoft Word 2016 is editing issue. Some users complained that they are unable to edit an existing Word document on MS Office 2016. It happens because of an internal bug of Word 2016. Apply the following tricks to get rid of Word 2016 issues:
Methods to Make Word 2016 Document Editable
Method 1 – Try to Disable Document Protection
Some time editing issue occurs when the document is maybe protected with a password. To deal with such situation you don't have to enter the password every time you access the document but instead of that, you have to disable the document protection and remove the password. Apply the given steps:
Is Your PC Running Slow & Needs Optimization?
Don't Miss The BEST TOOL To FIX PC Errors & Issues
Step 1: First open the Word 2016 document you have problems with
Step 2: Navigate to File>Options>Customize Ribbon> and select Developer
Step 3: From the Protection group, go to Document Protection
Step 4: After it navigate to the bottom of the panel, and click Stop Protection
Step 5: Give the password for the document, and click OK
After the completion of the above described method, you be supposed to be able to edit your non-editable Word 2016 document normally.
Also Read: Steps to fix "Send to OneNote 2016/2015/2014 from Internet Explorer Not Working"
Method 2 – Confirm that Office 2016 is Activated or Not
An expired version of MS Office 2016 trial may also protect you from editing your Word 2016 document. Microsoft presented Office 2016 in a month-long trial, it is only for the attracting users who don't have an Office 365. So once it will eventually expire after some time it will leave your Office 2016 apps useless.
So, if you are using the free trial version then must confirm that you bought Office 365 subscription.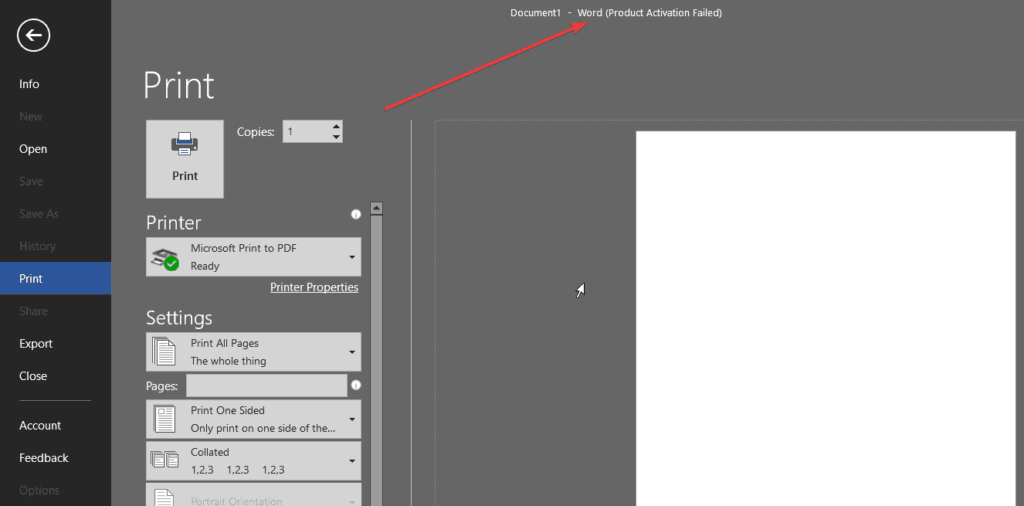 Trick: If you don't want to pay for the Office 365 then you can always download the 'lite' version of the software from Microsoft Store.
Method 3 – Erase Registry keys
After applying the above given solutions if you are still unable to edit your Word 2016 documents then you should try the following registry hack:
Step 1: Open the run dialogue box by pressing Windows +R, and type regedit then hit the Enter key to open the Registry Editor.
Step 2: After opening the registry key, you have to navigate to the below-given path:
HKEY_CURRENT_USER\Software\Microsoft\Office\16.0\Word
Step 3: After it, you have to click on the Data key, and erase it. Reboot your computer.
Now, you have reset your Word 2016.
Method 4 – Turn off Add-ins
In this method, we will try to fix this issue by disabling add-ins in the Office apps, because a damaged add-in can trigger this type of issue.
Follow the below given steps:
First, you have to open the Word 2016 and then navigate to the File > Options.
After it, click on the Add-Ins, and then turn off all add-ins.
At last, reboot the program, and try to run it without any add-ins.
Now, you have to install add-ins one by one and check for the issue after adding each of them. Through this, you can easily find out the faulty add-ins.
Method 5 – Turn off Hardware Acceleration
Microsoft Word 2016 uses Hardware Acceleration to boost its performance. So, we will try to disable the Hardware Acceleration in Word 2016.
Apply the below-given steps carefully:
Step 1: Open any Office 2016 app and then navigate to the File > Options > Advanced.
Step 2: Find out the Hardware Acceleration and turn it off.
Step 3: Again start Word 2016 to check the issue.
You can also disable the Hardware Acceleration via the Registry Editor, follow the below given steps to do this:
Open the Registry Editor Window as shown in the Method 3
After opening the registry editor, go to the following key:
HKEY_CURRENT_USER\Software\Microsoft\Office\16.0\Common
Now, right click on the Common key and select New > Key from the menu.
Type the Graphics same as the name of the new key.
Right-click on the Graphics key and choose New > DWORD (32-bit) Value. Enter the name of the new value DisableHardwareAcceleration.
Now, double-click on the DisableHardwareAcceleration value and you have to set its Value data to 1.
At last click on the OK to save changes and exit from the Registry Editor and verify the issue again.
Conclusion
So, it is hoped that after applying the above-given solution now you are able to edit your Microsoft Word 2016 documents without any problem.
It is also suggested to scan your PC/Laptop with the help of a professional PC ERROR REPAIR tool. This is the tool that will help your PC to get rid of hidden errors. It will also make your PC error-free and fast.
Simply download, install and run this tool on your faulty system, and it will automatically turn your old system into a new one.
Follow 3 Simple Steps to Repair PC Instantly!
Step 1 – Download & Install PC Repair Tool.
Step 2 – Click "Scan" button to diagnose the PC.
Step 3 – Click "Fix Errors" to the fix the issues and you are done.
(Note: This powerful tool can increase your performance by 97%)
Summary
Article Name
[Solved] Top 5 Solutions to Fix Unable to Edit Word 2016 Document
Description
Are you unable to Edit Word 2016 Document then you should apply the given top 5 Solutions one by one and check for the Word 2016 Document issue.
Author
Publisher Name
Publisher Logo