Same as the Windows 8, Windows 10 is also featured with Airplane mode. This is a useful feature that allows the user to take Windows 10 into Airplane mode. But this useful feature may have some issues, according to users certain issues appeared in Windows 10's Airplane mode. If you are suffering from this type of situation then don't worry and apply the below-given solutions to fix Airplane mode in Windows 10.
Also Read: [Solved] Autoplay Not Working in Windows 10/ Windows 8 and Windows 7
Tricks to Solve the Airplane mode issues in Windows 10  
Try to Change Network Adapter Properties
Step 1: Right click on the Start button and select Device Manager from the list of options.
Step 2: Got to the Network Adapter section and double click on it to expand.
Step 3: Find out wireless modem from the available list and right click on it and go to the Properties.
Step 4: Properties dialog box will appear. Navigate to the Power Management tab.
Step 5: Clear off the option "Allow the computer to turn off this device to save power."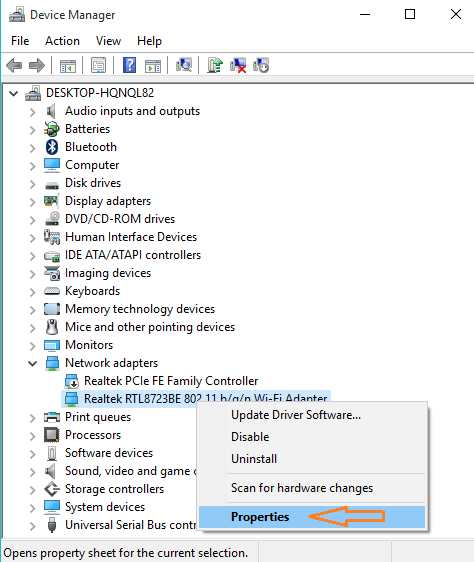 Step 6: After applying all the changes press Ok button to save.
Above given solution will Fix Airplane Mode Issues in Windows 10 and start again its slider to be turned off.
Disable and Enable Network Connection
Step 1: Click on the Start Menu  -> click the gear symbol icon of Settings app.
Step 2: Settings app Windows will appear on your screen. Navigate to the Network & Internet category.
Step 3: By default, you will be taken to the WiFi section of settings present at the left.
Step 4: Go to the right pane of WiFi settings and you find Change adapter options. Click on it.
Step 5: A remote window pops up demonstrating your wireless connections.
Step 6: Right-click on the wireless connection and select the Disable option.
Step 7: After disabling your wireless connection, again right click on the same connection and hit Enable.
Step 8: After disabling and enabling this option, you will notice that Airplane Mode Issues in Windows 10 is fixed.
Update Driver Software of your Network Adapter
Manual Method to Update Driver Software of Network Adapter
Step 1: Open the Device Manager window again (process is given above).
Step 2: Find the Network Adapter option and click on it to expand.
Step 3 After it right-click on your wireless adapter and click Update driver software option.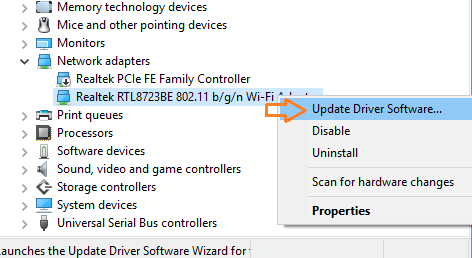 Step 4: Window emerges that asks you to select the way to update the driver software.
Step 5: Click Search automatically for updated driver software option.
Step 6: After the completion of update process you will get a confirmation message that says Windows has successfully updated your driver software.
Step 7: Close the window.
Automatic Method:
In automatic method, you have to download and install system driver updater tool, this app will allow you to update any types of driver software without doing anything manually. Simply click on the Update Drive button and it will automatically scan & update all the outdated driver software.
This software will also allow you to make your system fast and error free then you should use a professionally designed PC Repair Tool. This application is one of the best and efficient ways to maintain your Windows system. This software contains easy to use interface so that one can easily operate this tool without any need of professional skill. If your computer is displaying any types of error related to registry, DLL, application, Games and more then this error repair tool will help you to fix them. Simply download and install this tool, it will automatically scan your PC/laptop and fix all the errors. This app also provides the facility to fix driver related issue, it can update and fix any error related to the system's driver. So, it is recommended to use this software and enhance the performance of your old computer.
Follow 3 Simple Steps to Repair PC Instantly!
Step 1 – Download & Install PC Repair Tool.
Step 2 – Click "Scan" button to diagnose the PC.
Step 3 – Click "Fix Errors" to the fix the issues and you are done.
(Note: This powerful tool can increase your performance by 97%)
PC Repair Tool features
Easily fixes system errors: This tool is able to deal with all types of system errors that cause freezing, crashes, slow PC performance and more.
Removes malware files: Computer viruses and malware can affect the system files, registry entries and more, this app is able to clean all the malicious files from the system.
Fix Startup Issues: If your system takes more time to boot then it is sure that some unused startup programs attached itself to the startup folder. This issue can be fixed by PC repair Tool.
Defrag memory: This app also provides the facility to Defrag system memory and enhance its performance. With the help of this software, you can Defrag a large disk partition within a very small time so it saves your precious time.
Clean PC's Junk file:It allows user to delete or remove all the temporary items, junk files and other clutter that affects Widows system performance. It also deletes the private files that hold confidential information.