Do you also get the error 0x80073b01 while trying to open Windows defender? Don't worry! You are not alone in this situation many users are facing this error.
Well, you might get to see some other errors like "not able to find Windows Defender in Control Panel", "not able to start Windows Defender". Despite this, you can probably see the message that Windows Defender is on and running and is protecting your computer and you will also get updates for it but you are still unable to start it.
Well, there are many cases where the users are facing this Windows Defender error code 0x80073b01. This error mainly shows when the Windows Defender is damaged and the other reason may be the corruption in the registry or the misconfigured application file.
If you want to get rid of this situation then keep reading the below section to find the solution of the error you are facing.
How To Fix Windows Defender Error Code 0x80073b01
Here are the given solutions to fix error 0x80073b01 in Windows 10. Follow the steps carefully so that you don't have to face any problem due to it. I will discuss both manual and automatic methods to fix the error you are facing.
Method #1: Uninstall Third-Party Security Software
Any third-party security software interferes with the built-in security features of Windows Defender. It is probably the reason to show this error 0x80073b01. I will strongly recommend you to uninstall it.
Follow the steps given below to uninstall third-party software:
Go to Control Panel
Click on install/uninstall program-> hit open.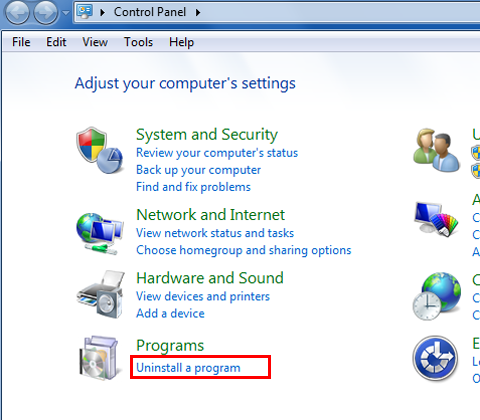 Select the list of installed
Right click on the program.
Lastly, click uninstall.
After uninstallation or reinstallation kindly restart your pc/ laptop.
Above given steps are helpful but it leaves junk files or registry entries behind it. It will be best for you if you use a powerful third-party uninstaller tool which removes the software without leaving its traces behind.
There are many removal tool available in the market but I will recommend you the powerful Revo Uninstaller. This is the best and uninstall your software completely.
Restart your PC/ laptop and check whether your Windows Defender error is resolved or not.
Method #2:  Registry Editor to fix Windows Defender error code 0x80073b01
Here, I will discuss another method to fix error 0x80073b01. In this method you need to repair corrupt registry entries or any registry issues and errors.
Well repairing the registries manually is very risky and time consuming, a small mistake can damage your entire system. So here it is suggested to run the Registry Repair Tool. This is very powerful and fix registry errors automatically.
But if you want you can also fix this error with the manual steps then  do it very carefully.
Caution: Follow the given steps very cautiously and carefully as your one mistake will be harmful for your PC/ laptop.
Press Windows key+R
In Run Windows that opens, type regedit and click enter to open Registry Editor.
Go to left side navigation pane to go to
HKEY_LOCAL_MACHINE/SOFTWARE/Microsoft/WindowsNT/Current Version/ImageFileExecutionOption/ and delete the msseces.exe entry. After this go to

HKEY_CURRENT-USER/Software/Microsoft/windows/Current version/Policies/Explorer/DisallowRun and again delete the msseces.exe entry.
Method #3: Run System File Checker Tool to Get Rid of  Error 0x80073b01
System File Checker Tool comes with Windows OS and helps in scanning and repairing corrupt system files. If the problem arises due to corrupt system files in Windows Defender. Then hopefully this method will help you to fix 0x80073b01 error.
Follow the given steps below to fix error:
Click Windows + X key > type cmd
Select Command Prompt > and Run As Administrator.
Type the given command and hit enter to implement it: sfc/scannow.
After the command is completed, I hope your problem is solved now.
If your issue is still not solved then follow the next method.
Method #4: Update your Windows Defender
If your Windows Defender is not updated then this will also be the reason to get error code: 0x80073b01. So check for updates and see if any update is available for you or not. This method is very easy and can be done by everyone as it does not requires any technical knowledge.
Click the Windows key-> in the search option > type Windows Update.
Open the result.
Select Check for updates and check for available updates.
If any updates are there then click install.
Reboot when the installation is complete.
If the above given methods do not help you or seems difficult for you to do it. Then, I have easy and helpful method for you to get rid of error 0x80073b01. Follow the last method to fix this error.
Method #5: Run Windows Repair Tool to Fix Error 0x80073b01
In case if you are not that technically expert to follow the manual methods then I will strongly recommend you to use a powerful tool to fix Microsoft security essentials error code 0x80073b01 or any other Windows related issues.
 Try professionals recommended Windows Repair tool to fix this error. It will also help you to resolve other issues like damaged files, registry corruption, protects your device from virus or malware infections and many others. This not only fixes errors but also optimize your Windows PC performance.
Sometimes automatic solution is more helpful then manual solutions to fix Windows issues and other errors easily. It will be worth for you to try automatic repair tool.
Conclusion
I hope the above given methods helps you to fix error 0x80073b01 in Windows Defender. I tried my best to help you with your problem by giving you best manual fixes. So check out all the methods one by one to see which one is best for you.
The above-given fixes not only help you to fix Windows Defender error code 0x80073b01 but will also help you to fix other Windows related issues.
Moreover, you can also go for the automatic solution to fix the error easily and start using Windows Defender.
If you are facing any issue or you want to give any suggestion then share it with us without hesitation in the comment section below or visit us at: @ http://ask.pcerror-fix.com
Summary
Article Name
5 Methods to Fix Windows Defender Error Code 0x80073b01
Description
Resolve the Windows Defender error code 0x80073b01 by repairing the registry, uninstalling third-party tools & others in Windows 10.
Author
Publisher Name
Publisher Logo