YoutubeAdblocker is a browser add-on claiming to enhance visitors' Internet browsing experience by blocking advertisements appearing on the youtube website. While such functionality may seem legitimate, this browser extension is categorized as adware or a potentially unwanted application. And this plugin does not block any ads and so, you can't properly enjoy youtube videos due to unblock ads.
Therefore, you need to uninstall YoutubeAdblocker from your Windows PC/laptop?
So, in this blog, we are going to deal with why and how to uninstall YoutubeAdblocker from your PC/laptop and what are causes that YoutubeAdblocker couldn't block ads.
Keep reading this article.
Details of YoutubeAdblocker
The program details of youtubeAdblocker mentioned below.
Displayed Publisher:   YoutubeAdblocker.
Installation folder: C:\ProgramData\youtubeadblocker
Estimated Size: 1.06 MB
Why Remove YoutubeAdblocker?
It is always wise to remember that YoutubeAdblocker is mixed with and installed by free programs which do never reveal that other programs/software would be installed along with it.
Therefore, it is very important that you need to concentration to license agreements and installation screens when installing anything off of the Internet. If an installation screen offers you Custom or Advanced installation options, it is an excellent idea to pick these as they will in general release what other 3rd party software will also be installed.
Moreover, If the license agreement or installation screens state that they are going to install a toolbar or other useless adware, This is advised that you without delay abandon the install and not to make use of the free software.
Here have look easier and effective solutions to remove YoutubeAdblocker from your PC
How to Remove YoutubeAdblocker Software Manually?
We are going to discuss the manual methods to remove the specific apps if you don't use them from the Windows operating system.
#1: Remove YoutubeAdblocker with Uninstall a Program Feature
In order to remove YoutubeAdblocker in the Windows 7 and 8 from your computer hard disk drive follow the steps:
At first click Start >Control Panel.
Then under Programs>click Uninstall a program.

Now the uninstall or change a program window appears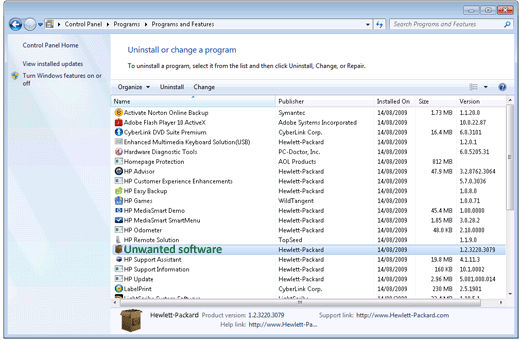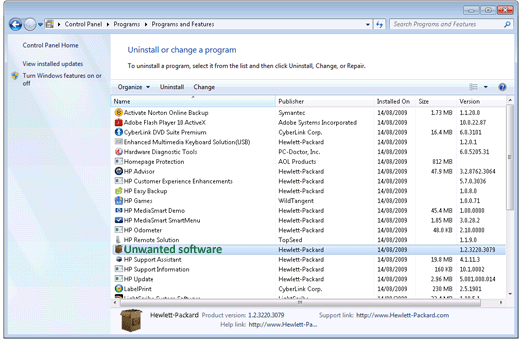 And select YoutubeAdblocker you are looking to remove.
Then at the top of the YoutubeAdblocker list,> click Uninstall or Uninstall/Change
Now carefully read and respond to the messages that may open when the software is removed from the computer.
#2: Remove YoutubeAdblocker not listed in Uninstall a Program Window
If YoutubeAdblocker you are looking to uninstall is not listed in the Uninstall Program Window then, in this case, click on the Turning Windows feature on or off option on the left side of Programs window.
Follow the steps to do so:
Click Start>Control Panel> Programs> click Turn Windows features on or off.
If you are prompted for an Administrator password or confirmation>type the password or provide confirmation.
Now to turn a Windows feature ON > choose checkbox appears next to it> click OK
And to turn a Windows feature OFF> remove the selection > click OK
In these ways, you can uninstall YoutubeAdblocker
#3: Use Command Prompt
Well, if you are looking to uninstall entire YoutubeAdblocker apps at once, then you can do this by entering one command in the Command Prompt.
Follow the steps to do so:
Click on Start menu > Search>type cmd
Now in the Command Prompt>enter the below-given command > hit Enter:

powershell "Get-AppxPackage -AllUsers | Remove-AppxPackage"
And this is it, your entire YoutubeAdblocker apps are uninstalled at once.
For Windows 10 Users:
However, if you are using Windows 10 OS there are two ways to uninstall or delete YoutubeAdblocker, these are a little bit simpler than the Control Panel method.
#1 – Uninstall YoutubeAdblocker from the Start Menu Option
Click on Start> locate YoutubeAdblocker you want to uninstall from All Apps list
Now hover over the program and right click on it
And from the menu > choose Uninstall
Read and respond to the message that open when YoutubeAdblocker is removed from your PC/laptop
And restart your system.
#2 –Uninstall YoutubeAdblocker from Settings App Option
Go to Start > Settings > System> Apps & Features
And a list of the entire installed Windows Store Apps & desktop program appears on the screen of the Settings app.
Locate YoutubeAdblocker you are looking to remove > left click YoutubeAdblocker > two buttons appear: Modify and Uninstall.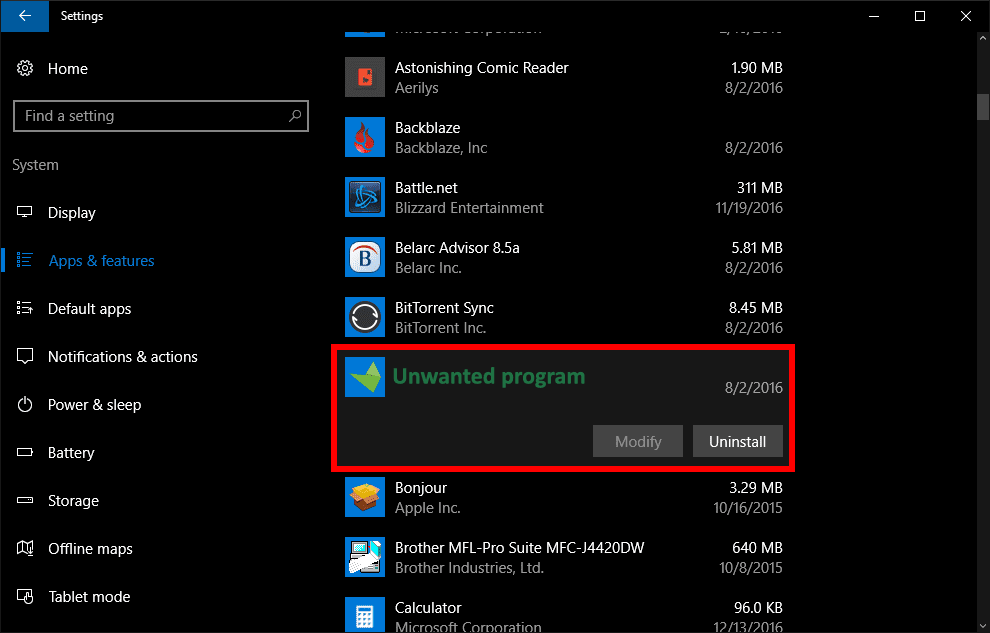 Mostly the Modify is not available to use > but Uninstall is anyway available for you.
Click on Uninstall and carefully read and respond on the message that appears when the app is removed from your system.
Finally, restart your system.
Use Third-party software to uninstall YoutubeAdblocker Completely.
If the manual methods couldn't help to remove this app just because of slight-complicated methods and takes much time, then you can choose an alternative and easy way to remove or uninstall YoutubeAdblocker completely. That is to use third-party software like Revo Uninstaller. This helps you to uninstall this program completely without leaving any trace. It uninstalls the programs and also removes files and Windows registry entries left behind by the programs uninstaller or Windows uninstall function.
Conclusion
After reading this article, you are able to know not only to uninstall your YoutubeAdblocker from your PC/laptop but aware of YoutubeAdblocker also.
Here I have tried my best to provide easier and effective ways to remove YoutubeAdblocker.
I hope, this article is helpful for you.
Always up to help others with their PC-related issues, Jack loves to write on subjects such as Windows 10, Xbox, and numerous technical things. In his free time, he loves to play with his dog "Bruno" and hang out with his friends.