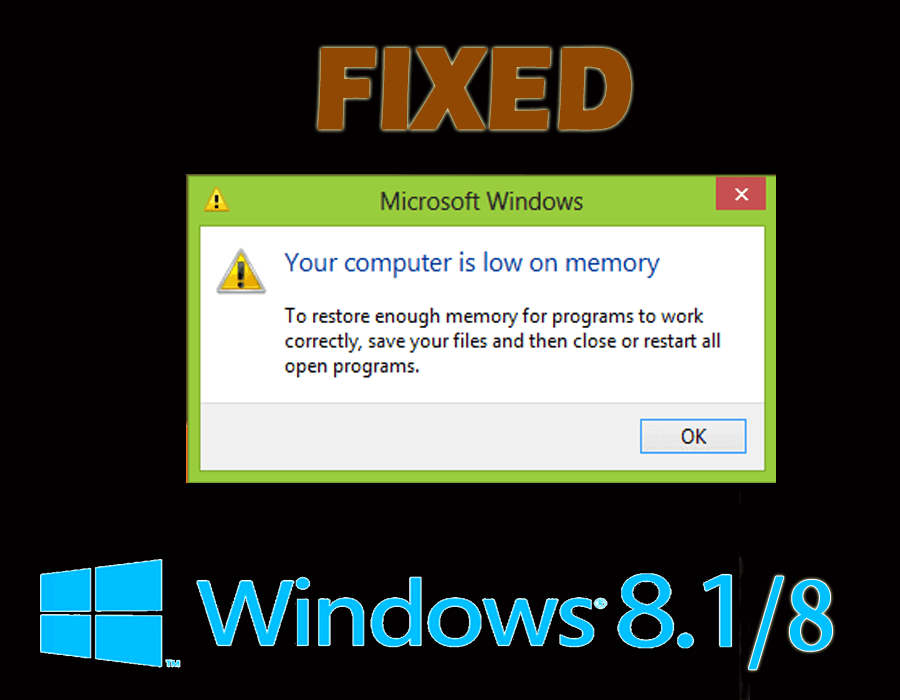 Did you come across an error message that says "Your Computer is Low on Memory"?
If yes, then you might have noticed that your computer starts to crash or freeze while performing any task.
In order to fix low memory Windows 8, go through this article and get the relevant information about low virtual memory and solutions to solve this error.
What is Low Virtual Memory?
Low virtual memory specifies that not only the RAM but also the hard disk space used to free up RAM has left with no use.
This can occur while running several programs at once or if a particular program or command needs a huge amount of RAM.
How to Fix Low Virtual Memory?
To solve the low virtual memory there are some solutions mentioned in this blog. Go through them step by step and fix the issue of virtual memory Windows 8.
Solution 1: Close All the Currently Unused Documents and Apps
In the meantime, if you open many documents and applications, you won't get enough memory to run other programs on your PC.
So, it's beneficial for you to close the currently unused documents and applications as now you may continue with the task stopped as a result of low virtual memory.
Solution 2: Restart Your PC
After the programs were exited, the memory resources which were occupied by the programs may not be returned to the system.
Therefore, it's essential to restart your system so that it releases the system resources and then you can run your interrupted program.
Solution 3: Adjust System Configuration
The particular method is to set normal setup in system configuration, which can be done by following the below-given steps:
Press Windows + R key to open the Run dialogue box,
Type msconfig and click OK
A system configuration window will appear on your screen.
In General, select Normal startup and click OK, as shown in the following figure.
Click on the restart when the following window appears.
Solution 4: Manage Paging File Size for All Drives
If you are managing (set/disable) virtual memory in your desktop, you may get an error message saying your computer is low on memory Windows 8.
In that case, you can let the system to automatically manage paging file for all drives. Follow the steps to manage paging file size:
Open system properties.
After the window for the system, properties appear, in the advanced section, press settings in performance.
Select advanced and tap change under virtual memory in the next interface.
Check the box before Automatically manage paging file size for all drives and click OK.
Press OK to restart the computer.
Solution 5: Increase the Available Disk Space
The error message your computer is low on memory may emerge if there is not enough space on the hard drives where virtual memory paging files are present.
So, another solution for this is to increase the available disk space. For increasing disk space, you may use the following fixes:
Empty recycle bin on your PC
To empty the recycle bin, you can right-click on the recycle bin and select the option empty recycle bin in the context menu.
Remove the expired and archived files in the entire disk.
You can also make use of CCleaner to remove unnecessary junk files that will increase the space in the disk.
Another way to increase the disk space is to add more RAM in your system.
Solution 6: Use Disk Cleanup
To solve low on memory issues in your Windows you need to delete unnecessary files and for that, you can use disk cleanup.
Follow the steps to use disk cleanup:
Open My Computer.
Right-click a hard drive and select Properties
As shown in the following screenshot, tap Disk Cleanup
You have to wait until the Disk Cleanup calculates the space to be released.
After the following window turns up, check for the boxes before the files you want to delete and click OK to move on.
In the next window, tap the Delete Files button to delete the selected files permanently.
After using the disk clean up your computer is low on memory error message won't appear.
You can also defragment hard drive to make your PC run fast, for that you can use Defraggler
Solution 7: Make Your Computer Virus Free
When your computer is infected by the virus, the error message windows low on memory are shown earlier may repeat.
So, you need to get the latest and effective antivirus software to clean your computer from viruses as soon as possible.
In case, your computer is infected with viruses than to remove viruses or any other malware from your PC/Laptop, use Spyhunter to make your computer virus-free.
Make Your Windows PC/Laptop Error Free
There are various Errors and issues that are unable to solve with the manual solutions, so for that, you can try the PC Repair Tool.
This advanced tool will scan your computer once, detect the errors such as DLL error, registry error, BSOD error, game error, and many others. and solves the errors automatically.
This tool not only solves the errors but also repair damaged, corrupted inaccessible files and improves the performances of your PC.
Conclusion
So, these were the solutions to fix low virtual memory issues quickly on Windows8.1/8.
Make sure to perform the fixes wisely and get rid of low on memory Windows 8 and continue your activities as before.
If you are running Windows 10 and face low virtual memory issues then read this article to get the solution for Windows 10-  Fix Low Virtual Memory in Windows 10.
It is estimated this article turns out to be useful for you in solving your queries.
Always up to help others with their PC-related issues, Jack loves to write on subjects such as Windows 10, Xbox, and numerous technical things. In his free time, he loves to play with his dog "Bruno" and hang out with his friends.