Are you facing a black/blue screen that displays the message that your PC/Device needs to be repaired? This message covers your whole screen and does not let you access your device, pretending an error when you try to boot your Windows.
Your PC/device needs to be repaired. 

A component of the operating system has expired.

File: \WINDOWS\system32\winload.exe

Error code: 0x0000605
This error message might freak you. So Don't panic, we got a solution for you;
In this article, we will provide you the ample information on how to fix error code 0xc0000605 as well as discuss the causes of this error.
But before that let us find out what is A Component of the Operating System Has Expired (0xc0000605) error?
What Does 0xc0000605 Error Mean?
The error code 0xc0000605 is to alert Windows programs. This error says that your PC needs to be repaired. This Windows 10 error does not provide you the actionable information about the error. This is also known as "A Component of the Operating System Has Expired".
This happens because some of the Windows operating system builds comes with pre-defined ending date or expiry date. And so, Windows 10 Insider Preview builds stop booting after the expiry date. While installing OS computer date inside the BIOS or UEFI setting is a very necessary thing as the ISO/Setup seems for the right date.
What Causes Windows 10 Error Code 0xc0000605?
When there is not enough space in your hard disk then 0xc0000605 error code arises.
PC BIOS may need an update or is incompatible
Corrupted or old Device Driver
System service or device driver may be damaged.
Defective program of the third party.
Now, try the given solutions one by one to fix Windows 10 error code 0xc0000605.
How do I Fix "A Component of the Operating System Has Expired" Error?
To recover Windows 10 Error Code 0xc0000605 below are the step by step solution that will help you to overcome this error and make your Windows 10  run faster as it was before.
Solution 1: Change the date of your PC
This error generally appears if the date is wrong, so to fix the error you need to change the date o its correct time. Follow the steps to change the date:
Right-click on the clock in the bottom right corner, select Adjust date/time.
Change the Set time automatically to Off
Click on the Change button in the Change date and time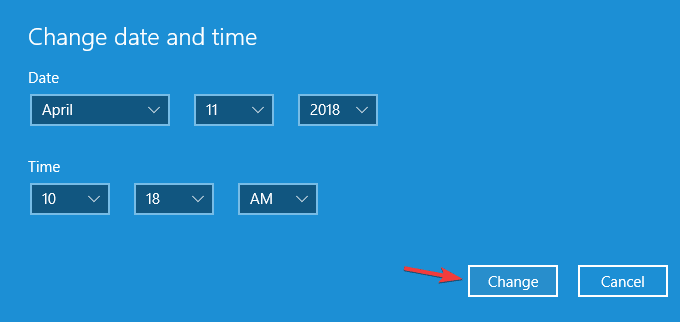 Now, Enter the correct date and click on Change
Solution 2: Use the Command Prompt
To perform the command prompt you will need Windows 10 media installer and you also need to create bootable USB flash drive.
Follow the steps given below to use command prompt for solving Windows Error code 0xc0000605:
1: Connect bootable media with your PC
2: Enter the BIOS and then set an earlier date
3: Now set the bootable media your first boot device
4: Save the changes and then exit
5: Press Shift +F10 when the Windows installation screen appears
6: Enter the commands given below as the command prompt opens
cd c: windows
attrib -r -h -s bootstat.dat
rename bootstat.dat bootstat.old
exit
7: After the above command is performed eject Windows 10 installation media and restart it.
8: After you restart your Windows 10 you will be able to install and download the latest build.
9: After the installation of the latest build, now you can set the date correctly again.
Solution 3: Install Missing Updates
In order to fix the error code 0xc0000605, it is recommended to check for missing updates and then install them. Sometimes many updates get downloaded in the background without knowing and because of this, you may miss out some updates.
To check the updates follow the steps:
Press Windows + I key to open the Settings.
Now search for the Update & Security section.
Click on the Check for updates.
If there are any updates available, then it will automatically get downloaded in the background. When the updates get downloaded, it will be installed on your PC when you restart it. When everything is updated, then your Windows 10 problem is solved completely.
Solution 4: Try running the Troubleshooter
There is an inbuilt tool for troubleshooter in Windows 10 which can be in the Troubleshooters page of Settings. Follow these steps to do so:
Press Windows + I keys
Open Settings panel.
Go to Update & Security section> Troubleshoot.
Now, search the option that says "Blue Screen" on the right-hand side and click on the "Run the troubleshooter" to run Blue Screen Troubleshooter now follow the next option on the screen.
Note that you might need to boot the PC into Safe Mode.
Solution 5: Perform an in-place Upgrade
Many a time to recovery error code 0xc0000605fix you may need to perform an in-place upgrade in this process you will reinstall Windows 10 without eliminating your personal applications or files.
You need to follow the steps to perform an in-place upgrade:
Download the Media Creation Tool from Microsoft's website.
Begin the application and then select Upgrade this PC Click on Next to proceed.
Setup will be prepared on Windows for an upgrade.
Select the Download and install updates (recommended)
Click on Next.
Follow the given instructions on the screen and wait for the Windows to checks for the updates.
If everything works in order, you will see Ready to install
Click on Change what to keep.
Select the Keep personal files and apps
Click on the Next button to proceed.
After doing this, the upgrade process will begin. The upgrade will take half an hour to get completed, so be patient.
Once your computer is upgraded, see whether the problem is solved or not.
Solution 6: Remove Battery of the Motherboard
Your motherboard battery might be the reason for Windows 10 error code 0xc0000605. If the motherboard battery of your system is not working properly, the date may get changed whenever your PC shutdown which results in causing the error code 0xc0000605 to reappear. To solve this problem you need to check the date if it gets changed every time whenever you shut down your PC.
If this is the case, then it means your motherboard battery is damaged, and you need to change it. The replacement of motherboard process is very simple you just have to shut down your PC and disconnect it from the power socket and open your computer case. Locate the battery of your motherboard and remove it gently. Once it is done, insert the new battery, restart your PC to check whether the problem is solved or not. Changing the battery can extend the life in Windows 10.
Recommended Solution to Fix Various Windows 10 Errors
If you are a technical person or don't have good knowledge of computer and find the above-mentioned solutions difficult then it is recommended to use PC Repair Tool to fix each and every issue regarding Windows 10 PC.
This is the finest tool that will scan your PC/laptop, detect and solve the Windows 10 issues and errors at once. This Repair tool is designed with an advanced process that fixes the errors often. It not only prevents loss of files, viruses but also fixes pc error, hard drive, corrupted system files, Error code 0x0000605 and many more.
It also repairs damaged, corrupted Windows system files and help you to deal with the slow PC performance and will make your PC error-free and fast.
Conclusion
Hope after going through this article and trying the solutions mentioned above your problem of Windows 10 error code 0xc0000605 is solved.
Make sure to follow the solutions given one by one carefully to avoid further issues.
If you have any Questions regarding error code 0xc0000605 then feel free to ask on Facebook or Twitter.
Hardeep has always been a Windows lover ever since she got her hands on her first Windows XP PC. She has always been enthusiastic about technological stuff, especially Artificial Intelligence (AI) computing. Before joining PC Error Fix, she worked as a freelancer and worked on numerous technical projects.