Minecraft Unable to Connect to World error is reported by many gamers while trying to connect with your friend's world on Xbox. The problem is reported by the players that they are unable to join friend's multiplayer Minecraft world.
This is an annoying error and presents itself with the short error message "Unable to connect to world". If you are also seeing this error and wondering how to fix it then check you both are using the same Minecraft version.  
Luckily, many users managed to fix unable to connect to world Minecraft error, but before heading to the fixes it is important for you to understand what is causing the error.
Why I am getting "Unable to Connect to World Error" Minecraft?
Issues in the Minecraft friend's list.
Windows Firewall blocked the Minecraft features.
Third-party antivirus flagged Minecraft as a threat.
If the "multiplayer games" option is disabled.
Running the outdated version of Minecraft.
Internet Explorer settings causing the issues.
If there is an issue with your ISP.
How Do I Fix "Minecraft Unable to Connect to World" Error?
Trick 1: Re-Add Your Friend
Before moving to the technical solutions, first, try out the basic troubleshooting method to fix  Minecraft unable to connect to world error.
As a corrupted friend list can cause such issues, re-adding the friend on Minecraft may fix this error. But before doing this, try visiting a stranger's world. If you can enter the world, then it means your friend list has a problem due to which you can't proceed.
To remove your friend, you can type this command and then press the Enter key to execute it:
/f remove <username>
In this command, you need to add your friend's username. After removing the friend, invite your friend again.
Trick
2: Enable Multiplayer Games Settings
Most of the players who have experienced Minecraft unable to connect to world error were using the Windows version of Minecraft. It happens when the "multiplayer games" option is disabled on your Xbox account.
So, if this is the case with you, then you need to enable this option to connect to the world. To do this, you can follow these steps:
Open the Web browser > go to the 

Xbox official website

.

Go to the 

Xbox One/Windows 10 Online Privacy

 tab.

Search for the 

You can join multiplayer games 

option.

Now, select the 

Allow 

option.
Click on the 

Submit 

button.

Now, restart your computer and re-login to the Minecraft account.
Trick
3: Disable Your Windows Firewall
Windows Firewall monitors all online activities, and everything you do online passes through several scans performed by the firewall. It helps you to keep safe from unauthorized and malicious sources. 
Despite the Windows Firewall's usefulness, it is known for filtering and blocking legitimate data. Hence, there is a pretty chance you are getting this Minecraft error because of your Windows Firewall.
In this scenario, you can do only one thing, and that is, disable your Windows Firewall.
Go to the Windows Start menu and type firewall.
From the search result, select the Windows Firewall.
Click on the 

Turn Windows Firewall on or off 

located at the left pane of the window.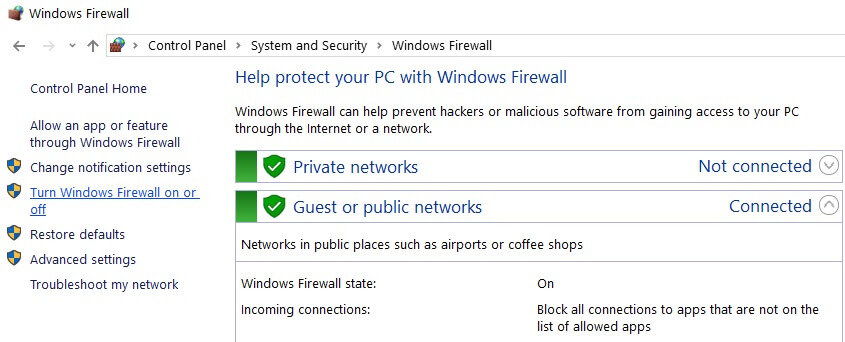 On the next window, you need to select the 

Turn off Windows Firewall (not recommended" 

option under both the Private network settings and Public network settings section.
Click on the OK button to save the changes.
Trick

4: Disable Third-Party Antivirus Software

Some third-party antivirus software is notorious for blocking other apps and their features. If your antivirus has blocked any feature of Minecraft, then no doubt why you are facing the unable to connect to world error.

Here, to fix the problem, you can either disable the antivirus or the even better, switch to any other third-party antivirus software which doesn't interfere with other installed programs/apps.
Trick
5: Use VPN
The Minecraft unable to connect to world error may also occur because of internet problems. There is a possibility of various internet issues that might be interrupting you to connect to the friend's world, such as: 
Servers are full

Your location has restrictions and couldn't connect.
If this is so, then you must use the VPN. It will solve this problem. Using the VPN service will bypass your geo-restrictions, and you would be able to connect with the server from any place.
If you don't have an idea of which VPN service should you use, then you can go for Express VPN as this may work in your case. Using this VPN network connectivity will allow you to watch geo-restricted content from around the World.
Trick

6: Update Network Driver

Minecraft errors may also arise due to the outdated or corrupted network driver. So, in this case, updating the network driver can fix the error. To do so, you can follow the below-given steps:
Press Windows + X key and select Device Manager from the list.
On the Device Manager window, click on the Network Adapters to expand the category.
Right-click on your driver and select Update driver from the context menu.
Select the Search Automatically for Updated Driver Software option on the next pop-up window.
Now, wait until the new updated driver gets installed on your system.
Trick

7: Reset Internet Explorer Settings

If you're using the Microsoft Store version of Minecraft, then it will automatically use the internet preferences/rule of Windows. And, Windows use Internet Explorer to set these internet preferences.

So, if you have made any changes to the Internet Explorer settings, then it may lead to problems while running Minecraft. In this method, you are supposed to reset the Internet Explorer settings to fix Minecraft Unable to Connect to World PS4
First, press the Windows + R keys, type inetcpl.cpl in the Run box, and press the  Enter key.
On the Internet Properties window, switch to the Advanced tab.
Click on the Reset button present under the Reset Internet Explorer settings section.
Now, a window will pop up and here you need to click on the Reset button.
After resetting the settings, restart your computer.
After performing the above steps, check if the Minecraft issue has been resolved or not.
Trick

8: Update Minecraft and Windows

Before moving to the last solution to this issue, you are suggested to update Minecraft and Windows as it's vital to keep updating all applications and OS to avoid any issue.

Even Minecraft developers suggested users do the same as some Windows versions have some issues that tend to cause such errors and the released updates have the potential to fix his error on Minecraft.

To update your Windows 10 Pc, go through these steps:
Press the Windows + I keys > select Update & Security.
Go to the Windows Update tab.
Click on the Check for updates button.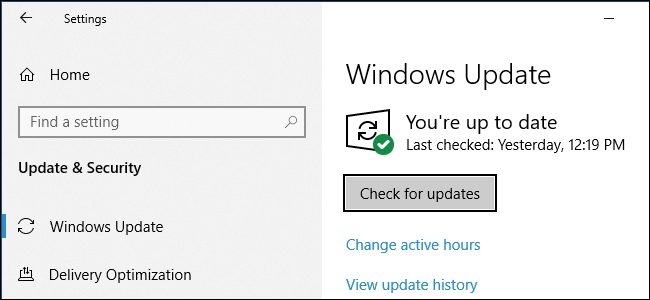 Now, Windows will search for new updates. If you found a new update, then install it on your PC.
After finishing the update, restart your computer.
Follow these instructions to update Minecraft:
Go to the Windows Search tab and type store.
Click on the Microsoft Store.
Next, click on the three horizontal dots present at the top right corner of the screen and select Download and Updates.
Click on the Get Updates button. It will update Minecraft.
Once the update is finished, restart your PC.
Recommended Solution: Fix Various Windows 10 PC Problems
If your Windows PC is running slow or causing various errors then here it is suggested to scan your system with the PC Repair Tool.
This is a multifunctional tool that just by scanning once, detects, and fixes various PC problems. With this, you can also fix many computer fatal errors like BSOD errors, DLL errors, Runtime errors, repair registry entries, and much more.
This is completely safe to use, so feel free to scan your system and make it blazing fast.
Conclusion
Now that you know how to fix unable to connect to world Minecraft, it's your turn to follow the fixes and see which one works for you.
Hopefully, at least one of the above-listed fixes will help you to fix the error on your Minecraft and you will be able to connect to your friend's world without facing this error anymore.
Besides, if you have any better solution to this issue or any suggestions, then feel free to share them with us on Facebook or Twitter.
Hardeep has always been a Windows lover ever since she got her hands on her first Windows XP PC. She has always been enthusiastic about technological stuff, especially Artificial Intelligence (AI) computing. Before joining PC Error Fix, she worked as a freelancer and worked on numerous technical projects.