Windows 10 is the most recent and developing OS, which is why it is surrounded by more bugs & error. The generic PNP monitor driver in Windows 10 is another issue encountered by many users.
Have a look at a user's experience
I have problems with display drivers. The device manager shows an error 'Generic PnP Monitor'. I've updated graphic drivers to the latest version but now the monitor is no longer recognized and I see a black screen. I reinstalled Windows, reinstalled drivers from the   Ndivia website, no avail. This issue showed up after Windows update
The most possible reason for generic PNP monitor issues to appear in Windows 10 is the outdated driver or the insufficient capacity in hardware while upgrading the OS.
Users that have recently upgraded their Windows are prone to face generic PNP monitor driver error.
If your Windows system did not detect additional display monitor or you see failed to load hardware monitor driver error message or facing generic non-PNP monitor problem, then you need not worry.
As it is clear that it is a driver issue, you can easily troubleshoot generic PnP monitor Windows 10 problems with the help of this article.
What is Generic PnP Monitor in Windows 10?
PNP stands for Plug and Play, it is used to connect all the external devices such as Monitor and USB Devices to the Windows PC.
Whenever a user plugs a USB device or monitor into a PC the system will automatically identify the device and it will install the proper driver for smooth running.
Generic PnP Monitor in Windows 10 means that Windows 10 installed a monitor driver as the PNP did not recognize the device. This generic PnP monitor driver may not work perfectly like the manufacturer's one.
It can lead to issues like unable to set the best monitor resolution and the screen refresh rate. Therefore, it is important to fix this issue.
How To Fix Generic PNP Monitor Windows 10?
#1- Try Uninstalling Generic PnP Monitor Driver
Uninstalling the PNP driver can help you solve the monitor issue. Follow the steps to uninstall the driver:
Press Windows + X key
Click on Device Manager
In the Device Manager window, search for monitor and expand its category by clicking on it
You will see Generic PnP Monitor, right-click on it and click on uninstall device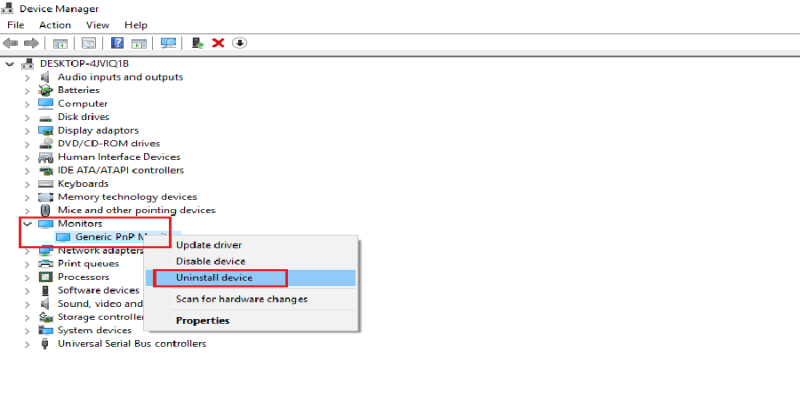 After uninstalling the device, click on scan for hardware changes
Windows will automatically search and install the real monitor, not the generic PNP. This simple fix will solve the generic PnP monitor error Windows 10.
#2- Update the Generic PNP Monitor
Many a time, outdated drivers can also cause such issues. Therefore, to fix generic PnP monitor Windows 10 you can try updating the drivers.
You can either update the drivers manually or in an automatic way. Below are the manual steps to update drivers:
Press Windows + X key
Select Device manager
Click on Monitor to expand its category
Right-click on generic Pnp monitor and select update driver option
Now, click on search automatically for updated driver software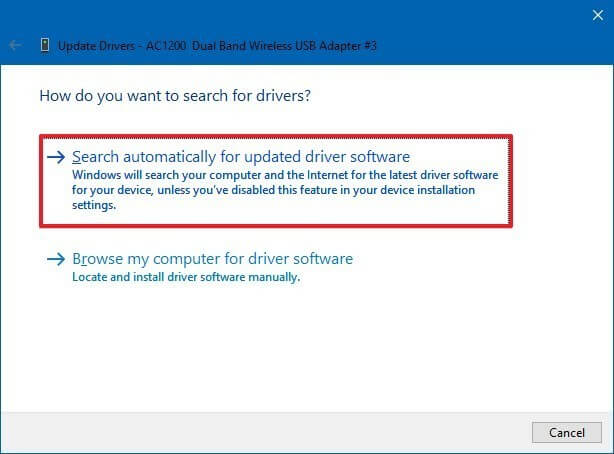 Windows will begin to search for an updated version of the driver and install it.
In case you are not able to update the driver then, choose the Browse my computer for driver software option after selecting update driver option
Click on Let me pick from a list of device drivers on my computer.
Select the Show compatible hardware box to have a look at compatible devices to install
Once you have installed the driver, restart your PC. This method will get generic PnP monitor Windows 10 fix.
If you find updating the driver manually is a bit hassle then try Driver Easy, the automatic way to update the drivers with ease. This tool will fix other driver-related issues as well.
#3- Perform SFC Scan
SFC (system file checker) scan works as a problem solver. It repairs the corrupt Windows system files and scans for problematic drivers to fix them.
Try to run the SFC scan to fix generic PnP monitor Windows 10 issues. Here are the steps to proceed further:
Click on Windows icon
Type cmd, right-click on the result and select run as administrator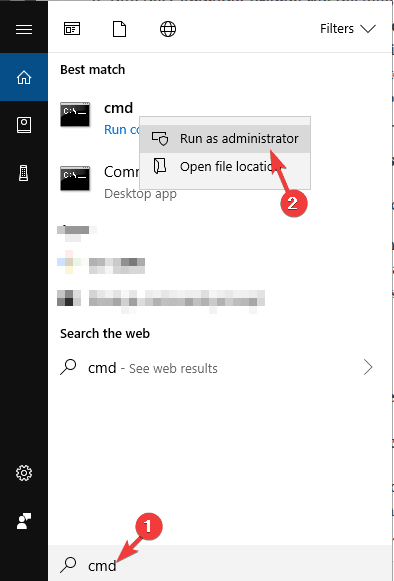 In the command prompt window, type the following command and hit the enter
sfc/scannow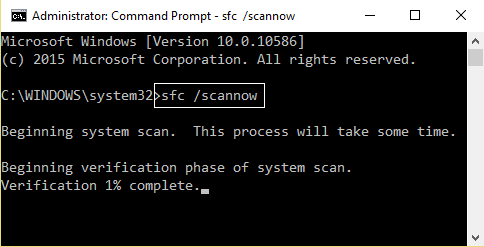 Wait for the command to get executed which will take a couple of minutes.
Once the scanning process is completed, restart your PC and try to upgrade your system and check whether generic PnP monitor error Windows 10 got fixed.
#4- Look for Windows Update
Frequently new updates are released in Windows to fix errors and bugs. Check for updates in Windows 10 that might fix generic PnP monitor driver issue.
Click on Windows icon
Go to settings
Choose Update & security
Select Windows update
Click on check for updates
Windows will begin searching for new updates and install them on your PC.
Once your Windows is updated, restart it and see generic PnP monitor driver Windows 10 problem got resolved.
#5- Reconnect the Monitor
In case you are using a desktop and face generic PnP monitor driver issue then this fix will help you solve it.
Have a look at the below steps:
Turn off both the computer and monitor
Remove power cord of the monitor and wait for minimum 10 minutes

Now, remove the plug of video cable from the CPU for 5 minutes
Plugin the video cable to CPU and power cable to the monitor back
Restart your desktop
Hopefully, it helps to make generic PnP monitor Windows 10 fix.
FAQ: PEOPLE ALSO ASK:
1. Why Does the Generic PNP Monitor Appear?
There are few reasons why the Generic PNP monitor appears in Windows 10.
When upgrading Windows OS to Windows 10
Connecting VGA or HDMI cable to monitor but it does not recognize
Adding new hardware such as SSD that makes the monitor unstable
Outdated display drivers
2. Can I uninstall a generic PnP monitor?
Generic PnP Monitor driver is in-built in the Windows system. If you try to uninstall it, it will just disappear from the Device Manager but will be present in other display-related settings. If you want you can give it a try to uninstall it
Best Way To Maintain PC Performance
Windows 10 comes with lots of new features and along with it comes several bugs and errors that slow down the PC performance.
To speed you the PC performance and get rid of errors try the PC Repair Tool. This tool is highly advanced and is compatible with all Windows versions.
It solves all types of internal issues and errors such as BSOD, registry, DLL, application, update error, repairs system files, prevents viruses, and much more.
You just need to download this tool and the rest of the work will be done hassle-free. It will automatically scan the entire operating system, detects the issue, and solves them in just a few clicks.
Wrapping UP
Well, that would be all.
Here I am wrapping my article. I have listed the solutions on how to fix generic PnP monitor Windows 10 problem. Now, it's your turn to perform the fixes and update your Windows with getting driver issues.
I hope that you are able to fix generic PnP monitor driver Windows 10 issues with the troubleshooting solutions stated in this article.
After your problem is fixed run the above-recommended tool in your PC to make it fast and error-free.
Besides this, if you want to ask something or face another query then visit our Facebook page and let us know about it. We'll be there to help you out.
Hardeep has always been a Windows lover ever since she got her hands on her first Windows XP PC. She has always been enthusiastic about technological stuff, especially Artificial Intelligence (AI) computing. Before joining PC Error Fix, she worked as a freelancer and worked on numerous technical projects.